A two-star general waded into a Twitter confrontation this weekend that, within hours, led to a flood of 30 reports of a "non-commissioned officer sending inappropriate pictures" to women, according to the Minnesota National Guard.
The account in question has since been deleted. Their identity, rank, and branch were not confirmed at the time of this report. In a statement, officials with the Guard said, "The individual, not associated with the Minnesota National Guard, was identified, and their command was notified."
The episode began when Maj. Gen. Johanna Clyborne, the second-highest ranking officer in the Minnesota National Guard, weighed in Saturday evening on a fast-moving but otherwise low-level Twitter conversation in which a string of women traded accusations around a particular account that has long claimed to be a Marine NCO.
The cascade of accusations began with one account posting, "It is simply too early in the gd morning for unsolicited dick pics." The account quickly followed up with a screenshot of what appeared to be a direct message from the accused harasser's response: "Well now I feel bad. Shit. I didn't mean to fuck with you [sic] morning, lovely."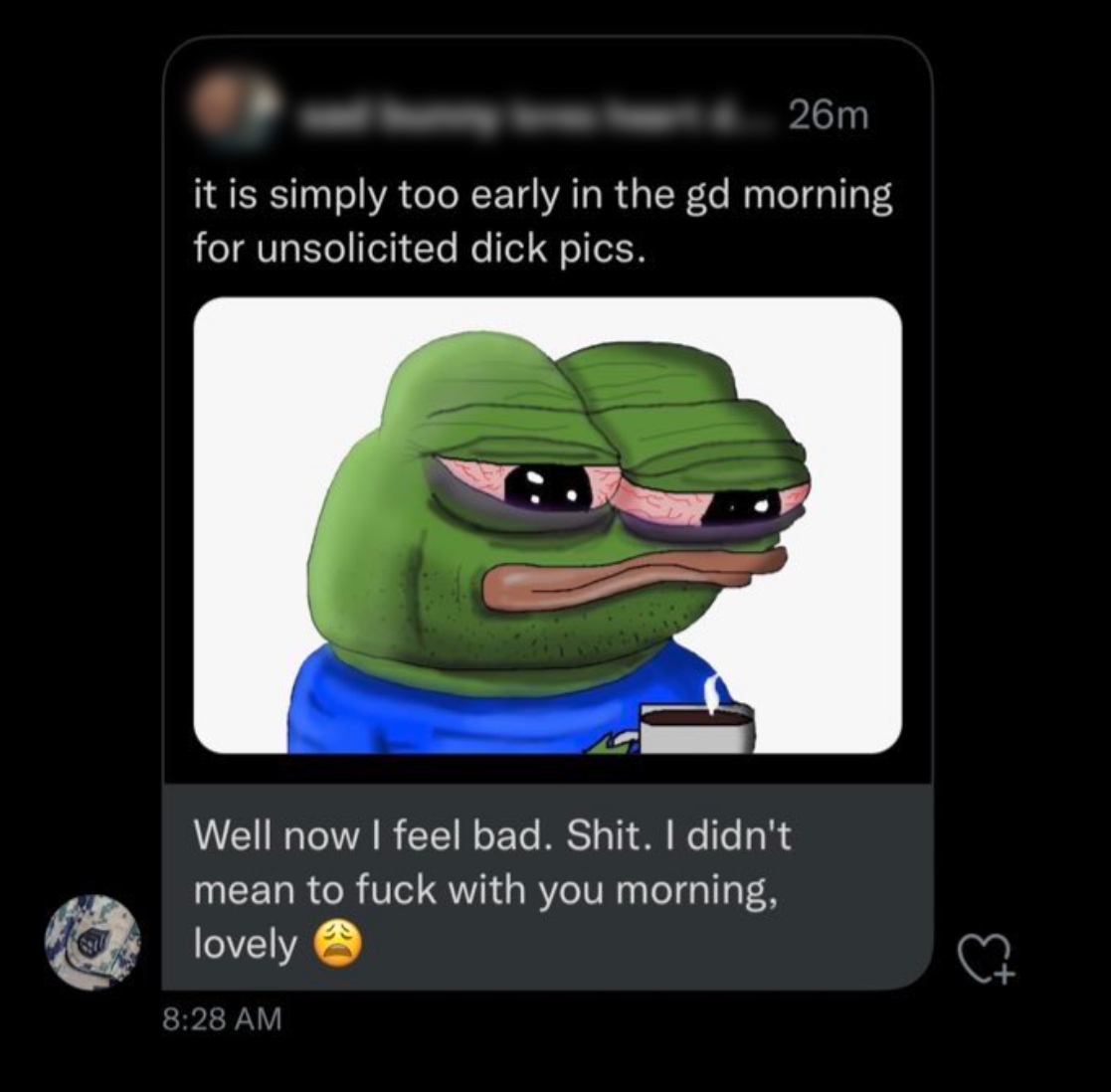 A string of other Twitter accounts, all of which appeared to belong to women, responded to the post with their own claims to have received unwanted pictures from the account or worse. Some said they had been manipulated and lied to by the person behind the account, from simple unwanted flirtation to claims of extensive lies about romantic life and physical health.
"Women (and I can't emphasize this enough) talk," the original poster Tweeted as the numbers began to grow.
Before Clyborne weighed in, the thread offered little proof and mostly anonymous posts. Both of the original accounts involved — the supposed sender and receiver of the pics — have since been deleted. Efforts by Coffee or Die to contact the owners of the accounts were unsuccessful. Several other anonymous accounts around the conversation posted the name, rank, and unit of a man they claimed was behind the inappropriate account, but Coffee or Die found conflicting indications of the account's owner in an extensive online search. Neither the man named in the posts nor a second man whose name is associated with the account responded to several attempts at contact.
Coffee or Die is withholding the names put forward online pending confirmation of their involvement.
However, there was no question that Clyborne's account was really her when she weighed in. The general maintains an active social media account on Twitter, and dropped into the conversation by posting: "If you know the identity of the NCO who was DMing inappropriate pictures please DM me that individual's information and unit if known."
The general's post drew a wide response. Several responses expressed satisfaction that a high-ranking officer was interested in the controversy.
Others saw the topic as beneath the attention of a general officer.
Clyborne eventually posted again in response, "This is not good leadership, rather this is the bare minimum floor leaders owe all our service members. I wanted to ensure accountability and a report was made as Twitter accounts can be anonymous."
In a statement sent to Coffee or Die, Maj. Gen. Shawn Manke, adjutant general of the Minnesota National Guard, confirmed Clyborne's posts as authentic and that 30 women had subsequently come forward with complaints about the same account Sunday.
"Sexual assault prevention starts with leaders, but it falls on everyone to ensure service members feel safe and welcome. Each person in our organization is responsible for creating a climate that encourages victims to come forward," Manke wrote. "Maj. Gen. Johanna Clyborne came forward and engaged her Twitter followers regarding a non-commissioned officer sending inappropriate pictures. Her actions resulted in more than 30 women who follow her on Twitter coming forward and sharing their experiences regarding the same individual."
Clyborne is the deputy adjutant general in the Minnesota National Guard and its first woman to reach the rank of Major General. She began her career in the 1990s with several postings as a combat engineer and deployed to Iraq as an intelligence officer with the Guard's 34th Infantry Division. Her awards include a Bronze Star.
In her civilian life, Clyborne is a founding partner at the law firm of Brekke, Clyborne, and Ribich, which specializes in family and military-related law.
Coffee or Die contacted the last known unit of the man named by several Twitter users but the unit has not responded yet.
Read Next: Vaccine Mandate Stands for Oklahoma National Guard, Says Judge