More than three decades of life lived separated the two firefighters, but both died from medical maladies shortly after battling blazes.
The deaths of New York's Jesse Gerhard, 33, and Alabama's Larry Harbin, 65, bring to 23 the number of fire personnel who have died while on duty so far in 2022, according to the US Fire Administration.
Jesse Baier Gerhard
Authorities say New York City Fire Department Firefighter Jesse Gerhard suffered an unspecified medical episode at approximately 11 p.m. on Feb. 16, while on duty at the Far Rockaway, Queens, station house of Ladder Company 134.
New York City Mayor Eric Adams and Acting Fire Commissioner Laura Kavanagh said Gerhard and his fellow firefighters had fought a two-alarm fire in Far Rockaway the day prior to his collapse.
Gerhard, 33, was immediately transported from his station house to St. John's Episcopal Hospital, where he died later that day. The medical examiner's office told Coffee or Die Magazine on Wednesday, March 9, that a cause of death has yet to be determined.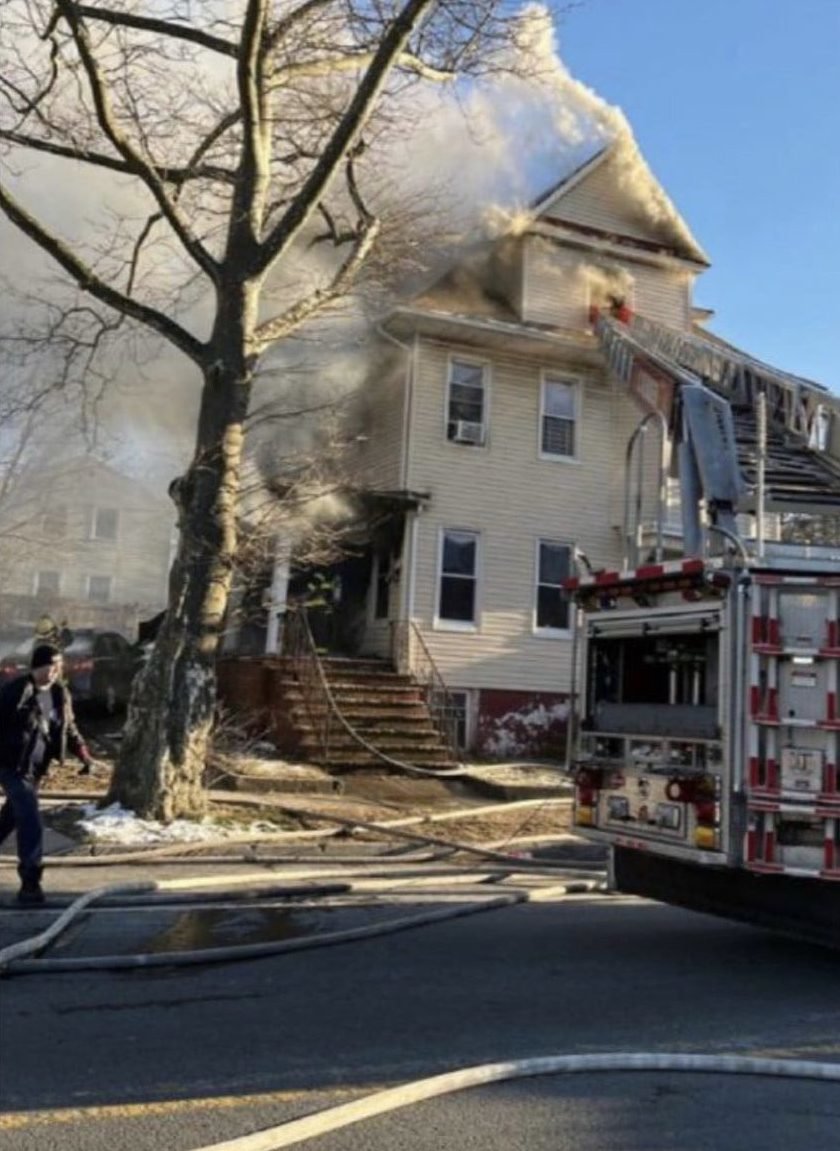 Ladder Company 134 responded at 4:05 p.m. Feb. 15 to a blaze that was consuming a three-story dwelling, according to the department.
Gerhard was assigned to the "irons" position, where he was responsible for forcing the doors and gaining entry to the building so firefighters could fight the fire before joining him in the hunt for entrapped victims.
The crew extinguished flames and searched for survivors until 5:49 p.m. when the fire was brought under control. Four residents suffered minor injuries. Fire marshals continue to probe the cause of the blaze.
Gerhard became the 1,156th FDNY firefighter killed while on duty. He is the third to have died "unexpectedly" since December.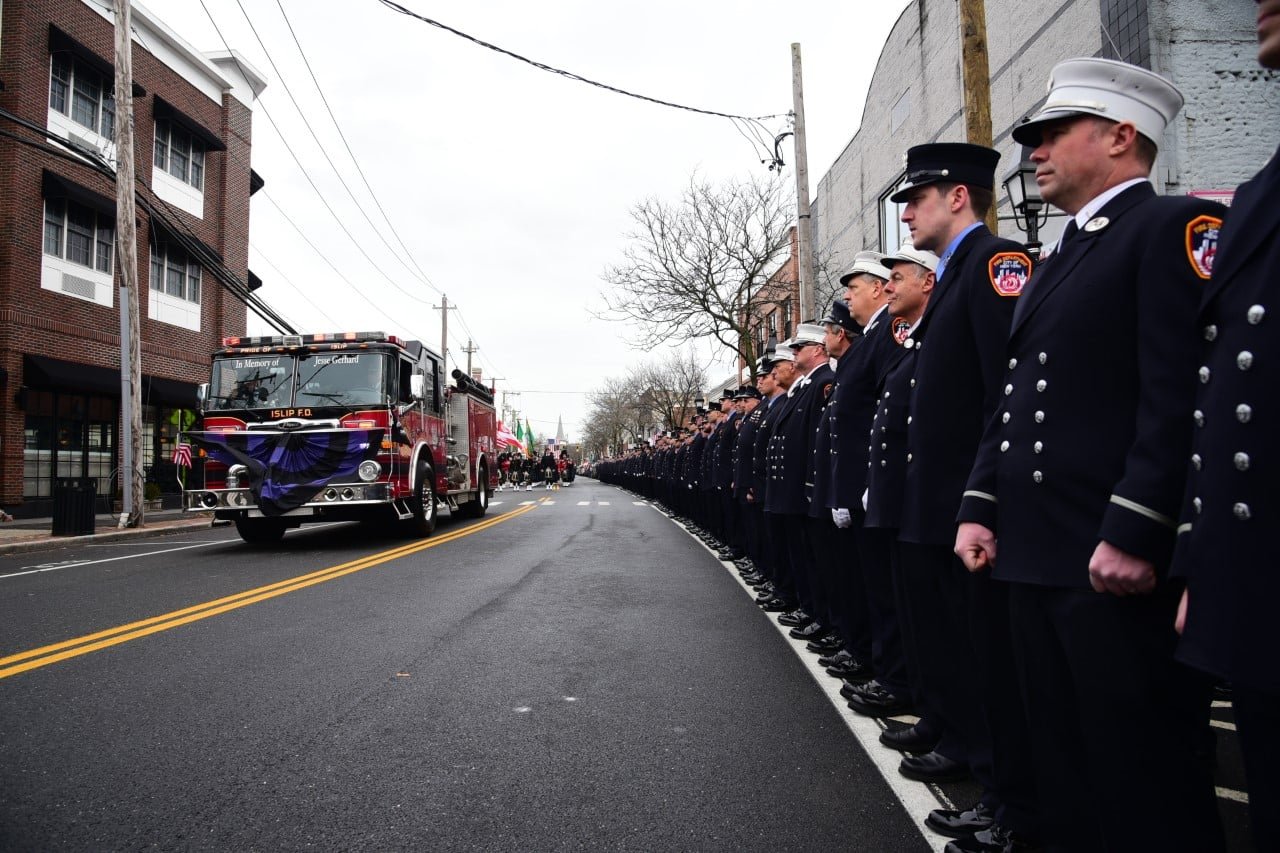 Speaking to mourners at Gerhard's Feb. 23 service at St. Patrick's Roman Catholic Church in Bay Shore, Michael Ormiston, the senior member of Ladder 134, called the young man's death "a gut punch."
Ormiston recalled a running joke with Gerhard, who would come to the station and ask, "Hey, what do you think if I …" and Ormiston would stop him midsentence and say, "Yes."
It wasn't a tough call, Ormiston said. The young firefighter's father had taught him to become a master carpenter.
"With his ability to not only build but to improve the design of something, there was never any hesitation in my answer," Ormiston said. "So, the process started of Jesse transforming the firehouse. I would be up here for hours if I told you everything Jesse built or modified."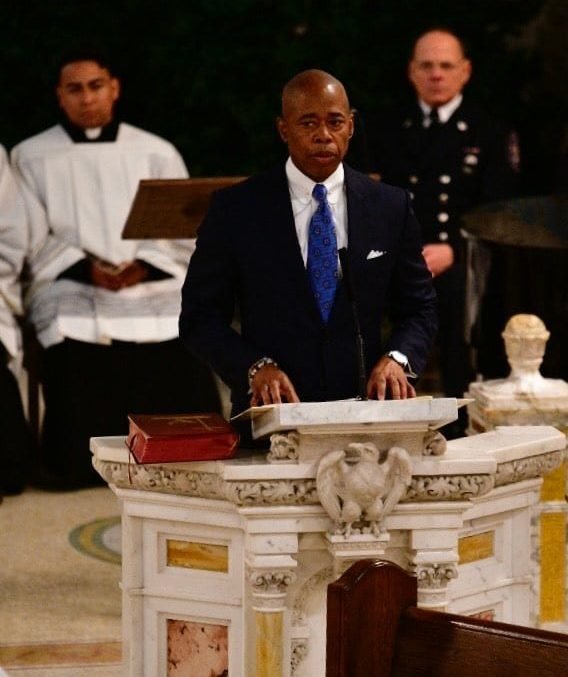 Gerhard served seven years with the department. He was first appointed as an emergency medical technician in 2014 at Station 10 in Manhattan. He was later moved to Station 47 in Far Rockaway. From there he entered the Fire Academy in late 2017. He graduated in mid-2018 and was transferred to Ladder Company 134, which shared a firehouse with Engine Company 264.
He also volunteered with the Islip Fire Department, whose motto is "For Pride. Not Pay."
"When I got up this morning, I couldn't help to think about entering the church and reflecting on the carpenter: he gave his life for mankind," said Mayor Adams during the service. "There's a natural belief that I'm talking about Jesus, but I'm talking about Jesse; I'm talking about a young man that was a simple carpenter, deserved full admiration for committing his life to not only create items out of wood but to create hope and opportunities for those that he served and protected."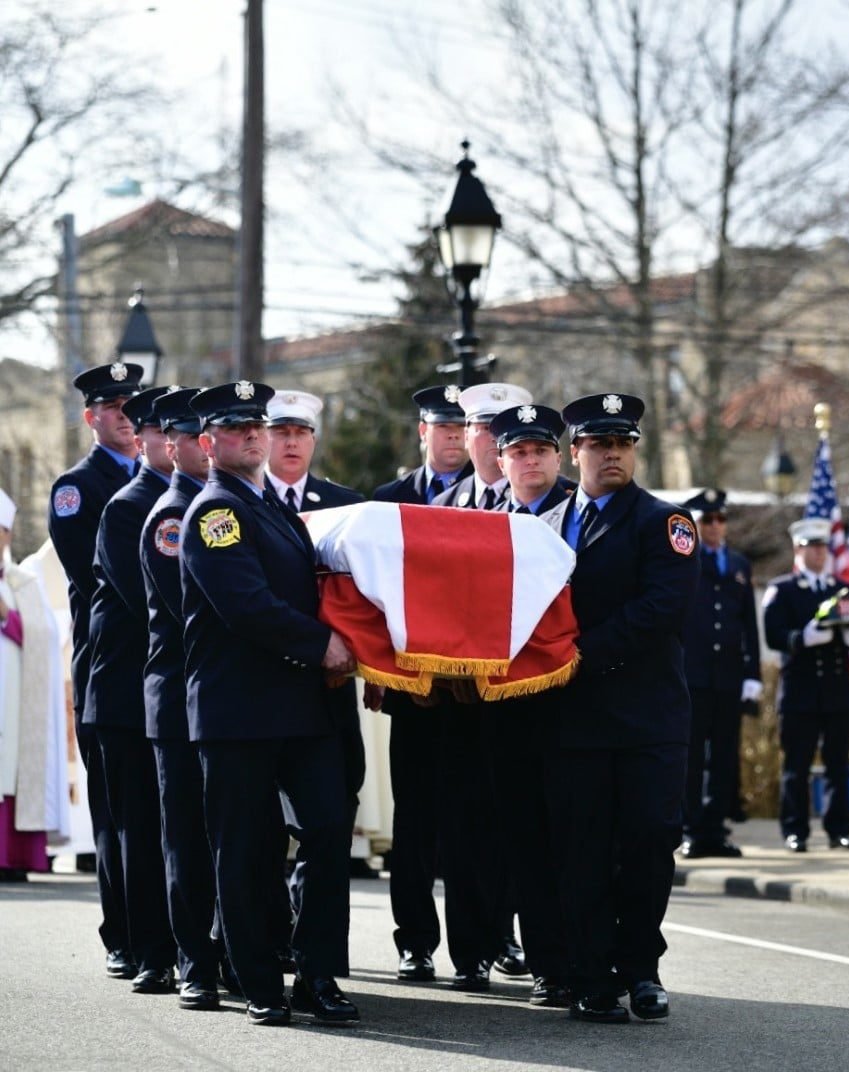 Adams said he remembered visiting Gerhard in the hospital. The dying firefighter was surrounded by his parents and his brother.
"There is no natural way to respond to this," the mayor said. "The pain of every holiday, every birthday, every moment, every time members from his station house walk past the table that he created, every time they hear the name Jesse, they relive the trauma of losing someone who's committed to the city of New York. We gather today to mourn this hero, this young man, this child who committed and dedicated his life to the people of this city. We salute his courage, his commitment, and dedication."
Adams concluded that everyone in the room knew what their fallen brother represented as a "man that could build anything and build anyone. He dedicated his life to doing so. He was Jesus-like."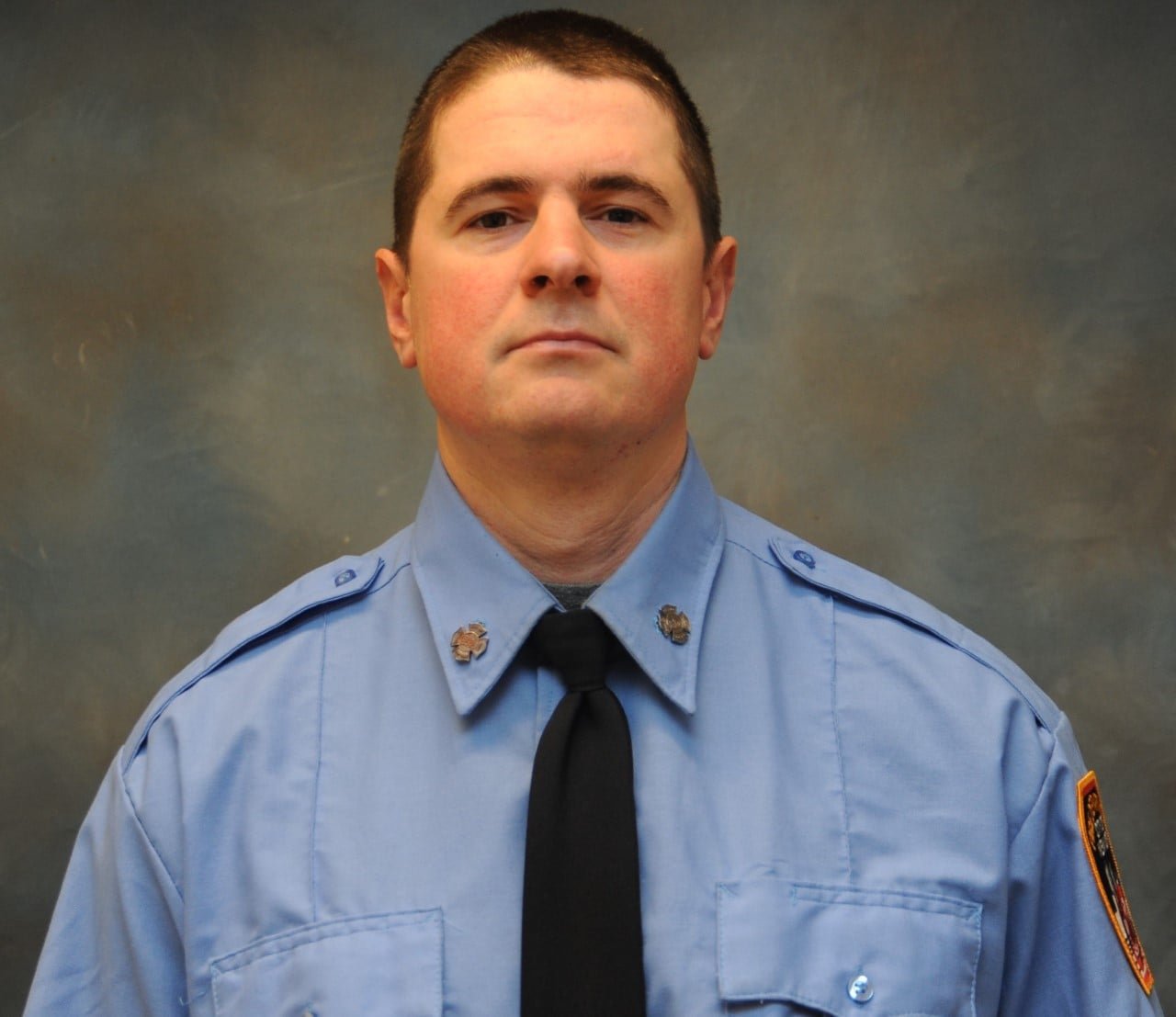 Kavanagh, the city's acting fire commissioner, told mourners that when Gerhard was only 2 years old, he began strutting around the house wearing his great-grandfather's seasoned leather helmet. When Gerhard reached the age of 4, his great-grandfather began searching for bunker coats that would fit the tyke. Turnout gear became an annual gift as the future firefighter kept growing.
"Like so many members of the FDNY, Jesse didn't characterize his job as work," she said. "He loved it simply too much. It was his calling. He was part of a special breed of human being, one that embraces public service, even in the face of great peril."
Jesse Baier Gerhard was born on Oct. 26, 1988, in Long Beach to Bruce and Lynn Gerhard. He's survived by his parents and his brother, Casey.
Mount Pleasant Cemetery Association of Center Moriches in Long Island performed Gerhard's cremation, according to his service information.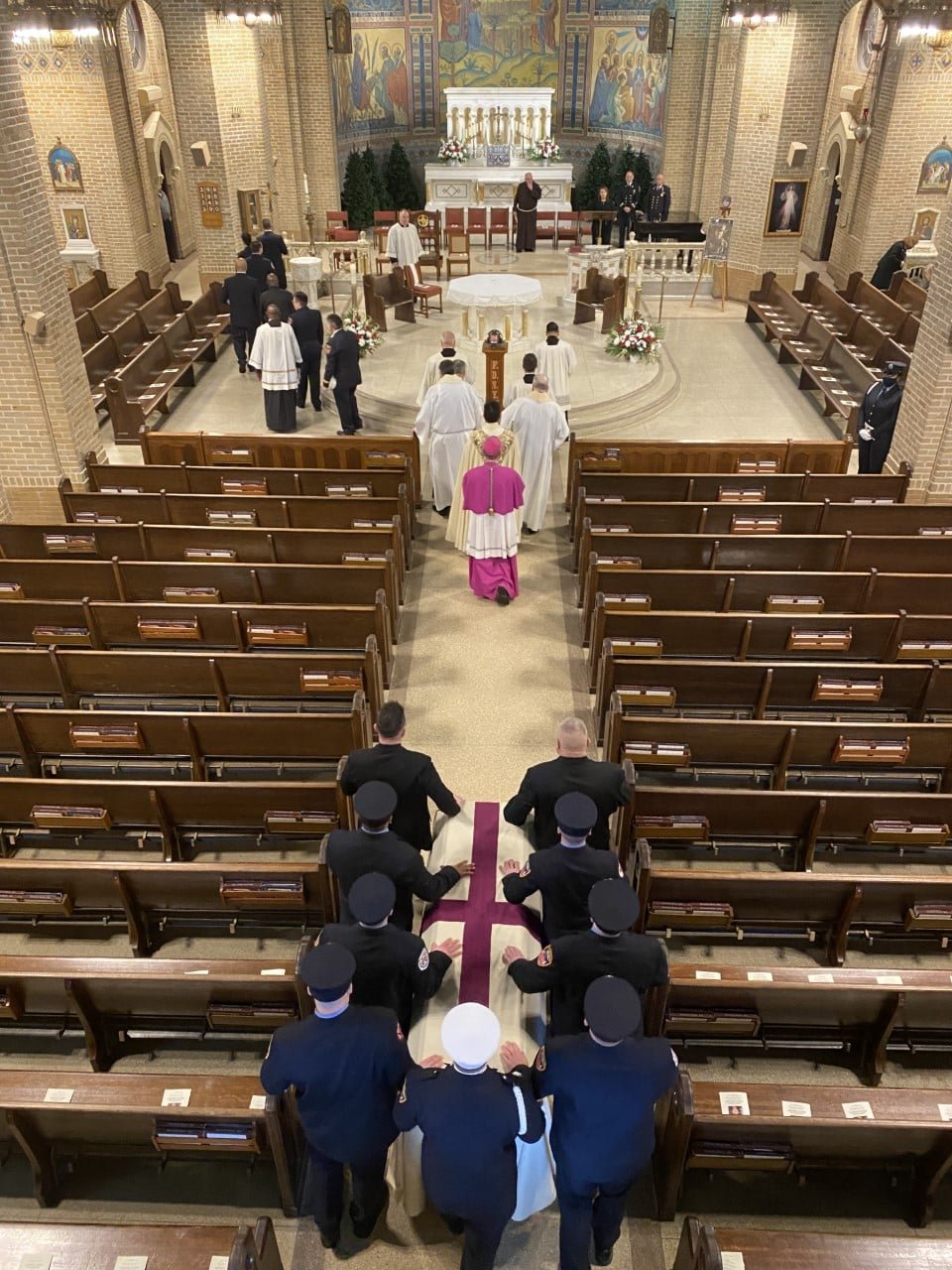 Larry Wayne Harbin
Lynn Fire and Rescue Engineer/Operator Larry Harbin suffered an unspecified medical emergency that triggered a heart attack at approximately 1:30 p.m. on March 3 while he was helping Alabama's Haleyville Fire Department battle a wildfire.
Lynn Fire and Rescue and Regional Paramedic Services personnel treated Harbin and rushed him to Lakeland Community Hospital where he was pronounced dead, according to his department.
Harbin was 65.
"Larry served for many years as a volunteer firefighter protecting his communities in both Delmar and most recently the Town of Lynn," department officials said in a social media post. "Larry will surely be missed."
Harbin served the department for 14 years, according to the US Fire Administration.
In his official obituary, Harbin's family thanked firefighters, paramedics, police, the Alabama Law Enforcement Agency, Lakeland Community Hospital, and the community "for all the care, love and support that has been given during this time."
Larry Wayne Harbin was born Oct. 17, 1956, to Frank and Loretta (née) Concord Crump.
He was preceded in death by his parents and his grandson, Jayce. He is survived by his children, Michael, Jason, Amy, and Jonathan; his brother, Danny; his sister, Judy Aventurato; and numerous grandchildren and a great-grandchild.
His funeral service is slated for March 12 in the chapel of Pinkard Funeral Home in Haleyville. Burial will follow in Lynn Cemetery.
Read Next: Same Day, Different Coasts: Heart Attacks Kill 2 Firefighters