KYIV, Ukraine — Ukraine's nationwide air defense network is currently on heightened guard against a potential Russian air-power offensive this winter. Across the country, consequently, Ukraine's military has recently increased air defenses over key locations such as bridges, airfields, and power plants. Meanwhile, with the exception of the eastern Donbas war zone, Ukraine's airspace remains open to civilian air traffic and commercial airliners.
Should Russia launch a surprise attack this winter, Ukraine's air defense units will face the extraordinary challenge of sorting out enemy military aircraft and missiles from the dozens of civilian aircraft that are likely to be airborne at any given time. Even so, Ukrainian defense personnel say sufficient safeguards are in place to prevent a case of mistaken identity, which could lead to the accidental downing of a civilian plane.
"In the event of a military threat from Russia, the decision to close Ukraine's airspace will be made immediately by the top military leadership, taking into account the situation and risks," Lt. Col. Yuriy Ignat, head of the Ukrainian air force's Public Relations Service, told Coffee or Die Magazine in an exclusive interview.
"The air force of the armed forces of Ukraine monitors the airspace over the territory of Ukraine and beyond on the territory of neighboring states," Ignat said, adding that Ukrainian air force commanders "work in close cooperation" with civilian air traffic control to prevent the targeting of nonmilitary aircraft such as commercial airliners.
"Passenger planes will be identified and cannot be considered Russian combat military aircraft," Ignat said. "However, Russia's provocative actions in the airspace cannot be ruled out. Such scenarios are also calculated and modeled by the Ukrainian military."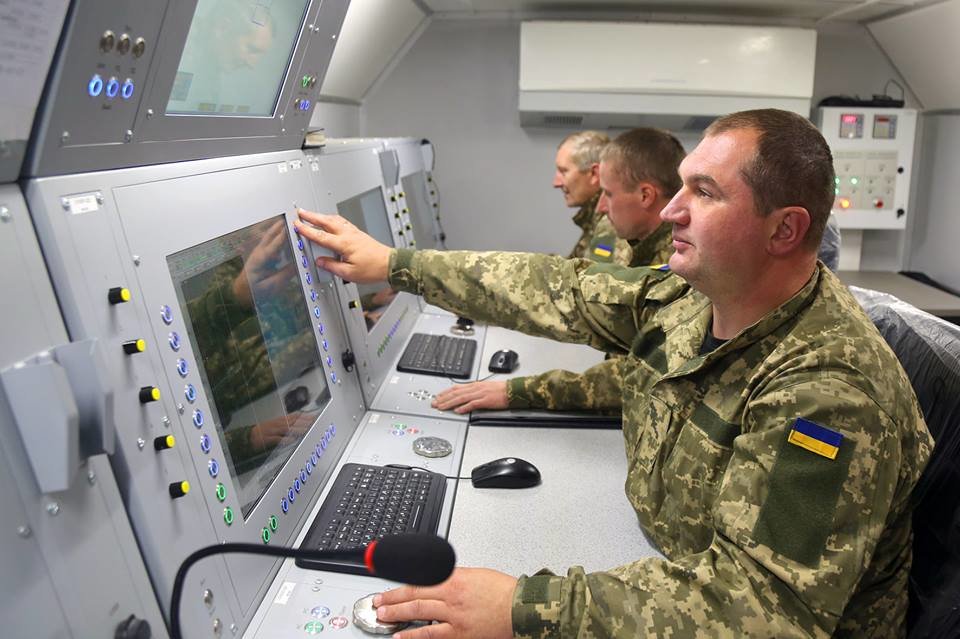 Comprising more than 1,000 personnel along with dozens of warplanes and hundreds of surface-to-air missile systems, Ukraine's air defense assets "provide fighter and anti-aircraft missile cover for critical infrastructure, important state facilities of Ukraine, and airspace," Ignat said.
Ukraine's Ministry of Defense has said that more than 120,000 Russian soldiers are currently massed near Ukraine's borders, sparking concerns about a possible winter offensive. In December, Ukrainian officials announced increased air defenses at bridges, hydroelectric power plants, nuclear power plants, airfields, and other key infrastructure sites.
"Given the military-political situation around the state borders of Ukraine, measures have been taken in threatening areas to strengthen the air cover of these facilities in certain areas and locations," Ignat said.
Nevertheless, a Russian air offensive, combining warplanes and missiles, has the potential to inflict a devastating first strike against Ukraine's armed forces.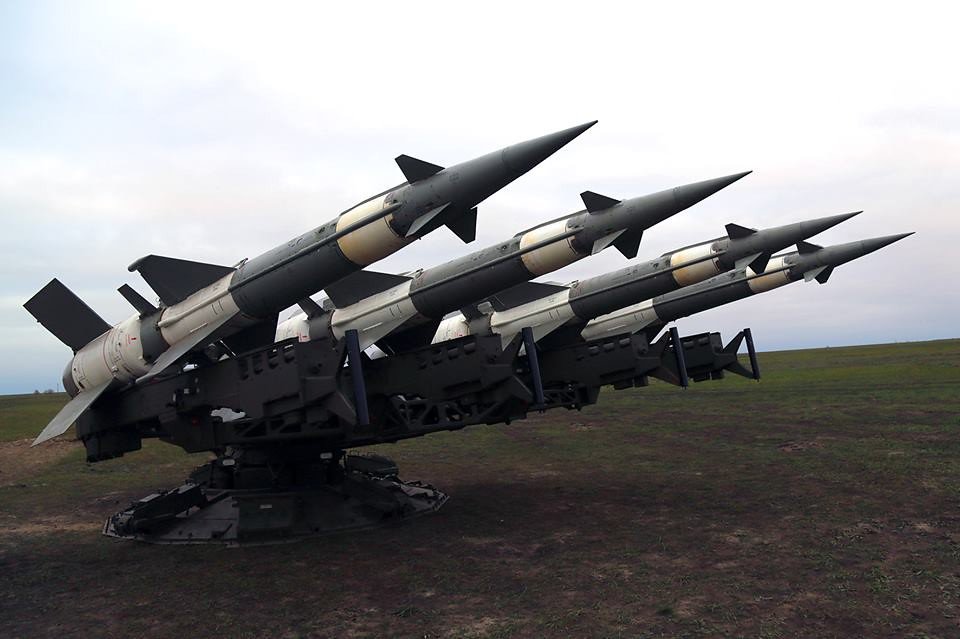 Danger Zones
Multiple open-source intelligence reports have detailed the movement of Russian surface-to-air missile systems into forward bases established near Ukraine's borders.
Mobile Russian air defense units riding on the coattails of a ground invasion force will not have well-rehearsed lines of communication with Ukrainian air traffic controllers. Moreover, in the event of an offensive, Russian air defense units protecting bases within Russian territory will be on guard against retaliatory Ukrainian airstrikes and missiles.
Compounding the danger, there are at least two well-used commercial airways that traverse Ukrainian airspace to Moscow, passing near areas where prospective Russian invasion forces are currently staged.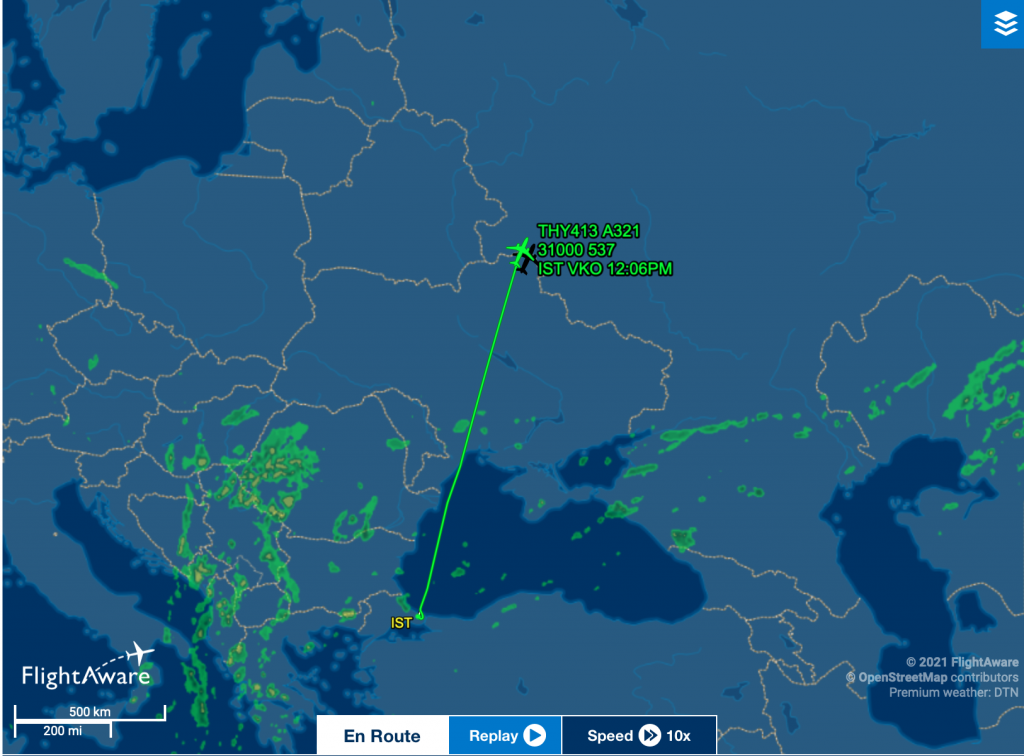 In the event of a military offensive, Russian authorities would likely close domestic airspace around the area of operation. Even so, some experts warn that a civilian airliner on a flight path inbound from Ukraine could be misread by a Russian air defense system crew not in contact with Ukrainian civilian air traffic control.
"The landmass associated with a conflict, coupled with the engagement range and altitude capability of modern surface to air missile systems, can combine to make conflict zones quite large," John Venable, senior research fellow for defense policy at The Heritage Foundation, told Coffee or Die.
Although most man-portable air defense systems, or MANPADS, top out at around 15,000 feet, more advanced surface-to-air missiles have the capability to engage aircraft at much higher altitudes. Depending on the ground-based radar used in tandem with the missile, the Buk-M1 surface-to-air missile system and its variants — used by both Ukraine and Russia — can engage aircraft above 70,000 feet in altitude.
The 'Blood of Innocents'
Due to the incompetence of other countries' militaries, Ukraine has already suffered two commercial aviation disasters in recent years.
On July 17, 2014, a Russian surface-to-air missile downed Malaysia Airlines Flight 17 over Russian-controlled territory in eastern Ukraine, killing all 298 passengers and crew. And on Jan. 8, 2020, Iranian missiles shot down a Ukraine International Airlines Boeing 737-800 only minutes after takeoff from Tehran's Imam Khomeini International Airport. All 176 passengers and crew on board the Ukrainian airliner died.
With that recent history in mind, Ukraine air defense officials have prioritized their training to prevent any cases of mistaken identity.
"Misidentification of civilian aircraft is unlikely. Air force servicemen have the appropriate level of education," Ignat said, adding that Ukrainian air force units conduct annual training to coordinate their air defense operations with civilian air traffic control.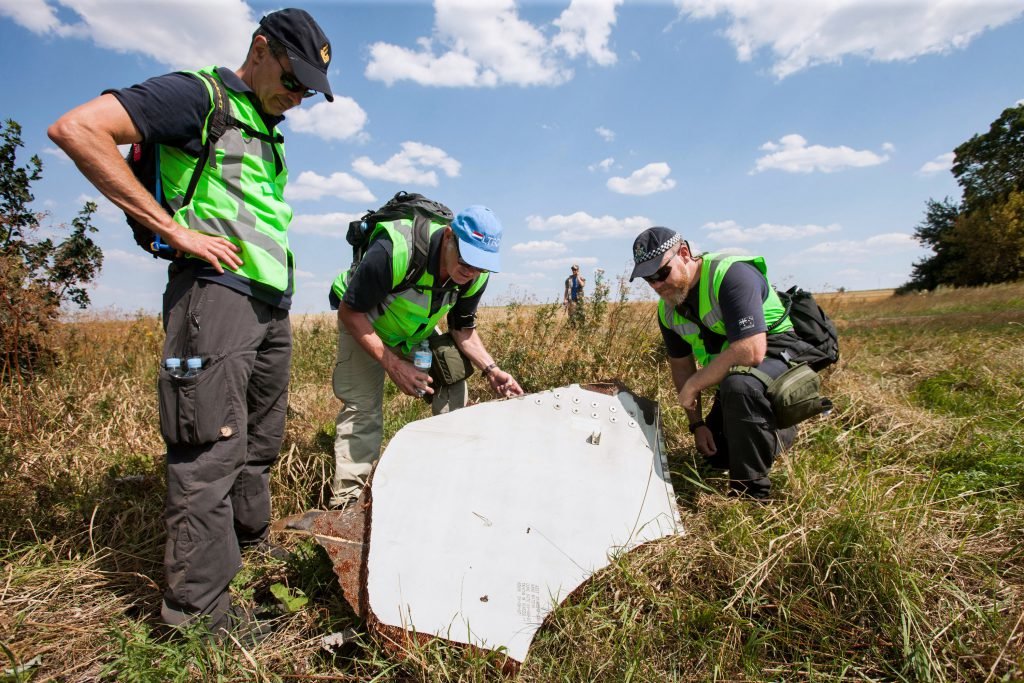 In 2014, Russia seized Ukraine's Crimean Peninsula and launched an unconventional invasion of Ukraine's eastern Donbas region. After nearly eight years, the war in the Donbas is ongoing along a static, entrenched front line.
Ukraine's air traffic control service has already banned flights over the country's eastern war zone. Likewise, the US Federal Aviation Administration and aviation agencies from multiple European countries have also issued restrictions on air traffic over eastern Ukraine.
In October, the FAA renewed long-standing flight restrictions and warnings, dating back to 2014, for US aircraft flying near the Ukrainian war zone as well as in Crimean airspace.
"These circumstances result in a continued inadvertent risk to U.S. civil aviation operations due to the potential for miscalculation or misidentification," the FAA said in the regulation renewal published on Oct. 6. In the warning, the FAA referenced threats of Russian MANPADS as well as "more advanced surface-to-air missile (SAM) systems with the capability to engage aircraft at higher altitudes."
As of this article's publication, the FAA has not issued new flight restrictions in Ukraine related to the current Russian border buildup.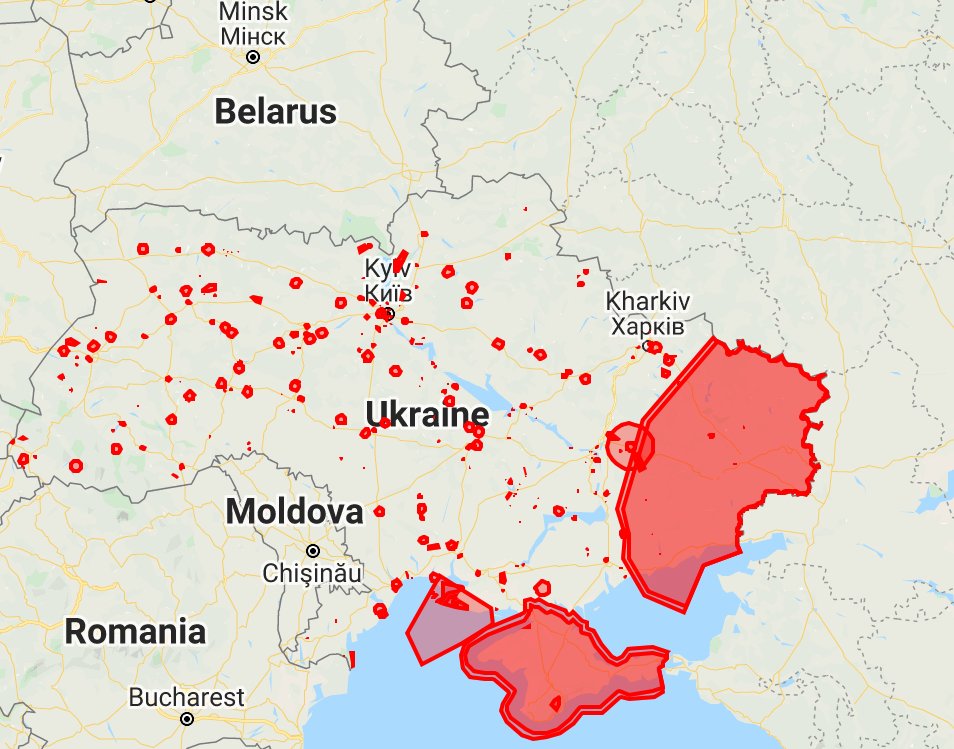 Should Russia launch a major offensive, the Ukrainian military, as well as foreign aviation agencies such as the FAA and the International Civil Aviation Organization, or ICAO, will all undoubtedly ban flights within a much larger swath of Ukrainian airspace than the current eastern war zone restrictions.
Nevertheless, in the event of a Russian surprise attack, there may not be enough lead time to implement flight bans before the danger presents itself. Therefore, dozens of commercial airliners could be caught in the airborne crossfire over Ukraine, leaving Ukrainian air traffic controllers in a mad scramble to clear their country's airspace of civilian air traffic while updating the location of those planes to the military's air defense units, which will be in the middle of their own fight for survival.
"Both Russia and Ukraine are member states of ICAO. If hostilities break out between them, it is in the interest of both nations to inform ICAO when they will be taking offensive or defensive surface to air missile activity," said Venable, who is a former US Air Force F-16 pilot with 3,000 hours of fighter time.
"Even in conflict, no nation state wants the blood of innocents on their hands nor the international scorn associated with such an incident," Venable said.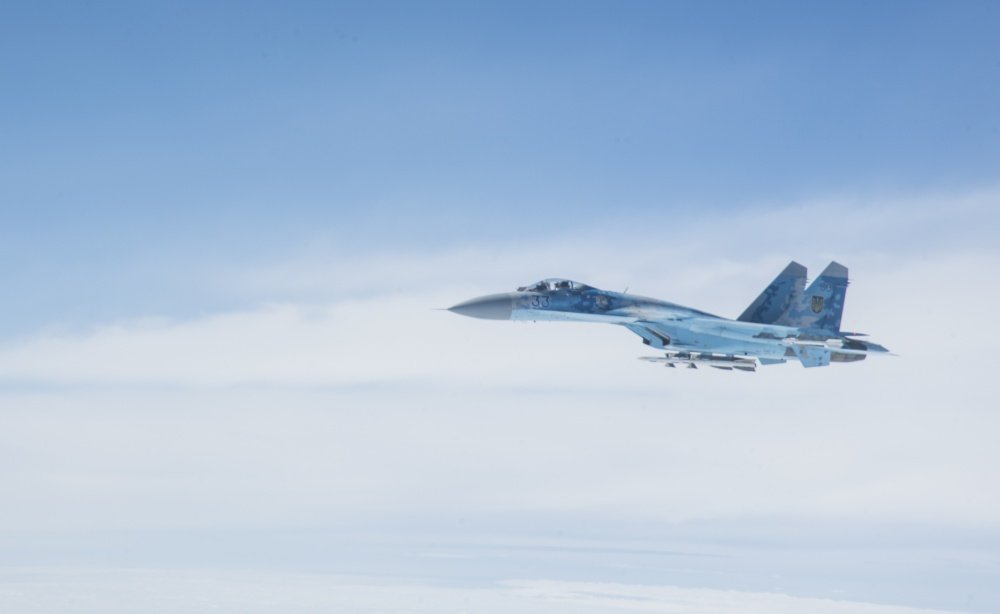 Running the Gauntlet
Ukraine's commercial air industry, which was hard hit by COVID-19 lockdowns, has rebounded to 87% of its pre-pandemic traffic levels, according to the Ukrainian State Air Traffic Services Enterprise.
In November, Ukrainian civil air traffic controllers recorded 19,942 flights in Ukrainian airspace. There were 25,090 recorded flights in October.
Serving Ukraine's second-largest city, Kharkiv International Airport — located some 40 kilometers, or about 25 miles, from the Russian border — counted 27 arrivals and departures on Dec. 27. Kyiv's Boryspil International Airport, the country's international air travel hub, registered 206 arrivals and departures on Dec. 27, according to FlightAware.
"Flights out of Kyiv during a conflict would be at risk and if Russia shuts down those operations, it will put even more pressure on Ukraine," Venable said.
Based on an analysis of data from FlightRadar24 and FlightAware, websites that track aircraft, the most heavily used airways in Ukraine include a north-to-south route between Kyiv and the southern Ukrainian city of Odesa, as well as two other air corridors extending to the west and southwest from Kyiv. All of these airways pass near three of Ukraine's four active nuclear power plants — facilities that are now under increased air defense overwatch due to the Russian threat.
Ukrainian officials banned direct flights between Ukraine and Russia in 2015. Still, a substantial amount of traffic in and out of Russia continues to pass through Ukrainian airspace.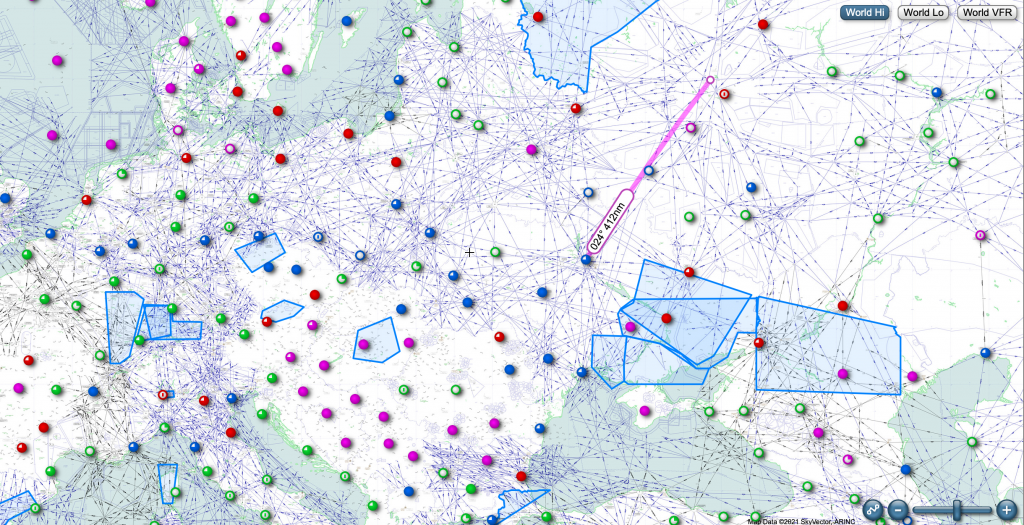 According to air navigation charts, several high-altitude airways pass between Kyiv's Boryspil International Airport and the Russian city of Bryansk as part of an air traffic corridor leading to Moscow. These airways pass near several Russia military areas that Western experts and officials have highlighted as staging grounds for a possible invasion force.
On Oct. 27, for example, open-source intelligence observers spotted what appeared to be Buk-M1 surface-to-air missile system supply units, potentially transporting as many as eight missiles, in Bryansk.
On Dec. 27, some of the aircraft transiting Ukrainian airspace to and from Moscow included: Wizz Air Flight 2490 from Moscow to Budapest, Hungary; Air Moldova Flight 174 from Moscow to Chişinău, Moldova; Cyprus Airways Flight 486 from Larnaca, Cyprus, to Moscow; Aegean Airlines Flight 881 from Moscow to Athens, Greece.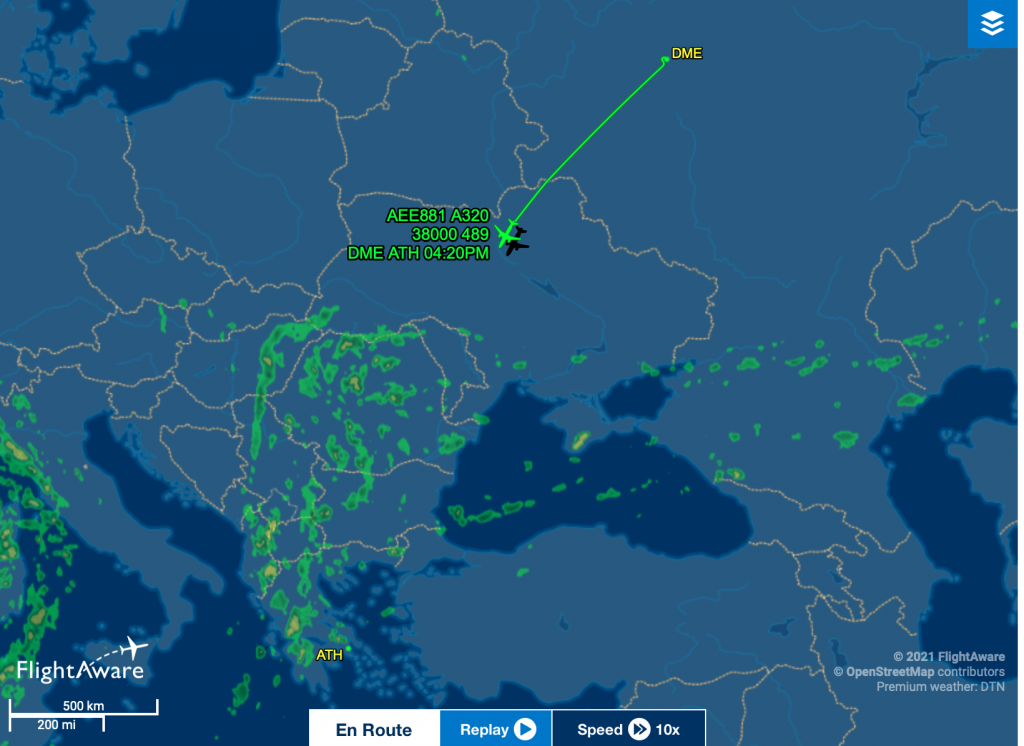 The Fog of War
According to recent reports, the Ukrainian air force possesses roughly 100 S-300 launchers, 72 Buk-M1 systems, and a smaller number of S-125 systems. The roughly 100 anti-aircraft missile launchers in the Ukrainian army include Osa-AKMs, S-300s, Strela-10s, Tor-M1s, and Tunguskas. The Ukrainian army also wields anti-aircraft guns, as well as man-portable air-defense systems, the weapons commonly known as MANPADS.
Most of Ukraine's anti-aircraft systems are of Soviet vintage. Even so, an operator using a Soviet-era, passive radar should be able to easily distinguish a commercial airliner from an incoming Russian warplane or missile, Oleksiy Melnyk, a former Soviet fighter pilot and retired Ukrainian air force commander, told Coffee or Die.
"Civil aircraft use zones and corridors, which are clearly identified on aeronautical charts and on radar screens," said Melnyk, who is now co-director of Foreign Relations and International Security Programs at the Razumkov Centre, a Ukrainian think tank. "As long as an aircraft keeps inside these zones and corridors or nearby it is assumed to be an authorized flight. It can also be identified by transponder, if it's on."
Transponders emit a radar beacon that transmits flight data and an aircraft's identity back to ground controllers. According to international aviation rules, air traffic controllers assign every aircraft a unique transponder code for in-flight identification. Military aircraft on combat missions typically switch off their transponders to avoid detection.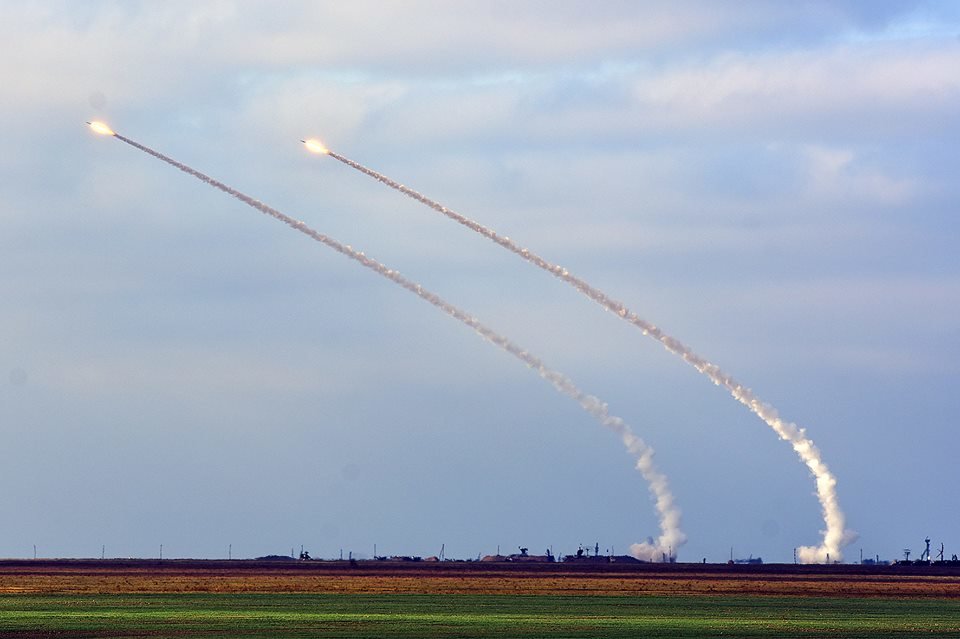 Moreover, civilian aircraft typically operate at slower speeds and maneuver much less aggressively than military aircraft on combat missions. These attributes are identifiable to the operators of stand-alone air defense systems, as well as overseers in Ukraine's air defense command and control centers.
Nevertheless, if Russia launches a barrage of airstrikes and missile attacks in the opening hours of an offensive against Ukraine, it could plunge Ukraine's air defense system into chaos, thereby muddying the well-rehearsed lines of communication between air defense officials and civilian air traffic control. Russian cyberattacks and electronic warfare attacks will also reduce situational awareness and add to the fog of war.
And there's always the human factor to consider, as well. Under the pressure of life-or-death combat conditions, Ukraine's air defense system operators will be pushed to the limits of their training — no matter how well honed their skills may be ahead of time.
"The safety system is in place," Melnyk said. "However, incidents as we know happen even in peacetime, and their probability is much higher in case of war."
Read Next: Foreign Fighters Vow To Support Ukraine Against Russian Invasion