David Shank served as commandant of the US Army's Air Defense Artillery School at Fort Sill, Oklahoma, before retiring as a colonel, but when he considers how Russian pilots now see the airspace over Ukraine, he thinks it's akin to how US troops viewed the side streets of Baghdad — full of dangers they couldn't see.
"If you were a ground soldier, every step you can potentially step on IED," Shank told told Coffee or Die Magazine. "I think the Russians are living the same human dimension. I'll just use the term nightmare. You never know where the next [MANPADS, or man-portable air-defense system] team is."
And that "nightmare" the Russians now face traces back to mistakes Russians made in the war's first hours when they failed to gain air superiority, Shank said.
"The Russian defense forces in general had a poor plan from the start," Shank said. Aside from failing to execute "the fundamentals of combined-arms fighting," the Russians also failed to suppress Ukraine's air defenses.
Ukraine has since taken advantage of that early mistake, Shank said, employing both a wide array of "very capable" Russian-built air-defense systems it already owned and a massive influx of man-portable systems like US-made Stingers, a weapon Russians remember well from its devastating effects on Russian aviation during that country's occupation of Afghanistan.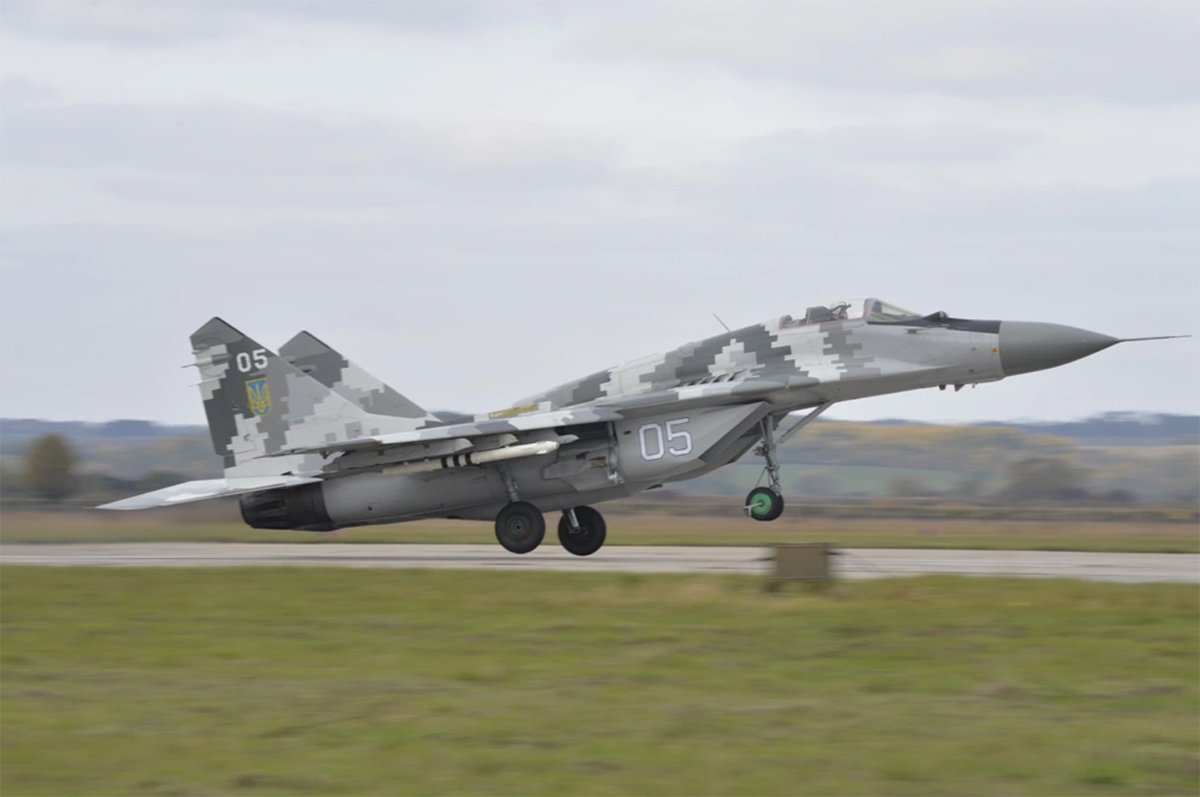 "I think Russian aviators are extremely concerned, " Shank said. "[The Ukrainians] have leveraged the capability they have."
Speaking to reporters the morning of Monday, March 21, a senior US defense official said that airspace over Ukraine remained contested, due "largely to a very creative air-defense posture by the Ukrainians. They're being very nimble, very agile in how and when and where they apply air defense."
That includes not just shoulder-fired systems like Stingers, but long-range, mobile air defenses, the official said. "They're being very resourceful in how they're trying to prevent the Russians from dominating the skies over Ukraine."
The official could not say whether MANPADS or the larger systems had been more effective against Russia, but the official did say that, in the last 24 to 48 hours, "we have seen air activity from both sides increase. The Russians made more than 300 sorties in the last 24 hours, and the Ukrainians have likewise picked up the pace of sorties. I'm not going to get into their numbers."
Russia's failure to gain air dominance surprised experts who said that air-defense systems similar to Ukraine's have routinely been quickly defeated by attacking air forces in other conflicts, including in cases Russian leaders would know well, such as Israeli attacks on Syria.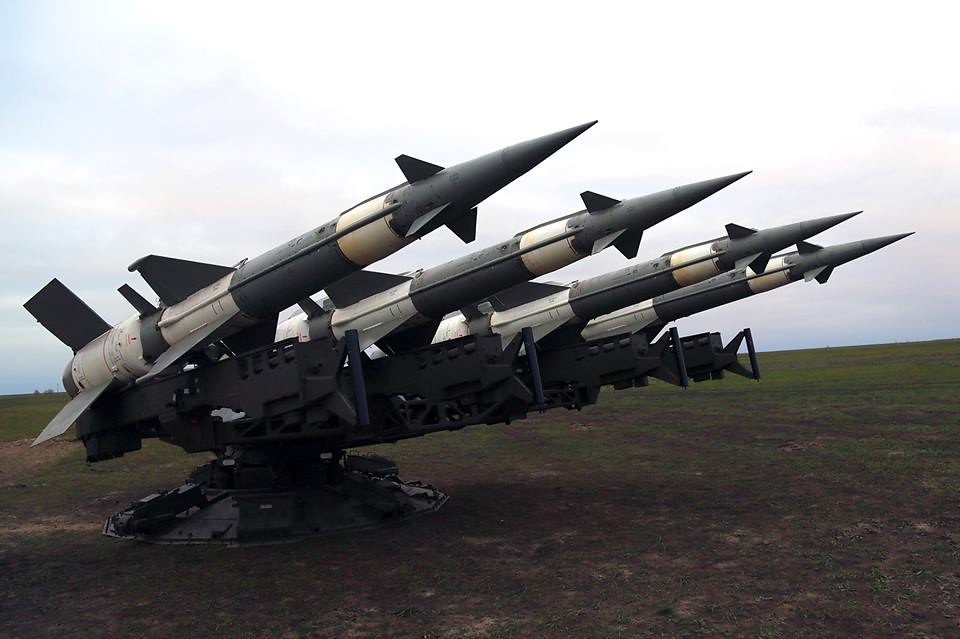 "The Israeli Air Force has regularly defeated these systems through the combined use of electronic warfare, anti-radiation missiles, and stand-off precision guided munitions," according to a Rand Corp. blog post from July 2020.
Ukraine's anti-air platforms are split between the army and air force, with the army deploying some missile and gun-based systems along with smaller units a soldier can carry, while the air force deploys larger missile systems with tanklike launchers, some equivalent to US Patriot batteries, according to a Ukraine defense expert who spoke to Coffee or Die on the condition of anonymity to discuss sensitive details.
The army inventory includes Osa-AKMs, Strela-10s, Tunguskas, Shilkas, and MANPADS, all of which can travel with moving combat units, the expert said. The air force uses S-300s, S-125s, and the Buk-M1s — larger, longer-range systems more likely to be employed in defense of a base or airfield.
While the expert would not say how many systems Ukraine had or where they were located, The Kyiv Independent reported Wednesday that Ukraine operated a total of 250 S-300s and was also believed to have had nearly 72 Buk-M1 systems and a number of short-range S-125s. While The Kyiv Independent said it was not known how many of these units were still operational, Oryx, an independent website tracking equipment damage, said that, as of Monday, Ukraine had seen one ZSU-23-4 Shilka captured; five S-300 PS launchers destroyed or abandoned; eight Osa-AKMs destroyed and two captured; one Strela-10 destroyed and another abandoned; and one Buk-M1 destroyed.
Osa-AKM — NATO code: SA-8 Gecko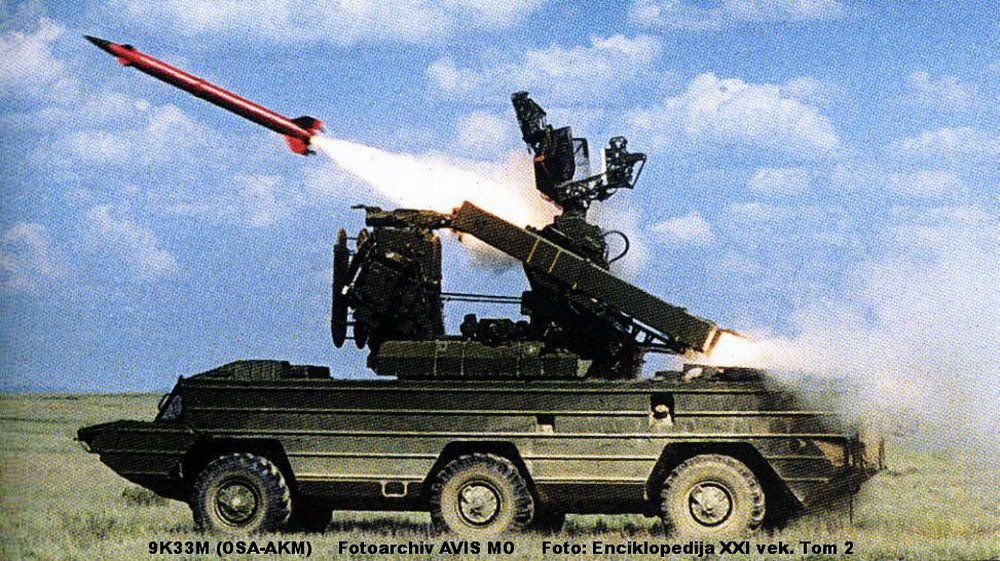 The Gecko is an independent combat unit composed of a BAZ 5937 vehicle with launching track for missiles, according to the Czech Republic's Ministry of Defense & Armed Forces. It has fire-control electronic devices and a storage compartment for missiles. The crew can conduct combat activities on the run or during short stops. The system has "a good heavy terrain capability and is capable of crossing water obstacles by floating," according to the Czech ministry.
The Gecko's high-explosive warhead can travel at Mach 2.4 at an altitude of between 25 meters and 5,000 meters with a range of 1,500 meters to 10,000 meters, according to the US Army.
Strela-10M — NATO code: SA-13 Gopher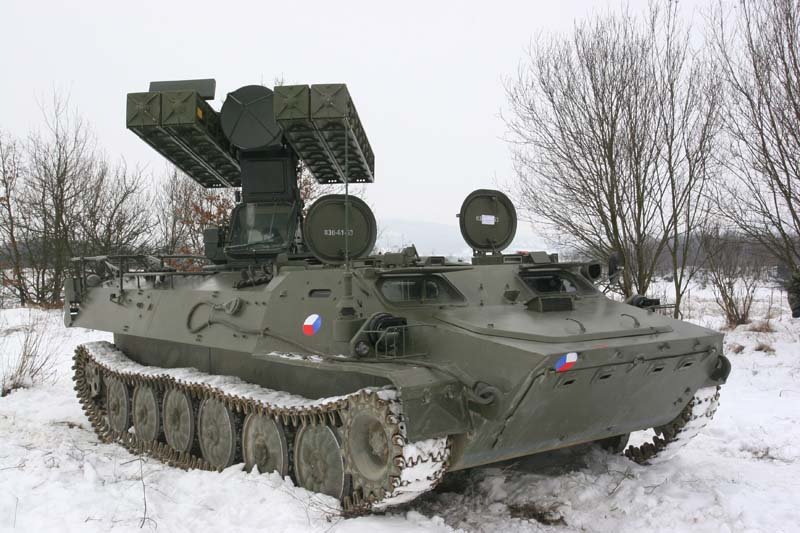 Another independent armed combat unit, the Strela fires missiles with 6-kilogram high-explosive warheads, according to the Czech Republic Ministry of Defense, that have homing systems and solid-fuel engines that can reach a velocity of Mach 2 at an altitude of 10 meters to 5,000 meters and a range of 1.5 kilometers to 10 kilometers.
Some combat vehicles are equipped with the 9S16 direction finder to identify air targets. That gives operators time to turn the turrets to required positions.
A Strela made news early on in the conflict when one of the units was caught on camera running over a car in downtown Kyiv.
ZSU-23-4M Shilka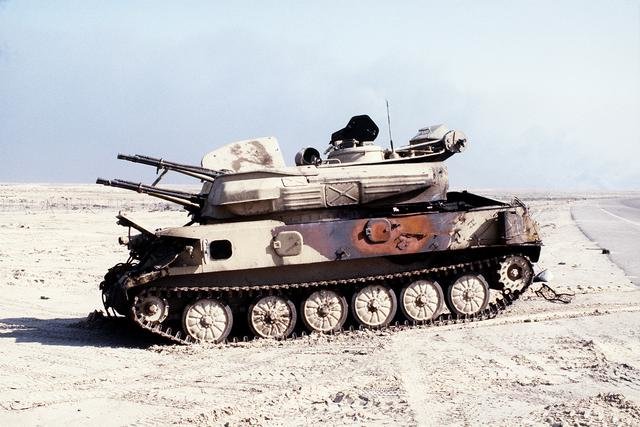 Known to generations of American pilots as the "Zoo-23," the Shilka ZSU-23-4 anti-aircraft self-propelled gun can acquire, track, and engage low-flying aircraft (as well as mobile ground targets while either in place or on the move), according to the Federation of American Scientists. It is armed with four 23 mm cannons with a maximum slant range of 3,000 meters, according to the FAS. It was designed for close air defense, covering ground troops and destroying aerial targets, according to the Ukrainian military. It can hit flying targets at 2,500 meters and at altitudes up to 1,500 meters, as well as ground targets at a distance of up to 2,000 meters while moving. In 2020, the Ministry of Defense of Ukraine ordered two batches of modernized Shilkas.
ZPRK 2K22 Tunguska — NATO code: SA-19 Grison
An anti-aircraft gun and missile system, the Tunguska is an "independent, highly mobile short-range missile system designed to combat aircraft, helicopters, drones ad lightly armored ground and sea targets," according to Ukroboronprom, the Ukrainian state defense industry. The Tunguska fires both 9M311 anti-aircraft guided missiles and 30 mm rounds with high-explosive, incendiary, and HE tracer rounds. The solid-fuel missiles, with 9 kilogram warheads, can travel at 900 meters per second. With a ceiling of 3,500 meters and a range of up to 10,000 meters, according to the US Army. The 30 mm cannon projectiles can reach 2,000 meters in altitude with a maximum range of 4,000 meters, according to the US Army.
Buk-M1 — NATO code SA-11 Gadfly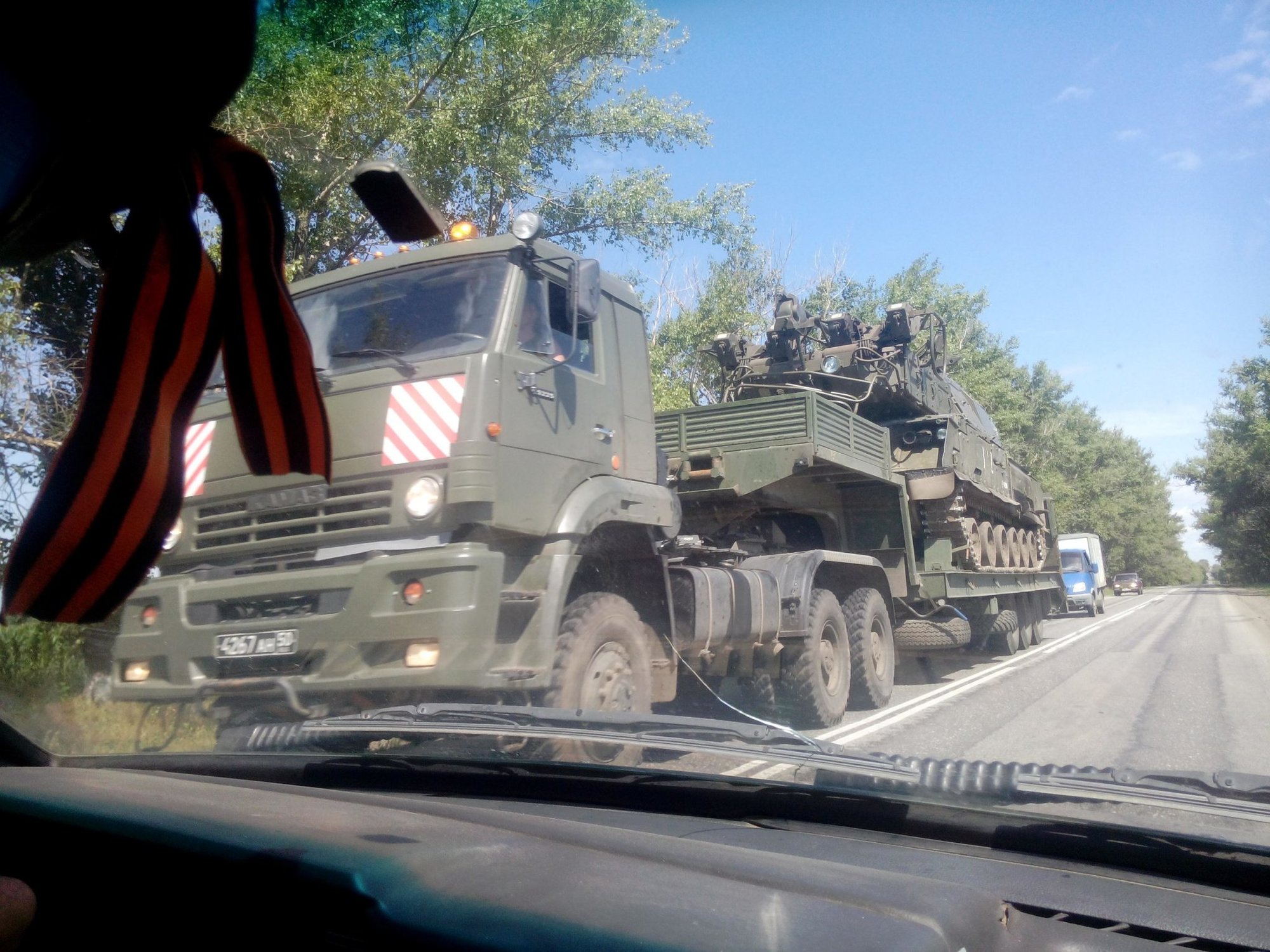 The Buk mobile air-defense system is designed "to operate in intense electronic countermeasure environments for defeating aerodynamic targets (like fixed and rotary wing aircraft and cruise missiles) flying at low and medium altitudes at speeds of up to 830 m/s and at ranges of up to 30 kilometers," according to Ukroboronprom. The Buk-M1 consists of "a 54K6E command post vehicle, a target acquisition radar mounted on a tracked vehicle, and up to 6 loader-launcher vehicles designated the 9A39M1 carrying 4 9M38 missiles," according to deagle.com. It can be ready to fire in just five minutes and engage up to six targets simultaneously.
A Russian Buk-M1 is believed to have shot down Malaysia Airlines Flight 17 in 2014.
S-125 — NATO code: SA-3 Goa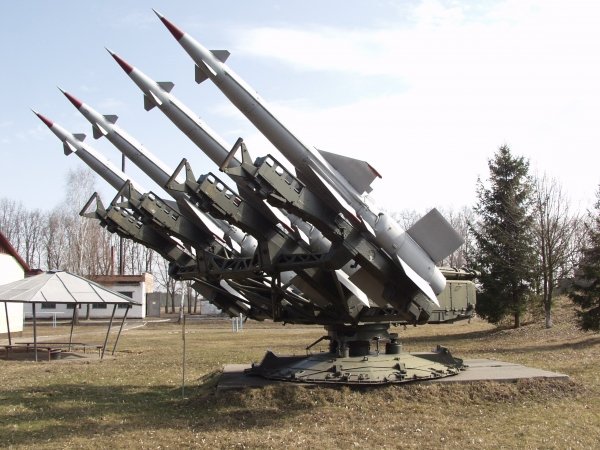 The S-125 is "a two-stage, solid-fuel, low to medium altitude surface-to-air missile system designed to protect very important government, industrial and military installations against all types of airborne threats flying at extremely low and medium altitudes, such as bomber aircraft, fighter bombers, multirole aircraft and also cruise missiles," according to Ukroboronprom. The missiles, with high-explosive warheads, can travel faster than Mach 3 and hit targets up to 25,000 meters high and 25 kilometers away, according to the FAS. Long-range surveillance and target acquisition is handled by the van-mounted radar.
S-300 — NATO code: SA-10 Grumble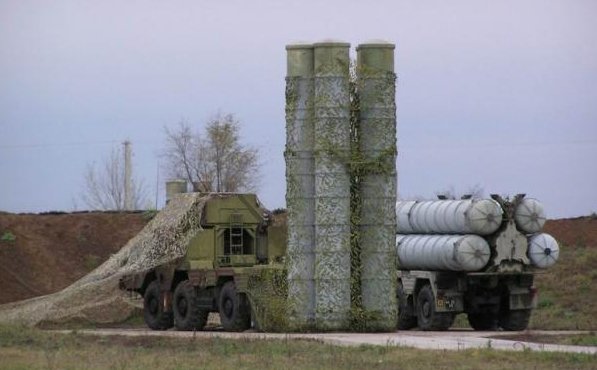 Roughly similar to the United States' top-line Patriot missile interceptors, the S-300 PS system can intercept all types of aircraft, cruise and ballistic missiles, and other airborne targets. Its missiles fly at 1,200 meters per second to ranges up to 90 kilometers and altitudes up to 25 kilometers, according to Ukroboronprom. A variant of the systems the US and allies are considering sending to Ukraine, the S-300 PS, is thought to have been designed for Soviet use to be capable of carrying a small nuclear warhead, though there is no indication that those in use in Ukraine by either side would do so.
Each system presents its own set of problems for Russian pilots, said Shank, the former Air Defense Artillery School commandant.
"Are they going to be hiding around a corner or behind a building?" Shank said. "Are they going to pop up from an open field? As you go through the layering of air defense, you go all the way up to an S-300 or an SA-10. And you go, where are those systems located?"
A senior US defense official agreed that the Russians were taking Ukraine's air defenses into consideration.
"We continue to see a risk aversion by a lot of Russian pilots inside Ukrainian airspace," the official said.
Read Next: