KYIV, Ukraine — When the clocks strike midnight this evening, it will mark a new year — and for Ukraine, the beginning of a ninth straight calendar year at war. But you'd hardly know it walking around the capital city of Kyiv today.
Across town, you find outdoor Christmas markets where holiday revelers enjoy mulled wine and grilled meat. In the center of St. Sophia's Square stands a massive Christmas tree bedecked in illuminated garlands. Nearby, ice skaters circle on a rink while a mix of American Christmas classics, such as Elvis Presley's Here Comes Santa Claus, play over loudspeakers. With a sprinkle of light snowfall ornamenting the nearby onion-domed rooftop of St. Sophia's Cathedral, the whole scene feels a little like walking through a snow globe.
The war? Well, that seems to be the last thing on anyone's mind. But you'd be wrong to assume so. The war is always there, if you know what to look for.
There, in the crowd, a group of young soldiers are taking selfies next to the giant Christmas tree. At first, they seem to be having a good time like everyone else. But you recognize that look on their faces — that look of feeling like a foreigner in a place that should feel like home. It's hard, after all, to truly leave the war behind when you know that thousands of your brothers and sisters in arms remain under fire in the frozen trenches just a few hundred miles from here.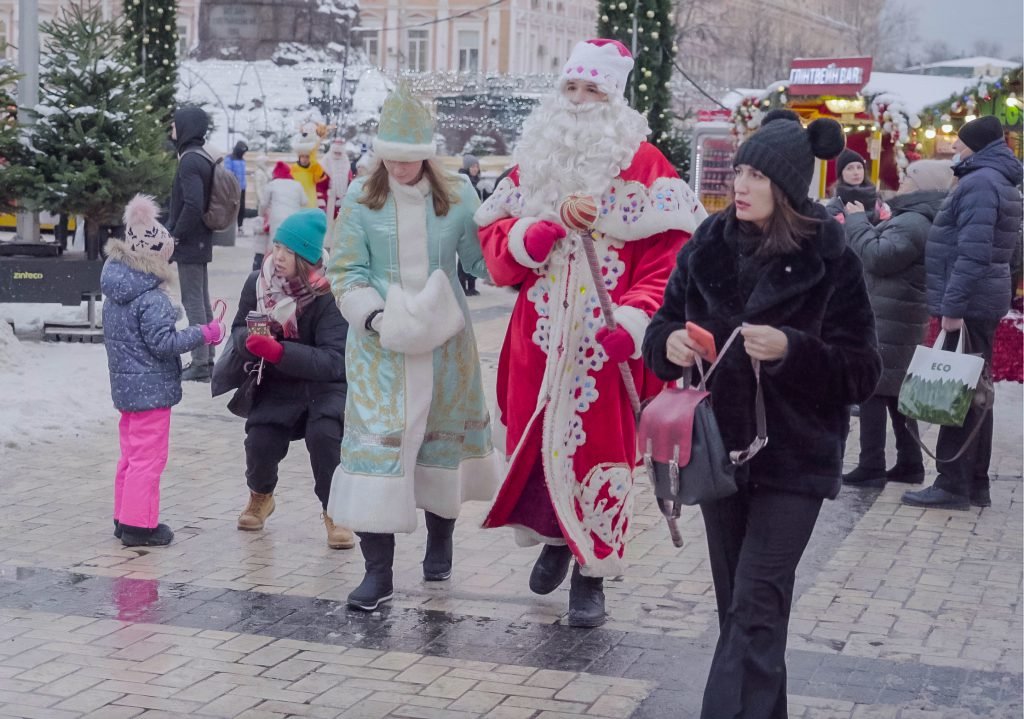 Yes, the war is always there, even if you have to use a little imagination to remember. And with more than 120,000 Russian troops massed on Ukraine's borders, there's something heavy in the air tonight, as if the presence of those soldiers exudes a gravitational force that's holding us down and not letting our holiday moods soar too high. You see, while most Ukrainians were skeptical at first about the possibility of a major attack, many have now begun to wonder whether the war — which has remained quarantined to the eastern edge of the country for so long — is finally about to become that nightmare we always feared.
"We are living here, living our lives while we are waiting for attacks. Missile attacks, or tank attacks, or whatever," says Rastislav Permiakov, who owns a mobile telephone shop in Kyiv. "There is no way to live with such a neighbor, such a dangerous neighbor."
At first glimpse, you might be inclined to assume that all the talk in the news of a Russian invasion this winter is a Western invention that has little bearing on most Ukrainians' day-to-day lives. I mean, just look at this place. How can people celebrate the holidays and sit in traffic and go on dates and go to the gym and do all these normal things if they really thought a major war was about to happen?
But, again, you'd be wrong to think that way.
"We've had war for years, and we've lived with these thoughts for a very long time," says Iryna Kozar, 25, who works at a bookstore in Kyiv's Gulliver shopping mall. "We feel scared, because we don't know what tomorrow will be. We just don't know."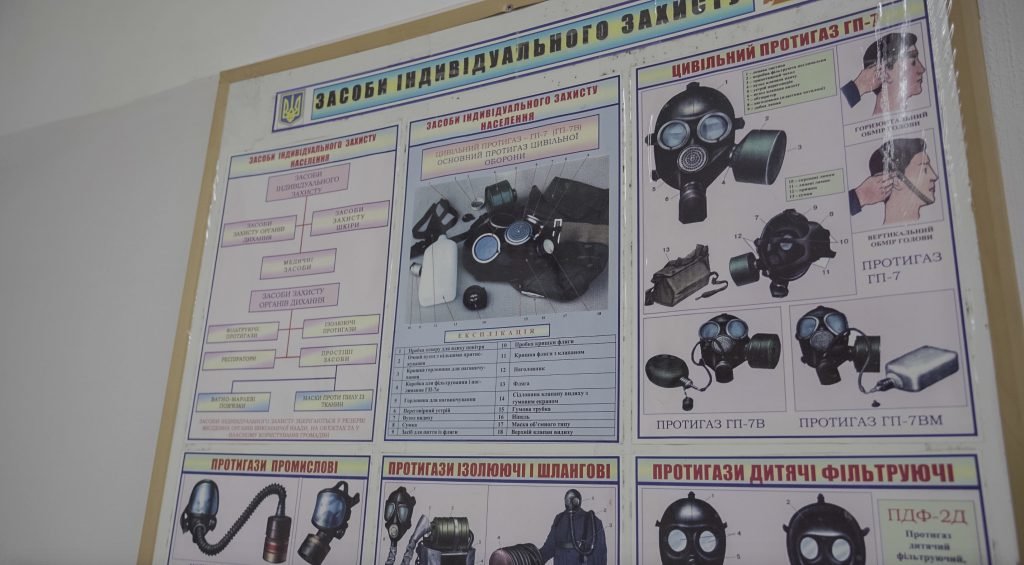 Later, you leave the Christmas market on St. Sophia's Square and approach St. Michael's Golden-Domed Monastery. In their anti-religious zeal, the Soviets demolished the original 12th-century church that once stood at this site. The present reconstruction was officially reopened in 1999, nearly a decade after Ukraine's post-Soviet independence from Moscow.
One of the monastery's exterior walls is now covered in photos of the roughly 4,500 Ukrainian soldiers who have so far died in the Donbas war — at least 79 of whom died in 2021. Those faces stare into you as you pass, reminding you that Ukraine's independence from Russia is still being fought for, only a few hours away from here by train.
The price of freedom is often determined by those who wish to destroy it. Even so, there are many brave men and women in this world who believe that freedom is worth the fighting for, no matter the price. Unlike a demolished church, however, you can never resurrect all the lost lives those faces on the wall represent.
You pass a woman who stands before the wall. She wears a headscarf, but she's not really all that old. Not much older than your 39 years, most likely. She stands staring at the wall with flowers in her hand. She has been crying, you can tell. But you cannot know what picture on that wall she has been crying for. Maybe, she's crying for them all.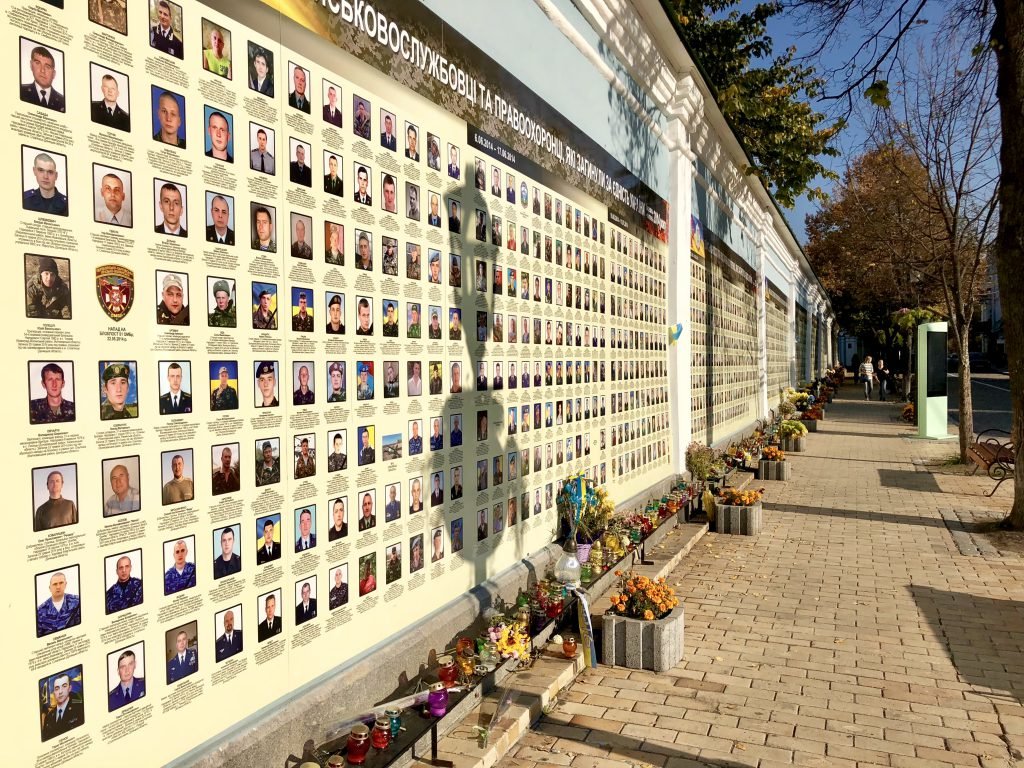 You walk a little farther and after crossing the wide stone expanse of the Maidan, the epicenter of Ukraine's 2014 pro-democratic revolution, you begin to climb Heroes of the Heavenly Hundred Street. As the cobblestone street steeply ascends from the Maidan, you pass a procession of stone memorials to fallen soldiers. Each marker bears the etched likeness of a man or woman who died in the war. Many of these memorials have fresh flowers or candles laid before them.
You keep climbing. You had no intention to come this way but you did so anyway, as if drawn by some magnetic force. At the top of the street, just behind the imposing, Soviet-era bulk of the Hotel Ukraine, there's a small open space framed on one side by a low stone wall. This is the spot where dozens of protesters were shot dead by snipers in the revolution's final hours. The stone wall, behind which many protesters took cover, still bears the pockmarks of snipers' bullets.
You know what happened here, you've seen the videos.
A protester moves forward and then bam — down and dead in the faster-than-gravity way that dead men fall. Then the other amazing thing happens. Another protester runs forward and tries to drag his fallen friend away. Often, this second protester is also cut down.
Advancing toward the provenance of gunfire is a terrifying act. And one has to be motivated by something more powerful than the fear of death to do it. And these protesters, remember, were not trained soldiers acting out of some muscle-memory reflex honed by hundreds of hours of training. No, these were college students and their professors. Waiters and mechanics. Ordinary people.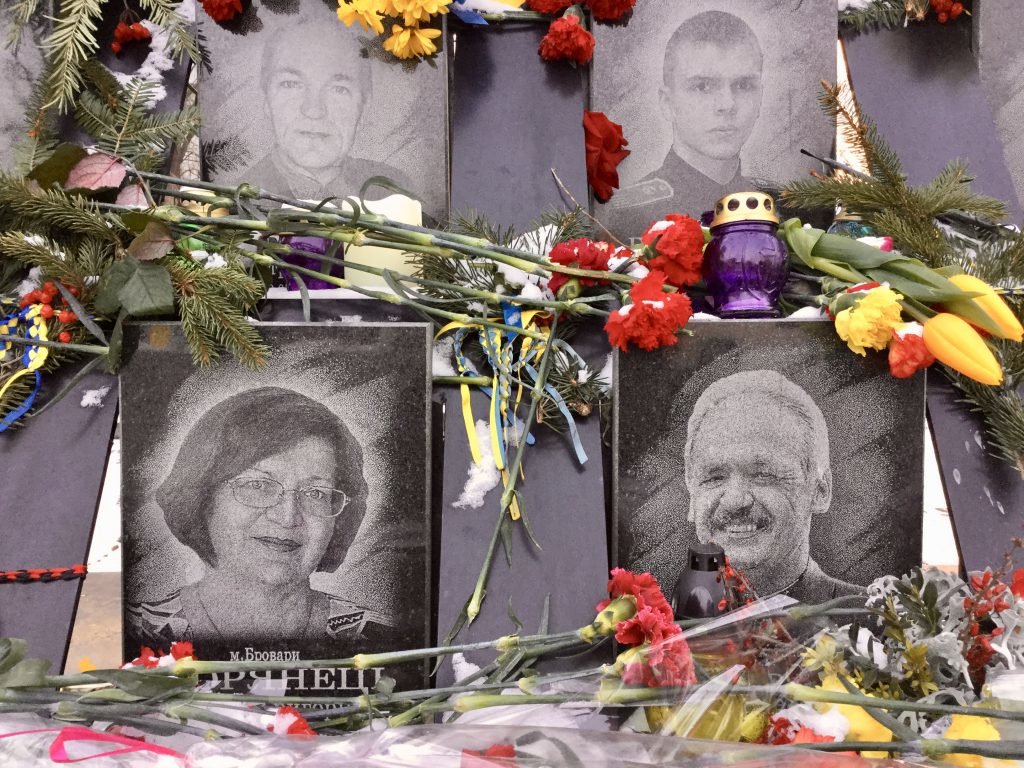 On this frigid evening nearly eight years after the fact, you stand in silent awe at the memorial now marking this hallowed spot. The monument comprises a gallery of stone plaques emblazoned with the likenesses of the fallen protesters — the "Heavenly Hundred." You scan these faces of men and women, old and young, and you wonder what inspired them to advance toward the sound of gunfire.
A single word comes to mind. At first you dismiss it. It's simply too cliché, you think, too jingoistic to really be the answer. But this single word, no matter how overused and trite it may be these days in America's popular lexicon, really is the best explanation for the unexplainable courage shown by the Heavenly Hundred on that cold and bloody day in February 2014.
That word? Freedom.
You stand at this spot and marvel at what people will do for their freedom. It's hard to understand what the words "fighting for freedom" truly mean until you rub your fingers over bullet holes in a light pole in the middle of a European capital and admire the engraved faces of some 100 everyday Ukrainians who decided that freedom really was worth the fighting for.
After almost eight years, that fight is not yet over. And the biggest battle may be yet to come.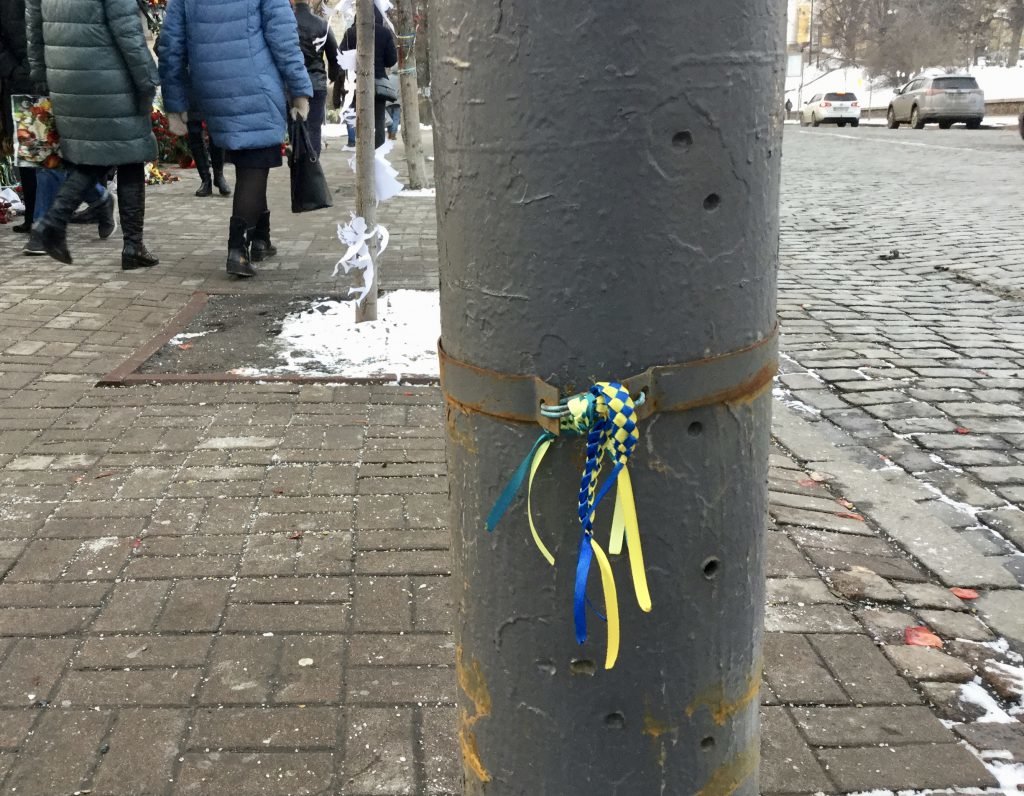 It's getting dark now, although it's only 4 p.m.
You make your way home and begin to reminisce about all the years you've spent in this war.
You remember Oxana Chornaya, a 35-year-old university professor who put her life on hold when the war began so she could deliver supplies to Ukrainian troops on the front lines. Chornaya wore body armor over her floral sundresses as she weaved an old, fully loaded minivan through artillery fire.
In 2015, she told you, "Sometimes I'm so afraid I can't take my hands off the steering wheel. I get so scared. My knuckles are white and I can't breathe.
"But I have to do this," she added.
You also remember visiting your friend, Nemo, at that military hospital in 2016.
When you first met him on the front lines in the summer of 2015, Nemo had already been at war for more than a year. You remember him as the strong, athletic soldier with short-cropped blond hair and a muscular body who built a gym in an abandoned garden where he would casually do sets of dips and pullups as the artillery rained down around him.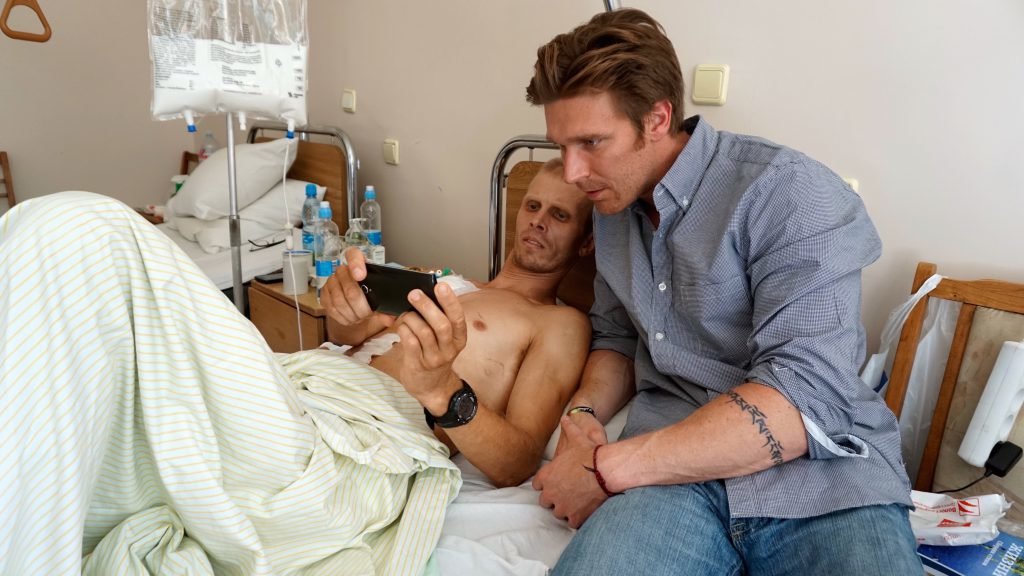 You remember one night in the basement of the abandoned house in which the Ukrainian soldiers took shelter. As the artillery thundered outside, Nemo came in your room and put a blanket over you. One year later, a mess of tubes extruded from his chest and torso. A long bandage went down his abdomen where the surgeons had opened him up. The bullet had shattered his pelvis, ripped through his colon and intestines, and lodged in his liver. The grenade had riddled his legs and backside with penetrating wounds, and left a piece of shrapnel in his liver.
You remember what Nemo said to you at the hospital in Kyiv when you put a hand on his pale, thin shoulder and said goodbye.
"Friend," he said.
And you remember Daniel Kasyanenko, a 19-year-old soldier you'd met on the front lines in Pisky who was wise beyond his years. You remember the conversation in the courtyard as the bullets zipped overhead. "At 19, now, I understand that I broke my head, I broke my understanding of life," Daniel said. "I broke it in my 19 years. And this is really bad."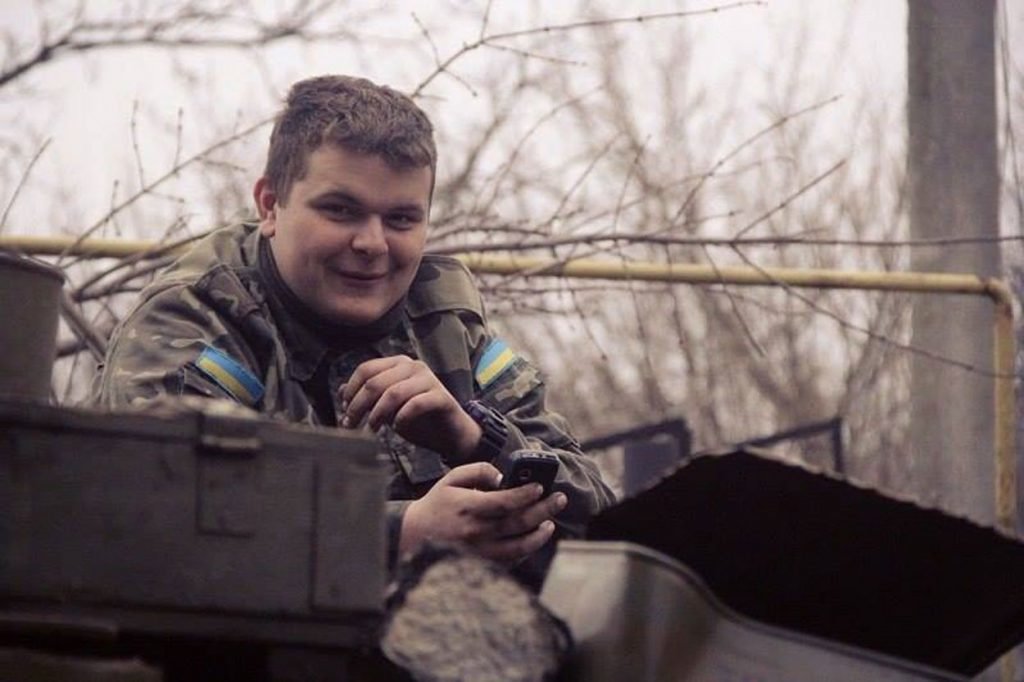 When you parted ways with Daniel in Pisky, you pledged to keep in touch. You even mentioned the possibility of him visiting America one day, which was his dream. You remember that last handshake goodbye and then you remember meeting Daniel's parents two years later and telling them what a brave young man their son was before a mortar killed him.
You remember Anatoli Bastriski, then 72, sitting on a green bench outside his artillery-razed home in the eastern Ukrainian village of Semyonovka in August 2014.
Bastriski wore a blue paddy cap and sat with one leg over the other and his arms folded across his thigh. The wall behind him was pockmarked by shrapnel. The street was mostly cleared of debris, but almost every skeleton of a home along the way was unoccupied. The trees resembled burnt matchsticks. Stripped clean of branches and leaves, only the charred trunks had survived the artillery blasts.
A Jewish man, Bastriski was only an infant when the Nazis occupied Ukraine during World War II. His family survived the Holocaust but lost their home in the war. When the war began in 2014, Bastriski chose to ride out the fighting in his basement. Even when the roof of his brick home was obliterated by artillery fire, he refused to flee.
"I was born here, and I built my home with my own hands," Bastriski told you. "The Germans destroyed my parents' home, and I'll rebuild this one, too."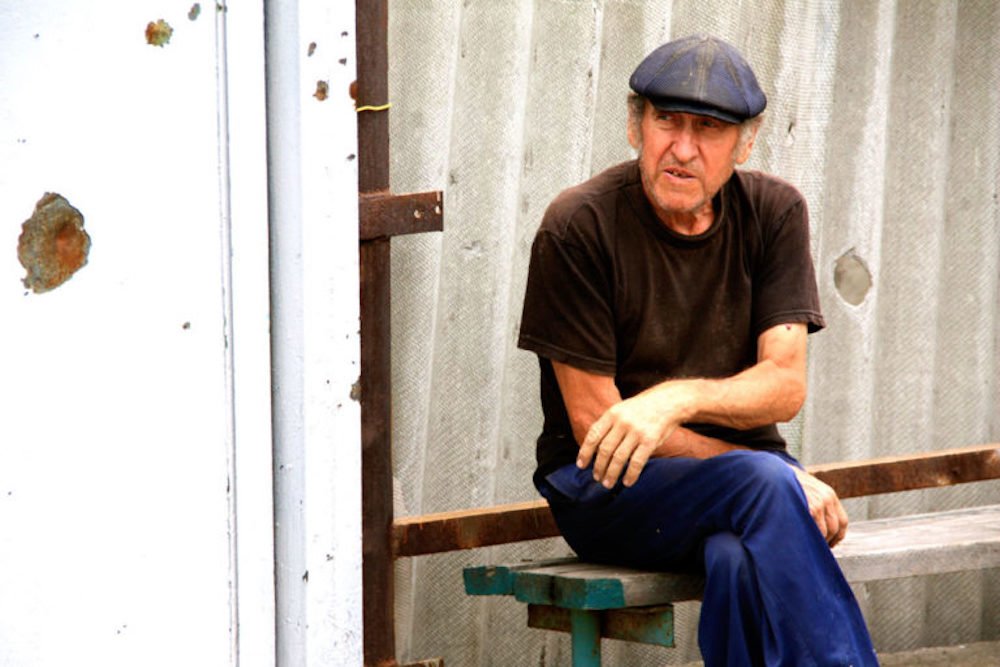 And you remember that nameless soldier on the battlefield outside of Mariupol in September 2014. In a sunflower field, he lay amid the detritus of mechanized warfare. Forever frozen in his final moment, the soldier reminded you of the plaster molds of the dead at Pompeii. The man had his hands raised in front, as if trying to stop whatever it was that had killed him. Half his face was missing. The other half showed that he had not died well.
As you make your way home, you remember all these people and events. For so long, you'd thought these memories were the fundamental chapters of your war story. Now, you wonder whether the past seven and a half years were simply prologue.
You walk through a quiet, residential section of Kyiv. Buildings that survived World War II line the streets. Typical of Ukraine's upbeat turn-of-the-century architectural styles, the facades are ornate and colorful. Far different from the Soviet Brutalism on display in other quarters of the city. You think about the history these buildings have seen — the revolutions and the wars. And then you stop thinking about the past and remember about all those Russian troops on the border and you understand that you're not at the end of history — you're in the middle of it.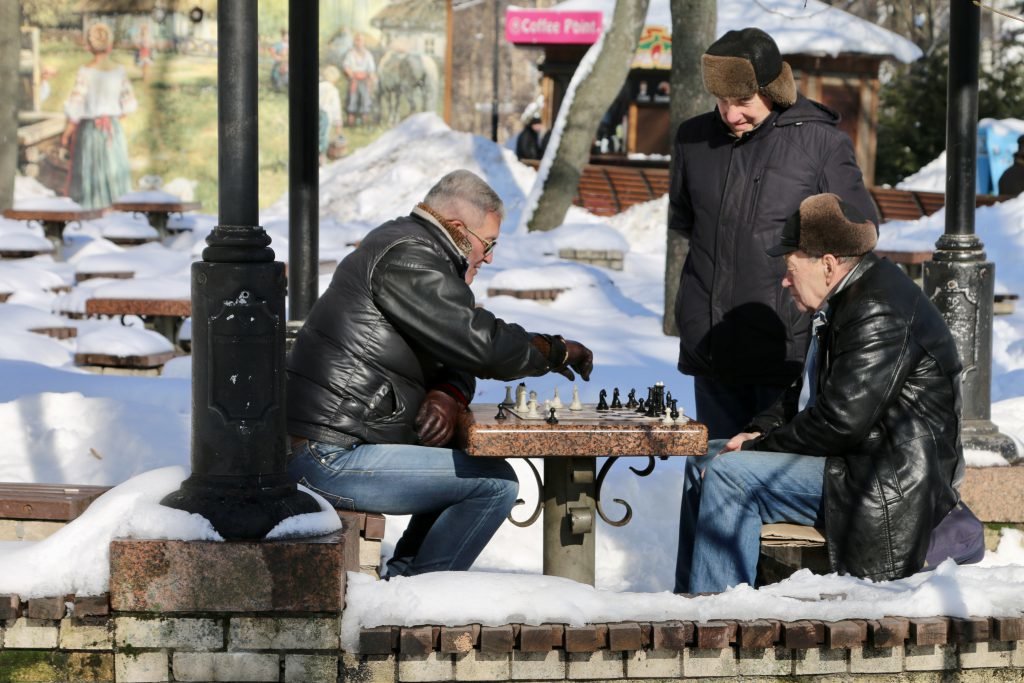 A little farther on you pass by fancy shops like Dior and Gucci and then carry on past Kentucky Fried Chicken and McDonald's fast-food restaurants. You think: "A war can't possibly exist in a place like this, can it?"
Young people walk the street. Loud and full of energy. They've clearly gotten a head start on their New Year's Eve celebrations. Yes, life goes on.
And then you see a sign for a bomb shelter on a nearby wall and you marvel at how thin of a line divides civilization from barbarism, and how quickly it can all fall apart.
Just one human lifetime ago, after all, this country was on the deadliest battlefield of the deadliest war in human history. Some of the soldiers who fought in that war, and some of the civilians who survived it, are still alive today. It's unlikely our species has evolved so much in the span of a single human life to make another disaster like World War II an impossibility.
The arc of history does not automatically bend toward justice, or peace. And generations alive today are not immune from history's perennial seasons of war and peace. So yes, it really could happen again. But it's still hard to believe so.
Tonight, my wife and I and our friends will live and laugh and celebrate and hope beyond hope for a happy new year in Ukraine. And yet, far beyond the shimmering city lights and popped champagne corks and midnight kisses, tens of thousands of Russian soldiers lie in wait just beyond the border, ready, at any moment, to return us to those dark depths from which we thought we had escaped.
Read Next: