KYIV, Ukraine — More than seven years after Russian forces invaded Ukraine's eastern Donbas region and the Crimean Peninsula, Moscow maintains some 100,000 troops in Ukraine's periphery capable of executing a countrywide offensive. Should Russian forces invade Ukraine again, it would be a military operation of a scale and intensity unseen on the European continent since the close of World War II.
Some 40 to 50 Russian battalion tactical groups would presumably pour into Ukraine from multiple vectors, likely preceded by waves of missile and rocket attacks. According to a recent assessment by Ukrainian defense officials, a prospective Russian offensive could come from Russian-occupied Crimea (including amphibious and airborne landings on Ukraine's southern Sea of Azov and Black Sea coastlines), from Russian territory bordering Ukraine's eastern regions, and from Belarus.
"[Russian forces] would seek to inflict overwhelming losses on the Ukrainian military, seeking to impose political capitulation, rather than conduct a prolonged occupation or annexation," said Michael Kofman, director of the CNA Corp.'s Russia Center and a fellow at the Woodrow Wilson International Center's Kennan Institute.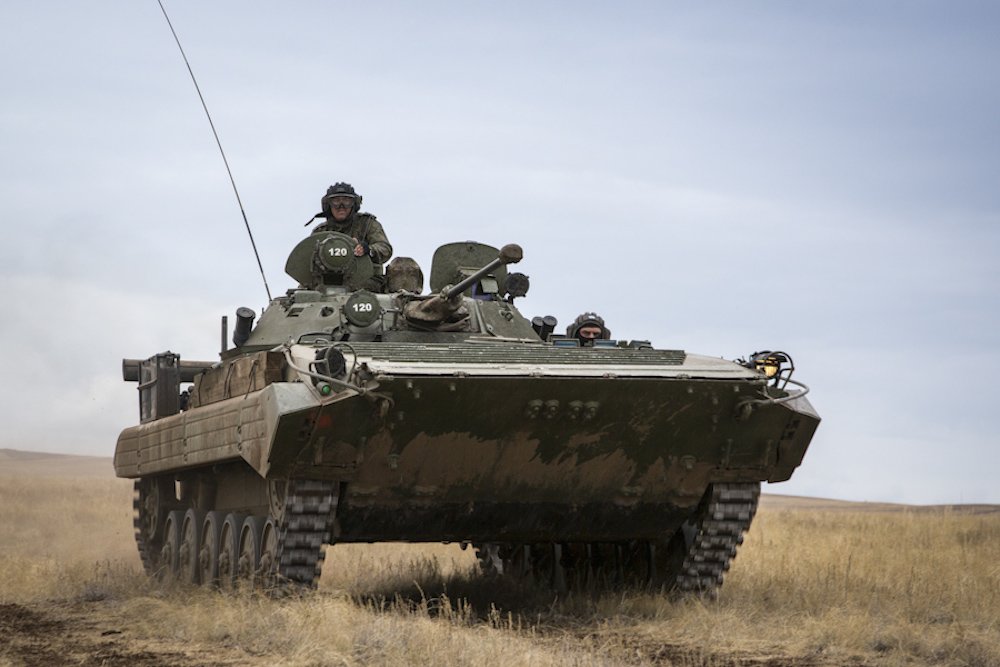 One line of thinking among defense experts is that a potential Russian invasion force would not attempt to hold or occupy Ukrainian terrain. Rather, Russian forces staged in Ukraine's periphery would likely execute a swift, overwhelming strike meant to inflict massive and irrecoverable losses on the Ukrainian military that would precipitate a political capitulation — and possibly regime change — in Kyiv.
"The Russian military would seek to avoid urban combat, instead advancing rapidly to encircle and cut off the Ukrainian military," Kofman told Coffee or Die Magazine. "I don't believe there is any desire to get bogged down in a counterinsurgency, but this is based on a reading of Russian political aims and the amount of manpower it would take to occupy so much territory."
Another theory is that Russia may launch an assault across southern Ukraine to seize the port city of Mariupol and establish a land corridor that connects Crimea to mainland Russia. However, Mariupol, a city of some 500,000 people that was once vulnerable to Russian propaganda, is now firmly under Kyiv's control and would surely harbor underground resistance fighter networks in the wake of a Russian invasion.
"The Russian assumption may be that there will be little resistance, believing that most people in the eastern regions of Ukraine would choose not to fight," Kofman said. "That has been a driving assumption of Russian thinking in the past, looking to 2014 to 2015, and reading the statements of Russian leadership this year, it's not clear they've done much learning in this department."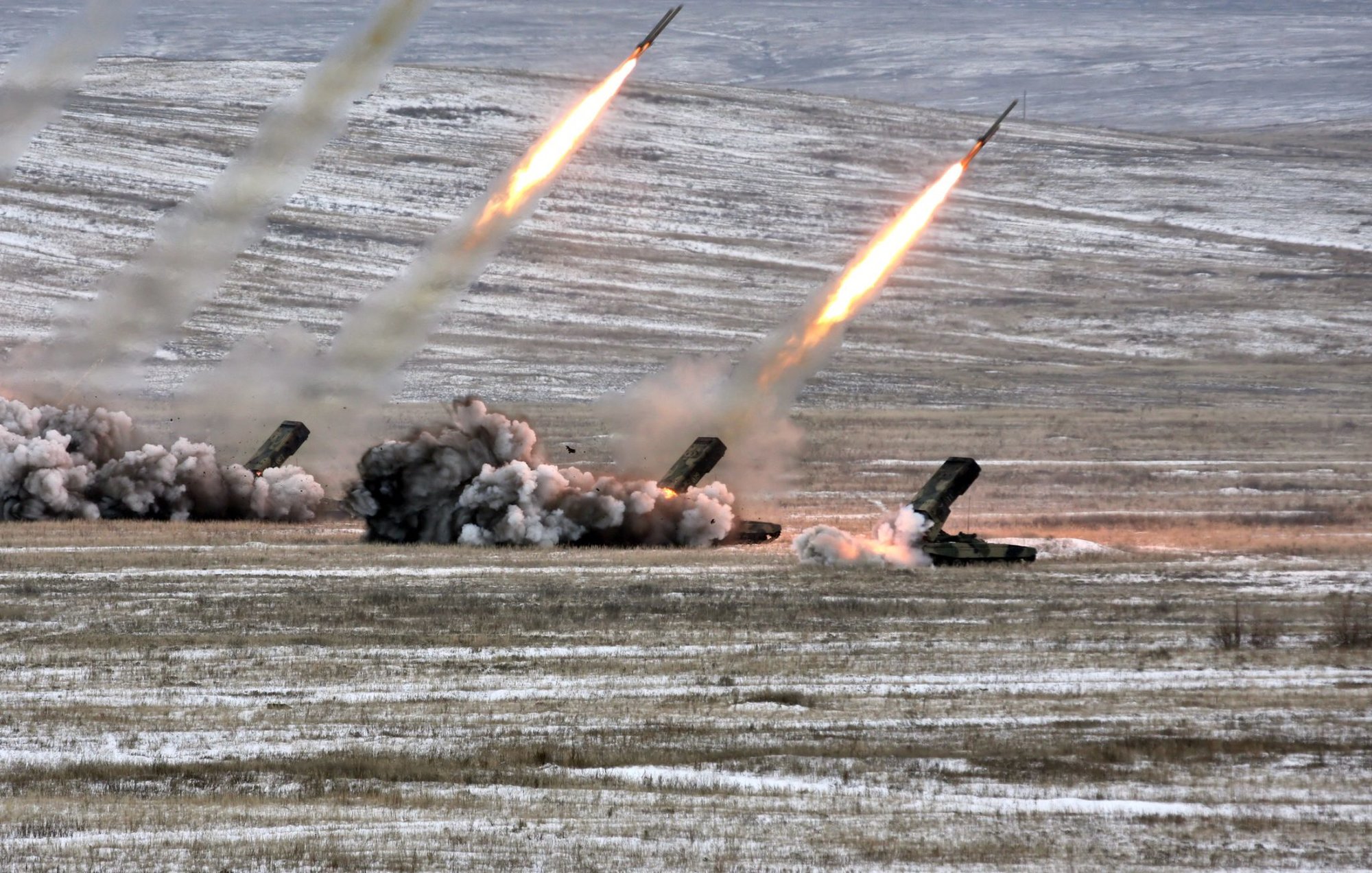 Multiple independent, open-source researchers have documented recent Russian troop movements.
In addition to armor, artillery, and motorized infantry, the Russian units positioned near Ukraine also include an Iskander short-range ballistic missile battalion from the 119th Missile Brigade, as well as a company armed with TOS-1A multiple-launch rocket systems — both of which are currently deployed at a base in the Russian town of Yelnya, roughly 150 miles from the Ukrainian border.
Another TOS-1A unit was seen moving toward the Russian base at Pogonovo, some 110 miles from the Ukrainian border, reported Konrad Muzyka, the president of Rochan Consulting, a Polish defense consultancy.
Also known as a "heavy flamethrower," the TOS-1A system is designed to launch rockets armed with thermobaric warheads. Iskander missiles can carry not only multiple types of conventional munitions but also nuclear warheads.
For their part, Kremlin officials continue to deny reports about a military surge on Ukraine's borders.
"Hysteria is being heated up by both Western and Ukrainian media, and in government circles that Russia is allegedly concentrating its forces on the border and is about to attack Ukraine," said Konstantin Gavrilov, head of the Russian Delegation to the Negotiations on Military Security and Arms Control in Vienna, according to the Russian news site Tass.
"I believe that tension is being deliberately ramped up, and they are trying to scare us," Gavrilov reportedly said Wednesday, Nov. 24.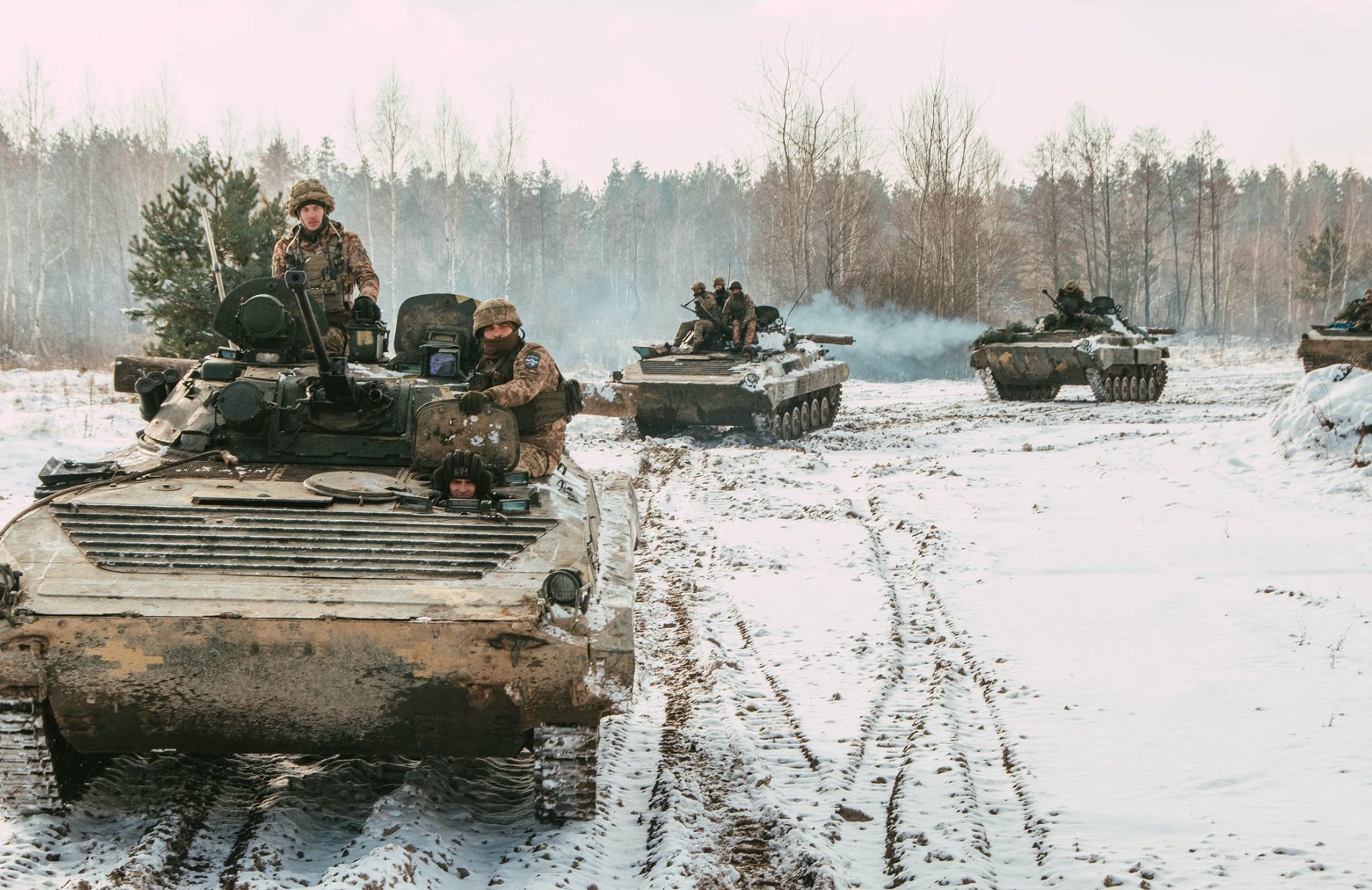 Based on the ongoing Donbas conflict, a larger Russian attack against Ukraine might also include assaults across multiple domains, including cyberwarfare, electronic warfare, special operations raids, and information warfare.
Since 2014, Russian cyberattacks have targeted Ukraine's power grids, banks, water supply systems, and other utilities. Russia has also used social media and propaganda to target Ukraine's civilian base. And for years, Ukrainian soldiers have reported receiving threats and demands for their surrender from their enemies over cellphone text messages. The main goal of Russian unconventional warfare, according to Ukrainian security officials, is to incite civil unrest and to undermine the government's credibility.
"Russia clearly understands that there's no sense in occupying a territory you cannot defend," said Serhiy Kryvonos, former deputy secretary of Ukraine's National Security and Defense Council.
"We see the primary task of Russian forces is to create panic and fear within the country. Russia's intention is to destroy Ukraine as an independent state," Kryvonos, a 32-year Ukrainian special forces veteran, told Coffee or Die.
As of April, during the last Russian border buildup, Ukraine's national guard numbered about 54,000 personnel, of whom about 7,000 were deployed to protect Ukraine's roughly 700 key infrastructure installations from attacks by Russian special operations units, Kryvonos said.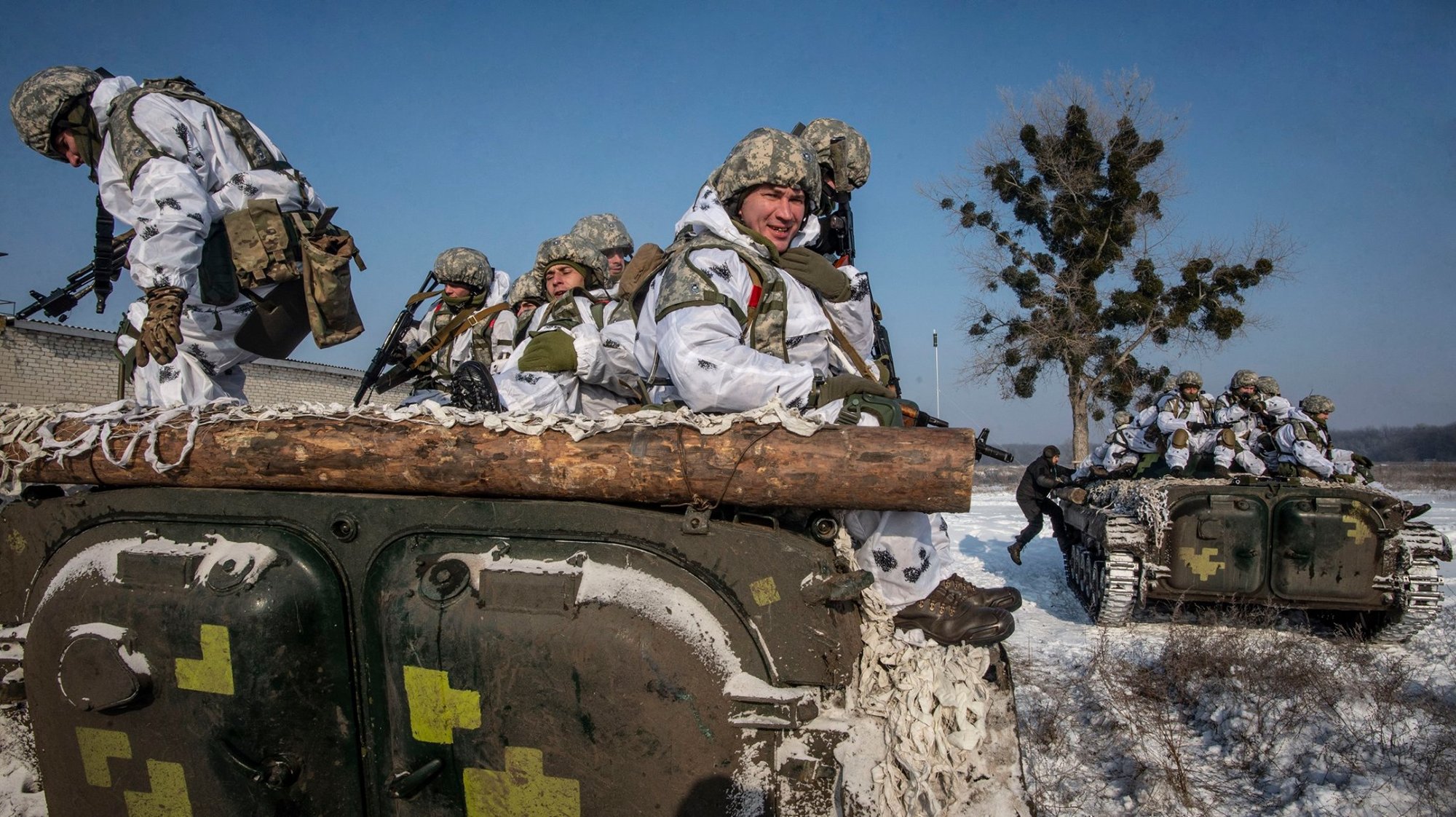 Ukraine's military is in the midst of a top-to-bottom overhaul to resist a full-blown Russian invasion. Today, Ukraine's armed forces count more than 200,000 active-duty personnel. Ukraine's defense against a Russian offensive would also involve a society-wide war effort intended to harass and bog down Russian units.
"The Ukrainian army is outgunned and outmatched by the Russian army. In the case of a conventional military war, we can lose," Kryvonos said. "But Russia will never be able to defeat an armed and prepared people. In the defense of the state, everyone must take part."
Ukraine's Territorial Defense Forces comprise about 100,000 reservists and civilian volunteers assigned to 25 brigades scattered across the country — at least one unit is assigned to each of Ukraine's 24 regions, or oblasts, including the capital city of Kyiv.
Members of Kyiv's Territorial Defense Force unit told Coffee or Die that, as of Wednesday, they had not been put on a higher level of alert.
Territorial Defense Forces receive weapons and ammunition from the regular military's chain of command. Even so, these units are not true resistance forces meant to wage a guerrilla war. Rather, they are primarily tasked with maintaining law and order during wartime.
"We call them weekend warriors," Kryvonos said. "The Territorial Defense Forces will play a key role on holding society together in the event of a Russian attack."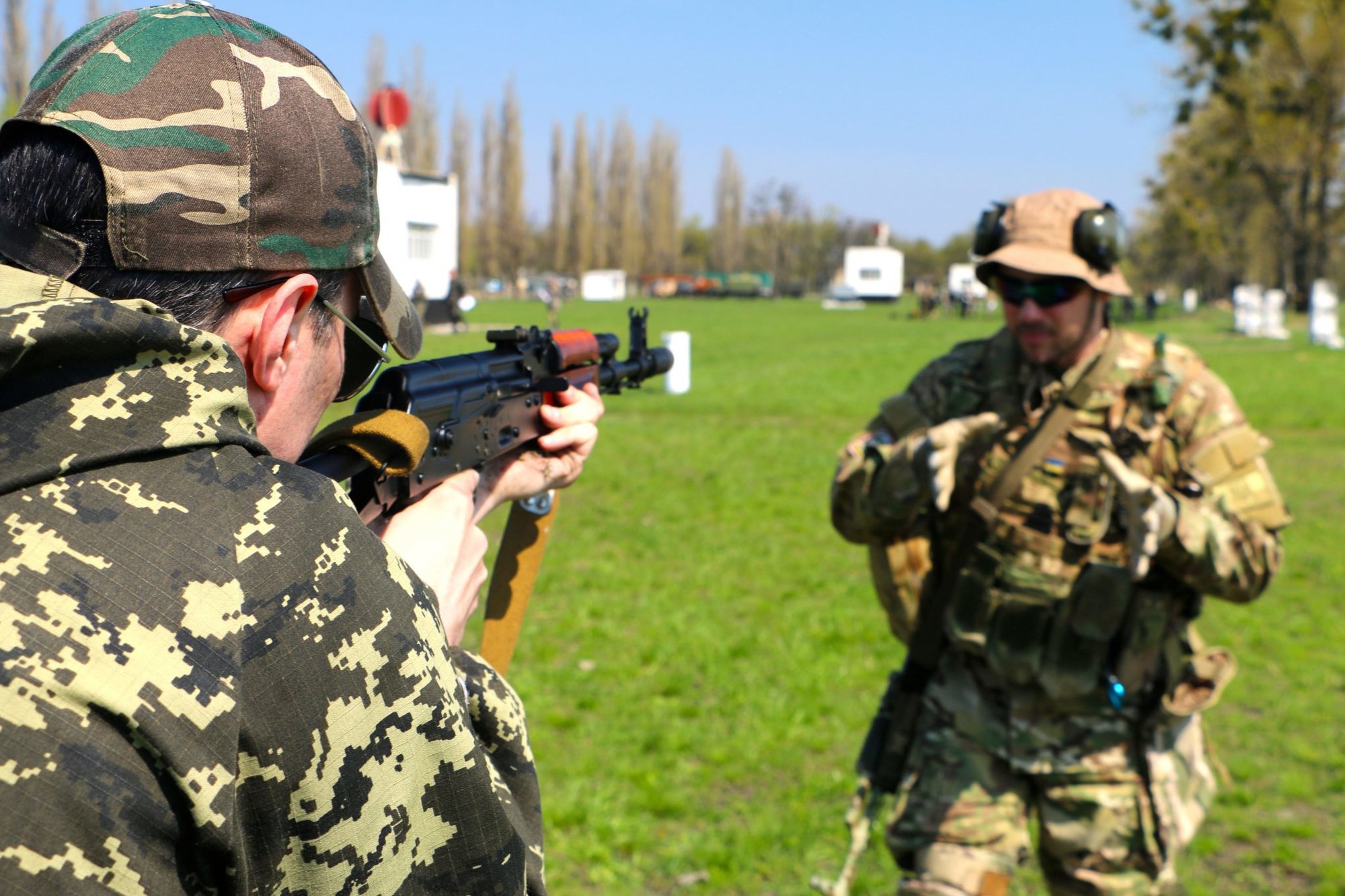 Some 430,000 Ukrainians are veterans of the Donbas war.
Ukraine has two categories of operational reserve troops. One category, known as Operational Reserve-1, or OR-1, includes combat veterans who can be rapidly mobilized and integrated into combat units. Civilian conscripts, on the other hand, must go through about 60 days of training before seeing combat. (Although one experimental program tried to reduce that time to 30 days.)
Operational Reserve-2, or OR-2, includes troops who have served in the Ukrainian armed forces but not in combat. According to Ukrainian defense personnel, Territorial Defense Forces mainly comprise OR-2 troops.
"[Territorial Defense Forces] are manned only by reservists that do not belong to the OR-1 category of reserves. Only OR-2, or those who have not served in the army at all, can enroll in the [Territorial Defense Forces]," Andriy Kobzar, a 44-year-old Ukrainian army veteran of the Donbas war, told Coffee or Die. "The [Territorial Defense Forces] are paper tigers. In the event of an attack by the Russians, the only hope is for OR-1."
Ukrainian special operations forces would be responsible for executing covert, resistance operations against a prospective Russian invasion force, Kryvonos said.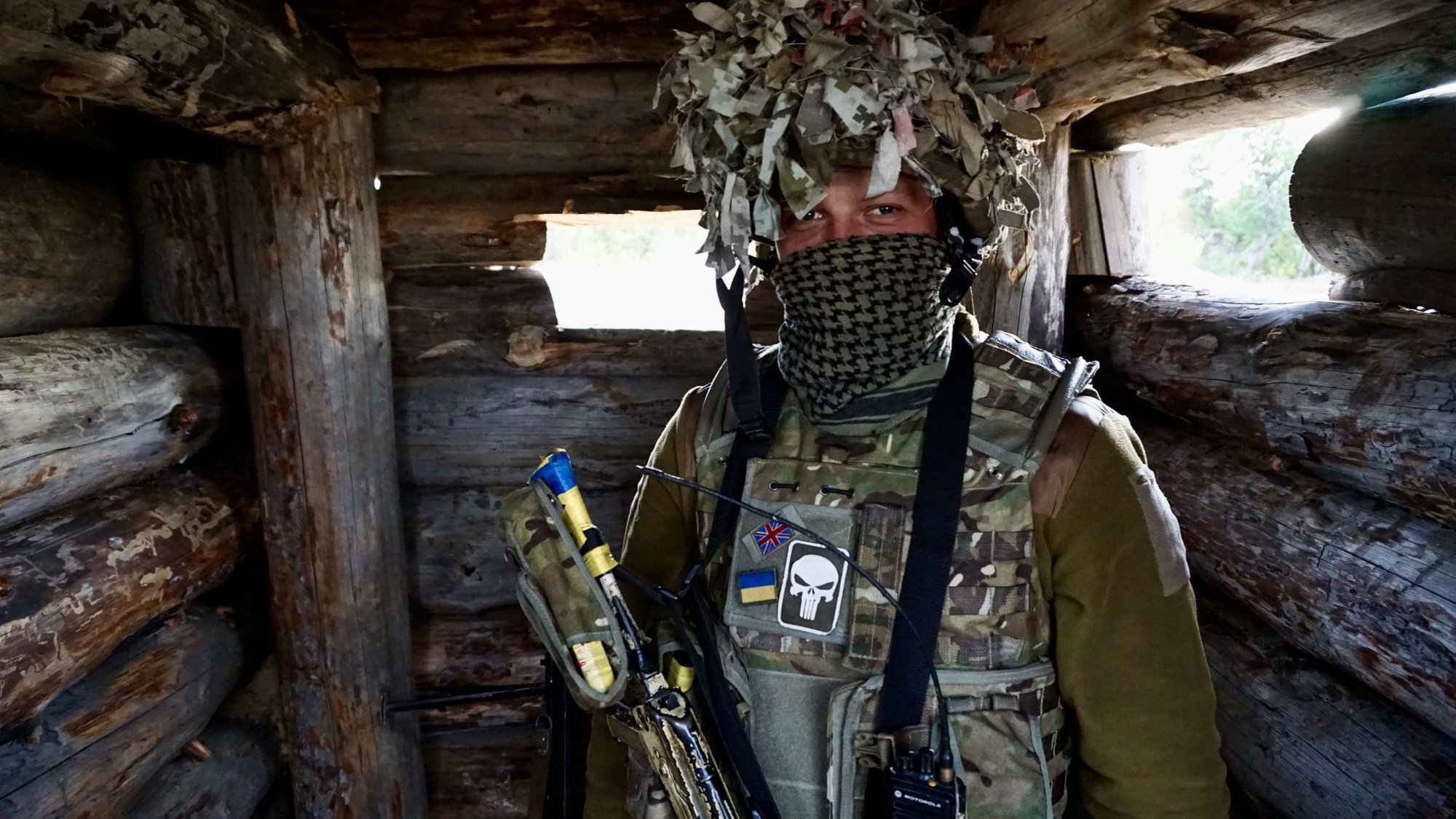 The Russian troops gathered in Ukraine's periphery are not the only cause for concern. Over the past month, daily cease-fire violations in the Donbas war zone have jumped by about 50% compared with last year's daily average, according to data from the Organization for Security and Cooperation in Europe.
On Tuesday, the Main Intelligence Directorate of the Ministry of Defense of Ukraine announced that Russian forces within the Donbas war zone were increasing their combat readiness and activating reserve personnel. According to Ukrainian officials, these efforts were being carried out by "the 8th Army of the Southern Military District of the Russian Armed Forces."
On Wednesday, the US Embassy to Ukraine issued an email warning to American citizens in Ukraine.
"U.S. citizens are advised of concerning reports of unusual Russian military activity near Ukraine's borders and in occupied Crimea," the statement reads. "U.S. citizens are reminded the security conditions along the border may change with little or no notice."
Read Next: