POLTAVA REGION, Ukraine — Ilya opened the rusty metal door to the storage shed and led the way. Within the space, which was dark and dank and smelled of rusted metal, he shined a flashlight on a stockpile of some 1,500 Molotov cocktails.
"When the Russians come, we'll be ready," said the 24-year-old, who is a member of his hometown's resistance unit.
Ilya added that his outfit was ready to create 500 more of the firebombs in only a few hours. The unit has already identified multiple ambush sites around town, and they have a communication plan to mobilize on short notice. To help build up the Molotov cocktail stockpile, homeless people in town have been collecting empty glass bottles. As a result, outside the storage shed, hundreds of glass bottles were piled and ready for conversion.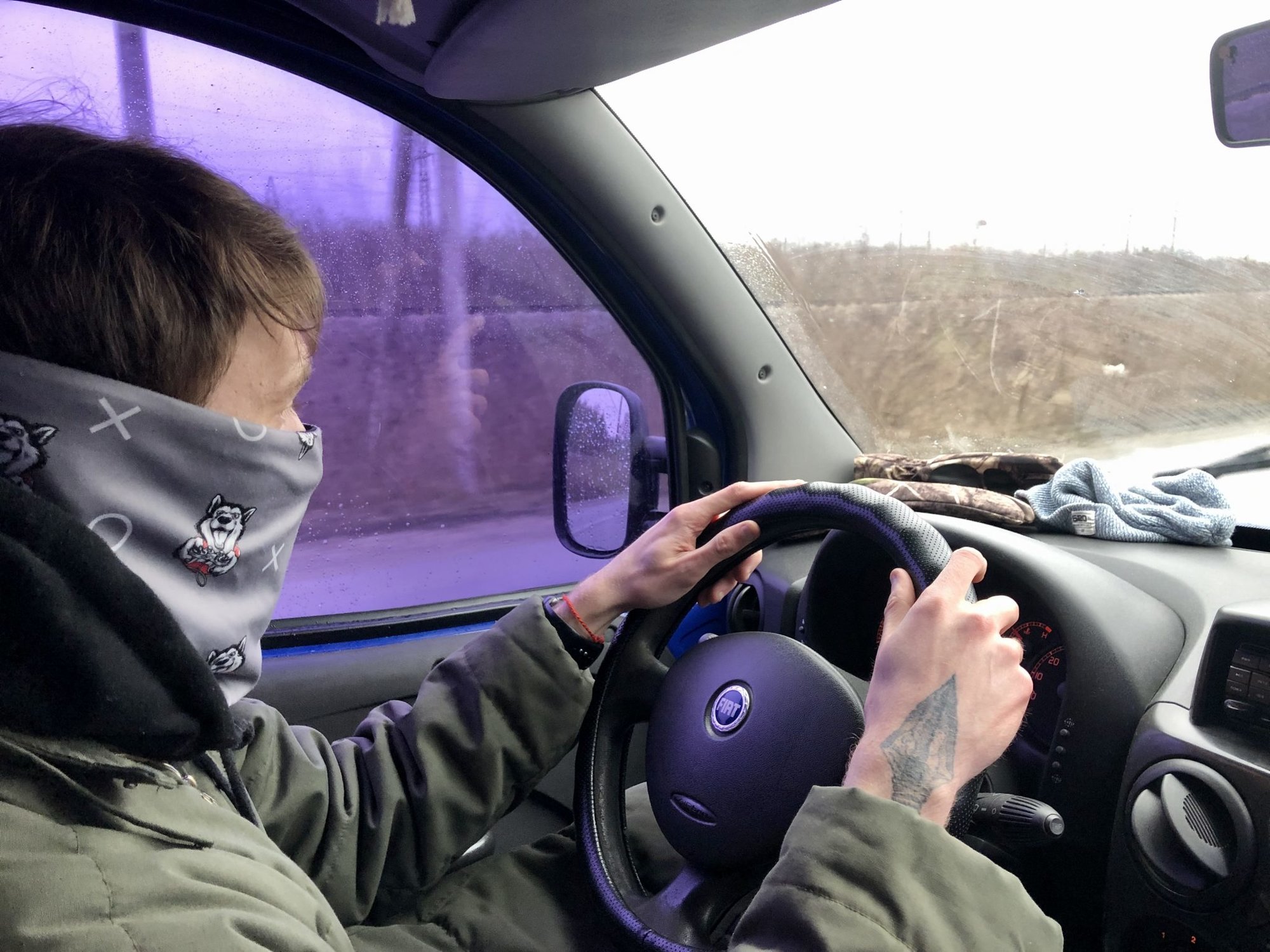 When Russia began its full-scale invasion of Ukraine on Feb. 24, this small city in central Ukraine — the name of which is being withheld for security reasons — immediately mobilized to resist the Russian invaders. Territorial Defense and police forces fortified road arteries in and out of the city and implemented a strict curfew. For its part, the city's resistance unit took down street signs and spray-painted over other signs to conceal any information that could be useful to an invasion force.
"We wanted to do anything to slow the Russians down," Ilya said.
Beside the main road into town, there's a large display with the city's name in big block letters. The resistance group covered the display with a banner that reads, "Russian warship, go fuck yourself."
Armed with assault rifles and sniper rifles, the local resistance unit is an ad hoc group of volunteers who immediately sprang to action when the war began. The outfit is not funded, armed, or commanded by the regular military or city government. Rather, they purchased their own weapons and provide their own equipment, supplies, and vehicles. They wear street clothes with yellow armbands — an identifier used by Ukraine's armed forces to avoid friendly fire. In short, the resistance unit comprises a group of friends who banded together to fight against a Russian takeover of their city.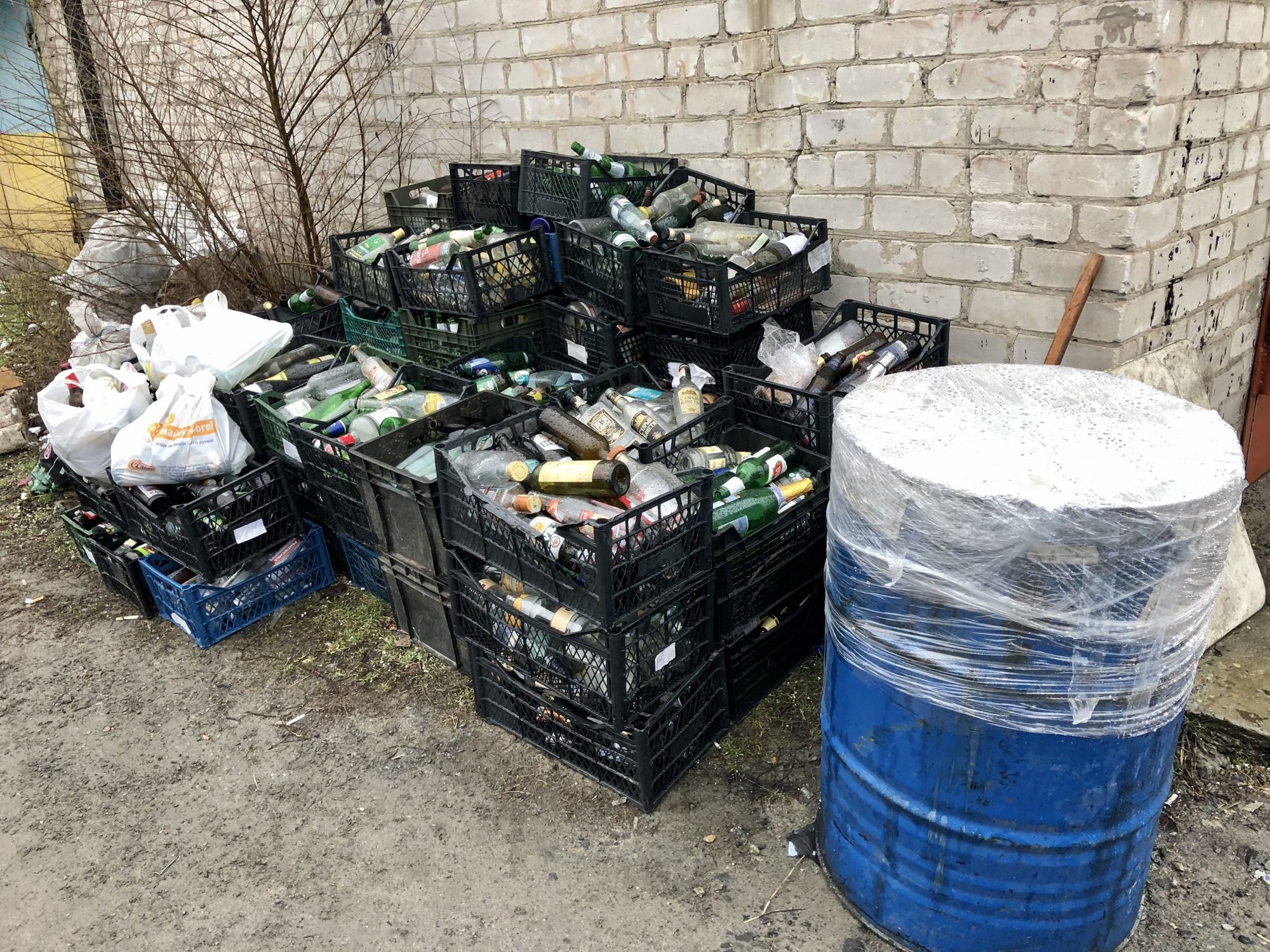 "We have to defend our families and our homes," said Mark, 17, a resistance unit member. "I'm not afraid about what might happen. I know this is what I have to do."
The resistance unit works in close cooperation with the local police and Territorial Defense Forces, both of which receive government funds. In this extraordinary time, these arms of the city's overall resistance plan are working to coordinate their actions and get ready for the Russians' arrival.
"We're not only getting ready to use weapons and Molotov cocktails; we're also making sure we can all fight together, to not have any friendly fire, and to make sure we know how to communicate," Oleksandr, a local politician and chief of the city's Territorial Defense, said.
Although this city has had frequent air raid alerts, it has not yet suffered any direct combat. Nevertheless, Russian forces are in the region, and the threats of saboteurs and covert operatives are taken deadly seriously. For that reason, the resistance unit patrols the streets in tandem with the police. They respond to reports of suspicious activity, challenge people for identification, and remain on the lookout for unfamiliar people and vehicles. They also guard key pieces of local infrastructures and have fortified important government buildings with sandbags and barricades.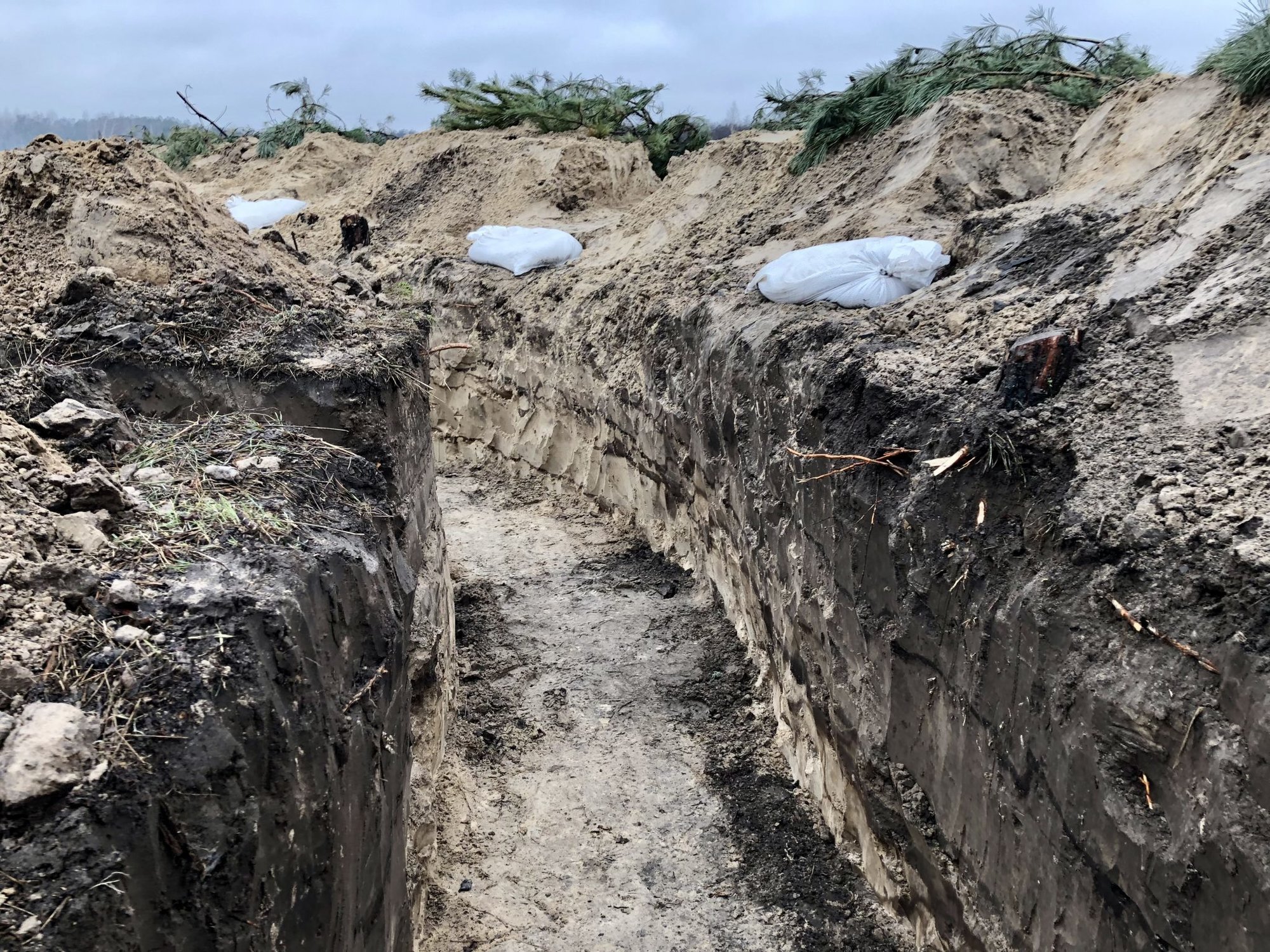 The city's defenders have received overwhelming support from the local community. Many people have donated food, clothes, and useful odds and ends, such as blankets and pillows.
"Everyone is involved," Oleksandr said. "We have everything we need and even more. People don't want to just sit around and do nothing. They want to help."
The recent trend of savage Russian attacks against civilian areas in places such as Kharkiv, Mariupol, and the outskirts of Kyiv have resolutely hardened most Ukrainians' attitudes toward Russia. Even in this part of Ukraine, where many people have family ties to Russia and speak Russian as their primary language at home, the brutality of combat has spurred hard feelings toward Russia and its president, Vladimir Putin.
"Some people here used to be sympathetic toward Russia," Oleksandr, the Territorial Defense chief, said. "But now 99.9% of the population is against Russia. Actually, they hate Russia and Putin with a passion."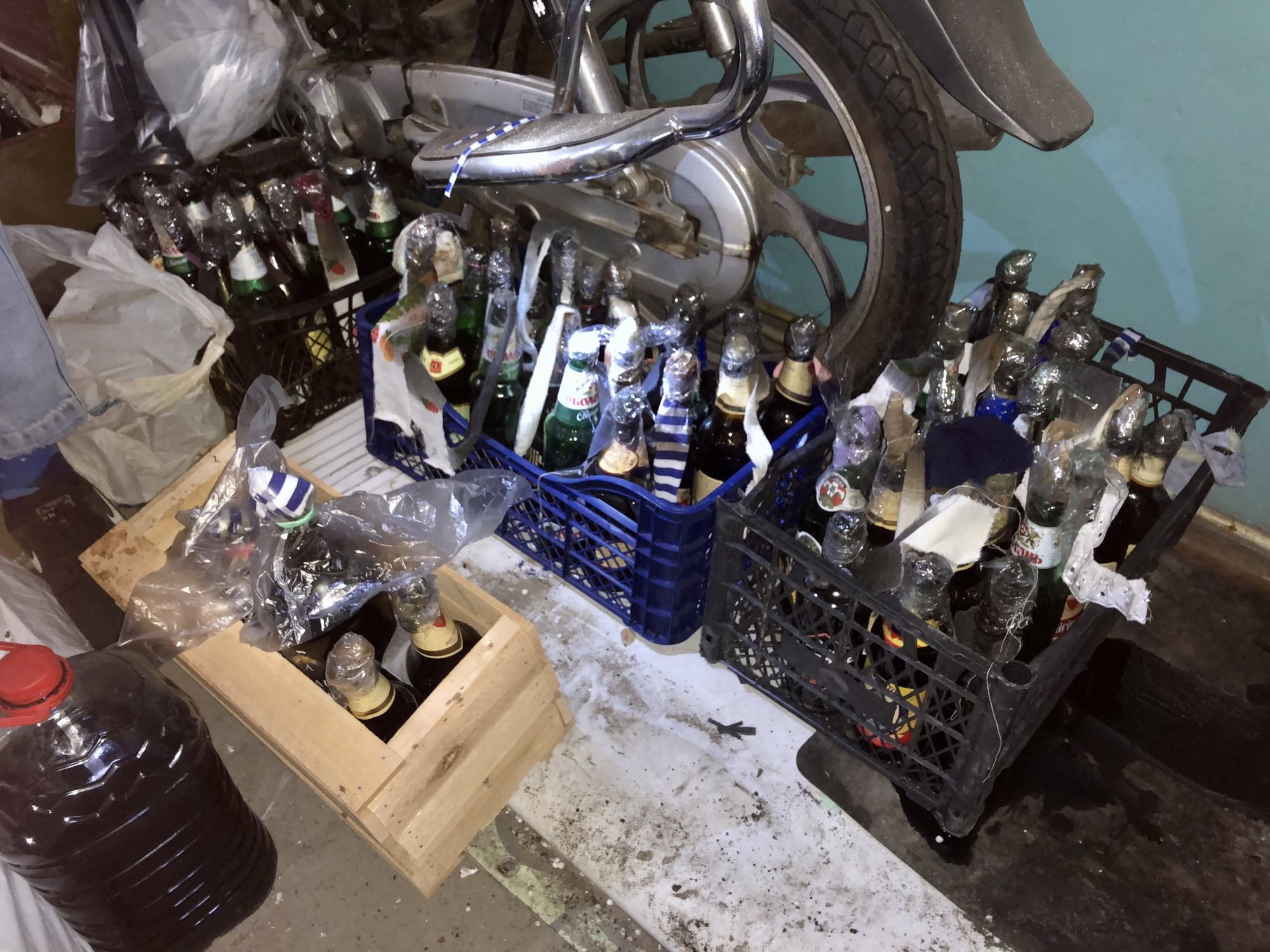 Russia's war is commonly referred to as a "genocide" among many people in the city, reflecting their perception that military action isn't aimed at Ukraine's army but at the nation itself. The resultant emotional fury has spurred many residents to commit themselves to resistance and to renounce any possibility of coming to terms with the Russian invaders.
"Our hatred is now huge for Russia and Putin for all they've done to us. Even those of us who were ambivalent toward Russia now see Russia as our enemy," said Mykola, a 74-year-old former actor who recently fled his hometown of Kharkiv.
"We'll never forgive Russia for what they've done to us," said Mykola, who has family still in Kharkiv enduring an indiscriminate Russian bombardment. "Russia has committed a crime against humanity, and we need to show that to the whole world."
Across the country, Ukrainian men and women have already proven their will to fight back. On social media, there has been a flood of videos from around Ukraine showing civilians courageously resisting the advance of Russian units — using both violent and nonviolent means, sometimes even standing in the road to stop Russian tanks. That spirit of national resistance has taken root here in this Poltava-region city, as well.
"We'll do whatever we can to stop the Russians from coming here," Oleksandr said.
As soon as the war started, the local Territorial Defense Force unit began building fortified checkpoints on the entryways into the city. At the main checkpoint into town, Ukrainians were hard at work on Wednesday, March 2, building tank barricades and machine-gun emplacements. They had already prepared a line of trenches with firing positions and had weaved concertina wire over a line of anti-tank hedgehogs. Tire spikes were also in place and ready to be employed.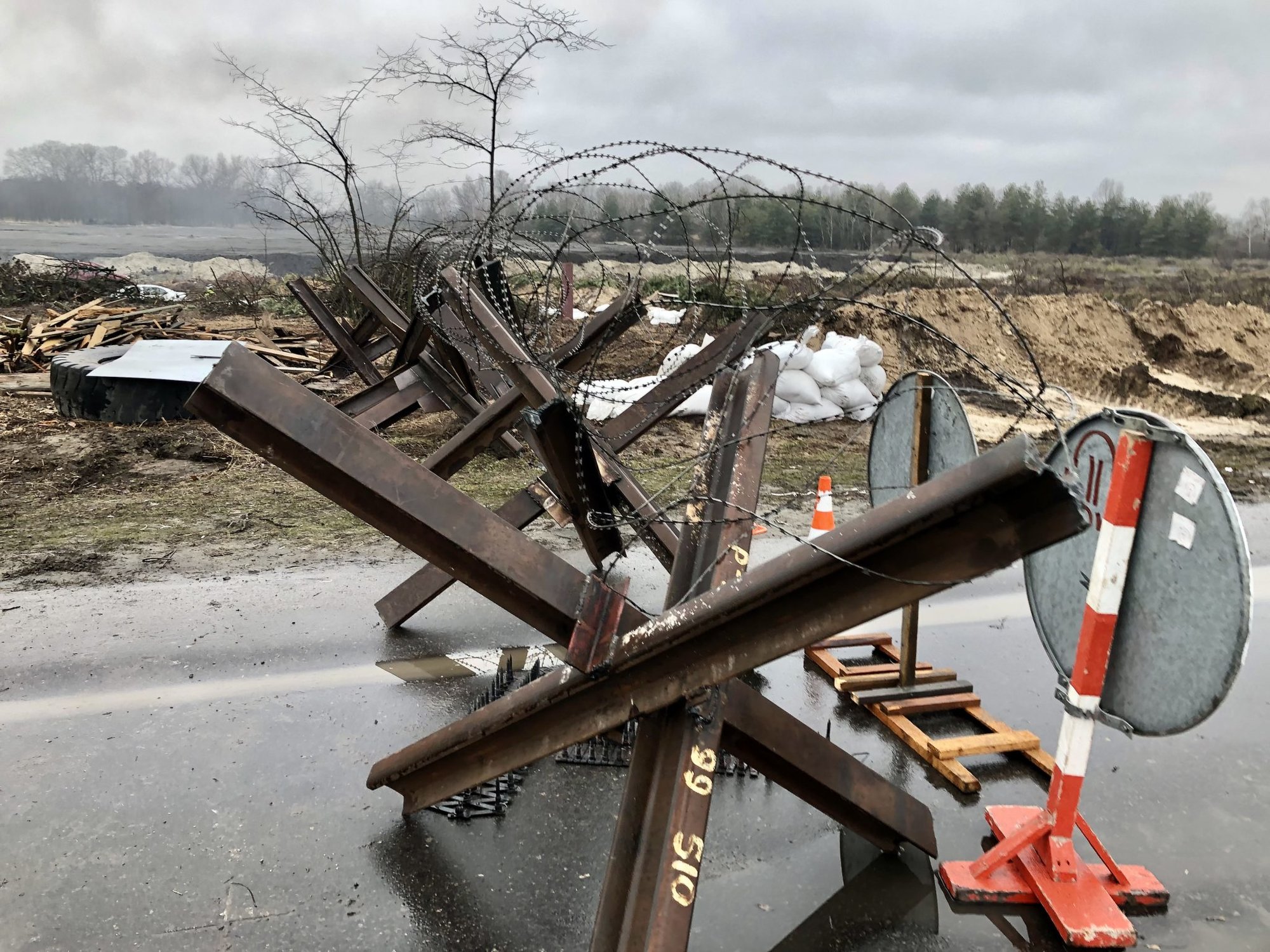 On this day, the checkpoint was a beehive of activity. Workers operated heavy machinery to move barricades into place and make defensive berms out of earth. Soldiers improved the concealment on their hardened bunkers and put the finishing touches on a dining tent and outhouse. During a break from their work, some soldiers stood around an empty oil drum and warmed their hands. They had Kalashnikovs slung over their backs and wore the distinctive yellow armbands of Ukrainian military forces.
The Territorial Defense troops wore proper uniforms and had been issued Kalashnikovs by the city government. Whereas the resistance unit members were in their teens or early 20s, the Territorial Defense soldiers were older — most of them combat veterans of the war in the Donbas. As veterans, they belonged to Ukraine's Operational Reserve-1 and had been recalled to active duty by presidential order.
Whereas the resistance unit members seemed upbeat and energized by the experience, the combat veterans' expressions seemed subdued and terse.
"War is always a hard thing," said the checkpoint's commander, a Ukrainian army veteran who served in the Donbas war in 2015. "I don't know how I will act if I am wounded. I don't know if I will be brave."
The commander declined to give his name because of security reasons.
Returning to active duty has been hard, the commander said. He'd tried hard to put his time in the Donbas war behind him. But with his country in an "existential battle for its survival," he was resolved to fight for his "family, friends, and hometown."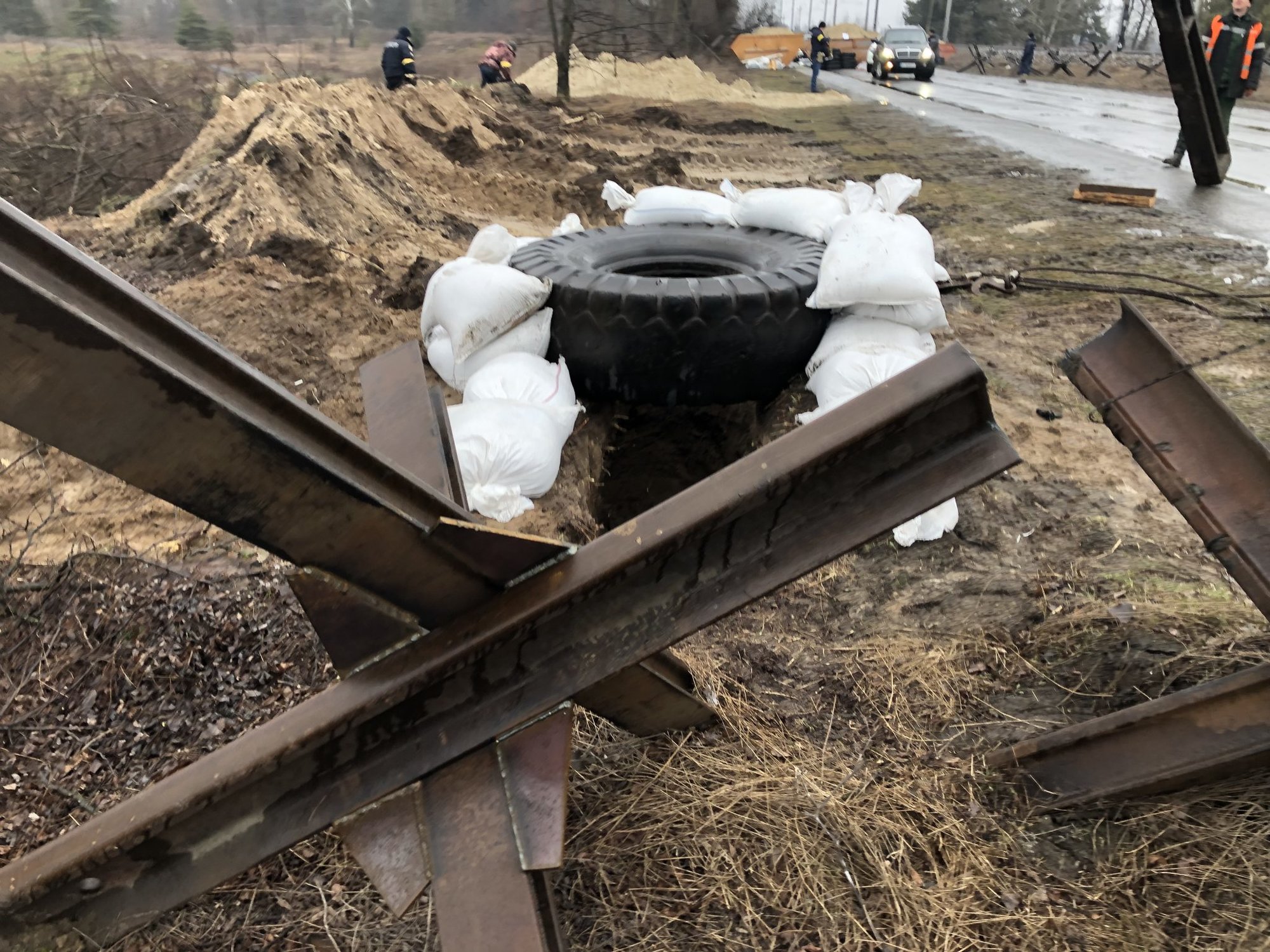 "There is no other choice; this is our motherland, this is our duty — we have to fight," the commander said. "And even if Kyiv is destroyed, the rest of the country will never stop fighting."
Russian forces have invaded Ukraine from the north, south, and east, with a possible attack on the southwestern port city of Odesa in the coming days. Although the main thrusts of the Russian attack remain fixed on Kyiv and Kharkiv, advances have been made in the south at the southern port city of Kherson and near Zaporizhzhia. Mariupol, an important port city on the Sea of Azov, remains under a devastating and indiscriminate Russian siege.
If the Russians advance inward from Ukraine's perimeter, the available corridor to escape westward will narrow for those living in eastern and central Ukraine. However, the options for flight are slim anyway. Few people own cars, and not all settlements have train links. Many residents, therefore, are resigned to staying in place and resisting however they can.
Ilya, the resistance unit member, has no military background. Yet his civilian life has been upheaved by the war. He was living in Kyiv when Russian missiles struck on Feb. 24. Days later, he decided to return to his hometown to defend it. The war has, in just the span of a week, upheaved Ilya's personal convictions. He used to enjoy playing video games that dealt with war. Now the idea repels him.
"It feels wrong," he said. "Now I know what war really is."
Read Next: