POLTAVA, Ukraine — In his novel All Quiet on the Western Front, Erich Maria Remarque wrote, "A hospital alone shows what war is."
This Ukraine hospital is no exception, offering evidence of the many ways in which modern war can damage the human body. Within the open bays, wounded Ukrainian soldiers are in various degrees of undress. Some sit upright with bandages around a wounded arm or leg. Those who have suffered more serious wounds remain horizontal in their beds with their bodies violated by tubes and colostomy bags.
On the first day of the war, the hospital in Poltava received about 50 wounded soldiers. Since then, that number has averaged about 20 per day, mostly coming from the front lines in Kharkiv — less than a two-hour drive away in peacetime. And Ukrainian President Volodymyr Zelenskyy said Wednesday, March 9, that a maternity hospital in the city of Mariupol was hit by a Russian airstrike, trapping people in the rubble.
In Poltava, when you walk in the ward, all the eyes attach to you. Some eyes are opened a little too wide and seem to be focused on somewhere else. Other eyes are full of undimmed life. They even wrinkle up in smiles, every so often.
"I'm sorry for my appearance," jokes Gennadiy, a 49-year-old businessman from Kharkiv who joined his city's territorial defense force in January and was wounded by a bomb dropped from a Russian warplane on March 3.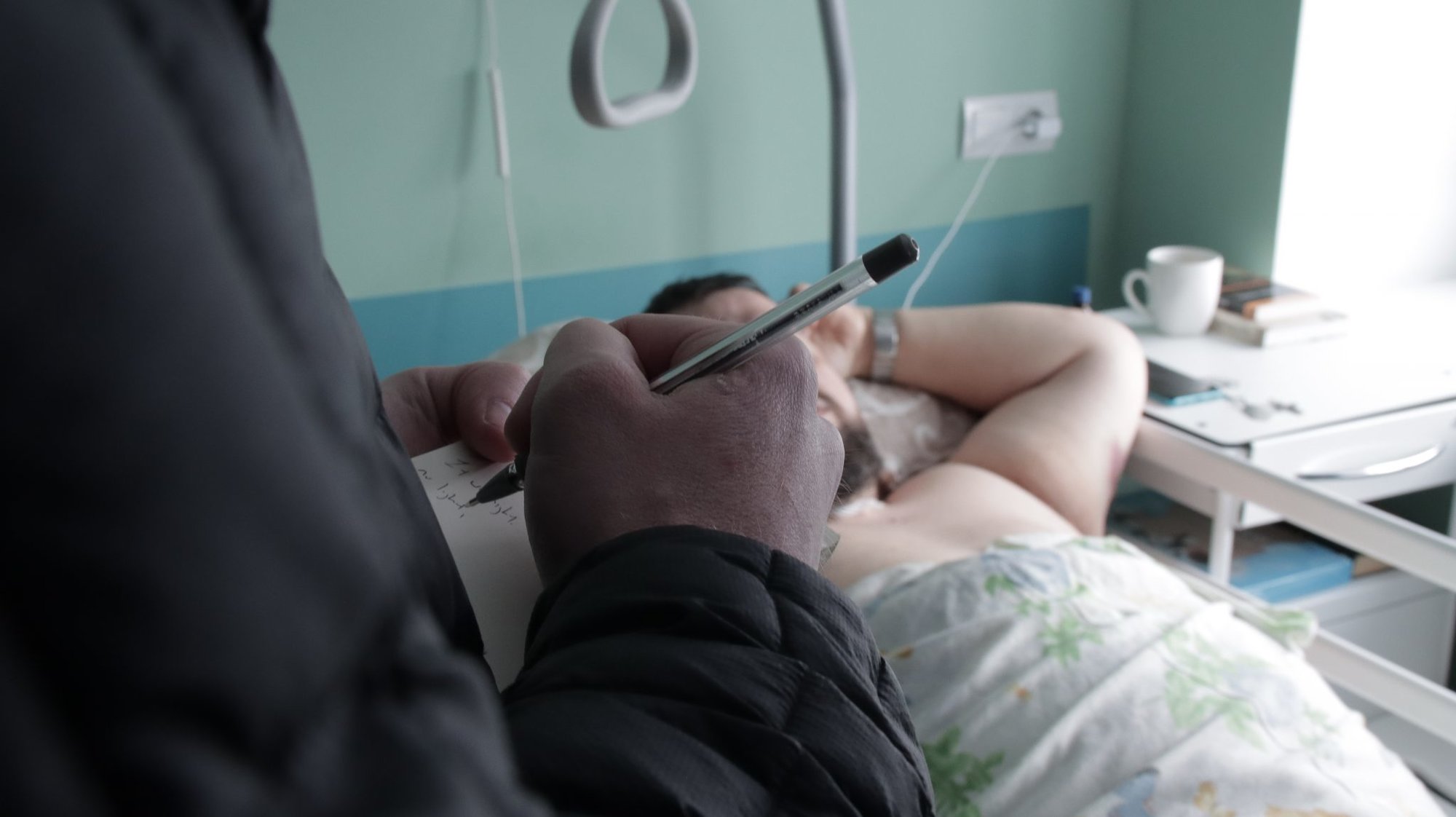 A large man with an even larger laugh, Gennadiy matter-of-factly explains that bomb-blasted rubble shattered his pelvis and right leg. Sprawled out on the hospital bed, naked save for a sheet pulled up to his stomach and with an IV port implanted in his chest, Gennadiy estimates that his recovery will take about three months.
"I will return, I will fight again," Gennadiy says confidently.
Standing nearby, a surgeon named Andriy Kalyuzhka says, "We'll see."
On Gennadiy's nightstand, a crucifix and a single dog tag sit beside a Russian-language edition of Robert Louis Stevenson's novel The Black Arrow. Gennadiy intersperses his words with winces and laughs while his right arm remains draped over the edge of his hospital bed. When he needs to shift his weight, his left hand grips a trapeze bar suspended from above.
Gennadiy was in the upper story of a building in Kharkiv the night the bomb fell. There was no electricity and it was very dark, he says. When he first heard the snarl of jet noise there was no time to seek shelter before "the whole world exploded" in a hurricane of fire and rubble. He passed out briefly. When he came to, he couldn't feel his right leg. He reached down and discovered that the leg was still there, although it was badly mangled, and so was his hip. He tried to move but could not. A broken gas line sparked an inferno that quickly consumed the bombarded building's upper stories. Unable to escape, Gennadiy decided to kill himself before he burned alive. His hands searched for his gun but found nothing.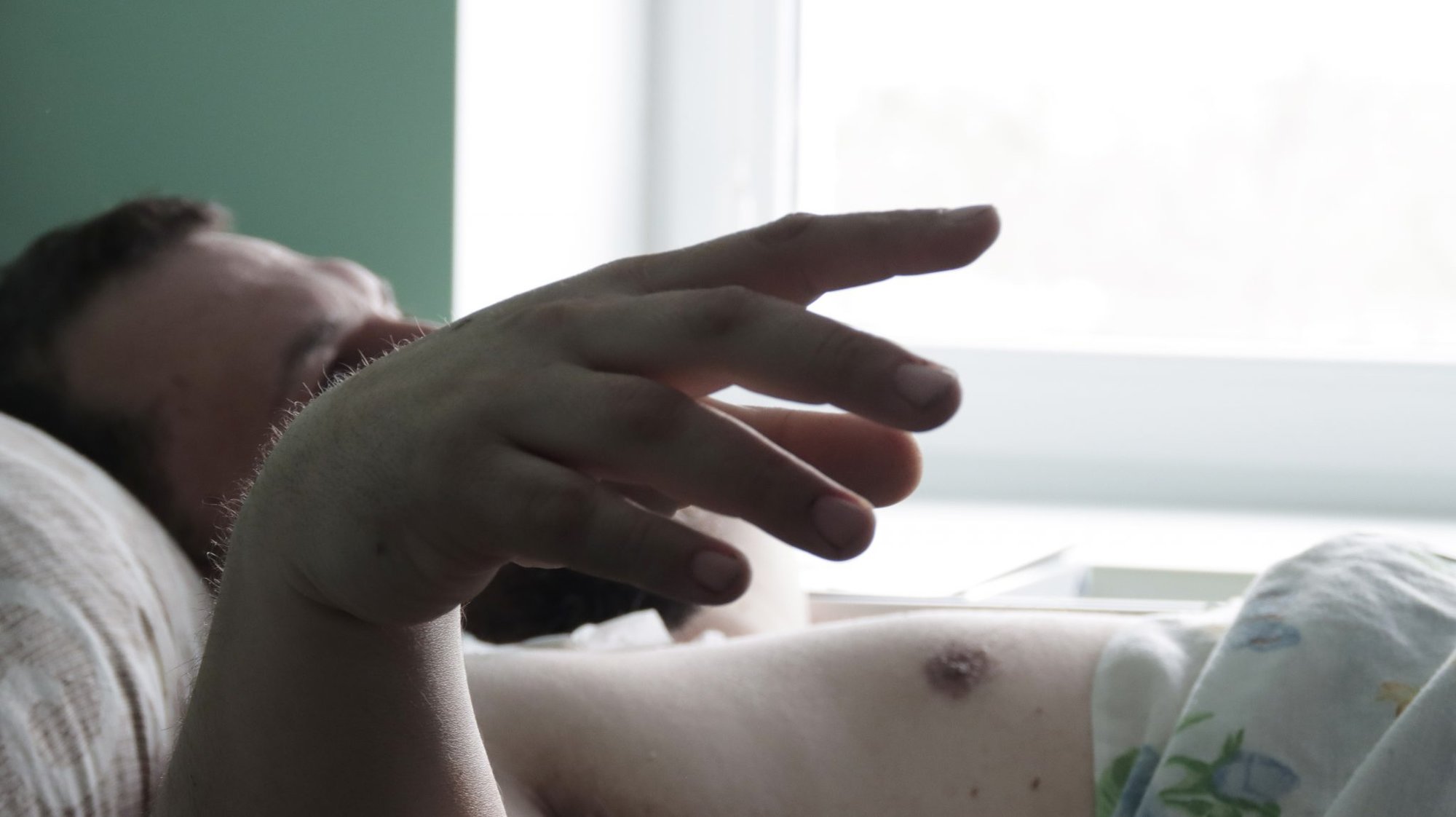 "I thought it was over for me," Gennadiy recalls. "There was fire everywhere, and I had no way to escape. I was afraid of a very painful death."
Gennadiy cried for help. Again and again. And then, as if by some miracle, several friends burst into the room and pulled him away from the fire and down the stairs and outside the building to safety.
"It was a huge bomb, and I'm lucky to be alive," Gennadiy recalls a week later. Managing a smile, he adds: "But it's a pity I didn't have more time to fight."
Although Gennadiy's wife and younger son have joined him in Poltava, his older son and brother remain in Kharkiv serving in the city's territorial defense force. The worst part of being confined to a hospital bed, Gennadiy says, is the gnawing worry he feels for his son's safety. Yet, he says "there is no other way" if Ukraine is to survive the war.
"We are soldiers. We have no other choice. We have to fight," Gennadiy says, adding that the criminally indiscriminate way in which Russia is waging war and killing civilians has filled him with rage. Although he has family in Russia, Gennadiy says he will "never forgive" the Russian people for supporting the war.
"We will fight them for 100 years if we have to," he says.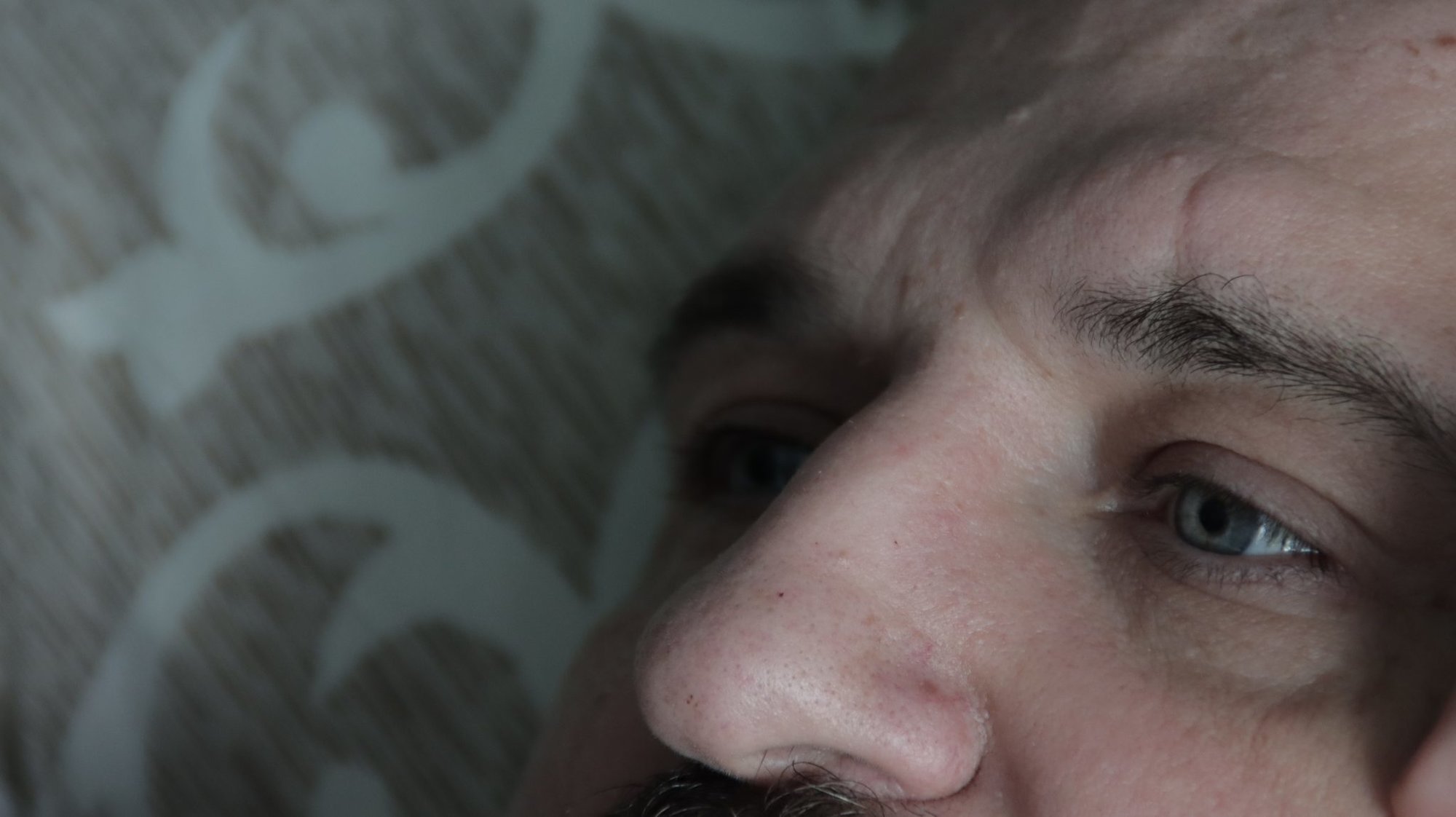 In a separate hospital room, 27-year-old Vyacheslav recovers from a bullet that entered the small of his back and tore through his intestines and destroyed one kidney. After several surgeries, he now has only one kidney and his digestive waste collects in a colostomy bag. Kalyuzhka, the surgeon, says more surgeries are needed to repair Vyacheslav's digestive system.
"I'm still optimistic," Vyacheslav says. "At least I'm alive."
A Ukrainian National Guard lieutenant, Vyacheslav was riding in a BMP-2 infantry fighting vehicle that came under Russian fire on Kharkiv's outskirts on Feb. 24. Recalling the attack, Vyacheslav says that he continued to fight even after he was shot.
"I felt pain when the bullet hit me, but I had to keep fighting," he recalls from his hospital bed. "Otherwise, all of us might have died."
None of the other Ukrainian soldiers Vyacheslav was with that day were wounded or killed.
Before the war Vyacheslav lived in Kharkiv with his girlfriend. She's since joined him in Poltava for the beginning of a long, difficult recovery. The young man's slim, athletic frame is now marred by the bullet's damage. His skin is gray, his drowsy eyes betray the influence of painkillers. Despite all he's suffered, Vyacheslav is exceedingly polite and even offers to lift up his shirt to show his wounds. He's also resolute that his fighting days aren't over yet.
"It will be a long rehabilitation, but I am ready to fight again," he says. "I am ready to go back and defend my motherland."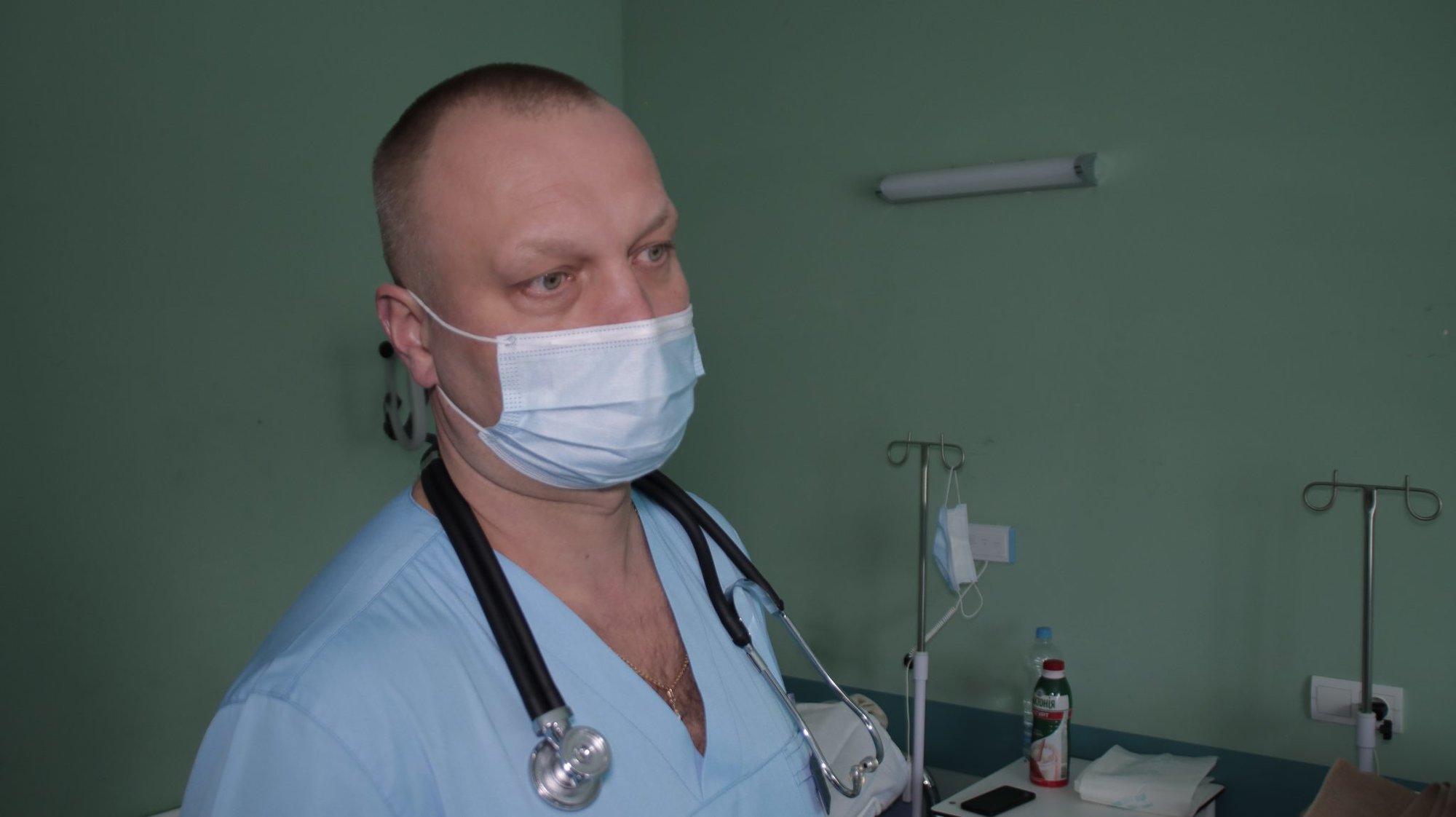 Kalyuzhka, standing nearby, looks down and says nothing.
In his office a little while later, Kalyuzhka explains that the Ukrainian military has made major progress in its tactical first-aid training over the past eight years of limited warfare in the Donbas. For that reason, many Ukrainian soldiers have been surviving the immediate moments after their combat injuries and making it to front-line field hospitals for lifesaving care.
Wounded Russian soldiers have also been brought in. According to hospital staff, Russian prisoners are treated no differently than any other patients — although they are kept in separate rooms and under special supervision.
"They are patients first," says Bohdan Tomash, a physician at the Poltava hospital who has treated Russian casualties. "We will deal with politics later."
To meet its wartime workload, the Poltava hospital has mobilized all its resources. All departments have been tasked with treating wounded soldiers, and other operations at the hospital have been tapered down. The intense demands have begun to wear on the hospital's staff. Russia's invasion force is less than 90 miles away, and the hospital's staff must plan for their families' safety while working long hours with scarcely any time off. Sleep is a luxury. Above all, the sight of so much suffering, day after day, is hard to bear.
"There will be many invalids after the war. And many psychological problems," Tomash says. "However, we now have no time to think about the long-term impacts. We will deal with those things later. Now we just try to save lives."
Read Next: