KYIV, Ukraine — The crowd gathered in front of St. Michael's Golden-Domed Monastery and spoke in whispers. Many of their hands held evenly numbered bundles of fresh flowers. That's the tradition here: an even number of flowers for a funeral.
Soldiers in uniform had medals on their chests and tears rolling down their hardened faces. There were teary eyes, as well, among the many men and women in civilian clothes. They were all here, on this sunny spring day, to honor Oleksandr Makhov, a 36-year-old Ukrainian journalist-turned-soldier who died in combat against Russian forces on Wednesday, May 4.
"I want everyone to know that Makhov is a hero! He died for all of us. He was fighting for 70 days. Down to the very last one," Anastasia Blyshchyk, Makhov's fiancée, wrote Monday on Facebook.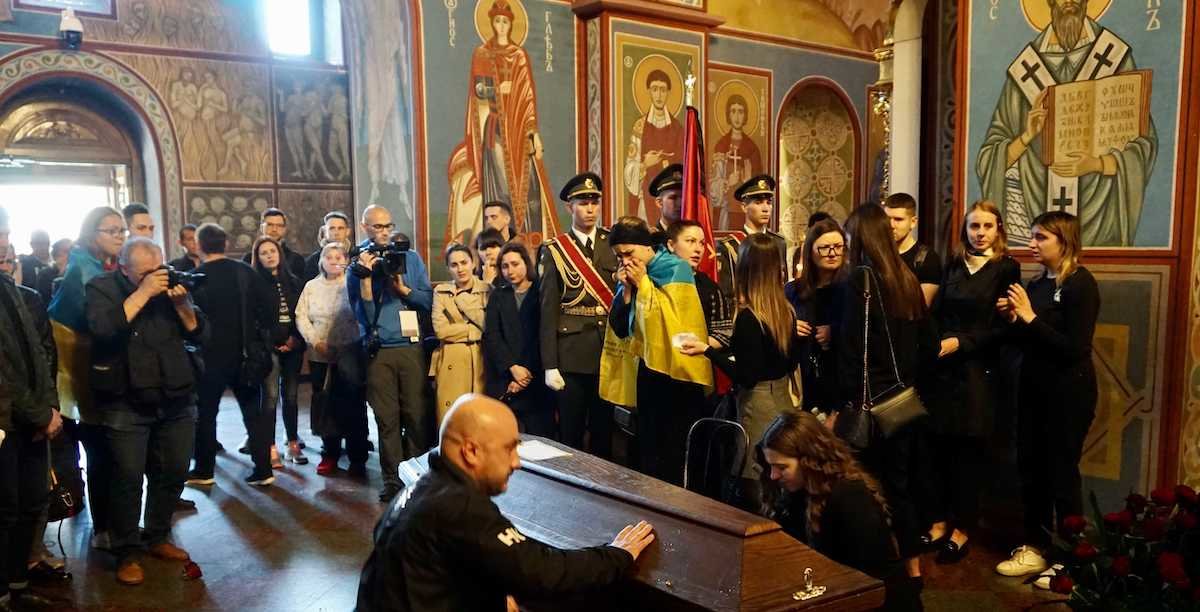 Kyiv today is a city of contradictions — a no man's land between violence and calm, hope and despair, joy and loss. Love and hate. Adding to the dissonance, Makhov's funeral took place on May 9, a date known as "Victory Day" in the Soviet Union and in modern Russia to commemorate the defeat of Nazi Germany in World War II.
Out of tradition, Ukraine still marks May 9. Yet, commemorations balance honoring Ukraine's pivotal role in defeating Nazi Germany while also proclaiming that the country's fight to defeat Russian oppression is not yet won.
"I am convinced that our Ukrainian Victory Day is still ahead. And with the joint efforts of the Ukrainian people, as well as the support of the whole world, we will definitely win," said Mykhailo Adamchak, a volunteer paramedic in Kyiv who works on the war's front lines.
The funeral procession quietly moved into the airy cathedral and gathered around Makhov's casket. Blyshchyk sat in a lone chair beside the coffin and sobbed. She wore a black kerchief on her head and a blue and yellow Ukrainian flag over her shoulders.
The last time Blyshchyk saw Makhov alive was on the evening of Feb. 24, the day Russia's full-scale war began. In a photo of that moment, they have their arms around each other and face the camera. Makhov smiles, while the worry in Blyshchyk's face is clear.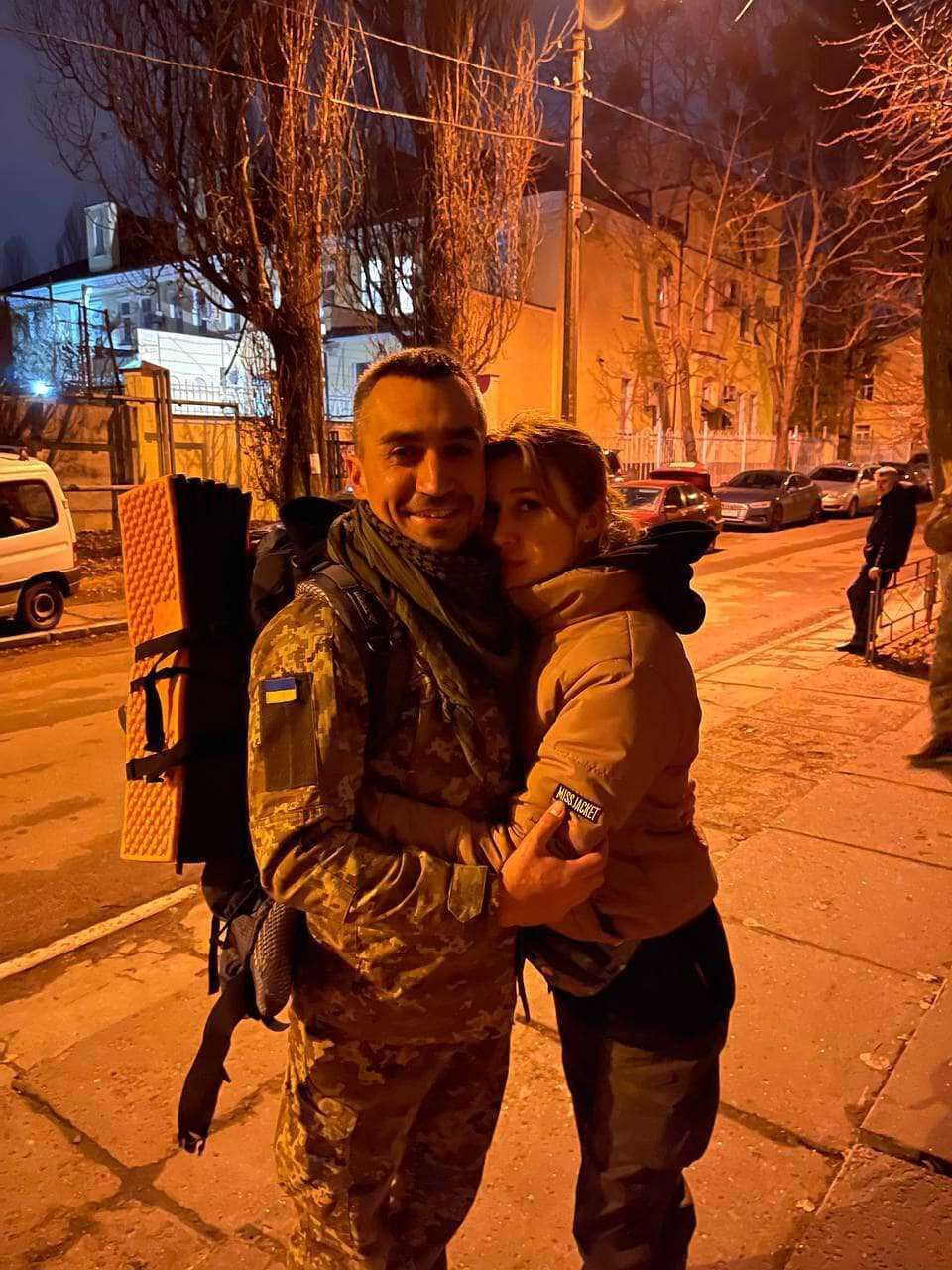 On Monday, she draped her whole body over the coffin and hugged her husband-to-be one final time.
"Today Sasha was buried in a closed coffin. I never saw him, so I still refuse to believe. Love lives forever," Blyshchyk wrote on Facebook later that day. After the funeral ceremony, a retinue of soldiers carried Makhov's coffin into an awaiting van while a lone trumpeter played the Ukrainian national anthem. And then the crowd parted.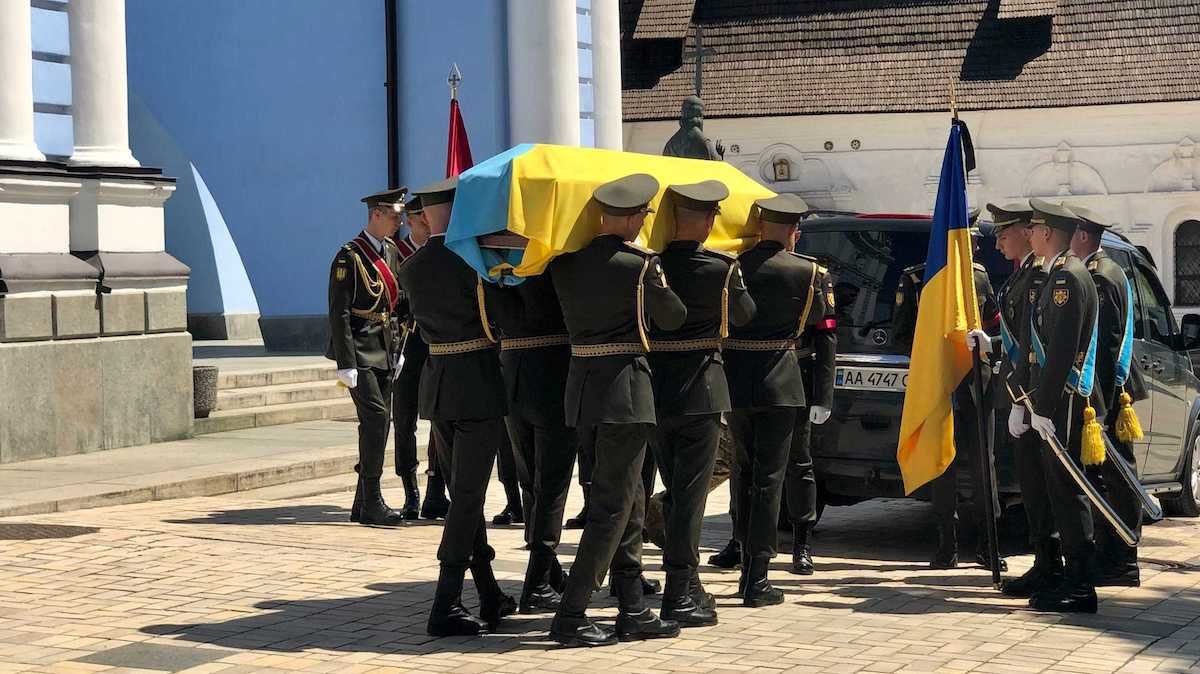 In Shevchenko Park that afternoon, an easy breeze rustled the trees' young leaves. Birds chirped. Children laughed in a playground. Springtime sounds no longer competed with the booms of nearby artillery.
The early morning clouds had burned off by then. A group of young soldiers sat on park benches with their eyes closed and faces pointed toward the clear sun. Old men sat around stone tables and played chess, as was their habit before the war. Ukrainian flags adorned street poles lining long avenues that were less frequently interrupted by checkpoints than they had been a month ago, when Russia's army was at Kyiv's gates and the city's fate was far from certain.
About two hours later, at 3:50 p.m., another air raid alarm broke the calm, a reminder that the war isn't over and the threat of random death by a Russian missile still exists here in Ukraine's capital city, as it does in every corner of this embattled country. The war is still there, disrupting and destroying lives, even if its front lines have shifted.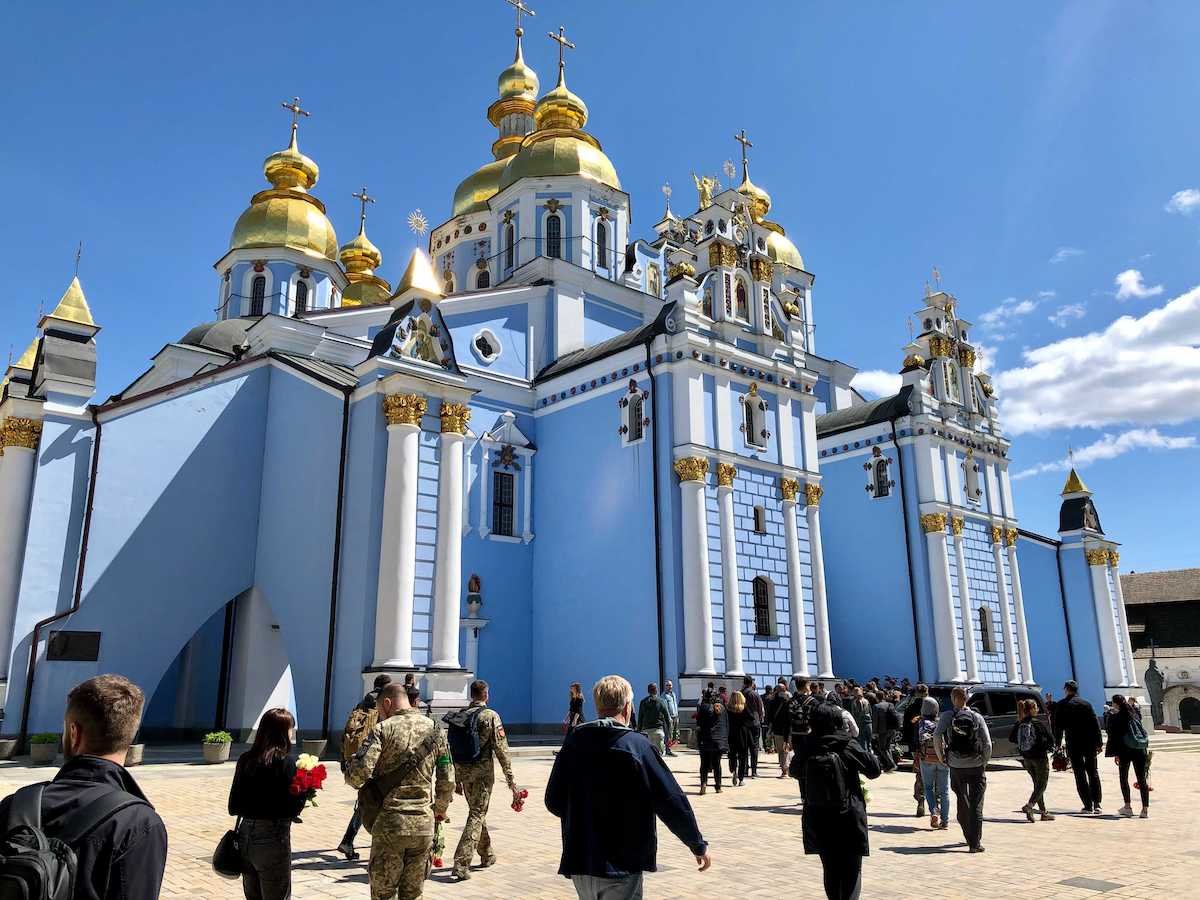 "Just one more tough day with a lot of grunt work — plus the additional risks of being bombed," Oleksiy Poltorakov, a volunteer Ukrainian soldier, said about this year's May 9 holiday.
Nazi Germany initially surrendered to the Allies in the French city of Reims on May 7, 1945. A second, formal surrender ceremony was held in Berlin late in the evening of May 8 — already after midnight on May 9 in Moscow. Thereafter, Western European countries and the United States celebrated Victory in Europe Day, or V-E Day, on May 8. The Soviet Union, however, traditionally celebrated victory over Nazi Germany in the "Great Patriotic War" on May 9.
In 2015, one year after Russia invaded Ukraine's eastern Donbas region and Crimea, Ukraine's then-president, Petro Poroshenko, announced that Ukraine would celebrate the "Day of Remembrance and Reconciliation" on May 8, as well as Victory Day over Nazism in World War II on May 9.
"I think that we have no right to celebrate Victory Day with Russia on May 9, because this is the date invented by Stalin," Adamchak, the volunteer paramedic, told Coffee or Die Magazine.
"First, Nazi Germany capitulated on May 8, and it is this date that the entire civilized world celebrates," Adamchak said. "Secondly, it should be the Day of Remembrance and Victory over Nazism in World War II. Without any victory frenzy."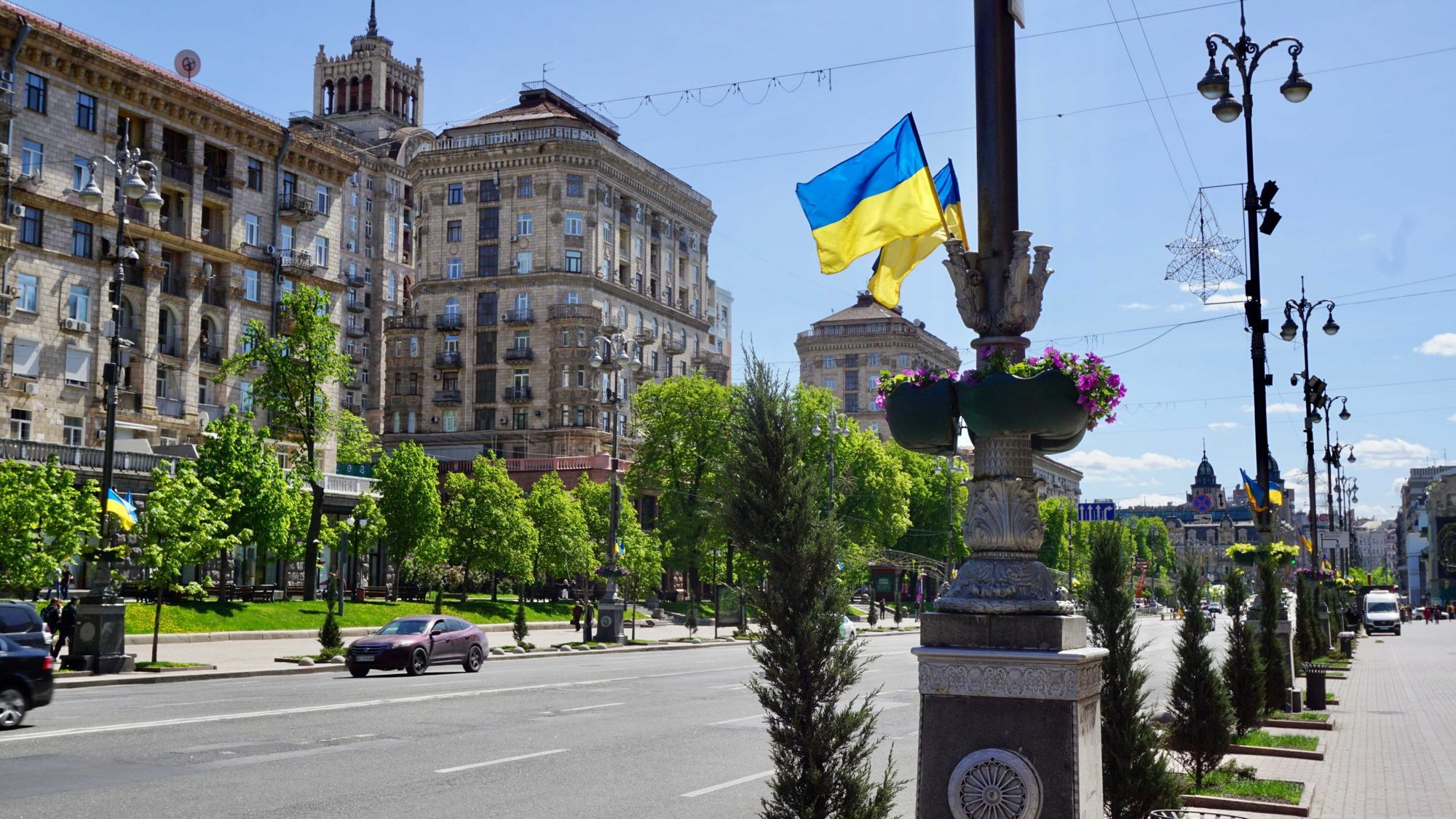 This year's May 8 celebrations in Ukraine featured some memorable events. Lead musicians from the band U2 — Bono and the Edge — played a short acoustic concert in a Kyiv metro station, which doubles as a bomb shelter. Canadian Prime Minister Justin Trudeau also visited Kyiv on Sunday to commemorate the reopening of the Canadian embassy. That same day, US first lady Jill Biden met with Ukraine's first lady, Olena Zelenska, in the Western Ukrainian city of Uzhhorod.
Also on Sunday, US Chargé d'Affaires Kristina Kvien returned to the US Embassy in Kyiv for the first time since early February.
"When World War II ended on May 8, 1945, Allies declared victory over an aggressor who committed war crimes and atrocities in an attempt to subjugate others," Kvien said to mark the occasion.
She continued: "Today, we are 74 days into an unprovoked, unjustified war of aggression against Ukraine, perpetrated by an equally depraved aggressor who, as in 1945, will be defeated by the courage and resolve of soldiers and civilians standing up against evil for the common good."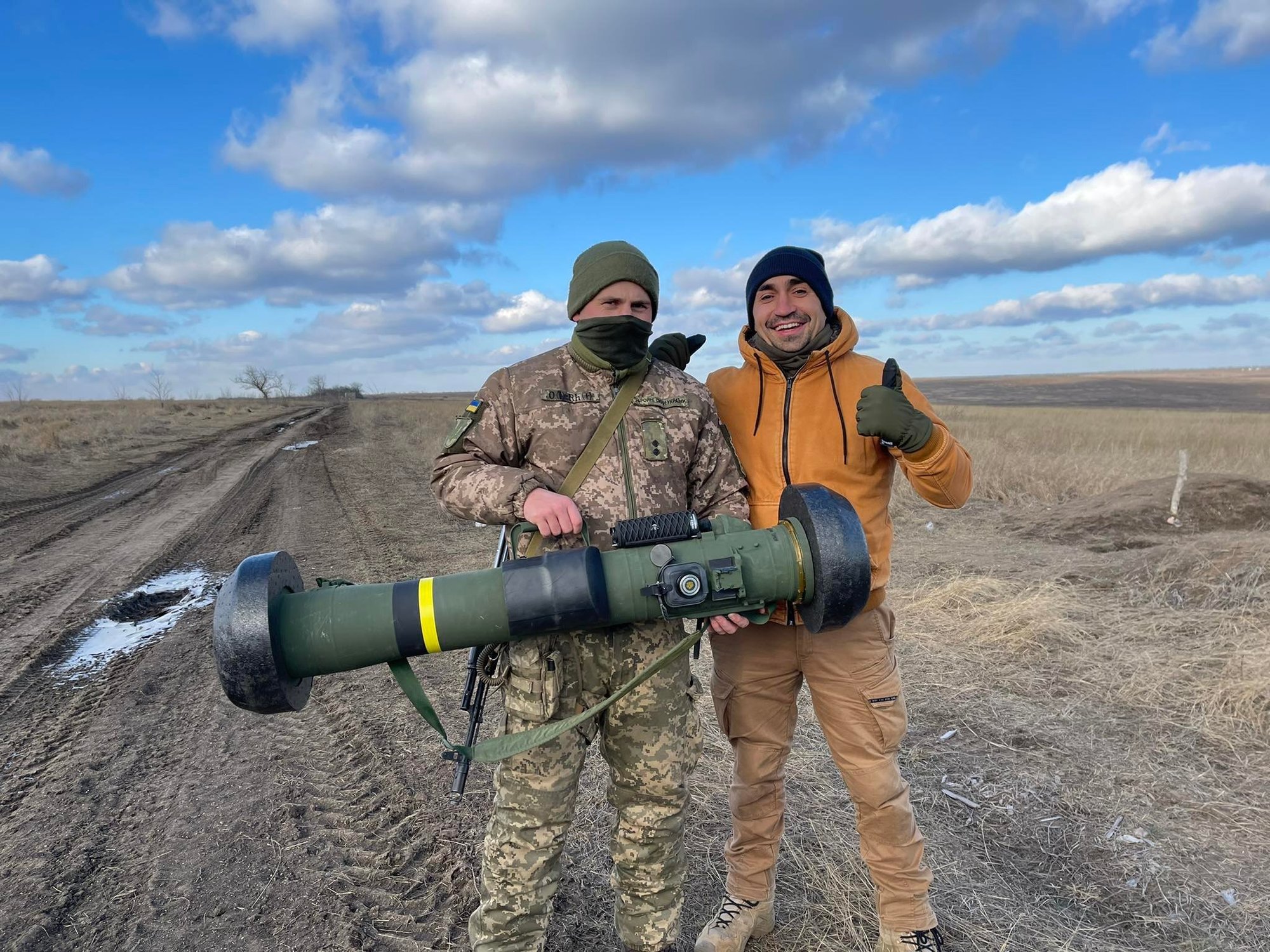 One human lifetime ago, Ukraine was on the deadliest front of the deadliest war in history. In woods around the country, one can still find buried bullets and bombs and pieces of uniforms from that long-ago cataclysm. Nearly every Ukrainian settlement, no matter how small, bears a memorial to the fallen from World War II.
Many Soviet-era war memorials in Ukraine still bear the dates 1941 to 1945. However, Ukraine now officially marks the war's beginning as 1939, the year when Nazi Germany and the Soviet Union joined forces in invading Poland. It wasn't until 1941 that Adolf Hitler unleashed the largest land invasion force in history by invading the Soviet Union in Operation Barbarossa. Even so, Russia ignores Soviet aggression beginning in 1939 and only commemorates the war as lasting from 1941 to 1945.
"My feelings are full on May 8, but on May 9 I feel only disgust. I can't understand how the Russian side can celebrate the war, when the Soviet Union was on the one side with the German Reich until 1941," Yakym Yermak, a resident of Kyiv who volunteers to support the Ukrainian army, told Coffee or Die.
"That's a Pyrrhic victory, totally," Yermak said.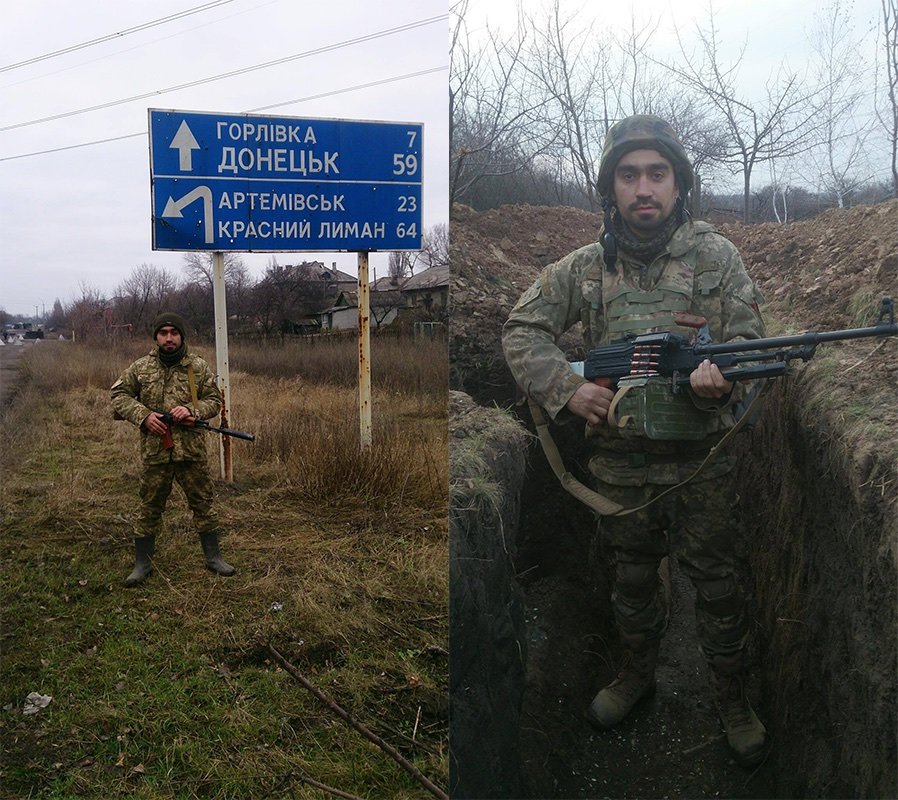 Under Russian President Vladimir Putin's rule, May 9 has become a much more important holiday in Russia than it ever was during the Soviet era.
In the immediate postwar years, Soviet leader Joseph Stalin played down the day's significance, fearing that too much celebration could spur independence movements in Soviet countries. It wasn't until 1965 that Soviet Premier Leonid Brezhnev made May 9 an official holiday and held a parade in Red Square to commemorate the event.
The next Victory Day parade wasn't held until 1985. After the Soviet Union's dissolution in 1991, the Russian Federation held its first post-Cold War Victory Day parade in 1995.
Putin has reshaped Victory Day into an annual spectacle that celebrates Russia's role in defeating the Nazis and largely overlooks the sacrifices of the Soviet Union's other countries, such as Ukraine, which bore proportionately greater losses.
In a video posted to social media on Monday, Ukrainian President Volodymyr Zelenskyy struck a defiant tone, simultaneously celebrating Ukraine's role in defeating Nazi Germany in World War II while also highlighting the historical hypocrisy of Russia's stated war aim to "de-nazify" modern-day Ukraine.
"Today we celebrate the Day of Victory over Nazism. And we will not give anyone a single piece of our history," Zelenskyy said in the video.
Within foreign policy circles, many suspected that Putin might use today's ceremony in Moscow to announce a formal declaration of war against Ukraine. While that declaration didn't happen, most analysts agree that Russia shows no signs of backing down from its Ukrainian invasion anytime soon.
"There are no shackles that can bind our free spirit. There is no occupier who can take root in our free land. There is no invader who can rule over our free people," Zelenskyy said Monday. "Sooner or later we win."
Read Next: