AVDIIVKA, Ukraine — When you hear the sound you remember it and there's no mistaking it for anything else.
The thunder rolls in from the trenches — from where you are, about a mile away across a field and behind a tree line. The intrusive sound interrupts the quiet of this clear spring morning like a military-industrial metronome.
There is other evidence of the war. Other undeniable proof that it is real. A nearby field is full of mines; a skull and crossbones sign tells you to stay away. You stand in the shadow of an abandoned apartment block that has suffered years of artillery abuse. The glass that had once been in the windows — now scattered in shards on the ground. The building's concrete facade is carved and crushed from the explosions. Splash patterns of shrapnel pockmark the vertical surface like raindrops punching the surface of a pond. The sight is interesting for the eyes like an abstract painting, until you imagine what it must have been like inside this battle-beaten building when all the damage was being done.
God, it must have been terrifying.
Your imagination — that most potent producer of fear — is not innocent of experience. You've been to this war before, and you've been under the shelling. Your dark imaginings are not fictions. They are reassembled realities.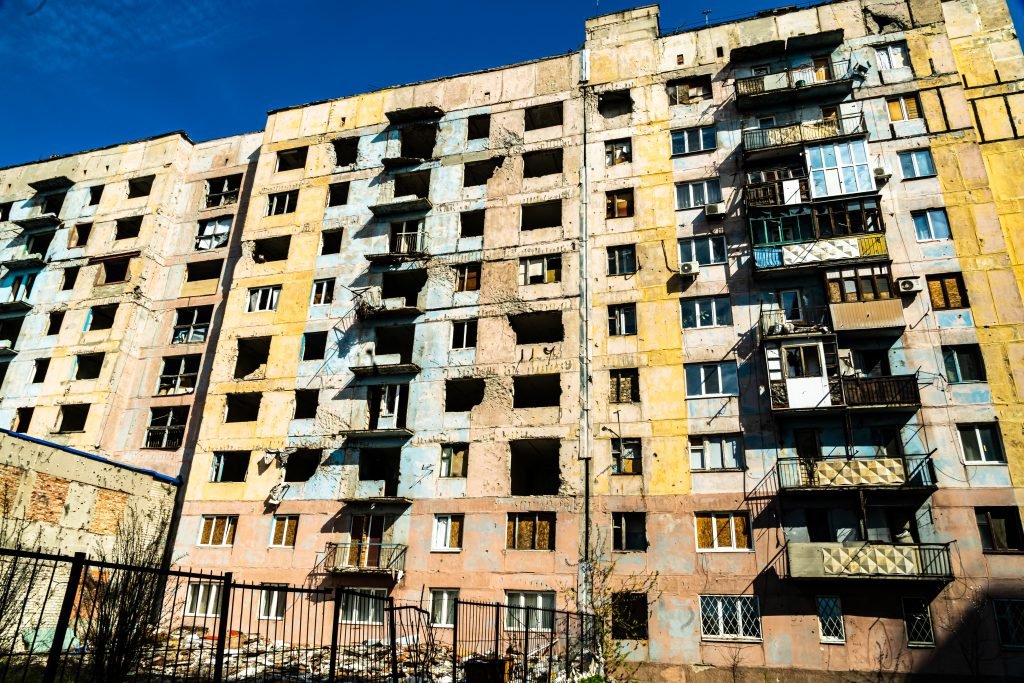 And then the shelling resumes, and you understand that this is not an archaeological site. This is an active war zone where 14,000 people have died. So far. Each explosion from the trenches could signal the taking of a life. If nothing else, it is an attempt to do so.
The monster lurks right over there, just across that field and behind those trees. Roger Bannister could run the distance in under four minutes. And yet it seems so safe, right here…
You came of age in conflicts that knew no front line. In those other wars, the enemy was ever present, hiding in the shadows like a snake, always ready to strike. The war in Ukraine is different. This war is a destination. Once you're at it, you're in it. And for Avdiivka's civilians, who've lived under the shadow of the shelling and the rockets and the gun battles for more than seven years, there's no escaping the reality that this war is not over.
In Avdiivka, the scenes of normal life going on in spite of the war shock you more than the shelling, the soldiers, and the destruction. An honest war story, after all, is about more than armies and their weapons. It is about life interrupted. And that is what you notice most.
You look at a Grad rocket crater and shrug your shoulders. You look at children in a playground and cry.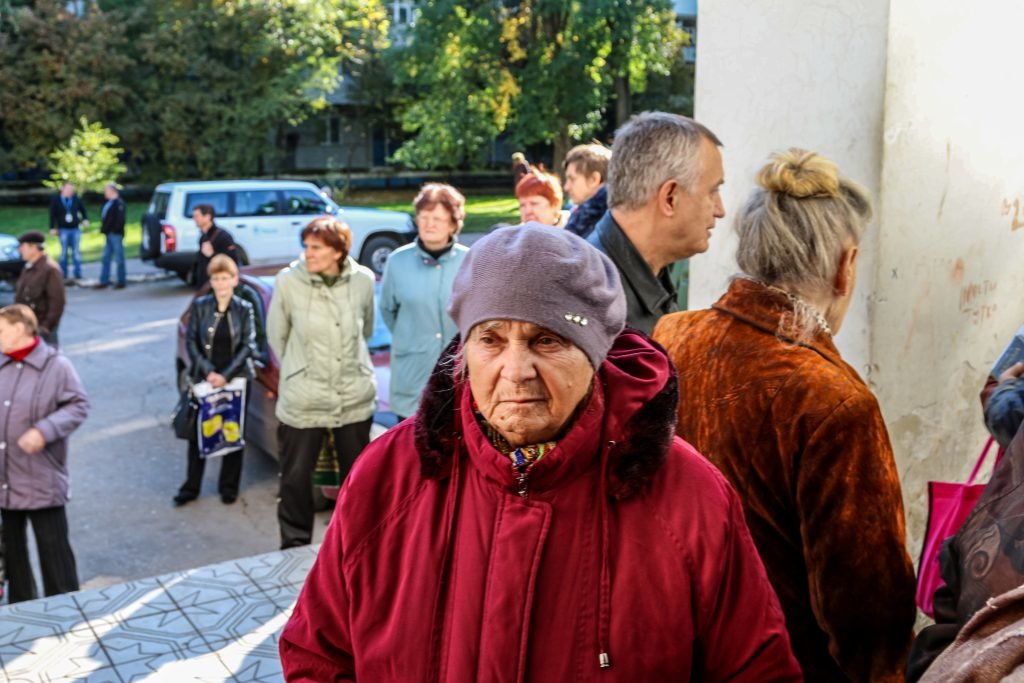 A war's cost is often measured in bodies and dollars. Yet, the final measure of a war's destruction is the loss of the most precious resource of all.
Hope.
Despite Russia's recent withdrawal of military units, which had for weeks been massing on Ukraine's borders, no one believes in peace. Not really. It's hard to after seven years of suffering and broken dreams.
"We don't have hope any more. How long is [the war] going to last? Now, it seems that there is no hope — or solution. This is what I think," says Nastya Troitskaya, 39, a mother of four who lives in Avdiivka.
You never get used to the way you reach this war. Not like in the other wars you know. Your wars. That's to say, not in the back of a C-17 transport plane prepped to travel halfway around the world. No, to reach the war in Ukraine, you take a train.
The train leaves at 7 p.m. so you have the day. You spend the morning working. In the afternoon you walk in Shevchenko Park with your wife. Children fill the playground. Old men are playing chess on the outdoor tables. Here, in Ukraine's capital city, the war is a rumor. Unseen. Unheard. Until you see a young soldier in uniform walking through the park holding the hand of a young woman. The soldier has many decorations on his chest and his eyes scan the park like he's walking in a foreign country, taking it all in for the first time. Yes, the war is always there. Even if you have to search for its evidence, sometimes.
Back at home you finish packing and decide to walk to the station. The spring weather is inviting.
You find your train, locate your place, and you're on your way. You share a four-person sleeper berth with a woman and two soldiers. One soldier looks young. Very young. Did you look that young, once? The other soldier is older and you see the effects of more than years on his worn face. In the night the soldiers drink until the older soldier gets sick, and it is the younger man who takes care of him.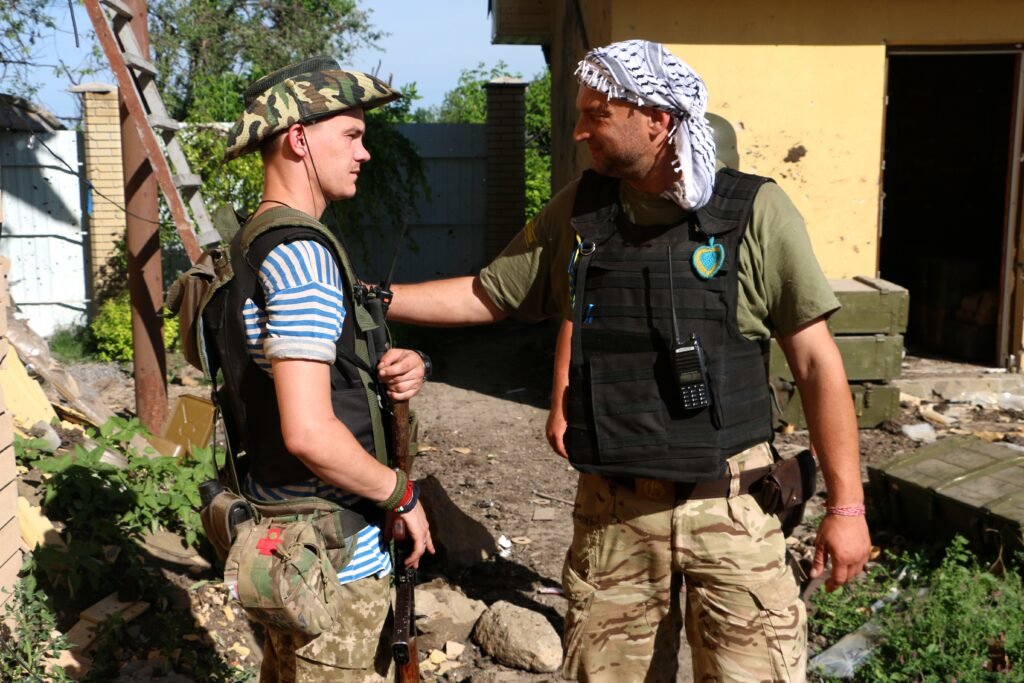 In the morning you arrive in Avdiivka. The sky is perfectly blue without a cloud to mar it, and the air is unusually brisk for a late April day. You disembark the train and watch as soldiers leaving the train toss fully laded rucksacks to their comrades waiting on the platform. You've seen this all before. A movie? A memory?
All of the soldiers' expressions are muted. Handshakes. Slaps on the backs. Slow nods. Eyes focused below the horizon, or on something unseen. Not here. Not now. Not until you hear it.
It sounds like the roll of faraway thunder. But the morning is clear and cloudless. The soldiers and civilians around you exchange glances. Eyes asking, is it for real?
Yes, says the war.
Later, you have coffee with a Ukrainian soldier named Oleksandr. He's served in Ukraine's military since the war started in 2014. He's seen a lot. After seven straight years of combat, you want to know what sustains his spirit.
He talks about democracy and freedom and defending his homeland.
You nod.
"I understand," you say in his language.
Then he asks about your wars. You tell him about a 19-year-old Air Force Academy cadet who watched the towers fall on TV and understood what it meant for his future.
Oleksandr nods. "I understand."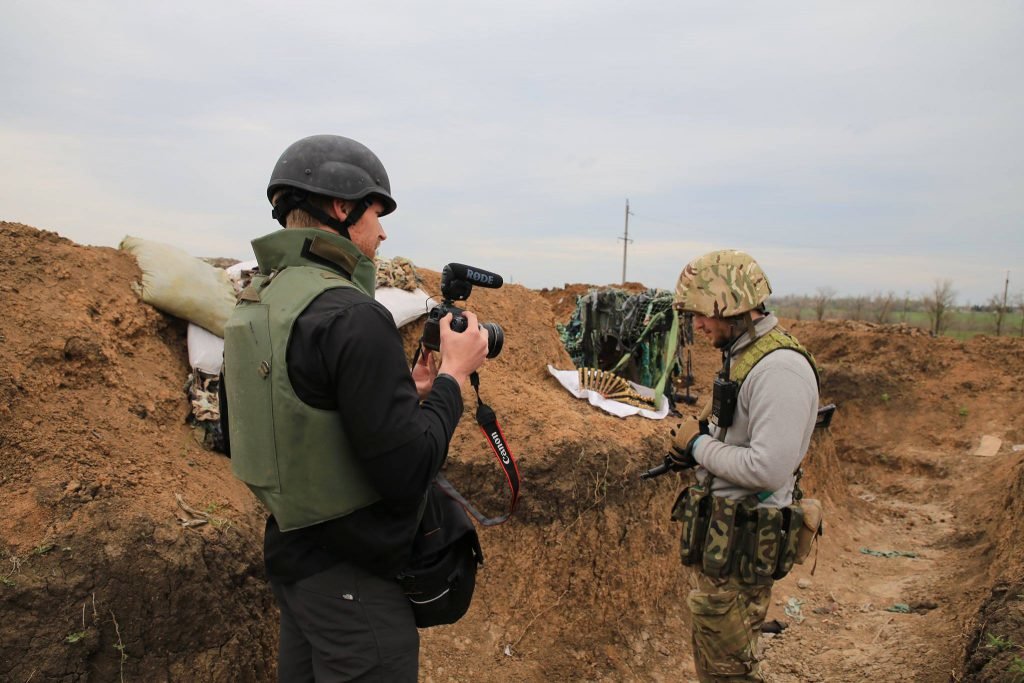 All wars, and the soldiers who fight in them, have more in common than we probably realize. That's probably why this war feels so familiar. This isn't your country, and this isn't your war. But you understand why the Ukrainians are fighting it. And it isn't only the soldiers who impress you.
Ukraine's millennials — who came of age in revolution and war — talk passionately about freedom and democracy and Western values. Many volunteered to defend their homeland when the war began. And many fought bravely on another front, battling the vestiges of post-Soviet corruption, which are as lethal to Ukraine's democracy as any Russian bomb or bullet.
Seven years later, those young Ukrainians still talk about duty like a line from an Ernie Pyle story.
"I never wanted to live with an understanding of my own helplessness and doom. I wanted to change the world, to change people's attitudes to their lives," says Liudmyla Bileka, a 31-year-old volunteer combat medic who, besides serving in the war zone, has helped train Ukrainian soldiers in combat first aid.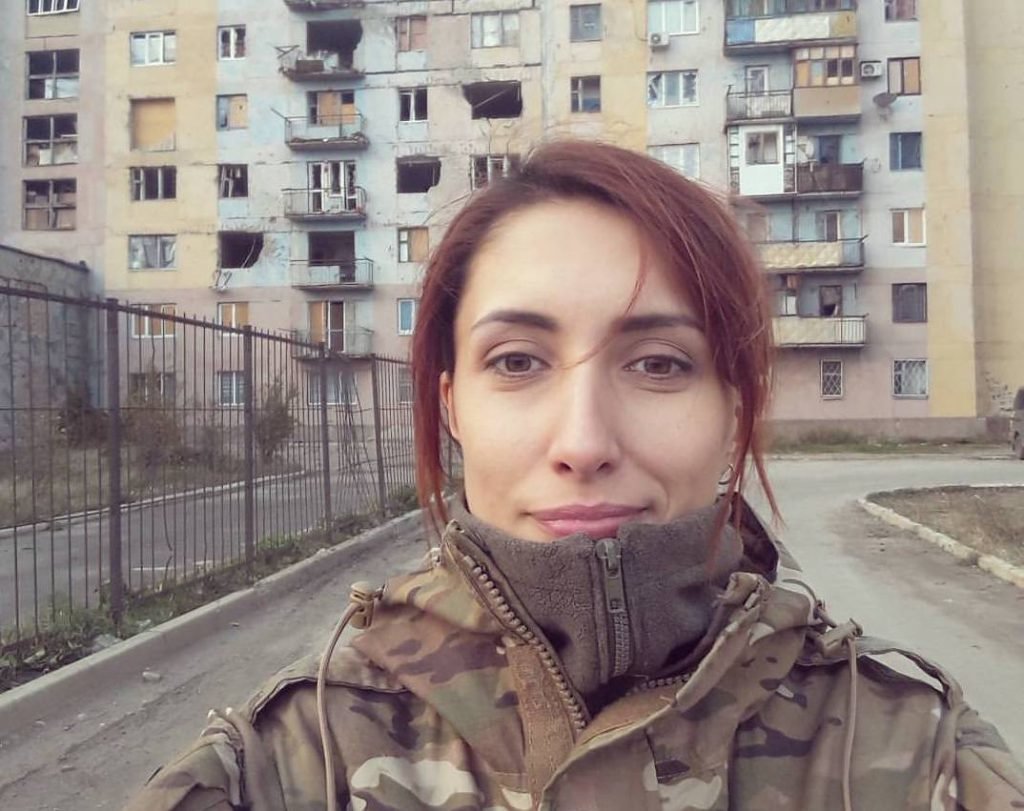 "We are all victims of the Soviet mentality and intimidation. From childhood we were taught that we could not achieve anything without the protection of the state and the permission of officials, and the struggle for change can lead to imprisonment or, at best, to shame for the family," Bileka says.
Referring to Ukraine's 2014 pro-democratic revolution, she adds: "And the Revolution of Dignity gave me that impetus, when I said: 'It isn't enough to wait for someone else to act. You must do what you can. Maybe there will be no other chance in this life.'"
Older Ukrainians, who remember life in the Soviet Union, know better than anyone else what their country is fighting for. There are even some Russians who have found common cause with Ukrainians' fight for democracy.
Freedom, after all, is often more precious for those who have experienced the alternative.
"And this is what holds me here. Because I do not want to live in the Soviet Union. I hate the Soviet Union," says Mila Lebitko, a Russian who is now the director of a nonprofit in Avdiivka that assists handicapped children and orphans.
"Although I am Russian and do not have any Ukrainians in my bloodline, I consider myself as a Ukrainian in spirit," Lebitko says. "My direction is Europe, the West — there. Under any circumstances, I do not want to return to the Soviet Union."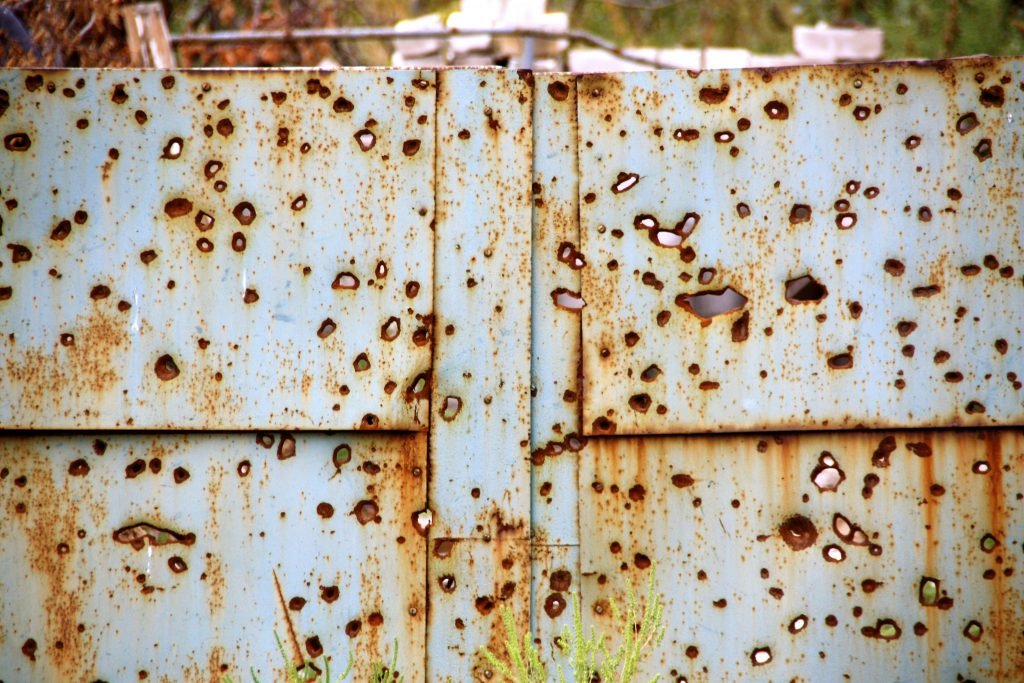 You visit an abandoned section of the front line, Ukrainian troops' former positions, given up years ago when they won back ground from their foes. Today, the place is a wasteland. Windowpanes — all gone. Roofs — uniformly caved in. Shrapnel holes pepper nearly all vertical surfaces.
Again, you wonder. What was it like here when it happened?
A Ukrainian soldier named "Shultz" leads you through the ruined houses and cratered yards. He points out where he hid during the shelling. He shows the direction, whence the snipers shot. He's proud to tell you all about it.
You reach a section of overgrown trenches. You both stop and look and the conversation lulls while the war rumbles in the distance. You imagine. Shultz remembers.
"We have to fight here, so we don't fight in Kyiv," Shultz says. "This is where freedom is won."
It's time to depart.
The night is dark. You arrive at the train station, and soldiers are milling about the platform, ignoring a light rainfall. Some soldiers stand alone, smoking. Others are clustered together in conversation. Some are leaving; others are here to say goodbye. The train whistles. Air ejects from the engine. Hugs. Goodbyes. Flicked cigarette butts and last looks. You don't notice any tears. But it is dark.
Aboard the train, you sit across from a soldier. A sharp bang and an abrupt jolt as the tug of the engine works its way down the line and snags your wagon. The unexpected lurch echoes in the soldier's frozen facial expression. Instinct. Then the tension deflates and his whole demeanor exhales. At last. His body slouches against the seat back as the train gallops over the tracks. Faster. Faster. Each clickety-clack takes him farther from the war.
But the war is still there. And it will take more than distance to leave it.
This isn't your war. That's true. But it's not so different, after all.
Read Next: