KYIV, Ukraine — The window is swiftly closing on Moscow's ability to launch a major offensive against Ukraine without the risk of Russian forces suffering a barrage of retaliatory precision missile strikes — both at sea and on land.
In April, the Ukrainian military is slated to field its first fully operational division of R-360 "Neptune" cruise missiles. This debut outfit will wield 72 of the ground-based, subsonic, low-flying cruise missiles. According to news reports, the Ukrainian armed forces have a contract with the Luch Design Bureau — the Neptune missile's Ukrainian manufacturer — to field three combat-ready cruise missile divisions by 2025. The ultimate goal is five divisions, Ukrainian defense officials have said.
"Neptune missiles are a promising Ukrainian development and, if mass production is launched, can become a significant deterrent, as they are capable of destroying not only ship targets, but also ground targets," the Ministry of Defense of Ukraine announced in a release.
"I think Ukraine's development of long-range missiles is very significant and certainly a driving factor in Russia's current threats and activities," said Rob Lee, a fellow at the Foreign Policy Research Institute who specializes in Russia's armed forces.
"If Ukraine were to receive that capability, either through domestic development or from deliveries from a foreign country, a Russian escalation would come with greater risks because Ukraine could target Russian cities, key infrastructure, or large military bases," Lee told Coffee or Die Magazine. "So this would likely reduce the strength of Russia's future attempts at coercion."
According to Ukrainian military officials, the new Neptune missile division will be deployed along Ukraine's southern Black Sea and Sea of Azov coastlines. Conceivably, those Ukrainian missiles would defend against a potential Russian amphibious assault. They would also be a "priority target" for Russian forces, said Mykola Bielieskov, a research fellow at the Ukrainian National Institute for Strategic Studies think tank.
The Neptune missile divisions "won't save Ukraine, as they would be among the first things to be found and destroyed by Russia," Bielieskov told Coffee or Die.
Russia has recently massed military forces on Ukraine's borders, including some 120,000 troops, sparking concerns about a major offensive this winter. Amid that looming threat, Ukraine's burgeoning missile arsenal is nowhere near strong enough to turn the tide of war against a full-scale conventional Russian attack. Even so, as time goes on, Ukraine's advancing missile program will steadily increase the retaliatory risks faced by offensive Russian forces. In short — the longer Moscow waits, the higher the potential costs in blood and treasure of any prospective military action against Ukraine.
"When Russia assesses the cost-benefit analysis of using force in Ukraine right now, a significant factor is that Ukraine currently lacks a true long-range fires capability, which limits its conventional deterrence," said Lee, who is a doctoral candidate at King's College London.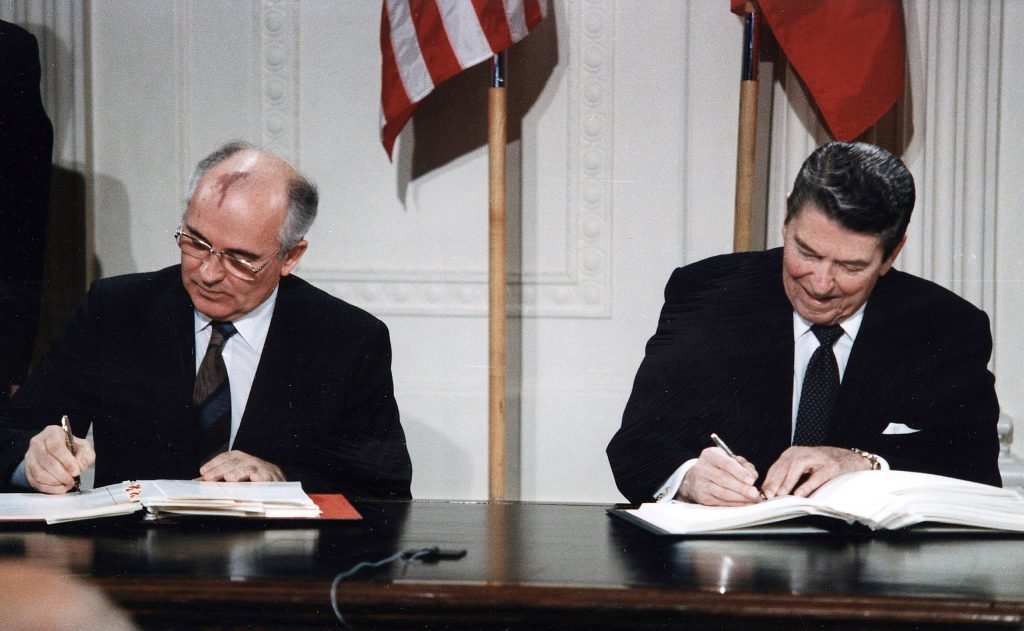 Russia's 2014 invasions of Ukrainian territory spurred Kyiv to fast-track the development of its own, domestically designed and manufactured missiles. However, according to the terms of a Cold War-era arms-control accord, until 2019 Kyiv was unable to develop missiles that posed a significant deterrent to Russia.
Signed by US President Ronald Reagan and Soviet leader Mikhail Gorbachev in 1987, the Intermediate-Range Nuclear Forces Treaty, or INF Treaty, banned ground-launched cruise missiles and ballistic missiles with ranges between about 300 and 3,400 miles. As a former Soviet country, Ukraine obeyed the INF Treaty's terms and decommissioned its arsenal of short- and intermediate-range cruise missiles and ballistic missiles.
"Although formally not a party to the INF Treaty, Ukraine was strictly adhering to its provisions throughout the entire period of its existence," the Ministry of Foreign Affairs of Ukraine said in an August 2019 release.
In 2019, the US withdrew from the INF Treaty after determining that Russia had been developing and deploying missiles in violation of the pact's limits for years. Following the accord's demise, Ukraine was free to develop missiles without any range limitations.
"Our design bureaus and the industry are no longer bound by any restrictions regarding the missile range," Ukraine's then-President Petro Poroshenko said in March 2019. "This means the issue of creating high-precision extended-range missiles capable of hitting targets far behind enemy lines is on the agenda."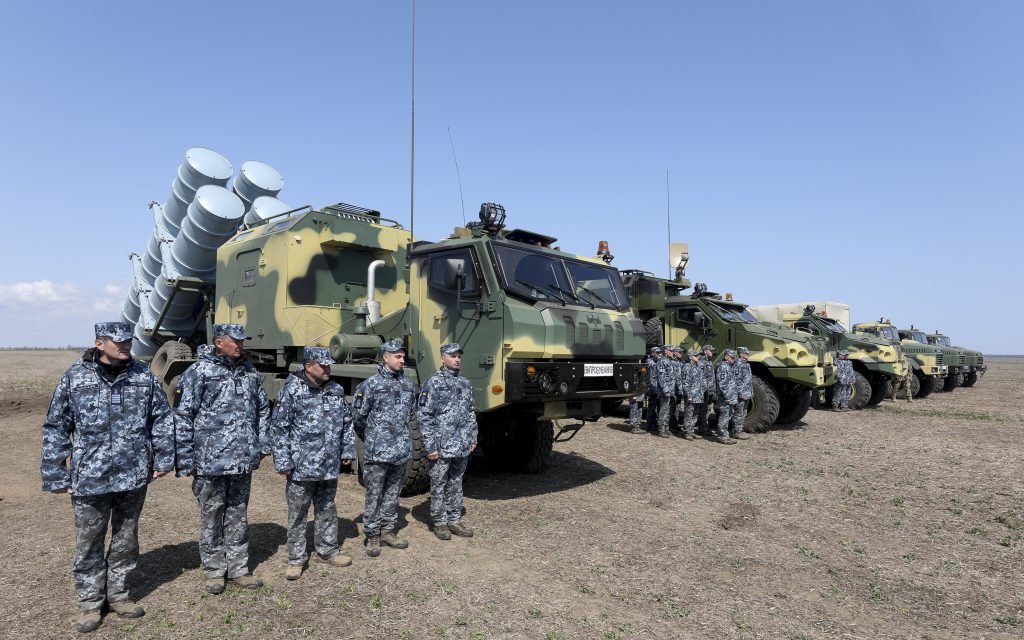 The Neptune's development was first announced in 2014, predating the INF Treaty's demise. In August 2020, following years of testing, the Ukrainian military formally approved the missile for operational use "in order to counter Russian aggression in the Black and Azov seas."
The Neptune cruise missile launches with a solid-fuel rocket and then transitions to jet-powered flight. Based on the Soviet Kh-35 anti-ship missile, the Neptune can target ground and sea targets within a range of some 280 kilometers, or about 174 miles. Planned modifications could boost the Neptune's range to some 500 kilometers, or about 310 miles — which would place it within the previously proscribed range window of 300 to 3,400 miles enumerated in the terms of the defunct INF Treaty.
Ukraine's Yuzhnoye Design Office has also been developing a ballistic missile called the Grom-2 that, after modification, has a maximum range of more than 300 miles.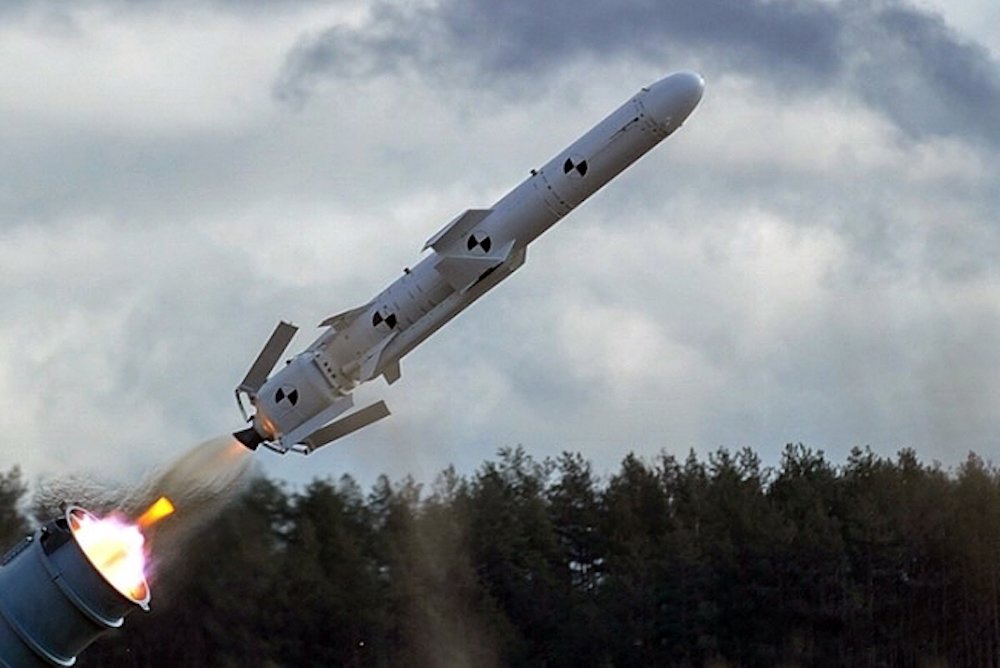 In addition to ground- and sea-based launch platforms, in December 2020 the Ukrainian armed forces began researching plans for an air-launched version of the Neptune that can be fitted to a supersonic Su-24 bomber. And in October, the Luch Design Bureau announced an upgrade to the Neptune's radar for use against ground targets. The Ukrainian navy already has one Neptune combat training launch system in service.
"Any strengthening of Ukraine is seen by Moscow as a threat," Stephen Blank, senior expert for Russia at the US Institute of Peace, told Coffee or Die.
According to the terms of the 1994 Budapest Memorandum, Ukraine gave up its Soviet nuclear weapons arsenal, as well as its intercontinental ballistic missiles and strategic bomber fleet, in exchange for security assurances from the US, Russia, and the United Kingdom. When Russia violated the Budapest Memorandum's terms by invading Ukrainian territory in 2014, the US and the UK did not intervene.
"Ukraine needs missiles that would, at the very least, reach the Urals and cover the whole territory of the Russian Federation," Ihor Romanenko, former deputy chief of the General Staff of the Armed Forces of Ukraine, said in an April 2020 interview.
"Such missiles would be viewed as a deterrent," Romanenko, a retired Ukrainian army lieutenant general, said.
Read Next: With Ukraine's Air Defenses Ready for Russian Attack, Civilian Aircraft Cautiously Keep Flying