KYIV, Ukraine — There are flamethrowers. And then there is the thermobaric "rocket flamethrower."
The Ukrainian army announced last week that it had taken possession of a batch of several hundred RPV-16 thermobaric rocket launchers. Produced by Ukraine's national military-industrial conglomerate, Ukroboronprom, the RPV-16 is a specialized grenade launcher that fires a high-explosive, 93 mm thermobaric round (also known as a fuel-air explosive, or a "vacuum bomb"), which is roughly equivalent to a 122 mm artillery shell in its explosive power.
While not a flamethrower in the traditional sense of the term, the Ukrainian military officially designates the RPV-16 weapon as an "infantry rocket flamethrower." According to Ukroboronprom, the RPV-16 is small enough to be carried by a single soldier and is capable of destroying targets up to 1 kilometer, or about two-thirds of a mile, away.
Thermobaric weapons use oxygen in the surrounding air to produce bigger and more prolonged explosions than conventional condensed explosives. Like traditional flamethrowers, they are effective at clearing entrenched enemy positions. One key advantage of thermobaric weapons like the RPV-16 over traditional flamethrowers, however, is that the operator does not remain exposed to enemy fire for extended periods. One well-placed thermobaric rocket round is usually sufficiently destructive.
"[Fuel-air explosives] are more powerful than conventional high-explosive munitions of comparable size, are more likely to kill and injure people in bunkers, shelters, and caves, and kill and injure in a particularly brutal manner over a wide area," Human Rights Watch reported in 2000.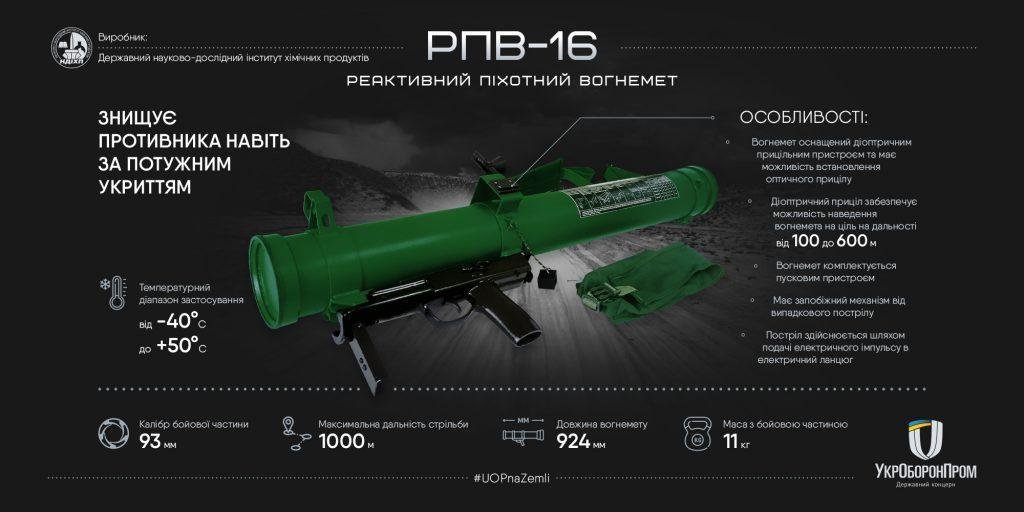 The RPV-16 round contains about 4.6 pounds of "thermobaric filler," which explodes with a force equivalent to about 9 pounds of TNT, resulting in a roughly 20-foot-wide fireball and a casualty radius of some 164 feet.
According to a report about the RPV-16 on Ukroboronprom's website: "When the ammunition hits the target, the charge of the warhead is detonated and sprayed, forming an aerosol cloud with a diameter of [23 to 26 feet], which due to turbulence mixes with the air. In 0.2 seconds, the aerosol explodes, forming a fiery cloud of up to [393 cubic feet]. The combustion temperature of such an aerosol reaches [4,532 degrees Fahrenheit]. The warhead additionally has a fragmentation effect, which [extends] more than [82 feet]."
Flamethrowers were wielded on the stalemated trench battlefields of World War I as a weapon to root out heavily entrenched enemy forces. So, too, Ukraine's military-industrial conglomerate touts the RPV-16 as a weapons system uniquely suited to destroy enemy "firing points," including fortified buildings and positions dug into the ground. The RPV-16 is also capable of "disabling" lightly armored vehicles, as well as "hidden and openly located enemy personnel," Ukroboronprom reports on its website.
According to weapons experts, the RPV-16 is an improved Ukrainian adaptation of the Soviet RPO-A Shmel thermobaric rocket launcher, which saw use in the late stages of the Afghanistan war in the 1980s. In Afghanistan, Soviet soldiers referred to the RPO-A as "Satan's Stick" due to its effectiveness at killing mujahedeen fighters ensconced in fortified bunkers and caves.
A single soldier can fire the RPV-16, which weighs about 25 pounds, within 30 seconds, according to a fact sheet published by Ukroboronprom. The RPV-16 has reportedly passed its operational tests and is ready for operational use.
"During live-fire tests, all targets were hit in accordance with the test program," said Volodymyr Shcherban, chief of the Research Institute of Chemical Products, a subsidiary of Ukroboronprom, in a release.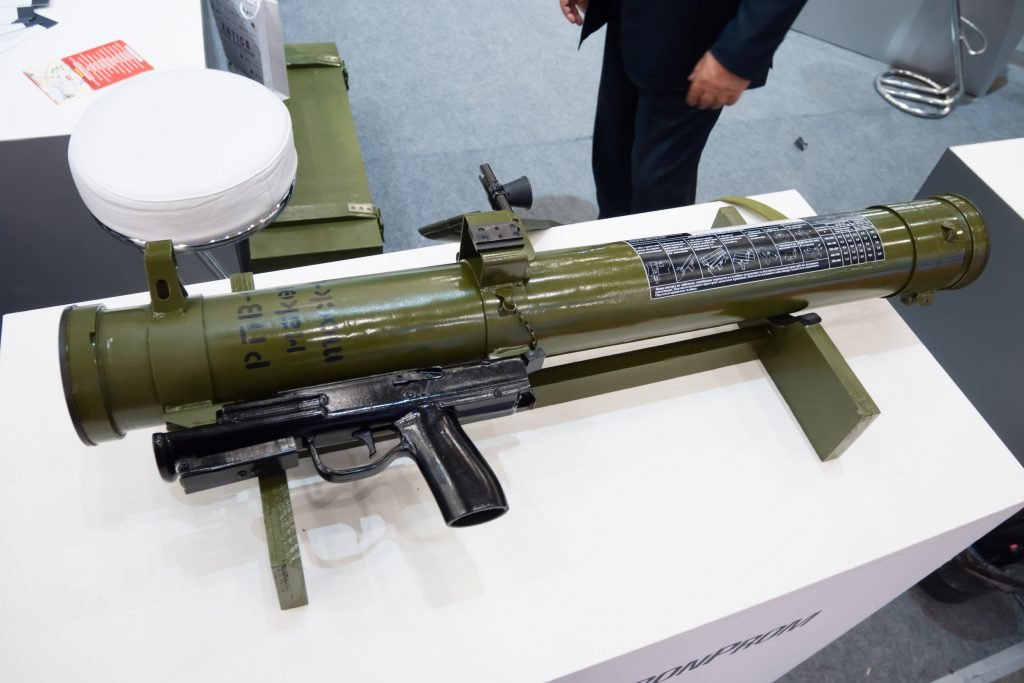 Fuel-air explosives were first developed by the US armed forces for use in the Vietnam War. The Soviet Union developed such weapons, as well, using them in the war in Afghanistan in the 1980s. Ukraine's RPV-16 is now being mass-produced by Ukroboronprom's State Scientific Research Institute.
A fuel-air explosive, such as the one fired by the RPV-16, typically comprises two separate explosions. The first blast disperses a cloud of fuel into the air, which is subsequently ignited by a second charge. The ignition of the fuel cloud creates a uniquely powerful shock wave that can cause internal hemorrhaging, ruptured internal organs, and broken bones in soldiers hidden within reinforced shelters.
"These effects are especially pronounced and brutal against personnel inside confined areas, such as buildings, trenches or pillboxes," making the RPV-16 "exceptionally effective for clearing out enemies in closed terrain, without having to risk close quarters combat with an enemy that is likely waiting in ambush," according to an analysis of the Ukrainian weapon on the website Military-Today.com.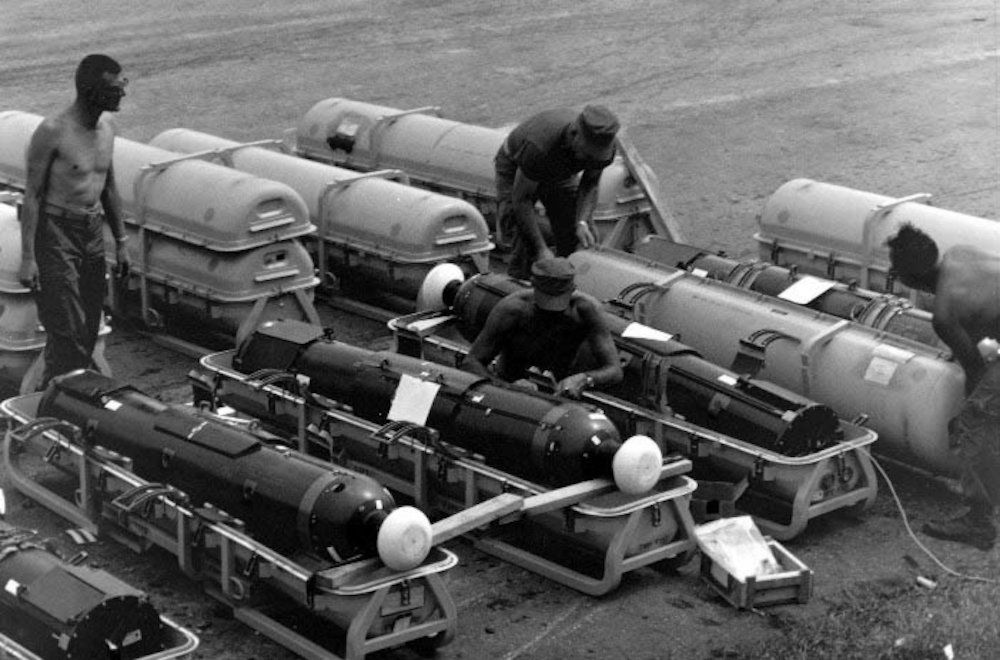 Also, since fuel-air explosives consume all the immediate oxygen from the ambient air, they can suffocate soldiers holed up in underground dugouts or basements.
According to a 1993 study on thermobaric weapons by the US Defense Intelligence Agency: "The [blast] kill mechanism against living targets is unique — and unpleasant … What kills is the pressure wave, and more importantly, the subsequent rarefaction [vacuum], which ruptures the lungs … If the fuel deflagrates but does not detonate, victims will be severely burned and will probably also inhale the burning fuel."
A 1990 CIA study on thermobaric weapons painted a similarly sobering description of their effects.
"Those near the ignition point are obliterated," the CIA said in the unclassified report, Conventional Weapons Producing Chemical-Warfare-Agent-Like Injuries.
"Those at the fringe are likely to suffer many internal, and thus invisible injuries, including burst eardrums and crushed inner ear organs, severe concussions, ruptured lungs and internal organs, and possibly blindness," the CIA reported.
In the country's embattled eastern Donbas region, Ukraine's military remains locked in a static trench war against a combined force of Russian regulars, pro-Russian separatists, and foreign mercenaries. The daily rhythm of fighting is not unlike that of the Western front in World War I, albeit on a much smaller scale.
Most combat occurs at a distance, involving sniper shots and indirect-fire weapons. According to the rules of the February 2015 cease-fire, known as Minsk II, neither side has made an attempt in years to significantly redraw the battlefield by taking new ground. The war has become a daily indirect-fire slugfest, marked by the occasional small-unit raid to take pockets of key terrain or inflict pinprick casualties on the enemy.
Along the front lines in eastern Ukraine, soldiers on both sides typically live in cellars or underground dugouts to shelter from daily mortar and artillery fire, as well as the constant threat of snipers.
In September 2015, international cease-fire monitors from the Organization for Security and Cooperation in Europe, or OSCE, reported that Russian forces were using the TOS-1M "Buratino" multiple launch rocket system in eastern Ukraine. Known as a "heavy flamethrower system," the Buratino employs multiple thermobaric explosives.