KYIV, Ukraine — On a frigid Saturday morning, several dozen soldiers from Kyiv's Territorial Defense Force battalion gathered for a day of war games in an abandoned industrial area on the capital city's outskirts.
Russia has recently repositioned military forces on Ukraine's borders, including some 100,000 troops, sparking concerns about a major offensive in the coming weeks or months. Should Russia invade again, Kyiv's Territorial Defense Force soldiers are prepared to defend their city. On this day, Dec. 4, their objective was to simulate an assault against a Russian sabotage unit.
"We must be prepared to defend," said a 39-year-old lawyer named Mykhailo Khiraldo-Ramirez, a member of Kyiv's Territorial Defense Force. "If we fail, our independence will disappear."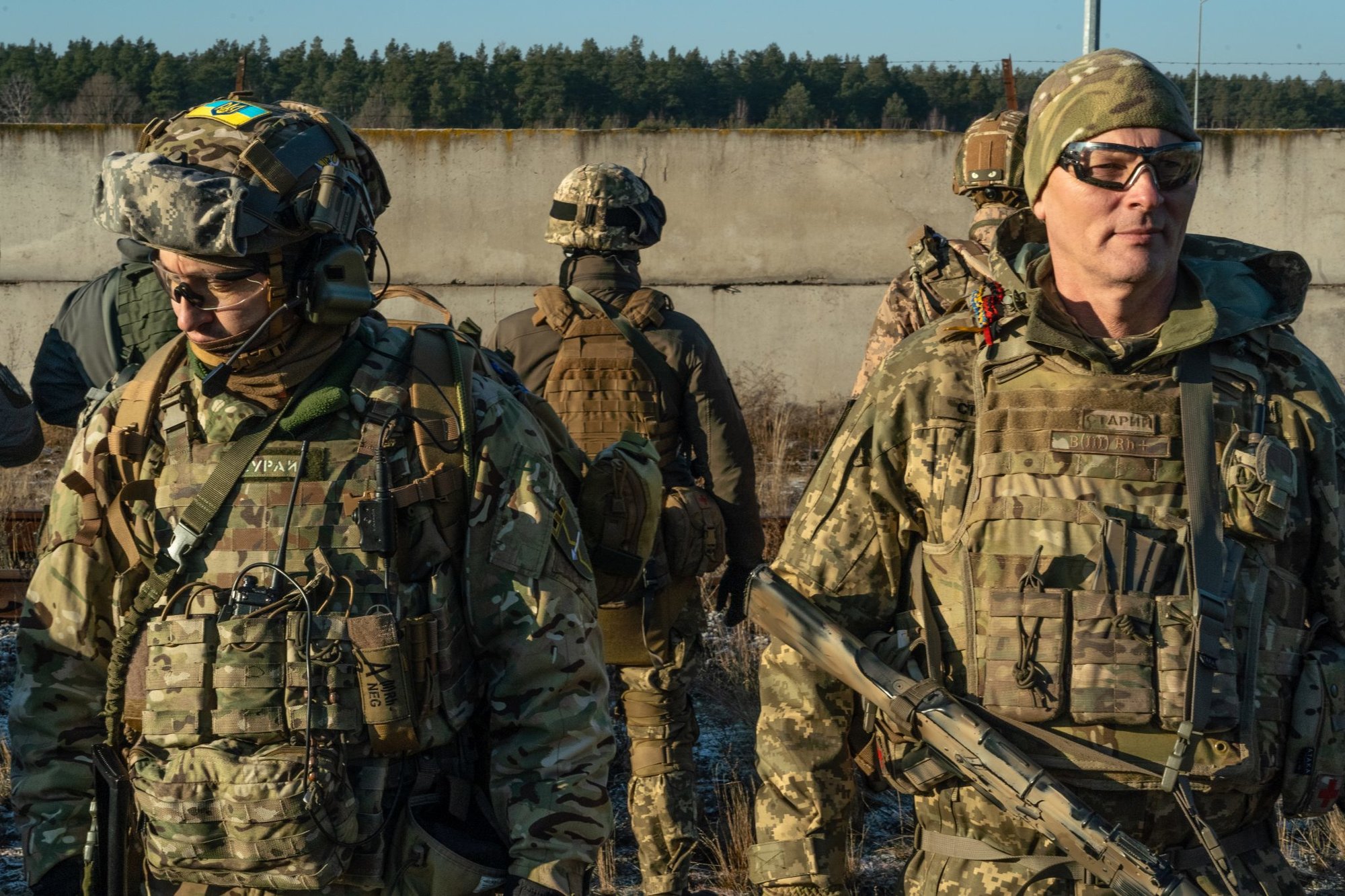 With their breaths misting in the subzero air, the civilian soldiers planned their attack. A squad leader crouched down and used a stick to draw their planned maneuvers in the dirt. A few soldiers paired off and ran through individual movement drills. Then, their commander gave an order and the troops broke into elements and began to execute their simulated assault.
The Ukrainian assault force included Marta Yuzkiv, a 51-year-old doctor and mother of three. She bounded forward, dropped to the ground, and aimed her Kalashnikov assault rifle in the direction of the simulated enemy while Vasiliy Hryhoruk, a 28-year-old businessman, rushed forward and took cover behind a small rise. Then, Khiraldo-Ramirez moved ahead and positioned himself behind the corner of a wall to provide covering fire. Next to him was "Surai," a 36-year-old international business developer who gave a hand signal to Alice, a 37-year-old cybersecurity expert. Along with several other soldiers, Alice dashed into an abandoned factory where the simulated Russian sabotage force was ensconced.
"We will use these skills, for example, if we have some sabotage groups here," Khiraldo-Ramirez said. "We will surround them, capture them, and destroy them."
The Ukrainian soldiers' movements are well orchestrated and by the book. With scripted precision, they maneuvered based on hand signals and shoulder taps. Their professionalism is more than one might expect out of a group of volunteer soldiers who meet only once a week and have no basic training requirement.
The Territorial Defense Force troops are sometimes a little slow to rise, and they're often out of breath for a few minutes after major exertions of energy. After all, most have full-time day jobs and families and not a lot of time during the workweek to stay in peak physical form.
"I'm a normal woman, you know, who has a full-time job," Yuzkiv, the doctor, said. "I have a garden. I have a house. I have three kids. I have 10 cats and two dogs. And my son is now here in territorial defense, and my husband is here."
Yet despite the obligations of ordinary life, the troops still make the effort to train each weekend. But this is not a part-time hobby for war enthusiasts or a social club for over-the-hill weekend warriors. With Russian forces gathered on Ukraine's borders, the real-world use of these combat skills is not a far-flung possibility.
"I'm here because I love my country," Hryhoruk, the businessman, said. "With all that's happening right now, everyone — poor people, rich people, young people, old people — should understand that, if Russia comes here, no one will live free. Maybe they will live, but not well."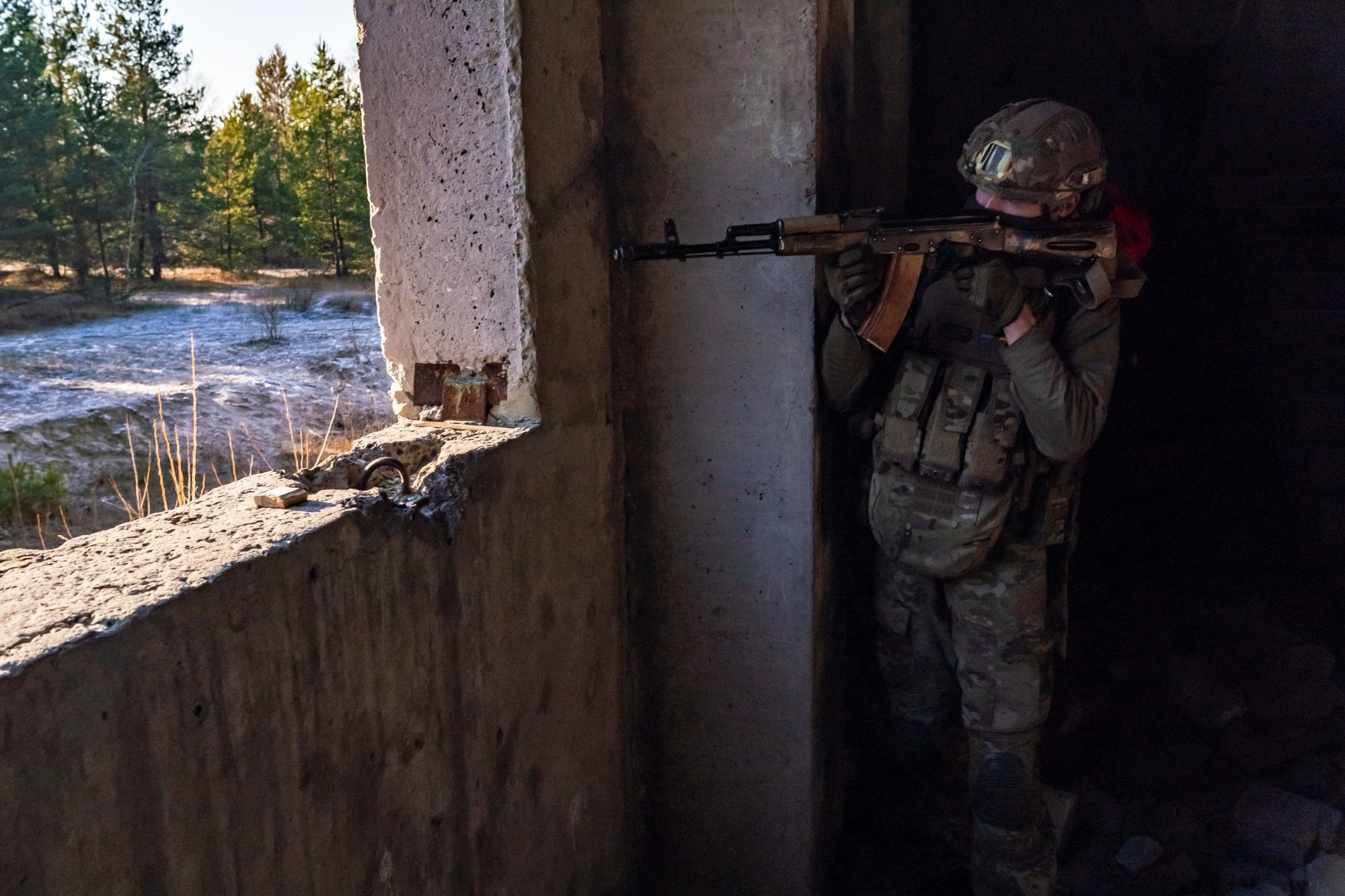 Ukraine's Territorial Defense Forces comprise about 100,000 reservists and civilian volunteers assigned to 25 brigades scattered across the country — at least one unit is assigned to each of Ukraine's 24 regions, or oblasts, including the capital city of Kyiv.
In wartime, Territorial Defense Forces fall under the regular military's chain of command. Even so, these units are not true resistance forces meant to wage a guerrilla war. Rather, they are primarily tasked with maintaining law and order, protecting key infrastructure sites from sabotage groups, and assisting the regular military in unconventional and conventional combat operations.
Kyiv's Territorial Defense Force unit numbers "several thousand" members, personnel said, although they declined to give an exact number. "I think it's not the obligation, but it's the duty of each man who can carry a rifle to stand up and actually be ready," Surai, the international business developer, said.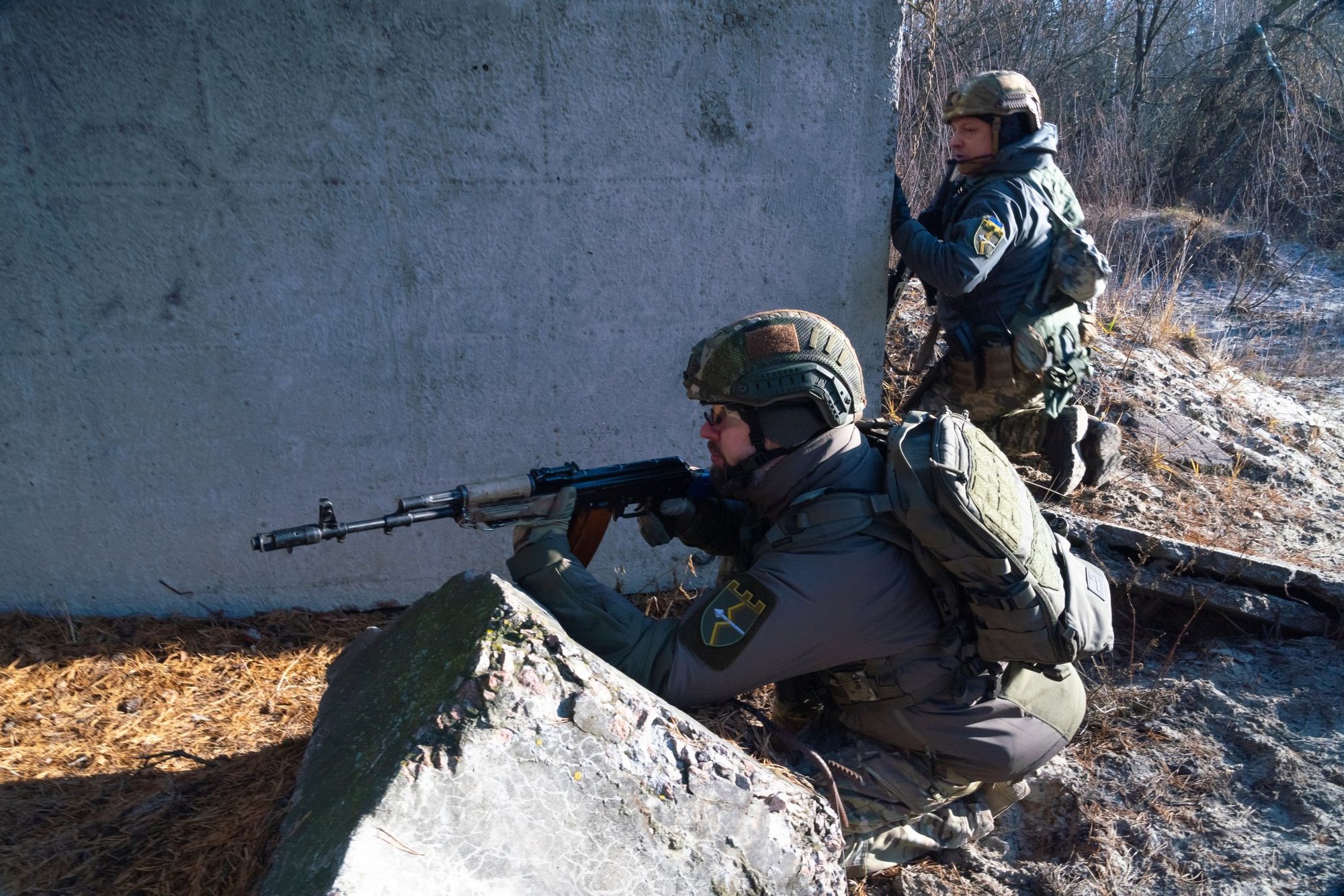 The ongoing war in the Donbas has stalemated into a static trench war, the effects of which are largely quarantined from the rest of the country. In Kyiv, for example, there are few signs of the war, which is about a six-hour train ride away. Even so, Russia's recent military buildup near Ukraine's borders has renewed concerns about a massive, countrywide escalation of the war.
"I think we are strong enough. And if everyone will be going to protect their house and their neighbors, Russia won't have too many chances," Yuzkiv said. "And hopefully [the Russians] will not come, to be honest.
"Because it's the 21st century, it's the middle of Europe, it's unbelievable that somebody could decide on an aggression like this. But on the other hand, [Russia] never accepted Ukraine as a separate nation, which is really painful. So they could try to return us back to the Russian empire."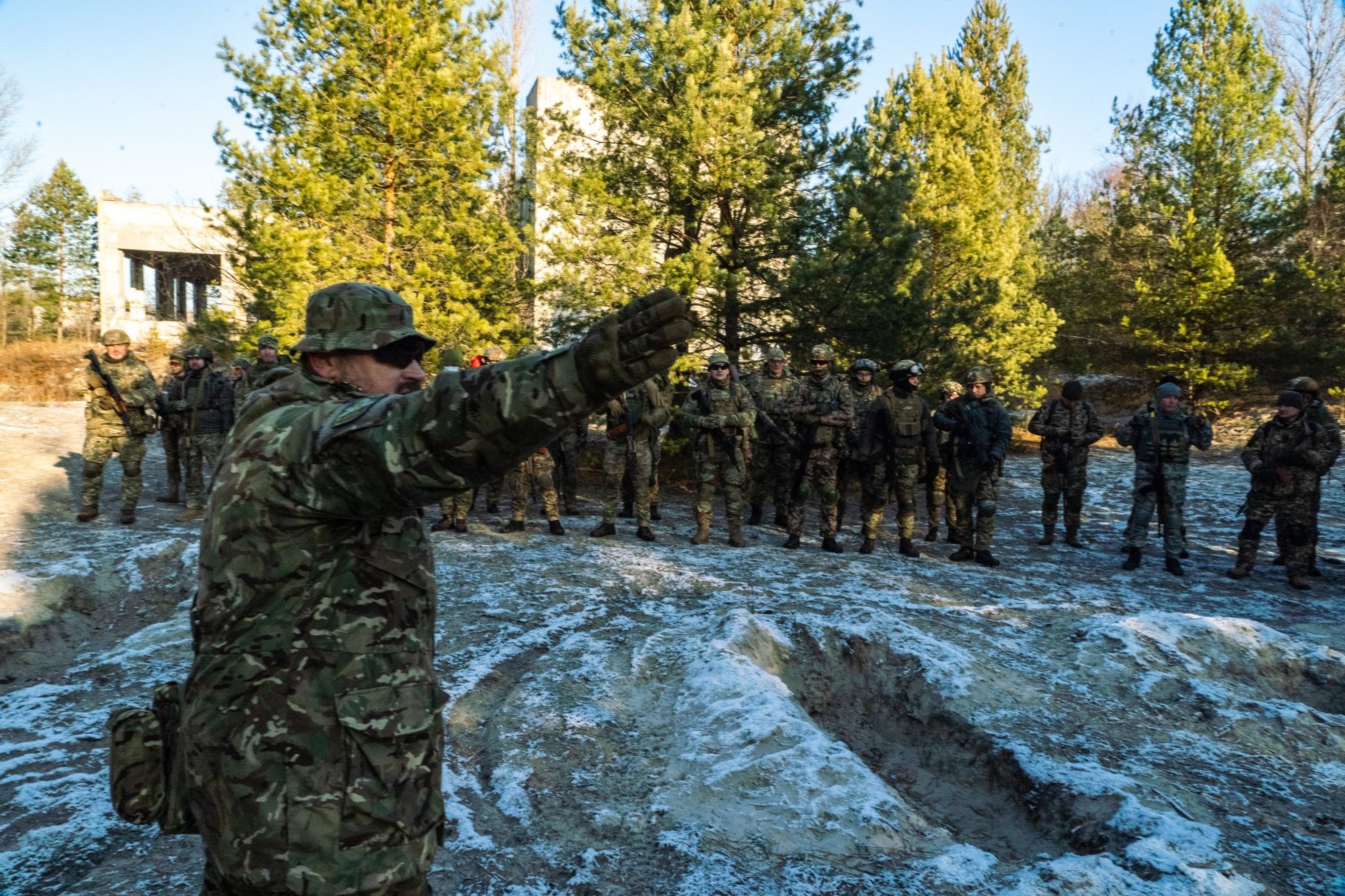 Should Russia invade again, it would likely be a countrywide offensive involving airstrikes, missile attacks, and advancing tank columns. Major cities, such as Kyiv, may be targeted in order to force the Ukrainian government to capitulate.
Although initially skeptical, many Ukrainians increasingly perceive a major offensive as a realistic threat. The country has been at war for more than seven and a half years, and some Territorial Defense Force members are combat veterans from the Donbas. Thus, the unit's volunteer soldiers harbor no naive or romantic attitudes about combat — rather, they retain a sober, resigned acceptance that a wider war is now possible.
"We will defend our city if Russia invades," Oleksandr Yurchenko, a member of Kyiv's Territorial Defense Force, said.
Asked whether he was concerned by the possibility of a Russian invasion, Surai replied: "Yes, I feel concerned. That's why I'm here. That's why I keep my magazines loaded and my rifle ready and clean. But I hope that will not happen because that will be a catastrophe for both countries."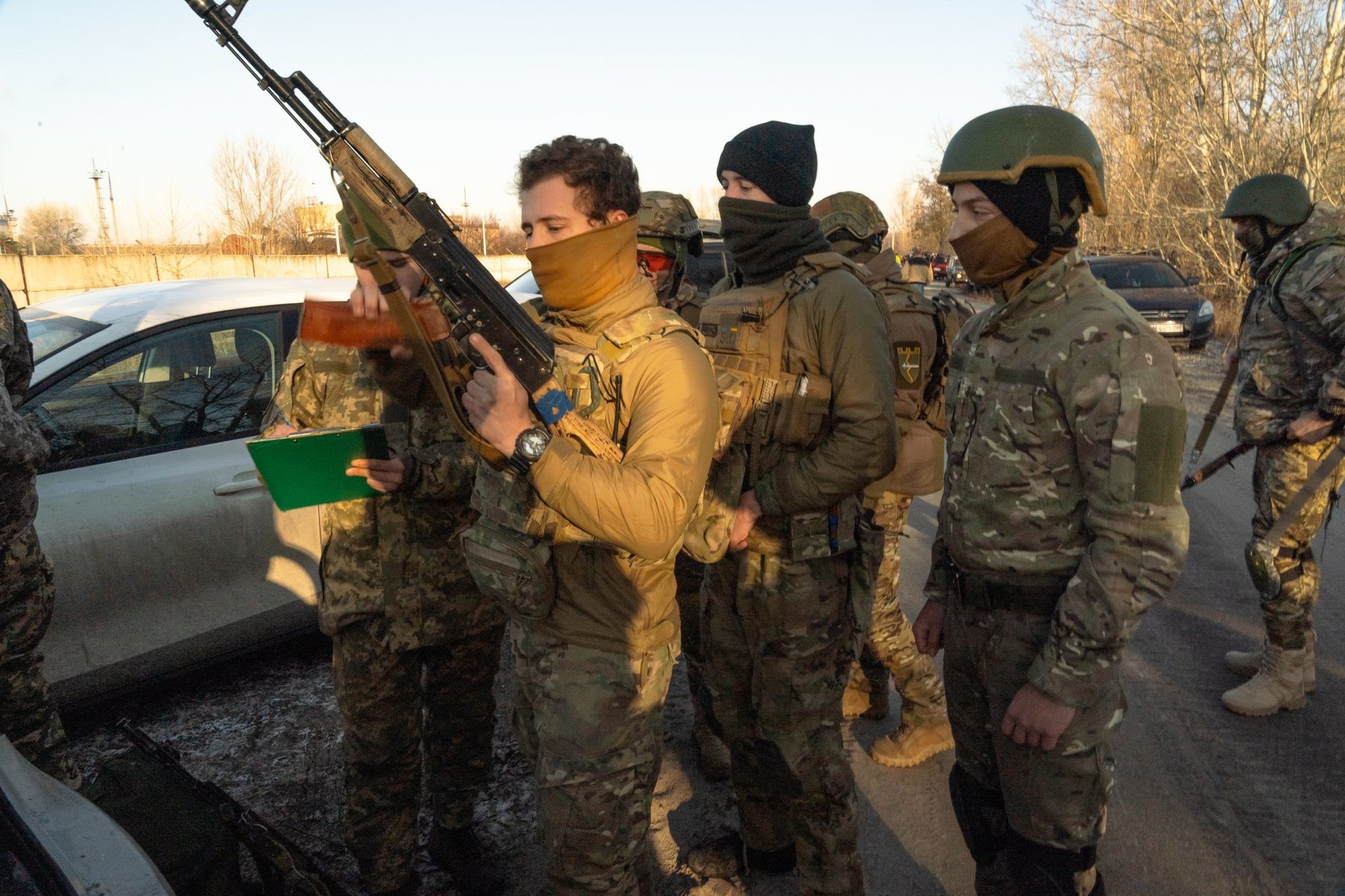 Russia's 2014 invasions of Ukraine's Crimean Peninsula and eastern Donbas region spurred a grassroots resistance movement across Ukraine. Ukraine's so-called volunteer battalions normalized the notion of everyday civilians taking up arms in the nation's defense against an outside force. According to a 2017 poll by the Ukrainian social research group, Rating, about 54% of Ukrainians are ready "to defend the territorial integrity of Ukraine by force of arms in case of a threat" — twice the percentage from a 2012 poll, Rating reported.
"The main thing for Ukrainians, and for Ukraine, is freedom," Hryhoruk said. "I think this is in our DNA. We love freedom. We understand that maybe we will be not so rich, not so happy, but freedom is the main thing."
According to the Global Firepower Index, Ukraine has some 255,000 active-duty personnel and 900,000 reservists.
Most Territorial Defense Force members sign a contract with the regular armed forces, which makes them members of the Operational Reserve-2, or OR-2, which is the second pool of reservists to be mobilized for active-duty service in the event of a major invasion. Ukraine's Operational Reserve-1, or OR-1, mostly includes combat veterans of the Donbas war who can be rapidly integrated into fighting units with little to no training.
Within Ukraine, there are some 430,000 veterans of the Donbas war.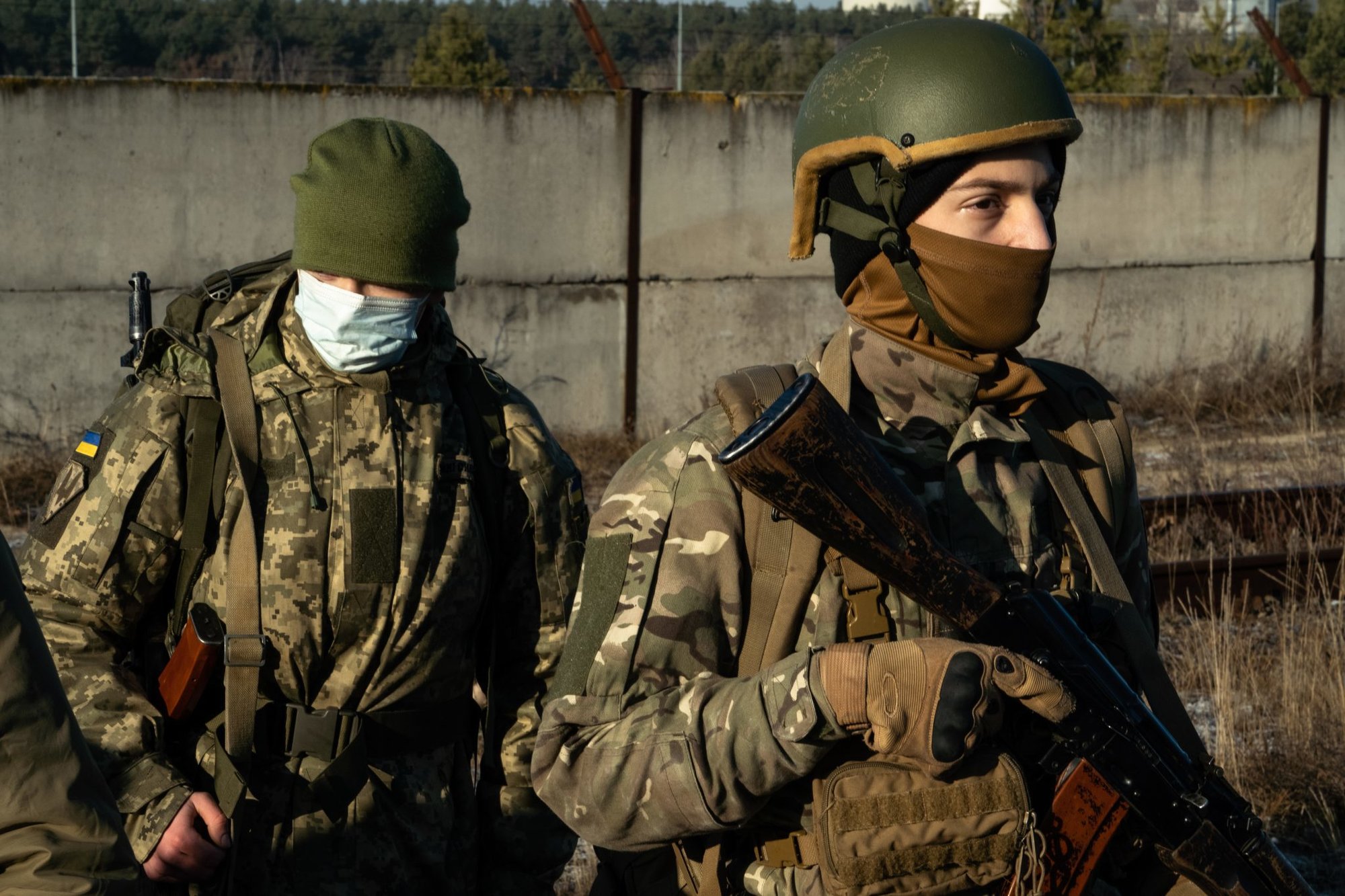 According to news reports, there are likely some 5 million illegal firearms within Ukraine — roughly one weapon for every eight citizens.
Most of the firearms possessed by Kyiv's Territorial Defense soldiers are privately owned and legally registered for use as hunting weapons. Although the Territorial Defense Forces fall under the regular armed forces' chain of command, it was clear during the Saturday training event that the Kyiv battalion is largely autonomous when it comes to its training program and logistics.
Territorial Defense Force soldiers said they'd purchased their own kits — including body armor, ballistic helmets, uniforms, weapons, ammunition, and communications gear — with personal funds. In a country where the average monthly salary is about $500, that's a substantial personal investment by each soldier.
"I came here to have the skills to use a gun, and to defend, let's say, yourself. Your children," Alice, the cybersecurity expert, said.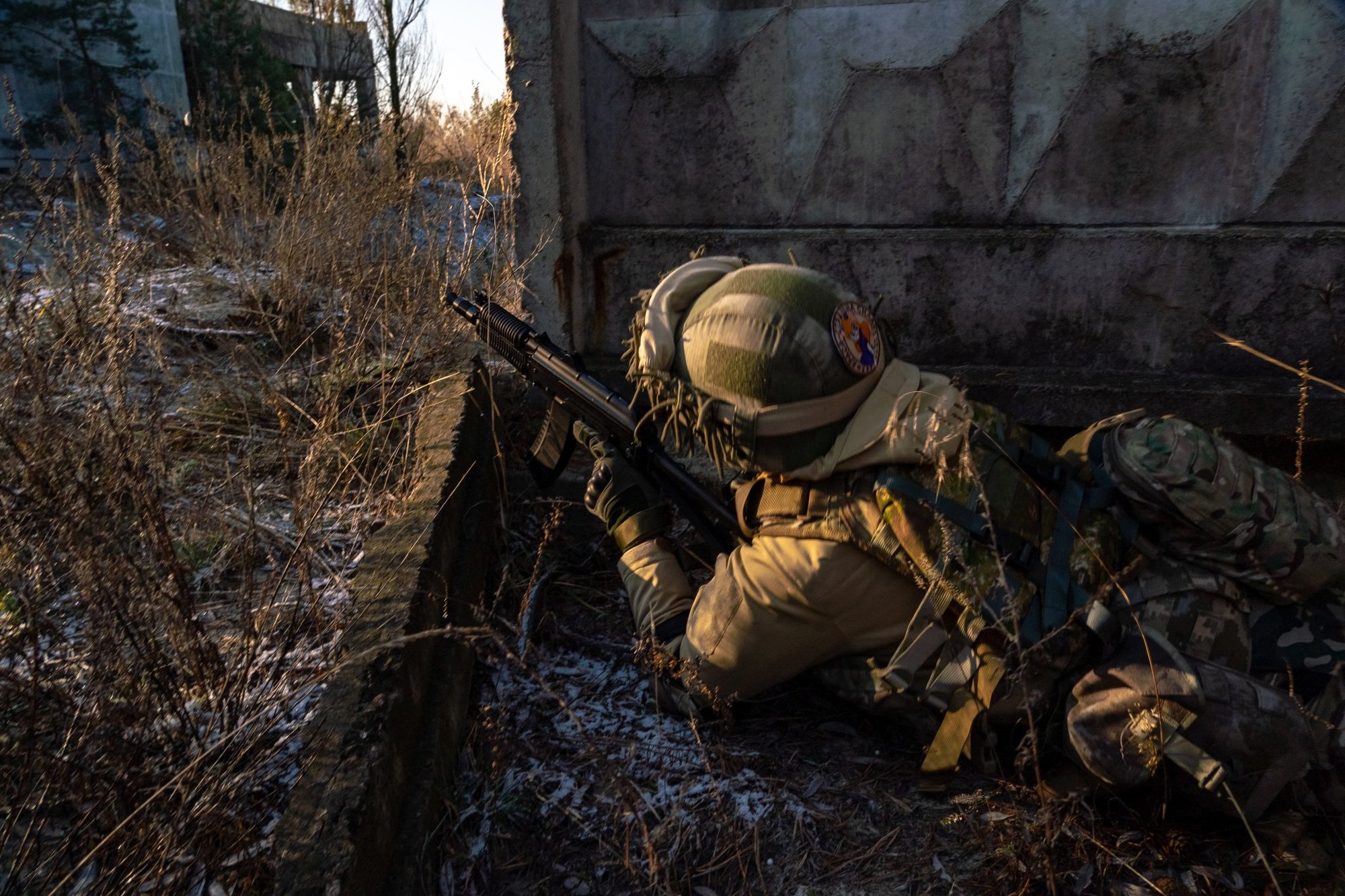 Although Territorial Defense Force soldiers must meet certain health requirements, they are not required to go through a structured military training pipeline. Thus, most of their combat skills are acquired through the weekend training sessions, as well as through the mentorship of combat veterans in the units' ranks — including both Soviet military veterans and veterans of the ongoing Donbas war.
During the Saturday training exercise, the soldiers quickly mustered and moved out on the orders of their commanding officer. They began the day's exercises with calisthenics and individual movement drills. The soldiers moved in unison, pivoting in the appropriate directions while an instructor barked, "Contact right, contact left," and so on.
After each simulated combat action, the soldiers gathered in a scrum as their instructors reviewed their performance. On this abysmally cold December day during which extremities quickly went numb, the volunteers ran through drill after drill for hours on end.
They broke for rest only once, after about three hours of drills, for a quick snack. They terminated the day's exercise only once it began to get dark (as it does around 4 p.m. in Ukraine in winter).
The seriousness with which these civilian volunteers treated their training, as well as the physical toughness they displayed during a day of hard work in trying environmental conditions, demonstrated the resolve of these everyday Ukrainians to defend their country.
In particular, the older soldiers — who retain memories of life in the Soviet Union — were determined to resist another Russian invasion.
"It's difficult, but I know what we're going to lose," Yuzkiv said about the prospect of a full-scale Russian invasion. "I don't want my kids, you know, to still continue to fight. And I'm afraid they will have to, but at least I'll do everything that's possible."
Read Next: