Amid the horror of Putin's war on Ukraine, there's laughter, some of it apparently triggered by farmers hooking their tractors to abandoned Russian armored vehicles and driving away with them.
A video that began circulating on social media on Feb. 27 shows a blue tractor dragging what looks to be an unmanned Russian armored personnel carrier down an unpaved road.
In the shaky footage, someone can be heard guffawing as the vehicle — perhaps part of the Boyevaya Mashina Pekhoty family of mechanized infantry carriers, or BMPs — is stolen from a military once feared as one of the most powerful on the planet.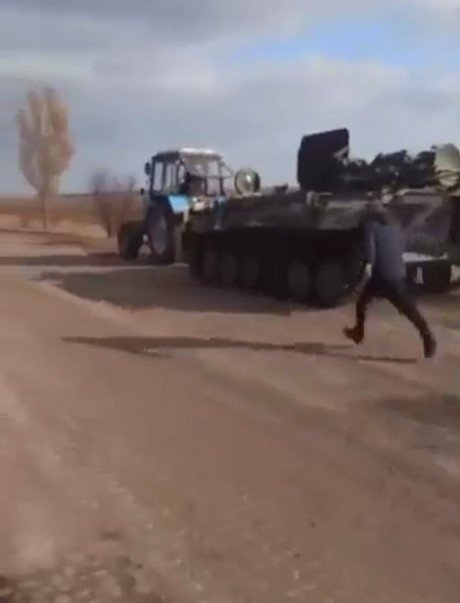 In his acerbic commentary, Johnny Mercer, a veteran British artillery officer and former parliamentary under-secretary of state for defense people and veterans, joked that he's no expert, "but the invasion doesn't seem to be going particularly well. Ukrainian tractor steals Russian APC today."
On Monday, another video surfaced that seems to show a different tractor hauling off a Russian 9K33 OSA short-range surface-to-air missile system — what NATO calls the SA-8 "Gecko."
Not to be outdone by these two tractor drivers, a third video appears to show the Sunday heist of the Gecko as seen by a trailing car.
A salty f-bomb-laden play-by-play commentary delivered by a car driver and his passenger pairs well with the footage of the purloined Gecko. The two men muse that the farmer is taking the Russian vehicle to the scrapyard to get a nice price for the metal. They also joke that the self-propelled-missile carrier can be converted to haul logs.
Coffee or Die Magazine can't independently verify that Ukrainian farmers were behind the wheels of the tractors, or if the Russians later regained the allegedly filched equipment. But the video showing the apparent theft of the anti-aircraft system features a blue and yellow Ukrainian flag affixed to the front of the tractor, suggesting a patriotic motive for the heist.
The videos join a parade of footage from the social-media-saturated battlefield over the past week, including a Russian vehicle pancaking a Ukrainian civilian's car; what appears to be a Russian tank and self-propelled gun stuck in peat muck; and a Ukrainian driver coming across a BMP with its fuel run dry.
"Can I tow you back to Russia?" the Ukrainian asks.
Read Next: Is the Mighty Mriya Dead or Lost in the Fog of Russia's War on Ukraine?