YAVORIV, Ukraine —
At this former Soviet military base located some 750 miles to the west of Ukraine's eastern war zone, the sounds of tank shots, machine guns, and small arms fire snarl throughout the course of this sweltering June afternoon.
The Yavoriv International Peacekeeping and Security Centre was once a major meeting place for military leaders of the Warsaw Pact, the Soviet-led military alliance that opposed NATO during the Cold War. Some 30 years after the Soviet Union's demise, the base is now home to a profoundly different mission.
Under the watchful eye of about 130 US Army National Guardsmen, Ukrainian troops are training for combat against Russia, their former Soviet ally, as well as to operate alongside NATO militaries. For the Ukrainians, the training mission is an invaluable opportunity to hone their combat skills and professionalize their military according to NATO standards. For the Americans, their time at Yavoriv is a blunt reality check.
After two decades of counterinsurgency operations in Iraq and Afghanistan, the US is now neck-deep in a new era of great power competition against near-peer adversaries such as China and Russia. Thus, daily interactions with their Ukrainian counterparts remind the US troops based at Yavoriv that the next war America fights will likely be far different, and far more lethal, than the last.
"It is definitely a change of pace" from "what we're used to — especially the twilight years in Iraq and Afghanistan," Capt. Chris Rothwell of the Washington Army National Guard told Coffee or Die Magazine.
Rothwell, a Chicago native who served in Afghanistan, added, "[The Ukrainians] are very proud to be here. It's extremely impressive to me because of the situation they're dealing with in the east. They know that what they're learning here can be used at any time."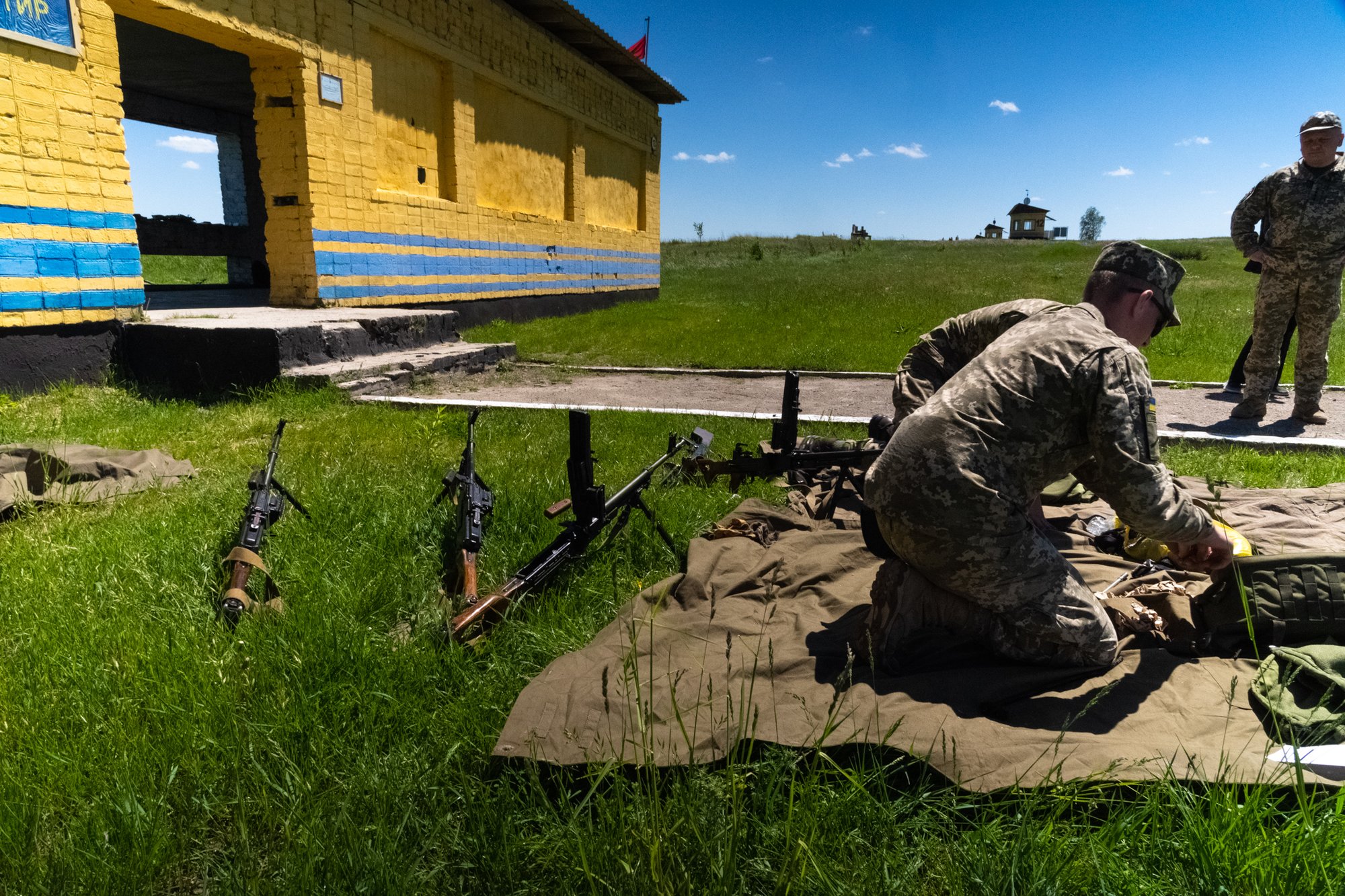 In Ukraine's eastern Donbas region, which borders Russia, tens of thousands of Ukrainian troops remain hunkered down along an entrenched front line, engaged in a seven-year-old trench war against a combined force of Russian regulars, pro-Russian separatists, and foreign mercenaries. The conflict has, so far, killed some 14,000 Ukrainians and displaced 1.7 million people, according to the United Nations.
The US-led training mission at Yavoriv began in 2015 as a means to prepare Ukrainian troops for daily combat in the Donbas — that is to say, combat in a static trench war defined by artillery exchanges, rocket attacks, tank skirmishes, and the ever-present threat of snipers.
That original mission has evolved, however. Today, military personnel from the US and six other NATO countries are preparing Ukraine's military to employ maneuver warfare as a defense against an outright Russian invasion. Known as the Joint Multinational Training Group-Ukraine, or JMTG-U, the Yavoriv mission is also focused on professionalizing Ukraine's armed forces according to Western standards, thereby increasing its ability to operate alongside NATO militaries.
"We transformed from being actually trainers to being advisers," said Sgt. Maj. Timothy Durr, a member of the Washington Army National Guard currently deployed to Ukraine.
"If they don't know something, we'll work with them and help instruct it, but our focus here is actually the advising piece," Durr said. "They have all the information. They have the knowledge."
Task Force Raven from the Washington Army National Guard's 81st Stryker Brigade Combat Team assumed command of the Joint Multinational Training Group-Ukraine mission on April 16. Each US rotation at Yavoriv lasts roughly nine months and comprises about 130 troops.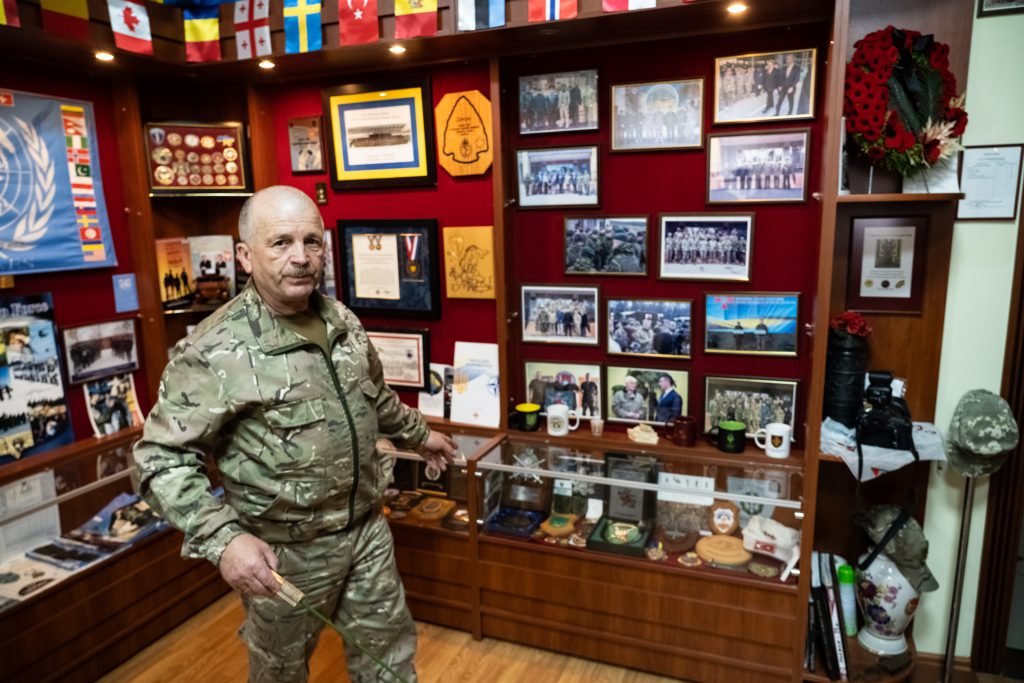 At a small military museum at the Yavoriv base, generations of military uniforms are on display. They range from the Soviet army in World War II to the contemporary US Army. The items offer evidence of Ukraine's complicated past as a borderland between East and West. There's also a photo album filled with pictures of the Soviet army in Afghanistan. A Ukrainian soldier, who is an Afghanistan veteran of the Soviet army, thumbs through the photos. The names he pronounces would be familiar to any US veteran of Afghanistan — "Kunduz … Bagram … Kabul … Kandahar."
"The Ukrainians really do care," Durr said. "They really do believe in what they're doing. And there is a connection, I gotta say, especially for combat veterans, and when they find out you're a combat veteran of the US Army.
"There's a connection there … I've met guys who fought in Afghanistan for Russia, and now they're fighting for their freedoms in Ukraine."
Relations between Moscow and the West have devolved into tensions reminiscent of the Cold War era — a contentious state of affairs that was on full display during President Joe Biden's meeting with Russian President Vladimir Putin in Geneva Wednesday. Against that historic backdrop, Ukraine's overall military importance to NATO is on the rise as the Western alliance looks to shore up its eastern bulwarks against Russian aggression.
"The overall mission is for Ukraine to be interoperable with NATO partners and NATO nations. And [to be] independent … the main mission here is that. Independent, but operable," Capt. Sean Kelsey of the Washington Army National Guard told Coffee or Die during an interview at Yavoriv.
Russia sent shock waves across the West earlier this year by massing tens of thousands of troops near Ukraine's borders. Despite a partial Russian withdrawal, the situation remains volatile. Ukrainian officials say some 75,000 Russian soldiers remain deployed within striking distance of Ukraine's frontier.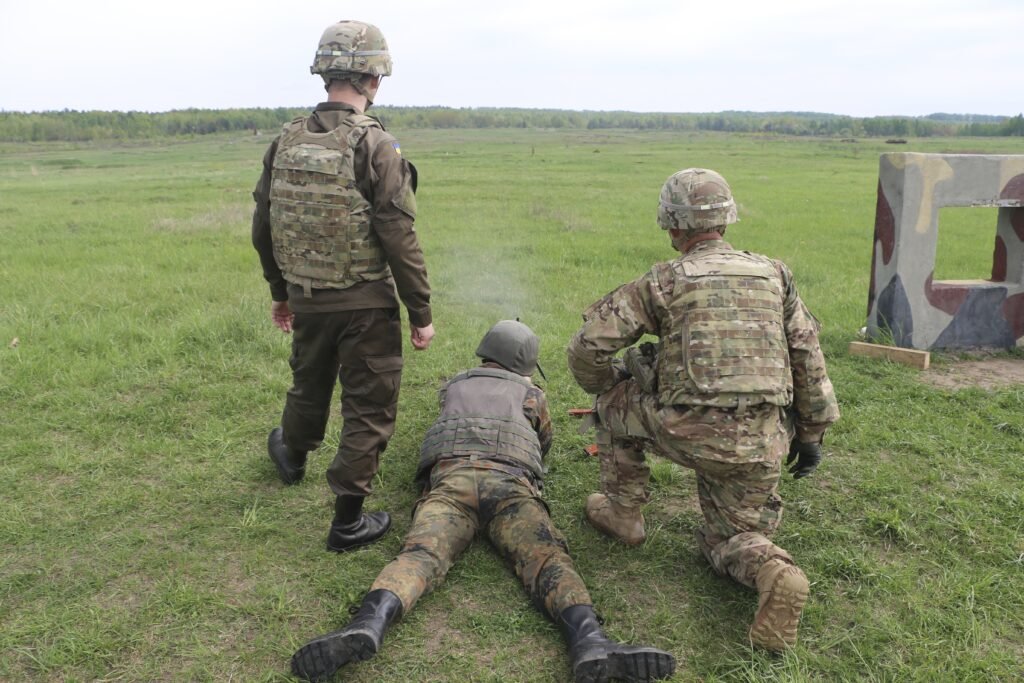 Task Force Raven's troops arrived in Ukraine at the height of those Russo-Ukrainian border tensions. While the crisis didn't materially affect the US mission at Yavoriv, it certainly underscored the seriousness of the situation for the arriving US military personnel.
"All in all, it did affect us. It was like, 'Holy crap, this actually might happen. And we're here,'" Durr said.
When the US-led NATO training mission at Yavoriv began in 2015, American soldiers had a direct hand in training Ukrainian troops in tactical combat skills, such as raiding buildings, searching for improvised explosive devices (IEDs), and building tank defenses. That's no longer the case.
The tactical training at Yavoriv is now carried out by a dedicated cadre of about 300 Ukrainian instructors, including a specialized unit known as opposing forces, or OPFOR, which simulates Russian tactics during training exercises. In stark contrast to 2015, the Americans now mostly sit on the sidelines and observe while the Ukrainians run through their combat drills.
"We have learned a lot [from the Americans]; I can talk about it for three hours," Yevgen Golovkov, a Ukrainian Army OPFOR soldier, said. "I think they can learn something, too, from us."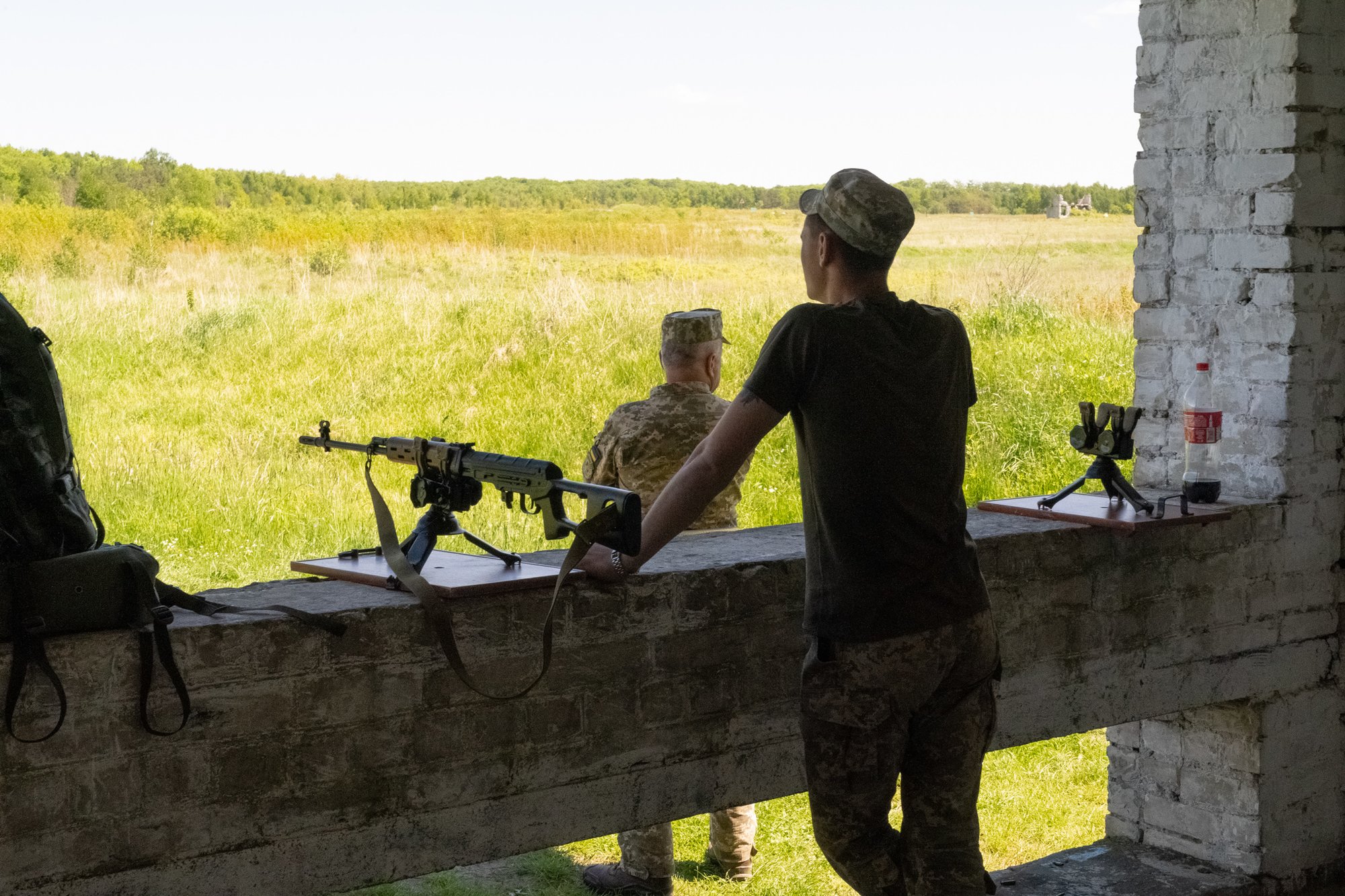 In addition to learning combat basics, the Ukrainians are training to defend themselves against drones and Russian electromagnetic warfare. Counter-IED training is also on the syllabus, as are classes on the Geneva Conventions and the laws of armed conflict, and it is all done under the watchful eyes of US and NATO instructors.
These days, the real value of the US training effort is not in the instruction of battlefield tactics and techniques. Rather, the American mission at Yavoriv is focused on the professional transformation of Ukraine's armed forces; specifically, helping the Ukrainians ditch the rigid, hierarchical chain of command traditions they inherited from the Soviet Union.
"It's not tactics and techniques, it's processes and procedures — it's mostly about professional development," Kelsey said, describing the new focus of the US training mission at Yavoriv.
"[The Ukrainians'] professionalism has grown, and their ability to adapt is growing," Kelsey continued. "They still have a ways to go, but they have come a long way from where they started. So as they grow, they're able to push that flexibility and that decision-making ability closer and closer to the bottom of the organization."
The US military chain of command decentralizes decision-making from the upper ranks, teaching junior officers and noncommissioned officers to take the initiative and make tactical decisions based on battlefield realities. That empowerment allows American forces to be flexible and adaptive in the thick of combat.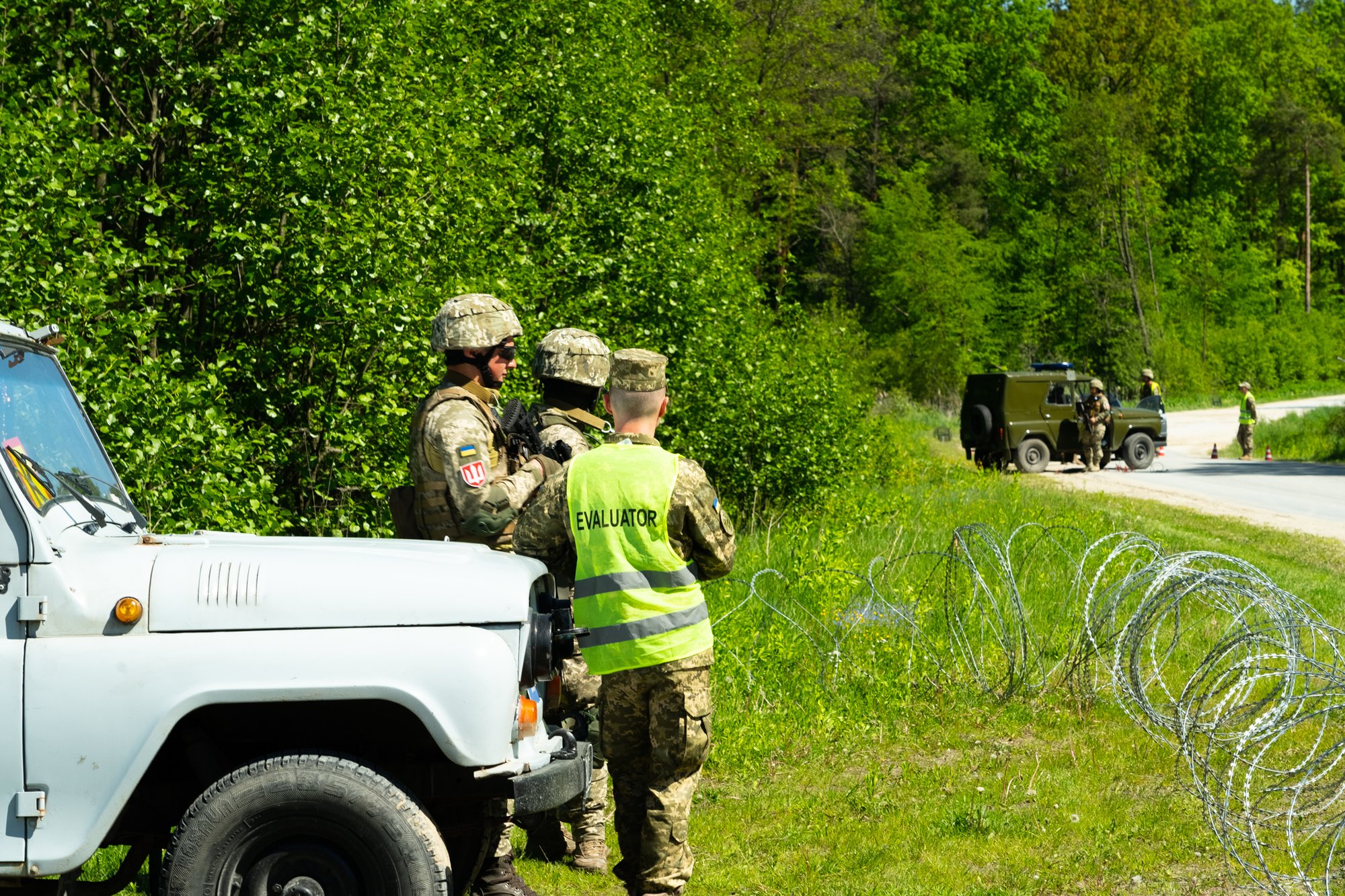 The Ukrainian military, for its part, is now divorcing itself from the Soviet chain-of-command model in which decision-making was concentrated at the top, leaving junior officers and front-line troops with little flexibility to exercise their own initiative while under fire. Additionally, the role of noncommissioned officers, considered to be the backbone of the US Army, was virtually nonexistent within the Ukrainians' ranks until a few years ago.
"It takes time because it's actually an entire cultural shift. It's a completely different way of thinking," Kelsey said, adding: "It's so ingrained in our soldiers that we're sometimes surprised when we see where they are and the way that they're making decisions. And conversely, they're surprised when they find out how far down we push those decision-making abilities, and how we maneuver those below the platoon-leader level. So that's a two-way road of learning as well."
Russia launched an unconventional-warfare invasion of the Donbas in the spring of 2014. Following two failed cease-fires, Ukrainian forces remain locked in daily exchanges of artillery and sniper fire with their combined Russian-separatist adversaries.
The status quo stalemate has since developed into a volatile standoff. In some places, no man's land is several miles wide. In others, the Ukrainians and their enemies are close enough to shout insults at one another. By dialing the level of violence in the Donbas up or down, Moscow attempts to extract diplomatic concessions from Kyiv and delegitimize Ukraine's pro-democratic ambitions.
"We fight for freedom, for our independence. What else we can fight for if we have always been under someone else's paw? Now we will finally live free," Golovkov said.
In the early days of the conflict, Ukraine's regular armed forces, which had been plundered by corrupt officials during the post-Soviet era, relied on civilian militias and other volunteers to sustain combat operations. Today, Ukraine's military is no longer a hobbled force, incapable of waging the war in the Donbas without help from volunteers or Western aid. Since 2014, and while fighting a war, Ukraine has rebuilt its joint armed forces into one of the biggest militaries in Europe.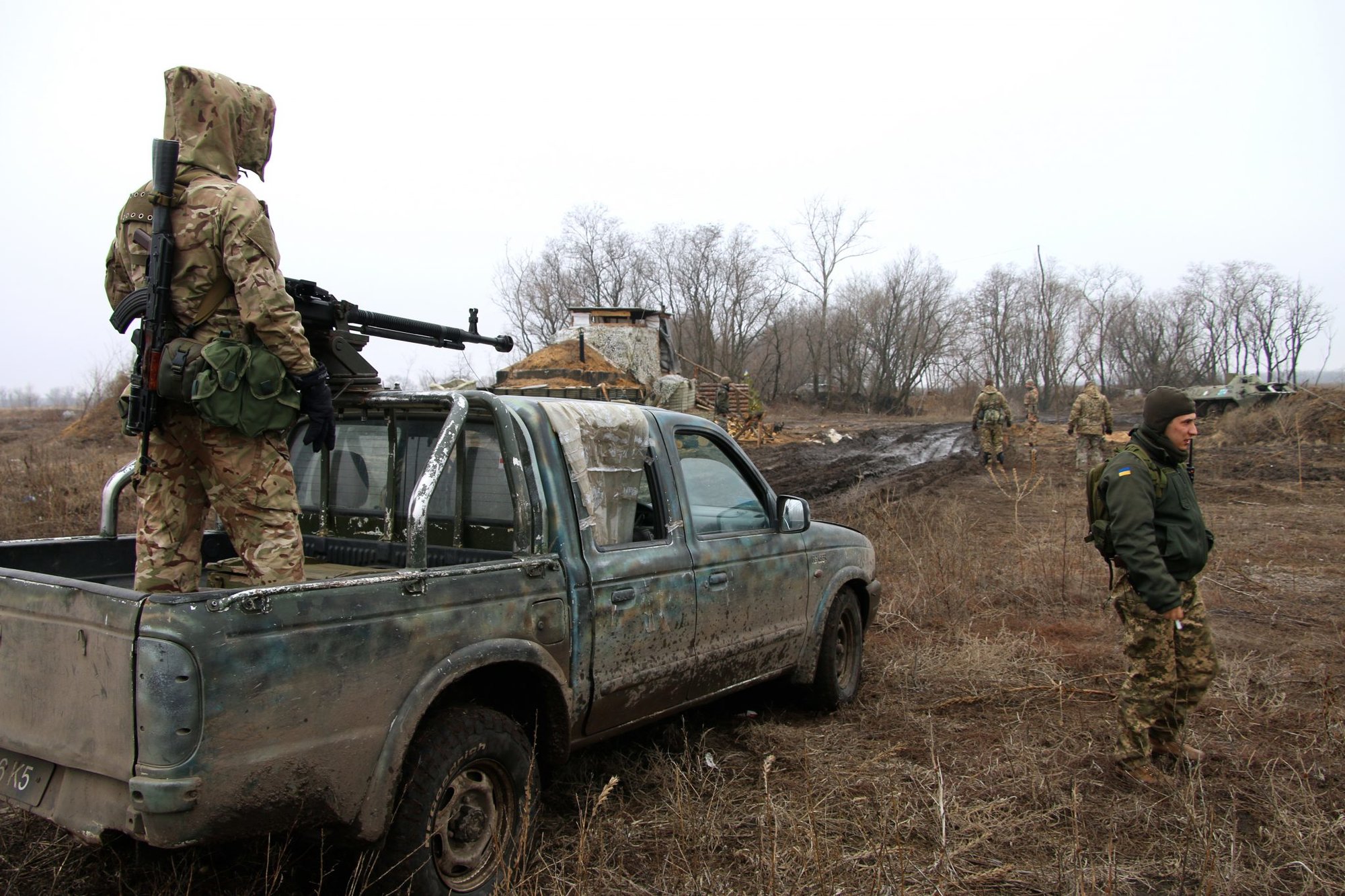 Ukraine's strategic military doctrine now identifies Russia as the country's top security threat. With that in mind, Kyiv has rebuilt its military with the specific objectives of defending against a full-blown Russian invasion and adopting NATO standards — an effort that far surpasses the immediate needs of the war in the Donbas. Consequently, Ukraine is on course to become a regional counterbalance to a more militarily aggressive Russia.
"Our army has changed radically since 2014 and 2015," Vitaliy Ilyk, a Ukrainian army captain, said. "We've solved many of the downfalls we had at the beginning of the conflict against Russia. And we're ready for a new era of warfare."
The American soldiers at Yavoriv interact daily with Ukrainian troops who have experienced combat against Russia. For that reason, the Yavoriv training mission is an invaluable opportunity for American troops to debrief their Ukrainian counterparts on what they've experienced in the Donbas. The end result is a de facto master class in modern warfare.
"They have a pretty good grasp on full-spectrum [warfare]," Kelsey said. "Paying attention to intel gathering, things like when and when not to fire weapons systems, when to expose certain things, when not to expose certain things. And understanding electronic warfare is far more important to them than it has been traditionally in our military."
Ukraine now has a battle-hardened military that has been fighting a type of conflict in which virtually no active-duty US troops have experience. Trench warfare, tank battles, artillery and rocket barrages — Ukraine's army has years of experience fighting a limited, conventional war with no air support, no possibility of medevac, and sparse supplies. Their communications are often jammed by the Russian side; in fact, Russia is able to target its artillery on radio and cell phone signals, so the Ukrainians have to weigh that risk every time they communicate.
In short, the Ukrainians are used to being on the weak side of a fight against a peer adversary. And that's not a familiar place for most Americans.
"We're used to having air superiority and electronic war superiority everywhere we go," Kelsey said. "Well, [the Ukrainians] are used to fighting a peer that probably has more of that than they do. So their experience in dealing with that is something we can learn from."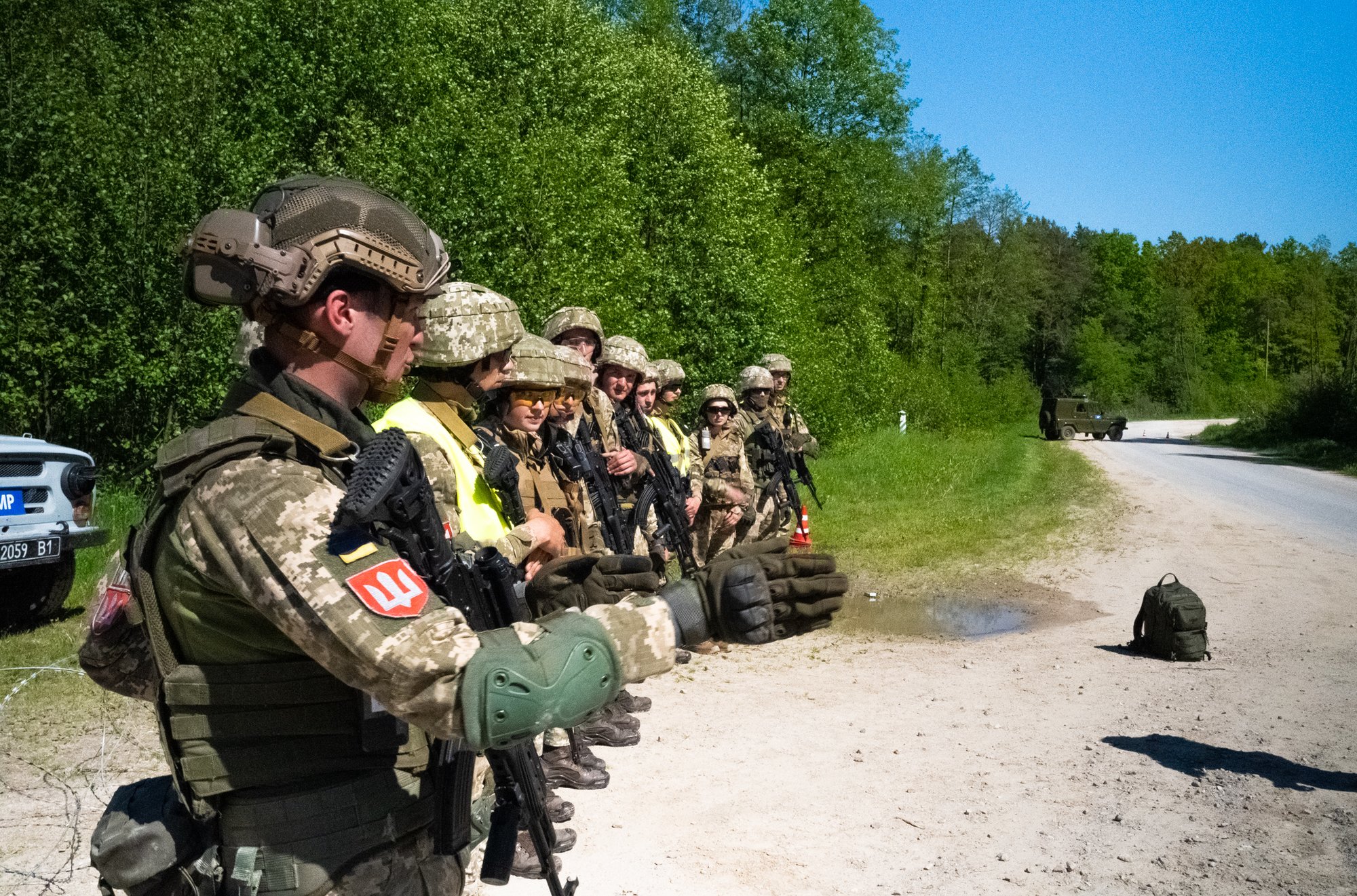 The physical effects of the war in Eastern Ukraine extend only as far as the range of the weapons used. At Yavoriv, therefore, US troops are safely quarantined from combat in the Donbas. However, they remain in the crossfire of a country-wide "gray zone" war in the form of Russia's unconventional warfare tactics, such as weaponized propaganda, cyberattacks, and sabotage.
US troops deployed to Yavoriv are restricted from travel to the eastern part of Ukraine, and they play no role in active combat operations. Even travel to the country's capital of Kyiv requires special approval. Once off base, the Americans are constantly on guard against espionage or surveillance activity by Russian agents covertly operating inside of Ukraine.
American military aid sends a deterrent message to Moscow and boosts the morale of Ukraine's soldiers and civilians — particularly with the delivery of lethal weapons systems, such as the Javelin anti-tank missile. So, too, the ongoing mission at Yavoriv is meant to underscore American and NATO support and deter Russia from further aggression.
"I grew up with the Cold War, so definitely there's a mindset change when you're here … You have a feeling you're always being watched," Durr said.
"I personally feel that our presence here is a deterrent to Russia," Durr continued. "Knowing that multinational NATO forces are here, I think is a deterrent. And I think it's necessary for us to be here."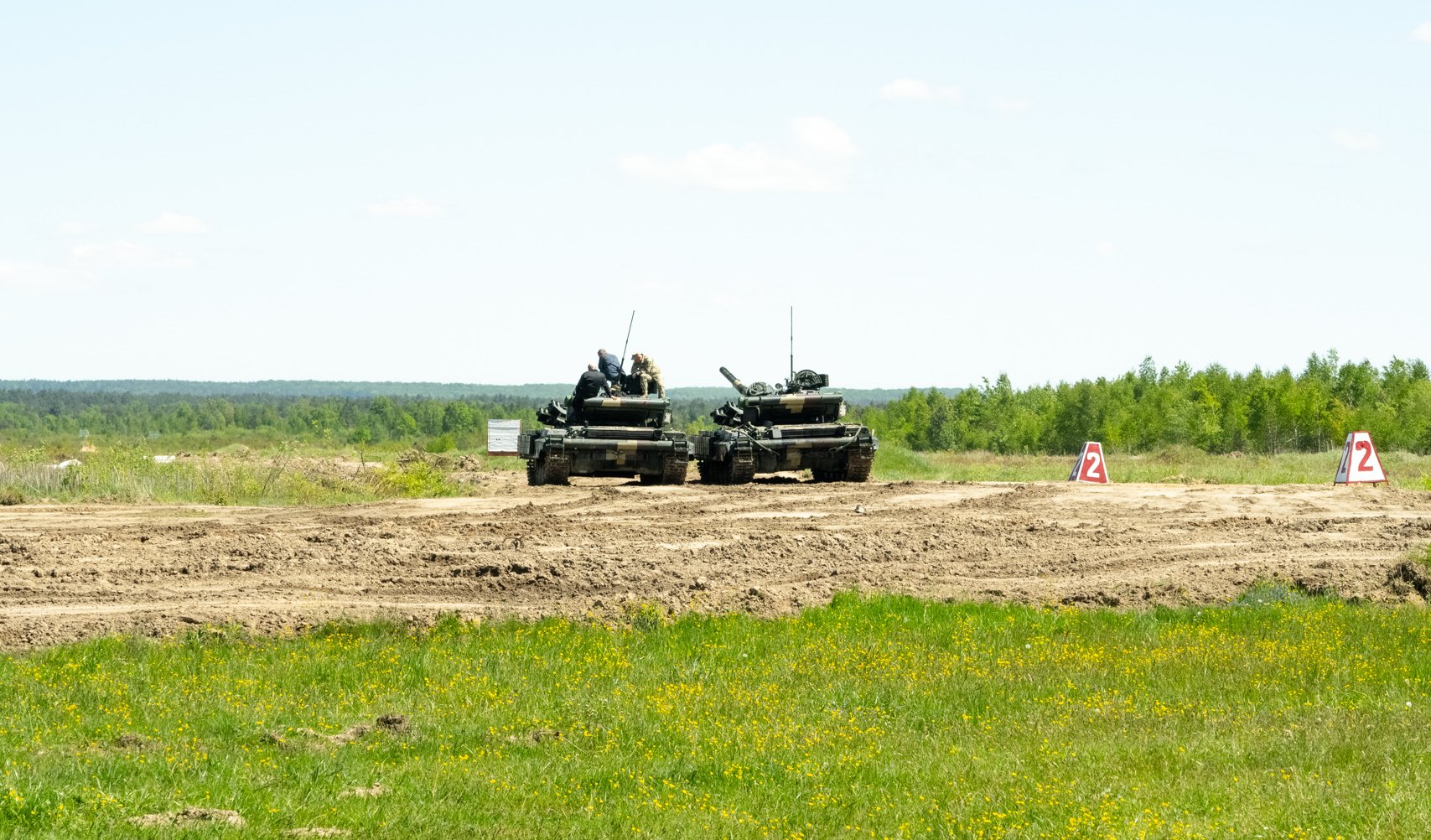 The US has provided Ukraine with roughly $2 billion in security assistance since the war began in 2014. When it comes to the war in the Donbas, US military aid has a focused, tactical utility, giving Ukraine's armed forces the modern military technology necessary to increase their survivability. US assistance also allows the Ukrainians to fight with limited means without relying on Soviet-era warfare tactics, thereby reducing the risk of collateral damage.
Ukraine has a long way to go in modernizing its armed forces, mainly when it comes to producing high-tech tactical battlefield tools, such as counterbattery radars and night vision systems. Ukraine also lags in its ability to field certain big-ticket items, including warplanes and anti-aircraft defenses. In that broader modernization effort, US assistance plays a key role, particularly in the rebuilding of Ukraine's littoral navy.
But assisting Ukraine's military transformation requires more than dollars and weapons. For their part, the US soldiers at Yavoriv take pride in the reaffirming message their presence sends to Ukraine's soldiers and civilians.
"I would say probably the bulk of the people who serve in the US military probably have some aversion to bullies and have some kind of strength to stand up," Kelsey said. "So it's encouraging for me to see that I'm helping somebody beat a bully."
Read Next: He Fled War-Torn Iraq as a Child; Now He'll Make Marines at Paris Island