This year, author and counterterrorism reporter Sean Naylor published Relentless Strike: The Secret History of Joint Special Operations Command, recounting the history and organization of this most secretive military group, from before Eagle Claw to the units in place today. It features inside stories on recent famous ops, including the raid in Pakistan which resulted in the death of Osama bin Laden and the rescue of Captain Richard Phillips from Somali pirates in the Indian Ocean. It also contains stories behind the other successes and some of the failures of the organization, all of which are fascinating reads. Here are eight more interesting tidbits from Naylor's book:
1. Two helicopters ran out of ammo while fighting the Taliban, then switched to small arms
In the early days of the Afghan War, two MH-6 "Little Bird" pilots hit a Taliban column of armored personnel carriers and T-55 tanks with their onboard .50 caliber guns and rockets. They then run into a truck full of Taliban fighters. The remaining Taliban personnel attempted to flee on foot into the desert. The helicopters, now out of ammunition, pulled out their personal M-4 rifles and grenades and engaged the fleeing fighters from their pilot seats.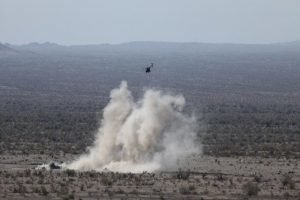 The fighters would try to split up to escape the helicopters, but they kept flying a "wagon wheel" formation, with the pilot in the left seat firing at the enemy in the middle, dropping grenades forcing them back into the circle.
2. JSOC used homemade bombs on insurgents, which looked like an insurgent-made bomb
It was called the "Xbox" and it was used to take out insurgents who received political protection from the Iraqi government, then led by Prime Minister Nouri al-Maliki. Maliki protected Shia insurgents, who provided money and materiel to jihadis and militia in Iraq from Iran.
The device used parts and ingredients used by local insurgents after EOD troops disabled them and reverse-engineered them. In the Afghan-Pakistan theater of operations, the Xbox would be made from Chinese circuits and Pakistani parts with the explosives from old Soviet weapons. It was designed to be indistinguishable from an insurgent-made device.
3. A SEAL accidentally killed a British hostage
British aid worker Linda Norgrove was kidnapped in Afghanistan in September 2010. U.S. intelligence in Afghanistan found her in a compound in the country's dangerous, infamous Korengal valley. SEAL Team 6 dispatched a squadron to rescue her the very next month. As they engaged insurgents while fast-roping from a Chinook, one of the SEALs threw a grenade at what he thought was a fighter in the brush.
That fighter was with Norgrove, who was fatally wounded in the grenade blast. The U.S. military initially reported a SEAL shot set off a suicide vest, but only because they didn't know the other threw the grenade. They found out what happened when that SEAL told his team leader.
"To this day, the guy that threw the grenade, he's a wreck," a senior Team 6 operator told Naylor.
4. Delta Force created its own Iraqi intelligence network
They called these Iraqis "mohawks." They were native Iraqis completely vetted and had necessary back stories to fill their cover. They provided Delta Force with information on buildings and targets of interest which the operators couldn't get close to. They conducted Human Intelligence by talking with their families and friends and recruited other sources of information. They tracked insurgent activities all over, from Internet Cafes to the insurgents' homes.
All this was part of Gen. Stanley McChrystal's effort to "build a network to fight a network" in Iraq, the enemy network being al-Qaeda and other insurgent groups.
5. The search for Saddam Hussein crossed into Syria
JSOC used helicopters to chase a convoy of Iraqi vehicles they watched cross the border on June 18, 2003. They believed Saddam Hussein was in the convoy somewhere. Then-Secretary of Defense Donald Rumsfeld confirmed a week later the attack happened, but in his words, it was "near the Syrian border."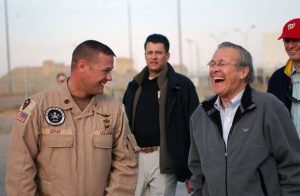 Delta operators and Army Rangers from the city of Mosul flew in helicopters and arrived slightly too late to keep the convoy from crossing into Syria. Rumsfeld himself cleared their pursuit into the neighboring country.
6. JSOC used cell phones to monitor, track, and kill insurgents
If insurgents were using their phones, JSOC could track the number and pinpoint its location, then they would hit the target. They developed a device that could home in on a specific mobile phone number, even if that phone was turned off. JSOC figured out how to turn phones on remotely, using cell phones as listening devices. They could clone an insurgent's phone even without having the phone in their possession, allowing them to send and receive text messages from that phone.
Insurgents caught on to this vulnerability soon. Zarqawi and those closest to him were not allowed cell phones. One insurgent leader turned off his mobile, only to turn it on a year later, possibly thinking the U.S. couldn't be tracking it after so long. He was incorrect, and got droned.
7. Delta operators dressed as farmhands to capture al-Qaeda in Iraq's second in command
Ghassan Amin was not only al-Qaeda in Iraq's number two guy and a close associate of its leader, Abu Musab al-Zarqawi, he also controlled an efficient counterintelligence force, completely controlled the Rawa region of Iraq, and controlled the flow of international Jihadist into Iraq, he also owned a farm on the West Bank of the Euphrates river. JSOC intelligence learned Amin would personally come to his fields to watch the harvest come in.
Delta operators dressed as Iraqi farmworkers floated down the Euphrates, "sequestered" the farmhands currently working in the fields, and began to do the work themselves, even driving tractors, waiting for Ghassan Amin to appear. When Amin arrived at the farm, he and two of his lieutenants walked right up to the operators, greeting them in Arabic. The Deltas took out their weapons and subdued Amin and his men.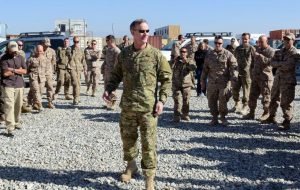 8. Admiral McRaven wanted Seal Team 6 to surrender to the Pakistanis if surrounded
The SEAL team who went on Operation Neptune's Spear were going to be more than 120 miles from the nearest U.S. forces. The CIA did clear the area before the raid and established a safehouse. In many media accounts, McRaven told the White House to seek a negotiated solution with the Pakistani government while the SEALs strongpointed the bin Laden compound, but Naylor writes some Team 6 operators believed McRaven said they should surrender to the Pakistanis.
President Obama rebuffed that idea, saying,"No, they're not going to surrender. They'll fight their way out and we'll go in and get them if we have to." It never came to that. Pakistani fighter jets scrambled while SEAL Team 6 made their way back to Afghanistan, but the jets flew to the east instead of west.