Photos and video leaked in 2020 that purport to show the US Navy capturing multiple "unidentified aerial phenomena" are indeed authentic, according to the Department of Defense.
CNN reported Friday that Pentagon spokeswoman Sue Gough confirmed that three different kinds of flying objects seen in the video were filmed by Navy personnel. Gough also told CNN that the Pentagon's Unidentified Aerial Phenomena Task Force has "included these incidents in their ongoing examinations."
Investigative filmmaker Jeremy Corbell first released video of the unidentified flying craft in 2020. On April 8, Corbell explained on Instagram how he acquired information last year from a series of Office of Naval Intelligence briefings on the "UFO/UAP presence."
Corbell said the slides (at top and below) and video are from a May 1, 2020, briefing that aimed "to de-stigmatize the UAP problem and to promote more intelligence collection regarding UAP incursions and encounters with active military deployments."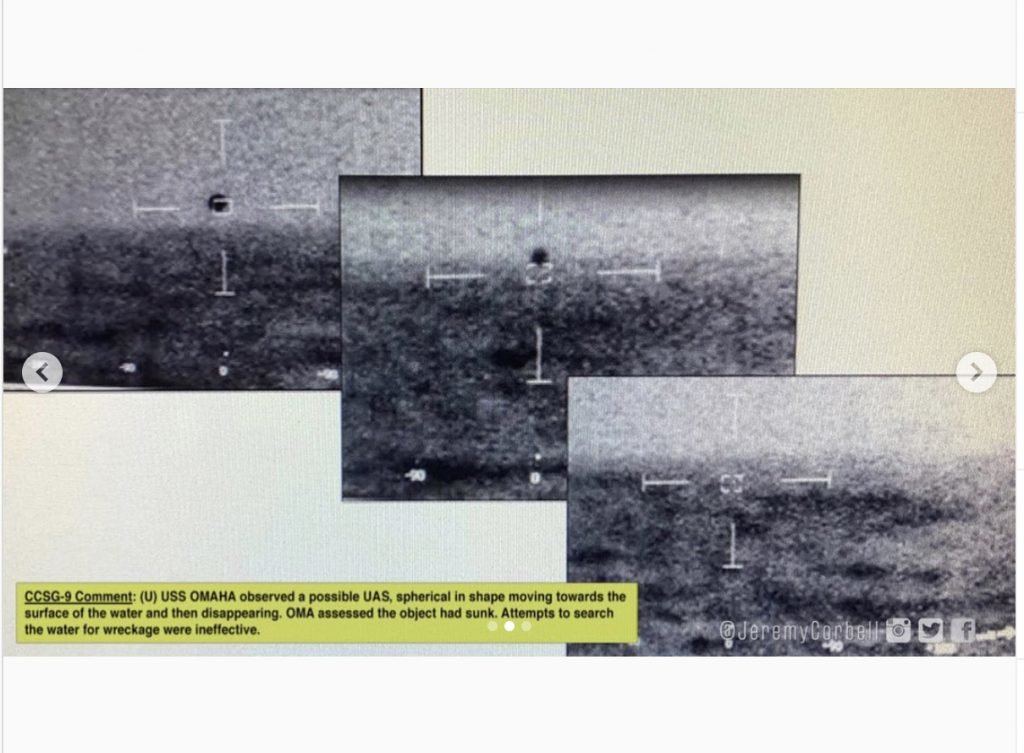 The roughly 20-second video, captured in night vision, shows a "blinking" pyramid-shaped craft gliding into focus and moving across the sky. On Instagram, Corbell posted the two slides from Office of Naval Intelligence briefings on UAPs. The first slide — displaying three grainy, black-and-white images — states that the spherical object was observed by the USS Omaha. According to annotations on the second slide — in night-vision green — a "seemingly triangular" object was seen hovering above the USS Russell.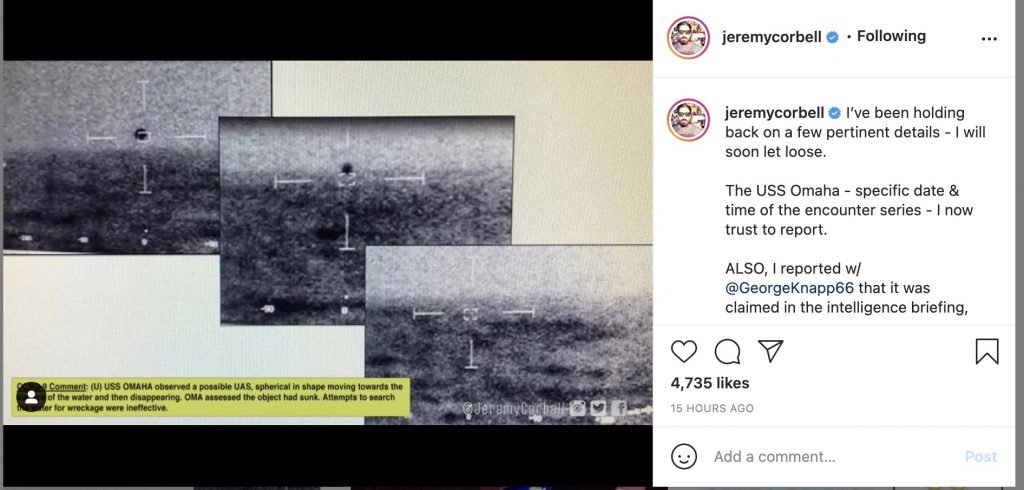 According to CNN, the Pentagon did not comment on the intent of the briefing, or the authenticity of the slides. However, military officials did confirm the images were captured by Navy personnel. Additionally, CNN reported that the images are part of an ongoing investigation by the Pentagon's Unidentified Aerial Phenomena Task Force.
Corbell is promising to release more on the USS Omaha, and the images confirmed by DOD, at some time in the near future.
Read Next: