This article was originally published March 26, 2021, on Sandboxx News. Follow Sandboxx News on Instagram.
The U.S. Special Operations Command (SOCOM) is looking to upgrade its fleet of AH/MH-6 Little Bird helicopters.
Operated by the elite 160th Special Operations Aviation Regiment (160th SOAR), also known as the "Night Stalkers," the AH-6 (attack) and MH-6 (assault/transport) Little Bird helicopters have been a staple special operations rotary-winged platform since the 1980s. Working closely with the special mission units of the Joint Special Operations Command (JSOC), the Night Stalkers have flown Little Birds into combat in Grenada, Panama, Somalia, Iraq, Afghanistan, and Yemen, among other places.
But the consecutive deployments of the Global War on Terror (GWOT) have taken a toll on the AH/MH-6 Little Bird fleet. And now SOCOM wants to polish it.
According to a government's acquisition site, SOCOM is looking for offers to replace the special operations helicopters' Light Weight Plank Systems (LWPS). The contract will fall under the indefinite delivery-indefinite quantity category—meaning that the number of LWPS is up in the air—and can last to up to eight years.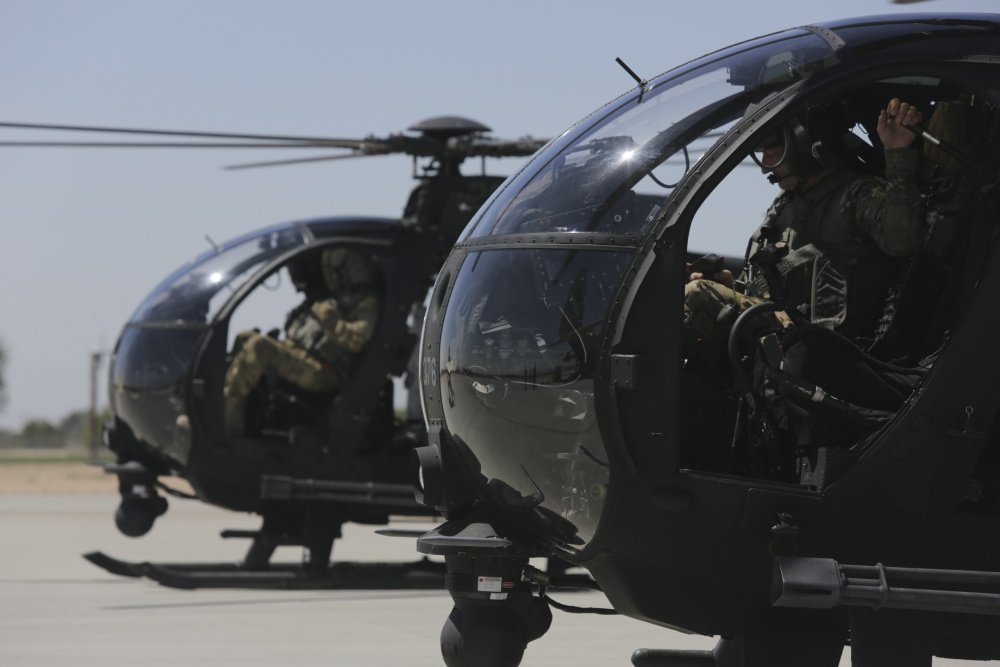 This is the latest update for the Little Bird fleet. A couple of years ago, SOCOM awarded a contract to Boeing for an indefinite number of Mission Enhanced Little Bird (MELB) kits for both versions of the Little Bird. The MELB kits include an improved six-blade main rotor and four-blade tail rotor, enhanced tail boom and rotor drive system, upgraded tail stinger, chambered vertical fin, landing gear, and doors.
The 160th SOAR is comprised of four battalions and operates three rotary-wing platforms, for a total of around 140 aircraft.
The AH/MH-6 Little Birds provide attack, assault, and transport options. These are the helicopters that will drop a Delta Force team on top of a target building or provide close air support on target to a SEAL Team 6 group.
The MH-60 Black Hawk offers medium-lift capabilities. These are the helicopters that will carry. An updated stealth version of the MH-60 Black Hawk participated in Operation Neptune's Spear, the raid that killed Osama bin Laden. The Night Stalkers also fly the MH-60 Direct Attack Penetration (DAP) Black Hawk, a gun platform that packs some serious firepower and can take heavily fortified targets on its own.
Finally, the MH-47 Chinook presents heavy-life capabilities. This special operations version of the venerable Chinook is the workhorse of the Night Stalkers. It's mainly used for long-range insertions of special operations elements, such as a Ranger platoon or a Special Forces operational detachment and its partner force.