Move over, one-and-done AT4 launcher. The new and improved 84mm M3E1 Carl Gustaf Multi-Role Anti-Armor/Anti-Personnel Weapon System (MAAWS) will be the Army's anti-armor weapon of choice in the future.
The Army has awarded Swedish aerospace and defense company Saab an $87 million multiyear contract to furnish soldiers with the reusable M3E1 in the coming years, the company announced Thursday.
The Carl Gustaf recoilless rifle/launcher weapon system has long been a go-to anti-armor weapon for US special operations forces, and it will now be an organic system for infantry platoons. While the AT4 has to be thrown away after a single use, the M3E1 can use multiple types of ammunition. It's an easily portable system that can disable or destroy vehicles and buildings from hundreds of meters away.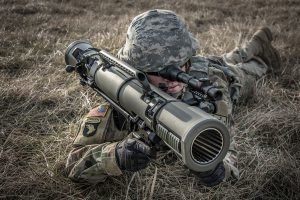 Depending on the ammunition used, the M3E1 has an effective firing range of up to 1,300 meters, according to the Army's fiscal 2021 budget estimate. It can be fired by one man from the standing, kneeling, sitting, or prone positions and supports full and sub-caliber training systems.
The Carl Gustaf system was first introduced in 1946 and has gone through several design upgrades since then. This latest M3E1 version is lighter and shorter than previous designs and is ergonomically designed with a longer handle and better grips.
At 14.8 pounds, the new version is 28% lighter than its predecessor, the M3. The Army reported in 2017 that with the use of titanium, the updated M3E1 is more than 6 pounds lighter and 2.5 inches shorter. It has an improved carrying handle, extra shoulder padding, and an improved sighting system that can be adjusted for better comfort without sacrificing performance.
The M3E1 can engage, neutralize, and destroy lightly armored vehicles, soft-skinned vehicles, personnel in the open or defiladed, and field fortifications in both open urban and rural operational environments, the Army said in its fiscal 2021 budget estimate. It is also capable of marking threat targets with smoke for supporting weapons, obscuring threat weapons, and illuminating threat targets.
"The Saab M3E1 is optimized to meet the needs of today's warfighters," said Erik Smith, Saab president and CEO in the US, in a statement. "This lightweight and effective recoilless rifle ensures readiness on the modern battlefield with multi-role capabilities through a wide array of munitions."
Saab will begin delivering the M3E1 system to Army units in 2021, but soldiers may have even more upgrades to look forward to in the future.
As Task & Purpose reported last year, Saab partnered with Raytheon for a series of guided flight tests for its new Guided Carl-Gustaf Munition. According to the companies, the new GCGM uses laser guidance technology to reach out and hit both stationary and moving targets at a range of up to 2,000 meters, well beyond the existing effective firing ranges of its current munitions.
So grunts have that going for them … which is nice, but won't help with the head trauma or ringing in the ears (so we hear).