Maintaining an aerial tit for tat that dates back to the height of the Cold War, US and Russian bombers flew back-to-back missions across the Bering Sea this week. In both cases, the bombers advanced close enough to the other country's airspace to draw out its fighter jets.
On Tuesday, two Russian fighters — a MiG-31 Foxbat and an Su-35 Flanker — intercepted two US Air Force B-1B Lancer supersonic bombers flying over the Bering Sea. The Russian Ministry of Defense said the US bombers never entered Russian airspace, nor did they violate international aviation rules. A Russian military video of the encounter, which was posted to Twitter on Wednesday, appears to show a US Air Force KC-135 tanker as well as a B-1B.
The US bombers reportedly launched from Anderson Air Force Base in Guam. For its part, the US Air Force said the Russian intercept was "safe and professional."
"Four B-1 Lancers are currently deployed to Anderson Air Force Base, Guam, for a rotational Bomber Task Force to the U.S. Indo-Pacific Command," Pacific Air Forces public affairs told Air Force Magazine. "We can confirm that the intercept … was deemed as safe and professional."
One day earlier, on Monday, Oct. 19, US Air Force F-22 fighters scrambled from Alaska to intercept a Russian formation comprising two Tu-95 Bear bombers, a pair of Su-35 fighters, and an A-50 Mainstay AWACS aircraft, North American Aerospace Defense Command reported.
The Russian aircraft never entered US airspace, NORAD said, although the A-50 loitered within Alaska's Air Defense Identification Zone for approximately 1.5 hours and came within 30 nautical miles of Alaskan shores.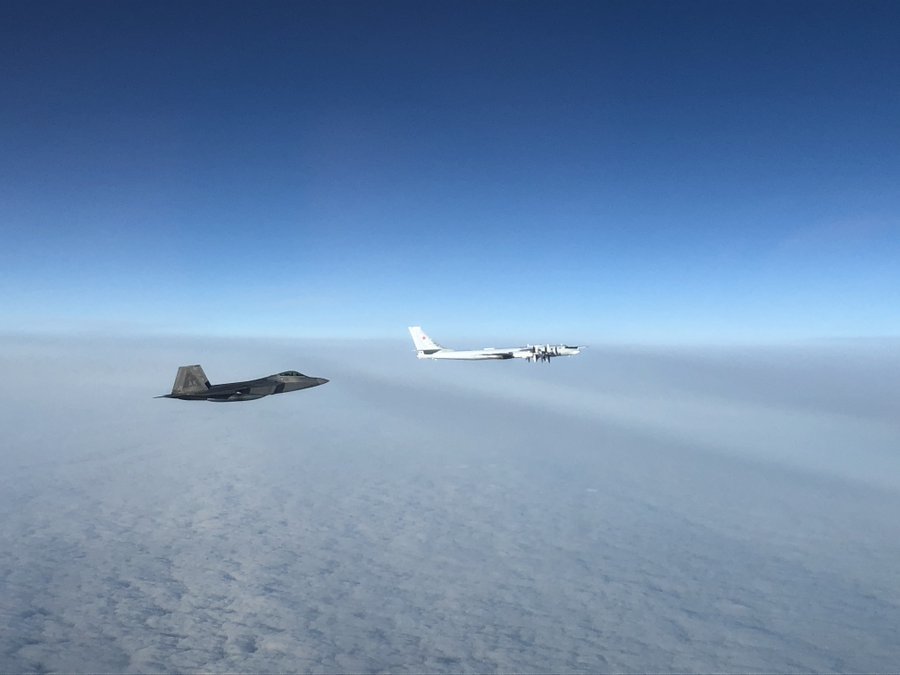 US airspace extends 12 nautical miles from the coastline, while the US military's Air Defense Identification Zone, or ADIZ, stretches some 200 nautical miles out from America's shore.
This week's aerial encounters marked the second time this year that Russian and American fighters have performed back-to-back scrambles to intercept each other's bombers. However, the overall pace of dueling Russo-American military flights in the far north is roughly on par with that of recent years. NATO jets scrambled to intercept Russian warplanes more than 200 times in 2019.
"NORAD forces remain on alert 24/7/365 to respond to potential threats to Canada and the United States. The agility and readiness of our personnel ensures we are successful in addressing potential aerospace threats with the appropriate response at the right time," Air Force Gen. Glen VanHerck, commander of both United States Northern Command and NORAD, said in a statement.