If today is like pretty much any other day, US Customs and Border Protection (CBP) officers will seize more than a ton of illegal drugs nationwide.
And they'll probably seize a few really weird things, too — sea turtle shells, a box of parasitic wasps, maybe even a king cobra snake or two.
"I think some of the ways that people try to hide things and get them through surpasses your expectations," Benjamin Canfield, CBP's acting area port director in Memphis, said in an interview with Coffee or Die Magazine.
"They really go the extra mile trying to hide these things from us."
Canfield won't tell you exactly where his officers find most illicit shipments of heroin, meth, and man-killing jungle vipers, except to say it's an express consignment facility in Tennessee.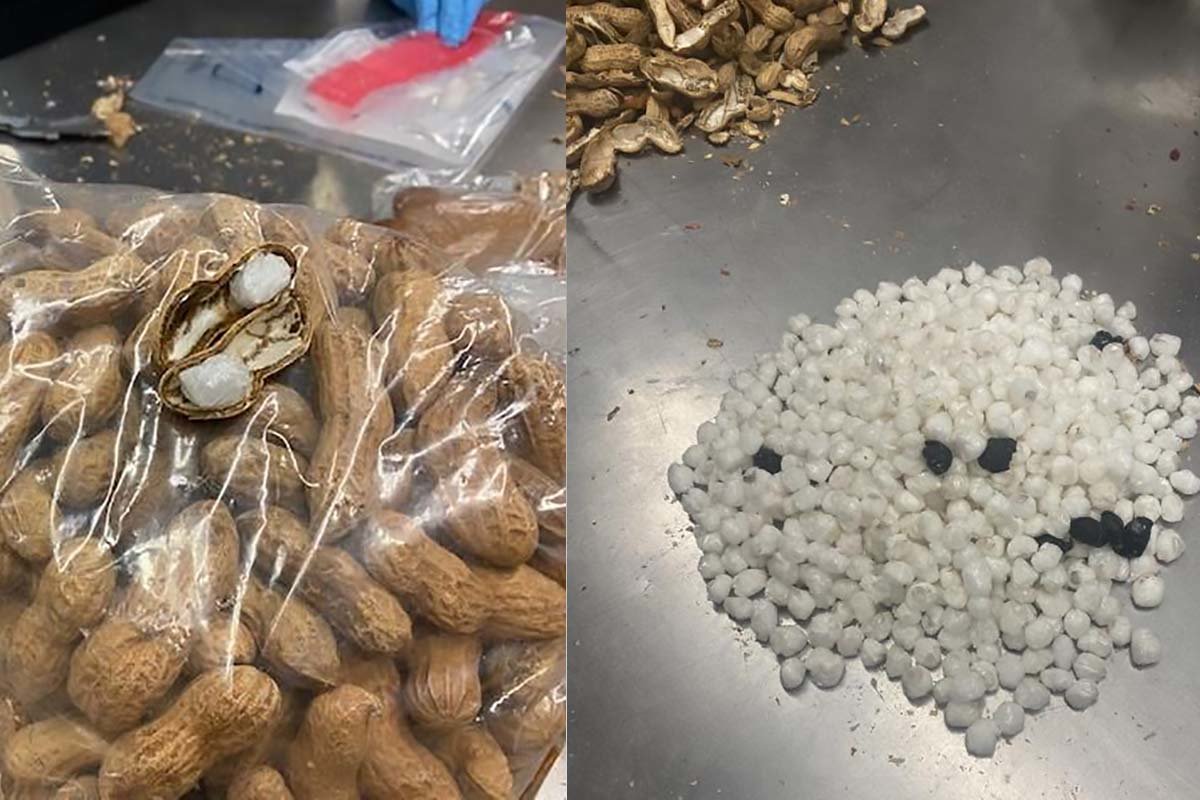 What he can tell you is that his agents are constantly surprised by the ingenuity of smugglers.
Take, for example, a recent parcel they intercepted from Mexico.
Agents flag south of the border shipments because Mexican outlaws traffic so many narcotics into the US.
On July 29, Canfield's agents ran a suspicious box through an X-ray machine. Something about the peanuts didn't look right.
He doesn't mean packing peanuts, the foam blobs that cushion fragile items. He's talking about the kind that go into Jif peanut butter.
The agents cracked open a shell and found a white substance swaddled in plastic. They tested the substance, which turned out to be meth.
The husks of peanuts are rigid but fibrous, so they tend to splinter and leave shreds of shell when opened. Officers couldn't detect how the smugglers tore open the peanuts.
After scrutinizing all the goobers in the parcel, the CBP officers confiscated 489 grams of meth, enough to make 2,445 doses for consumption by users.
The unknown traffickers stuffed baggies of drugs in scores of tiny shells, a major investment in time, manpower, and technology, Canfield said.
"Despite the fact we've seen a lot of unusual things, it's still surprising to find the lengths that this organization or these individuals went to [in order] to put this methamphetamine inside of the peanuts," Canfield said.
In late 2015, CBP officers in Cincinnati seized a pair of shipments that contained 631 hawksbill sea turtle scutes and two dead king cobras.
To try to trick the officers, the smugglers carefully sanded barnacles off the scutes, which are part of the endangered turtle's shell, and then whitewashed them in water-soluble paint.
Likely intended as breeding stock, the dead cobras had been folded into tube socks and tucked into baskets.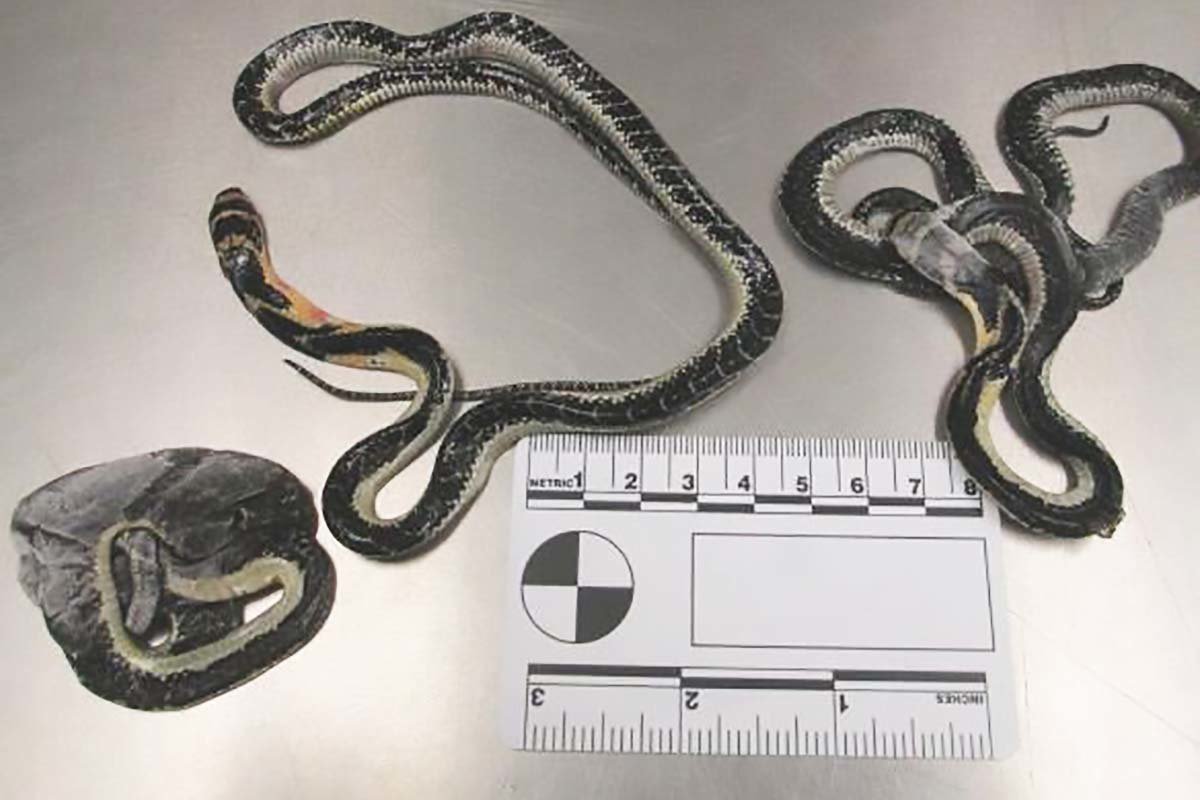 That's a trick traffickers use with reptiles.
In Memphis, CBP officers recently discovered Mexican box turtles wrapped in socks and then secreted in coffee cans. Reptile keepers at the Memphis Zoo who took them in counted 42 turtles, enough to form a breeding colony. CBP handed off the case to US Fish and Wildlife Service agents.
"When we make a seizure here, especially something like drugs, a lot of times it doesn't stop here. It's not just seize it and be done. We're going to reach out and collaborate with our federal investigative partners," Canfield said.
Mexican box turtles likely won't threaten American industries, but invasive pests can ravage domestic farmland or timber.
On March 2, CBP agriculture specialists in Memphis seized a box bound for Oregon that was supposed to contain loofahs from Tanzania. Inside, they found parasitic wasps, insects that can spread diseases to native plants and bugs.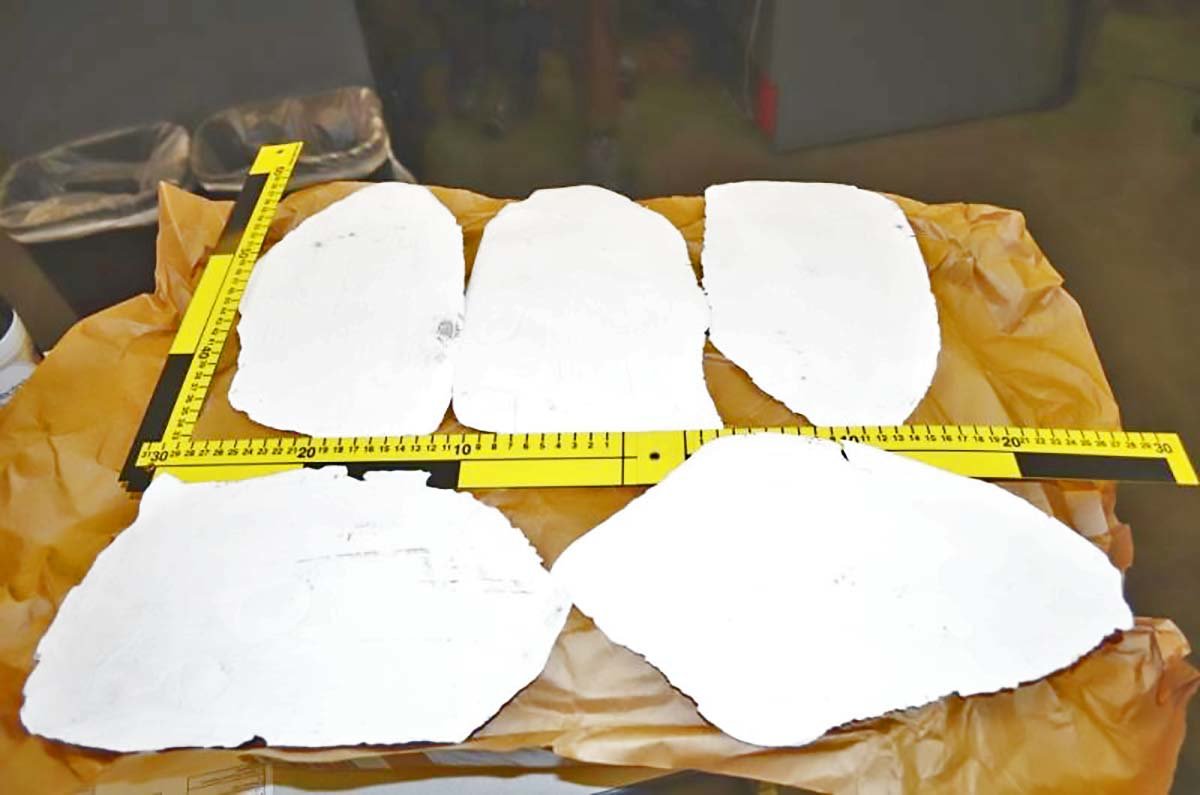 That sort of contraband isn't unusual. The agency's ag experts annually confiscate nearly 5,000 shipments they quarantine or destroy, including wild animals, plants, meat, and potentially contaminated soil.
Other officers specialize in protecting kids, making sure toys colored with lead paint don't end up on store shelves.
"We're able to enforce laws for so many agencies, provided that these products are entering the commerce of the United States from a foreign country," Canfield said.
"Our front-line officers, these folks, by being out there, they're able to develop a very good sense of what is normal and what's outside of that normal, and it's their vigilance to the changing trends that they're able to pick up on these very slight indicators that enable interception."
Read Next: