"No friends but the mountains." It's a Kurdish saying that dates back generations, stemming from a history peppered with empires, allies, and neighbors betraying them. Late Sunday night, apparently after a phone conversation with the Turkish president, the White House announced that Turkey would invade Northern Syria and that American troops will pull back from the area.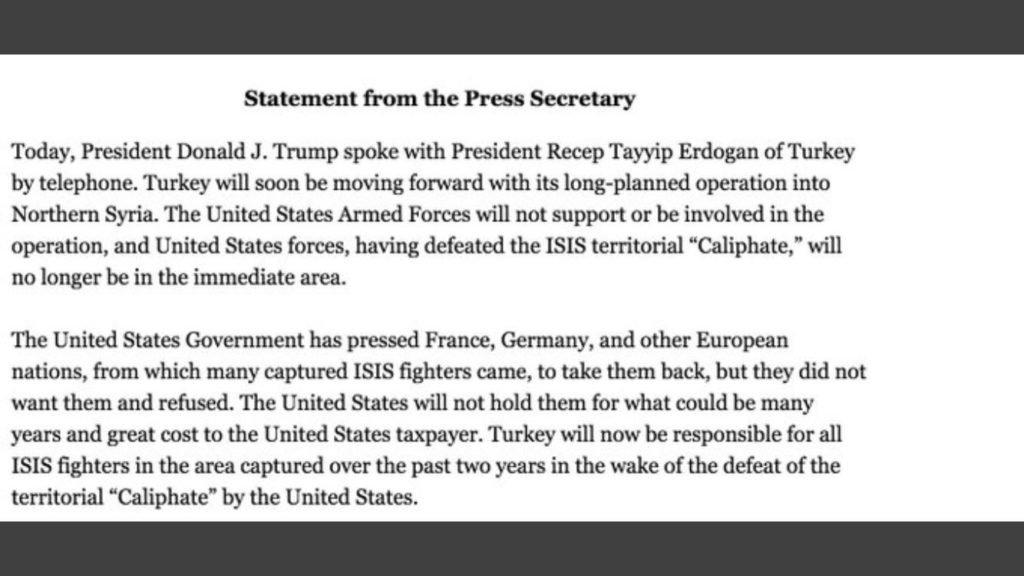 Members of the Syrian Democratic Forces (SDF), the American-backed multi-ethnic (but largely Kurdish-led) force that controls much of the area and has aided America in its fight against ISIS, say they received no warning and have called it a "stab in the back."
Over the past month, the United States and Turkey had been working out a "security mechanism" agreement along the Syrian-Turkish border. Key to the agreement was that the SDF would dismantle its fortifications and bases along the Northern Syrian border and pull its fighters back. In return, the United States would mediate. American troops would hold joint patrols with their Turkish counterparts and keep the two factions apart and ensure both sides' safety.
The SDF upheld its side of the bargain, bulldozing countless outposts and bases and withdrawing their heavy weapons. Now SDF fighters are left without fortifications, their northern flank completely exposed, and without the American support they were promised. On Monday, Turkish jets and artillery had already started attacking SDF positions along the border.
"We do not endorse a Turkish operation in Northern Syria. The U.S. Armed Forces will not support, or be involved in any such operation. In conversations between the Department and the Turkish military we have consistently stressed that coordination and cooperation were the best path toward security in the area," Pentagon spokesperson Jonathan Hoffman said in a statement. "We will work with our other NATO allies and Coalition partners to reiterate to Turkey the possible destabilizing consequences of potential actions to Turkey, the region, and beyond."
U.S. President Donald Trump took to Twitter, defiantly defending his latest moves, declaring that "if Turkey does anything that I, in my great and unmatched wisdom, consider to be off limits, I will totally destroy and obliterate the Economy of Turkey (I've done before!)"
It's unclear what he means by "I've done [it] before" in regards to "obliterating" a foreign economy, but Trump does have interests in Turkey that predate his time in the White House. After announcing the latest moves, tweets resurfaced of Trump and his daughter Ivanka praising Turkey's President Recep Tayyip Erdogan for attending the opening of the Trump Towers in Turkey in 2012. Trump has often called Erdogan a "good friend" and praised his rule of Turkey.
"I have a little conflict of interest because I have a major, major building in Istanbul," Trump told Steve Bannon during a 2015 interview on a Breitbart radio show before Bannon became his campaign manager and, later, a senior White House staffer (he has since resigned). "It's a tremendously successful job. It's called Trump Towers — two towers, instead of one, not the usual one, it's two."
Trump argued in his tweets that America "did more" in Syria than anyone could have expected, crediting the United States with the complete territorial defeat of ISIS. Eight Americans have died in Syria fighting ISIS as members of the Coalition, but close to 11,000 SDF fighters — many of them Kurds — have died in the campaign against ISIS and have done most of the fighting.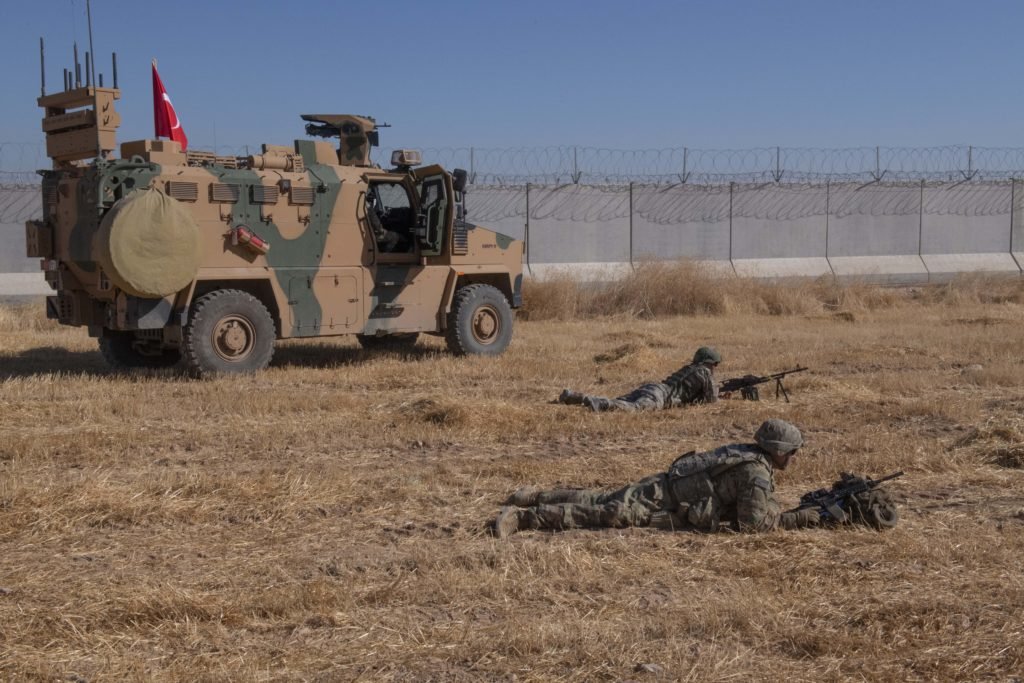 Erdogan spent the summer massing troops on the northern border for a threatened invasion until American diplomats halted it as they worked out arrangements for the security mechanism. But last month during the U.N. General Assembly, Erdogan made it clear that he intended to remove the SDF — and especially the Kurds — from Northern Syria.
Erdogan said that his goal for Northeast Syria was to "return it to its original owners. And the original owners are mainly Arabs–up to 85 to 90 percent." Turkish officials have also expressed their desire to resettle thousands of Syrian refugees living in Turkey in the area.
While Northeast Syria is home to Kurds, Arabs, Syriacs, Turkmen, and many other groups, critics of the plan note that many of the refugees Turkish officials are talking about are actually from other parts of Syria and that this is a badly veiled call for ethnic cleansing. The 2018 Turkish invasion of the largely Kurdish town Afrin offers a potential window into what this campaign could look like — Turkish troops and allied militias destroyed Kurdish cultural symbols, as well as those of Yazidis and Christian Syriacs, and drove thousands of Kurds and others from their homes.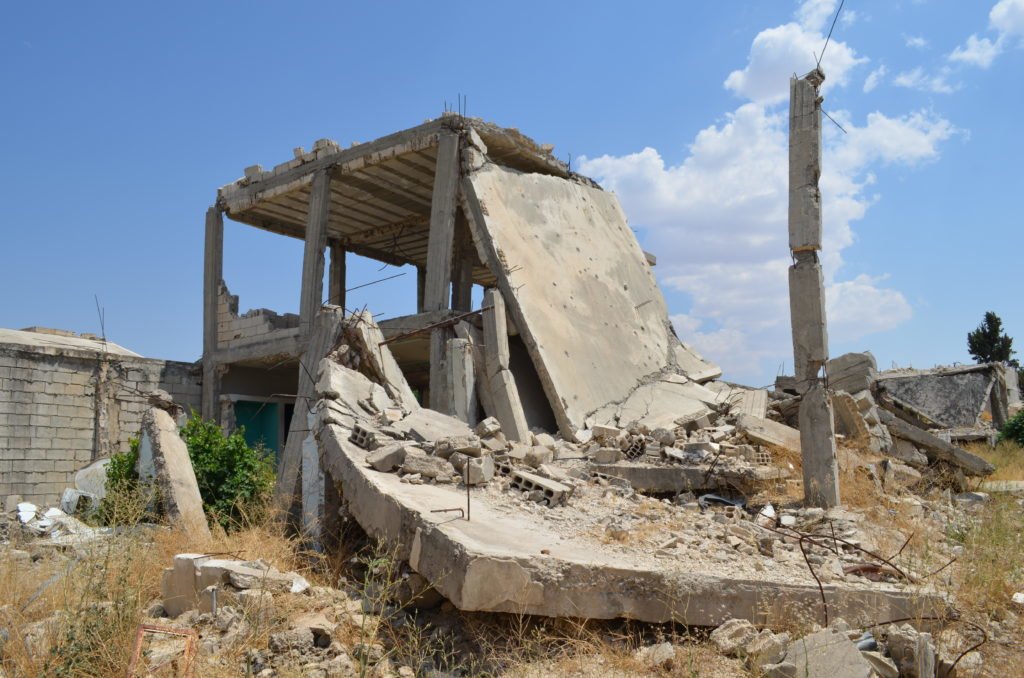 Refugees fleeing such a campaign would have few places to go, and thousands could be forced to make their way to the Iraqi-Kurdish region, which has already struggled to accommodate countless displaced Iraqis and Syrians in recent years.
"We are not expecting the US to protect NE #Syria," said Mustafa Bali, SDF spokesman, on Twitter. "But people here are owed an explanation regarding security mechanism deal, destruction of fortifications and failure of US to fulfill their commitments."
In addressing the fate of the Kurds, Trump tweeted that "Kurds fought with us, but were paid massive amounts of money and equipment to do so … it is time for us to get out of these ridiculous Endless Wars, many of them tribal, and bring our soldiers home. WE WILL FIGHT WHERE IT IS TO OUR BENEFIT, AND ONLY FIGHT TO WIN."
While the United States did give Kurds military funding and equipment to fight ISIS, the Trump administration slashed $230 million that was supposed to go to rebuilding towns and cities in Northeast Syria — while at the same time aggressively increasing air strikes. Major battles left entire cities in ruins, perhaps most vividly illustrated in the former ISIS capital of Raqqa.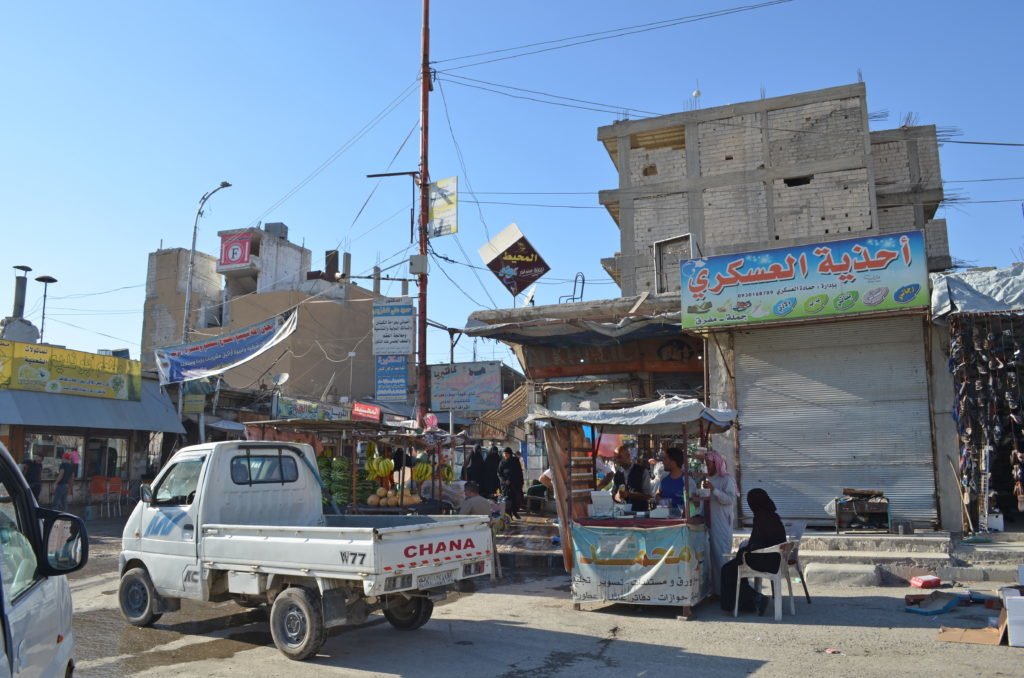 "The reconstruction is what's most important," a senior SDF security official told Coffee or Die in Raqqa this summer. "Half the city has no electricity. What we need is real support, financial support, to rebuild the city." The self-administrative authorities across Northeast Syria have struggled to combat unemployment and poverty, particularly in areas that ISIS once held under its control, and worry that a failure to address these problems could facilitate a resurgence of extremists groups.
This is the second time Trump has casually announced that American troops would be leaving the SDF to a likely Turkish invasion. In December 2018 (also after a phone conversation with Erdogan), Trump said that ISIS was completely defeated, that U.S. troops would leave, and that Turkey was welcome to conduct operations in Northeast Syria.
The decision and Trump's cavalier attitude to the affair led to the resignation of Defense Secretary James Mattis and the Special Envoy to Iraq and Syria Brett McGurk.
"The WH statement tonight on Syria after Trump spoke with Erdogan demonstrates a complete lack of understanding of anything happening on the ground."
Even as Trump bragged of victory, SDF fighters and American military advisers were in the thick of intense fighting with ISIS militants who were far from defeated, as were American military advisers. Islamist fighters were holding out in Baghouz, and ISIS cells had spread across Northeast Syria carrying out terror attacks. One such attack killed four Americans in Manbij as they hunted these cells in January 2019. SDF forces didn't seize Baghouz until March, and the fighting has continued since then.
Pentagon officials and diplomats walked Trump back on the decision and negotiated for a small "stay behind force" of U.S. troops to help the SDF and other Coalition forces fight ISIS and keep tabs on Iranian influence. Since then, European countries have pledged to send more troops to augment the force, most recently Denmark
The White House's press statement on the latest movements condemned European countries for not taking back citizens that travelled to Syria to join ISIS (Trump himself initially vowed not to take back American ISIS volunteers, a decision the administration has since reversed).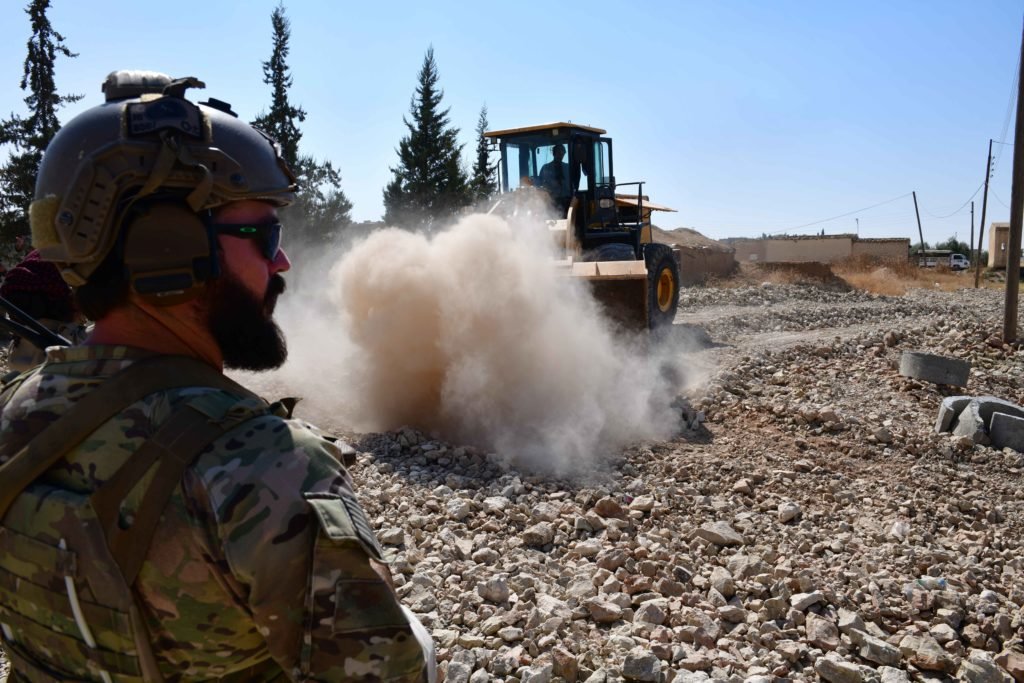 "The United States will not hold them for what could be many years and great cost to the United States taxpayer," the White House release stated. "Turkey will now be responsible for all ISIS fighters in the area captured over the past two years in the wake of the defeat of the territorial 'Caliphate' by the United States."
McGurk criticized this in particular. "The WH statement tonight on Syria after Trump spoke with Erdogan demonstrates a complete lack of understanding of anything happening on the ground," he tweeted. "The 'United States' is not holding any ISIS detainees. They are all being held by the SDF, which Trump just served up to Turkey."
Indeed, most ISIS prisoners are held in SDF facilities that lack resources, and it's not clear that any are actually in American custody. The U.S. has provided some minimal funding, but local authorities are struggling. Thousands of ISIS families also live in the Al Hol refugee camp, an increasingly violent camp where the SDF fighters took families from Baghouz after the battle. So called "ISIS brides" have largely taken control of the camp and enforced a brutal version of Sharia — regularly attacking, and sometimes even killing, displaced Iraqis and Syrians stuck in the camp with them.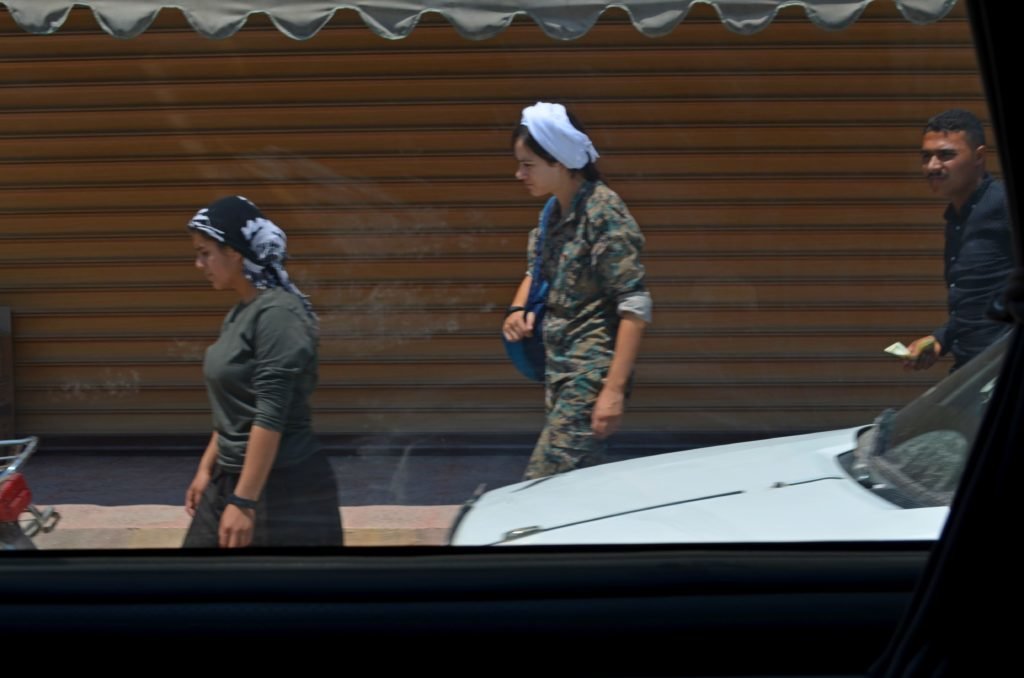 It's unclear how Turkey would "be responsible" for these detainees. As Turkish troops fight the SDF, there will be little opportunity to exchange prisoners. And ISIS detainees and families have openly expressed to reporters that they see a Turkish invasion as an opportunity to escape by staging riots — some even said they intend to fight on Turkey's side if the chance arose.
Turkey has a history of working with some of the most extreme Syrian rebel groups. Several Syrian activists and rebels have accused Turkish intelligence of aiding Islamist factions with money and weapons to wipe out pro-democratic and other moderate factions of the Free Syrian Army to take control of the force and turn it into proxy.
On several occasions, American troops in Syria have taken fire from suspected Turkish proxy fighters during operations around Manbij. None of these incidents are known to have resulted in American casualties. Many of these factions played a key role in the Battle of Afrin, and Turkish officials have allegedly given Kurdish homes to proxy fighters as rewards for fighting on their side.
"Turkey will now be responsible for all ISIS fighters in the area captured over the past two years in the wake of the defeat of the territorial 'Caliphate' by the United States."
American troops aren't necessarily leaving Syria just yet. On Monday, the Pentagon expelled Turkey from the Joint Air Operations Center, meaning that Turkey won't have access to surveillance and reconnaissance data, and American officials are taking further efforts to impede a potential Turkish air campaign.
American troops also continue to conduct anti-ISIS operations alongside the SDF around places like Deir ez-Zur to the south. However, if Turkish troops move on their comrades in the north, it's not clear that SDF fighters won't redeploy to fight Turkey instead of fighting ISIS cells.
It's also not clear that the SDF will continue to maintain custody of ISIS detainees under this pressure. SDF general Mazloum Kobani Abi told NBC that those duties have become a "second priority" as fighters guarding detention facilities are already traveling to the border to help their comrades and protect their families.
Far from defeated, ISIS may have its best opportunity yet for a comeback.
American lawmakers across the spectrum — from conservative Republican House Representative and U.S. Navy SEAL veteran Dan Crenshaw to progressive democratic House Representative and Somali refugee Ilhan Omar — have condemned the move. Republican Senator Lindsay Graham said that he and Democratic Senator Chris Van Hollen "will introduce bipartisan sanctions against Turkey if they invade Syria and will call for their suspension from NATO if they attack Kurdish forces who assisted the U.S. in the destruction of the ISIS Caliphate."
But as Kurds watch these machinations from afar, it would be hard to blame them if they believed their old saying was right: their only friends are the mountains.