KYIV, Ukraine — The fault line between NATO and Russian-backed military forces is steadily narrowing in Eastern Europe.
Starting Friday, some 500 US Army soldiers will be conducting a roughly two-month-long, live-fire, armored military exercise at a base within Lithuania — less than 5 miles from the border with Belarus. And on Tuesday, the US Army's 41st Field Artillery Battalion deployed multiple-launch rocket systems to Estonia for an exercise near the town of Tapa, located roughly 90 miles from the Russian border.
Meanwhile, the embattled Belarusian president, Alexander Lukashenko, still clings to power after nearly a month of protests calling for his ouster. Protesters say Lukashenko, who has ruled over Belarus for some 26 years, rigged the Aug. 9 presidential election. For his part, Lukashenko blames the protests on a Western cabal to bring him down and has appealed to Moscow for help.
In late August Lukashenko put his country's military forces on "high alert" due to what he alleged was the impending threat of a NATO military intervention. Half of Belarus' armed forces — comprising some 45,000 active-duty military personnel — are now reportedly deployed to the country's western borders with the NATO countries of Poland and Lithuania. Further complicating matters, a joint exercise comprising military forces from Russia, Serbia, and Belarus is set to take place on Belarusian territory this year. It remains unclear, however, whether US troops will still be deployed to Lithuania while Russian troops are in Belarus for war games.
Moscow protested the Army's multiple-launch rocket system exercise in Estonia this week, accusing the US of "fueling tensions" within the region.
"We consider the actions of the US Armed Forces in Estonia provocative and extremely dangerous for regional stability," the Russian Foreign Ministry said in a statement, adding: "And all this is taking place in the context of an aggravated political situation in that region of the European continent."
The current security situation in Eastern Europe has raised the specter of a military miscalculation or misunderstanding by either side, which could set off an escalatory domino chain. However, many experts say chances of a war remain low.
"There is a greater chance than is normally the case for accidental or inadvertent conflict, though I doubt it would escalate to war with NATO — it's more likely to be a civil war in Belarus," says Stephen Blank, senior expert for Russia at the US Institute of Peace.
"Nevertheless the situation calls for heightened vigilance," Blank told Coffee or Die.
Land-based military exercises, such as the US and Belarus are currently conducting, are inherently less risky than air or naval drills, says Cordelia Ponczek, a transatlantic leadership fellow at the Center for European Policy Analysis.
"The lined-up exercises are more focused on ground forces where the risk of unintended excursions to the wrong side is low," Ponczek told Coffee or Die. "There are well-established national borders, and if someone is crossing over them in a tank, or stray artillery, it's hard to claim it as an accident."
The US deployment to Lithuania is part of a preplanned military exercise, NATO officials say, and has nothing to do with the crisis in Belarus. The US presence in Lithuania is scheduled to last until Oct. 20 and comprises some 500 American soldiers and 40 vehicles, including Abrams tanks and Bradley armored troop carriers.
The exercise is taking place at a base in the Lithuanian town of Pabradė, near the border with Belarus. Another 1,000 NATO troops, comprising units from France, Italy, Germany, Poland, and other nations, will join the Americans in Lithuania from Sept. 14 to 25, a Lithuanian spokesman said.
"This routine training exercise is not tied to any current events in the region," the US Army said in a statement, adding that American units frequently rotate through the Baltic region as part of an ongoing military operation that began in 2014 to deter Russian aggression after Moscow's invasion of Ukraine that year.
The US exercise in Estonia, Rail Gunner Rush, is set to last from Sept. 1 to 8 and is meant to "demonstrate the US Army's continued commitment to NATO and appreciation for the [Estonian Defense Forces], allowing them to deploy long-range precision fire assets to NATO's eastern flank."
Army officials have said the Estonian exercise, as well, is not related to any ongoing regional events.
Since Russia invaded Ukraine in 2014, the US has been holding regular military exercises in the Baltics as part of an overall increase in military activities in Europe meant to deter more Russian aggression. The military exercise that began in Lithuania on Friday is part of Operation Atlantic Resolve, an Obama administration plan to augment the US military presence in Europe. At any given time there are some 6,000 US military personnel participating in Atlantic Resolve missions within "ready, combat-credible units" deployed across Europe.
Lukashenko has said that NATO has designs on invading Belarusian territory around the town of Grodno, which is situated near the convergence of the borders of Belarus, Lithuania, and Poland.
"We have deployed actually a half of our Belarusian army," Lukashenko said. "We have actually placed under control the western borders with Lithuania and Poland. And, as I frequently say, we have actually encircled Grodno to counter these threats. Perhaps, this demonstration has yielded its result."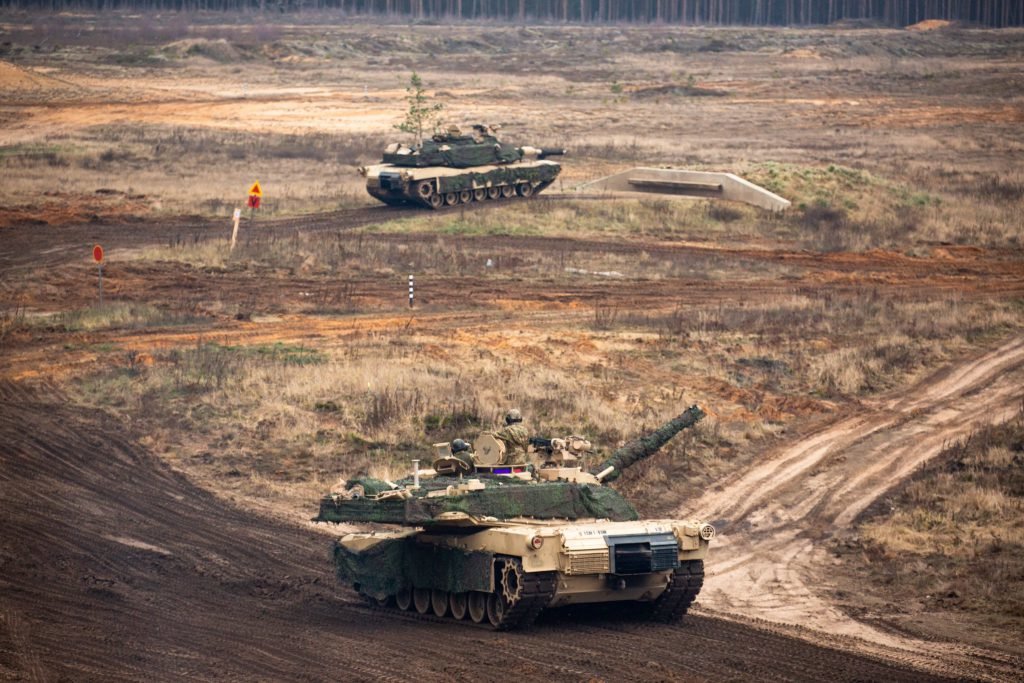 Grodno sits on the Belarusian side of the Suwalki Gap — a 60-mile-wide land corridor flanked by Belarus and Russia's Kaliningrad exclave, which is the only ground link between NATO's three Baltic states of Lithuania, Latvia, and Estonia with the rest of the NATO alliance.
NATO leaders have subsequently denied the Western alliance has any plans for a military intervention in Belarus.
"The regime is trying to divert attention from Belarus' internal problems at any cost with totally baseless statements about imaginary external threats," Lithuanian President Gitanas Nauseda told Agence France-Presse.
From Aug. 28 to 31, the Belarusian military held a series of war games near its western borders with Poland and Lithuania. Also, Russia and Belarus are moving ahead with plans for a joint military exercise on Belarusian territory this year.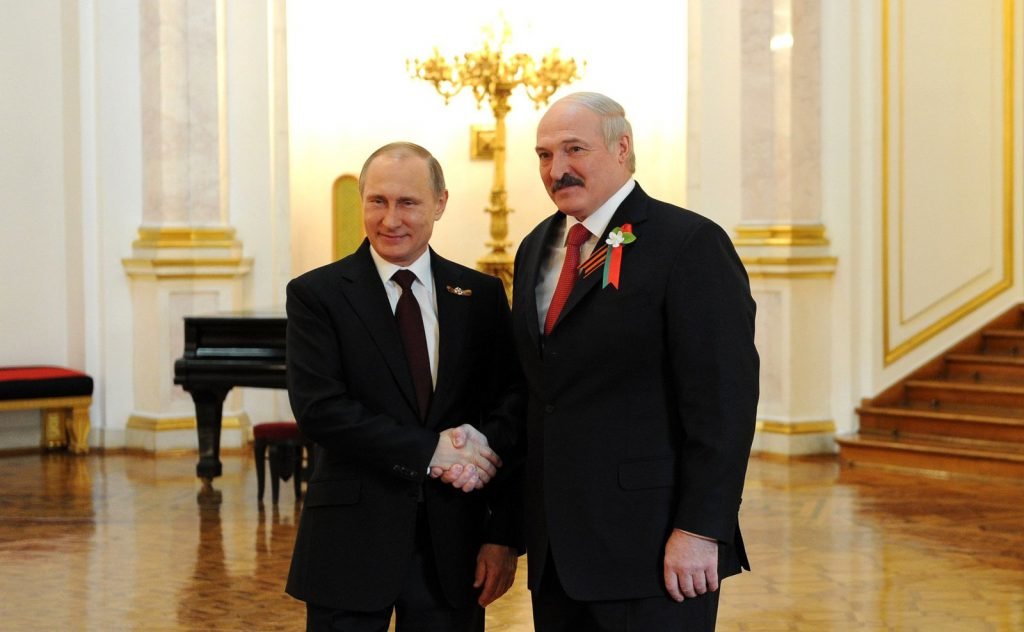 "The chiefs of the General Staffs of the Russian and Belarusian Armed Forces discussed the state and the prospects of bilateral military cooperation and also the pace of preparations for the Slavic Brotherhood joint drills," the Russian Defense Ministry said in a Wednesday statement.
The Slavic Brotherhood military exercise is an annual military training event comprising Russia, Belarus, and Serbia, which began in 2015 — the year following Russia's invasion of Ukraine.
The exercise rotates among the three countries. Last year's iteration took place in Serbia over 13 days and comprised roughly 750 troops. According to the regular rotation that began in 2015, this year's exercise was previously scheduled to take place in Belarus.
Russian Prime Minister Mikhail Mishustin arrived in Minsk on Thursday for talks with Lukashenko, who is planning a trip to Moscow in the near future, officials say.
"You see what is happening in our country. We see what is happening around Russia," the Belarusian news agency BelTA quoted Lukashenko as saying at a meeting with Mishustin.
"We have been forced to respond, seeing NATO's unfriendly steps near our borders," Lukashenko reportedly said.
Russia currently leases two military facilities inside Belarus. This week, the Kremlin said Russia has no plans to add any more bases on Belarusian territory.
"The 'Western agitator' propaganda is beneficial to Lukashenko, but it is hard to see how turning propaganda into action — with all its repercussions — would do anything more than backfire on him," Ponczek told Coffee or Die.
"The biggest risk in all of this is uncertainty," Ponczek adds, "but I don't think Russia or Belarus will risk heightening that uncertainty with a stray tank, bullet, or soldier. Likewise from the NATO side."