KYIV, Ukraine — The US Air Force had a busy day in Ukraine on Wednesday, underscoring a slow but steady uptick in overt American airpower support for this post-Soviet country, which has been locked in a low-intensity land war against Russian invasion forces since the spring of 2014.
A formation of two US Air Force CV-22B Ospreys flew over Ukraine's capital city today, tracing a route along the Dnieper River that went by the Friendship of Nations Arch — a titanium monument built in 1982 to celebrate the 60th anniversary of the Soviet Union. On Kyiv's riverfront, under the shadow of this Soviet-era arch, Ukrainians clapped their hands in celebration as the American military aircraft flew past.
"What an awesome spectacle," said Andrey Kobzar, 42, a Ukrainian army veteran who fought against Russia in eastern Ukraine.
Kobzar, who watched Wednesday's American CV-22B flyover from Kyiv's riverfront, told Coffee or Die Magazine: "My impression was if I suddenly saw the Millennium Falcon. The flight had a powerful psychological and propaganda effect for me. Its main message — Ukraine, the USA is with you."
On social media, many Ukrainians said the event was a statement of US support for Ukraine in its ongoing military confrontation with Russia.
"Congratulations to strategic allies and partners on the confrontation of Russian aggression," said Valery Ryabykh, a Ukrainian defense journalist, regarding Wednesday's flyover.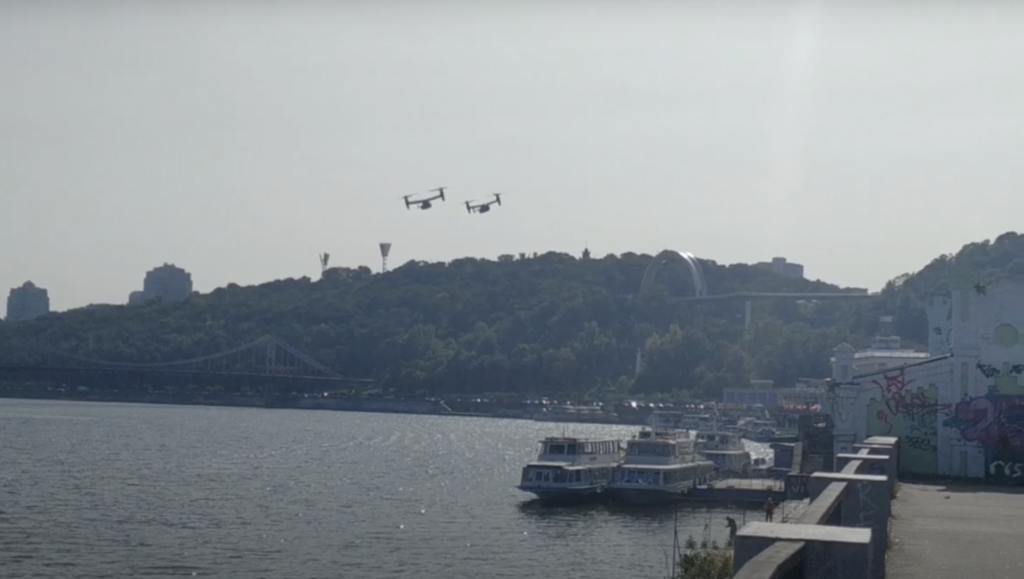 A pair of US Air Force B-52H Stratofortress bombers also flew in Ukrainian airspace on Wednesday, the Ministry of Defense of Ukraine announced, marking the third such flight by America's stalwart Cold War-era bombers this month. The B-52s were escorted by Ukrainian Su-27 and MiG-29 fighter jets, Kyiv said.
"American pilots, in concert with Ukrainian fighter jets, establish collective defense capabilities and provide the United States, NATO member states and key allies [and] partners with strategic and operational capabilities to deter the aggressor state," the Ministry of Defense of Ukraine said in a Wednesday release, referring to Russia as the "aggressor state."
The CV-22B Ospreys that flew over Kyiv on Wednesday belong to the Air Force's 352nd Special Operations Wing, based at Royal Air Force Mildenhall in England. Also on Wednesday, a US Air Force MC-130J Commando II overflew the Ukrainian cities of Kherson, Zaporizhia, Dnipro, and Cherkasy. The MC-130J is a special mission aircraft operated by US Air Force Special Operations Command.
Currently, US military units, including special operations forces, are conducting a military exercise in Ukraine.
The US special operations forces in Ukraine participated in an exercise called Fiction Urchin, which featured static and free fall parachute training. On Sunday, US Army Special Forces and Ukrainian special operations forces conducted a joint fast rope insertion exercise from CV-22Bs near the city of Berdychiv in northern Ukraine. US Army Special Forces operators and Ukraine special operations forces operators also reportedly conducted free fall operations from a US Air Force CV-22B Osprey.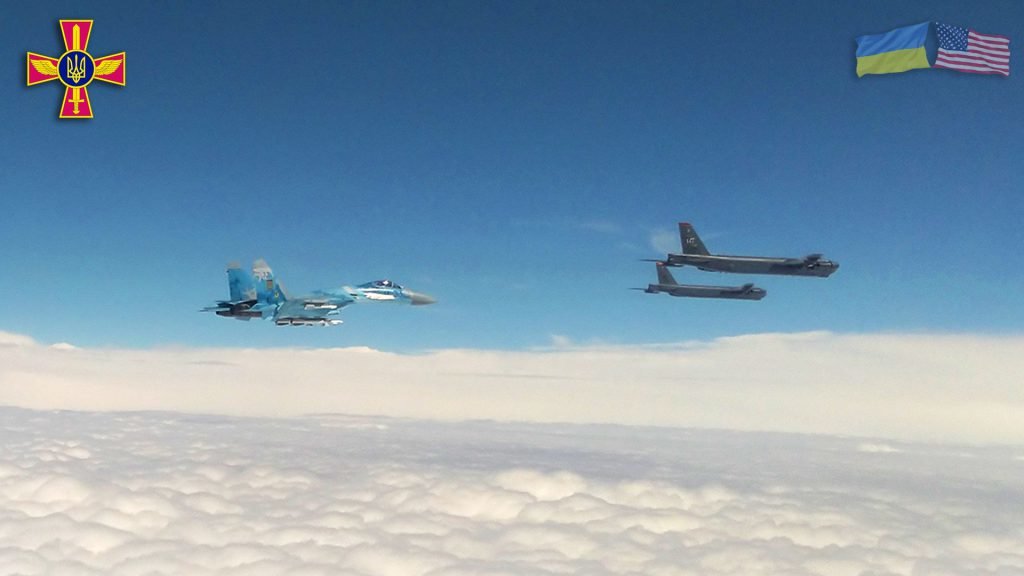 This week US Air Force personnel also supported a simultaneous British military exercise in Ukraine called Joint Endeavor 2020, which included a military free fall operation in southern Ukraine near the Black Sea coastline.
US forces have been training Ukrainian troops since 2015 at a base near the western Ukrainian town of Yavoriv. And US special operations forces from various branches have conducted other training for Ukrainian forces at sites across the country. However, US military forces are not involved in the ongoing war against Russia in the east.
After invading and seizing the Ukrainian territory of Crimea in 2014, Russia staged an irregular invasion of Ukraine's eastern Donbas region in the spring of that year. Following two failed cease-fires, the war has devolved into a static, trench war stalemate.
The war's level of violence has waxed and waned over the intervening years. But fighting never ended. Today, the conflict is mostly fought at a distance along an entrenched, roughly 250-mile-long front line. At some places, no man's land can be a few miles across. At others, the two sides are close enough to shout insults at each other.
Europe's only ongoing land war has killed some 14,000 people and displaced about 1.7 million Ukrainians from their homes.
Kyiv, Ukraine's capital city, is located about 400 miles from the war zone.
"As for the Russians, let them go crazy from powerless rage and fear. Their nightmare — the US Air Force in Ukraine — has already become a reality," said Kobzar, the Ukrainian war veteran.