The more than 25,000 National Guard soldiers that have deployed to Washington, DC, to bolster security for President-elect Joe Biden's inauguration ceremony Wednesday are operating under stringent rules for the use of force.
Coffee or Die Magazine obtained a copy of the "Rules for the Use of Force" pamphlet that all soldiers are required to carry with them at all times as they carry out the mission of supporting local and federal law enforcement agencies "in protecting Congressional personnel and securing the grounds and property of the U.S. Capitol."
The document directs soldiers to "Preserve the peace and allow fellow Americans to peacefully assemble and exercise their first amendment rights," while providing guidance for appropriate conduct and actions to be taken when facing a threat.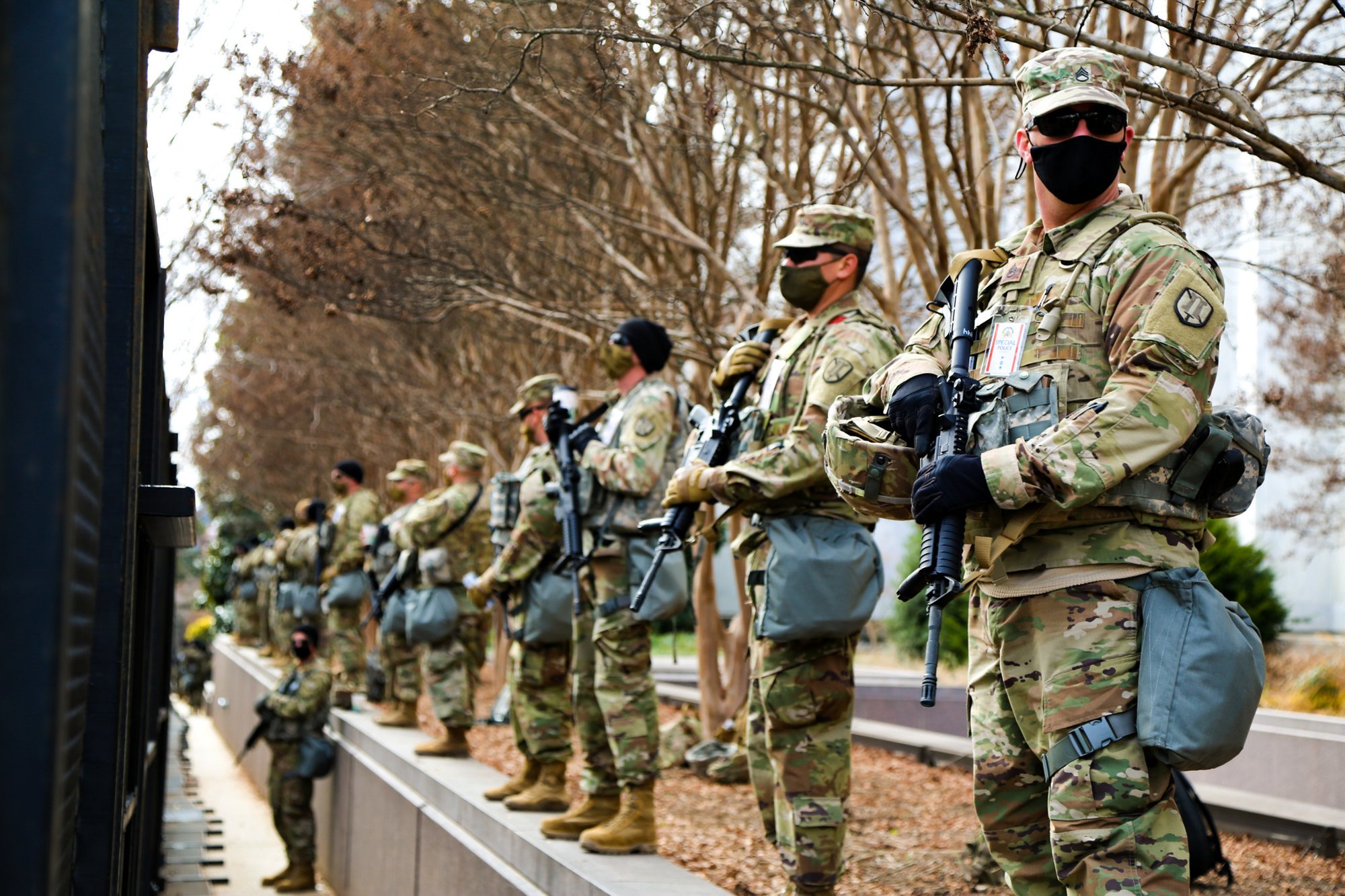 "DEADLY FORCE must ONLY be used in response to a REASONABLE belief of an IMMINENT threat or SERIOUS BODILY INJURY or DEATH to self or others and when lesser means are exhausted or unavailable."
According to the document, soldiers are authorized to carry out the following missions: crowd management and traffic control, establishing security perimeters and static blocking positions, and conducting medical evacuations.
The document specifies that soldiers must "never provoke," "must exhaust ALL other means of response," and "must not increase risk to INNOCENT bystanders." Warning shots are not authorized.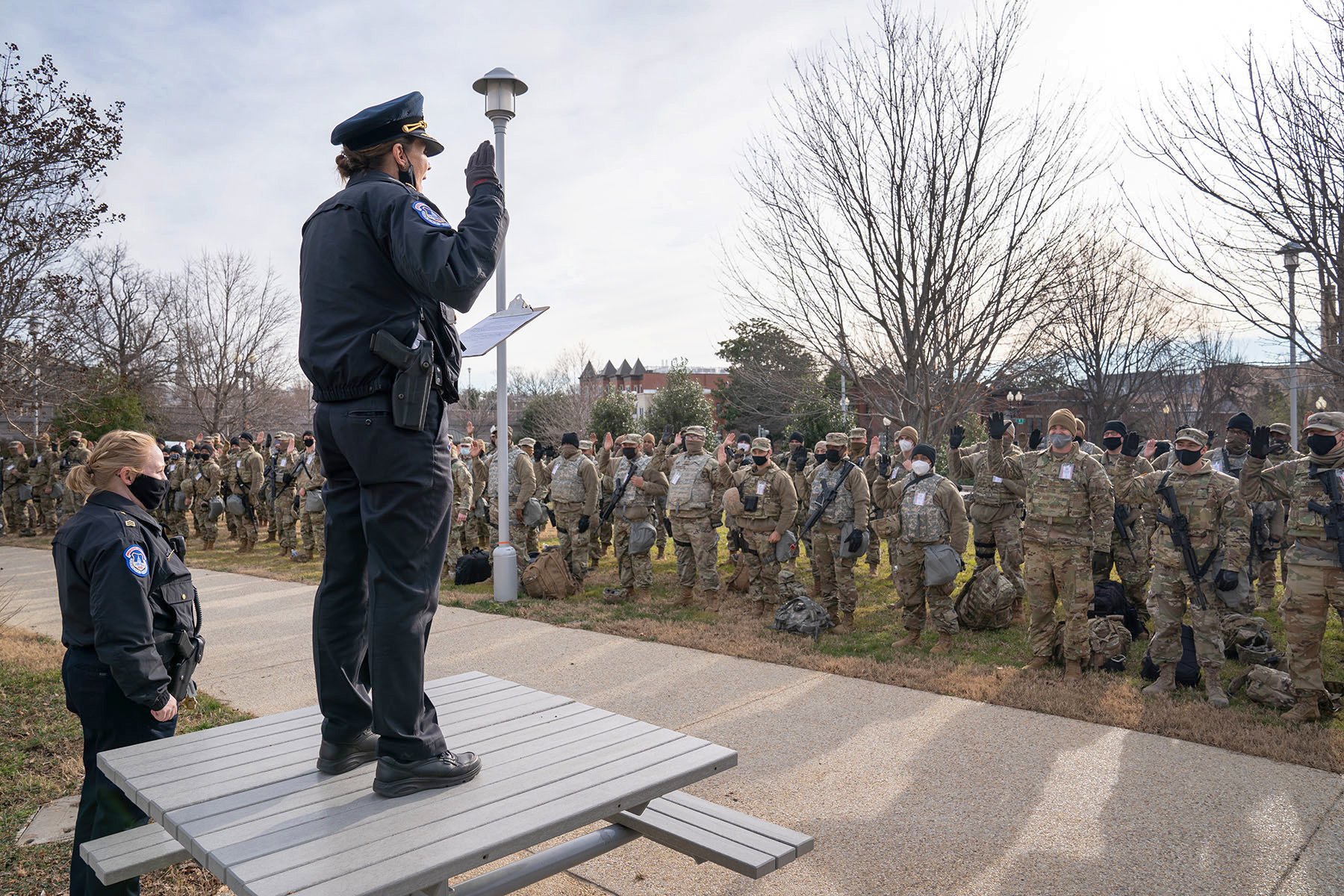 The document instructs soldiers to "NEVER use deadly force" to protect property, effect temporary detention, or stop fleeing suspects, and it provides an escalation of force continuum. Soldiers are instructed to resolve conflicts using appropriate levels of force, starting with verbal commands and proceeding up the escalation continuum to compliance and redirection techniques, authorized less-lethal weapons, and nonlethal physical force.
Thousands of National Guard members have been sworn in by federal law enforcement agencies and given the legal status of "Special Police."
"The US Marshals Service routinely supports US Secret Service and Metropolitan Police Department and their security efforts for presidential inaugurations," Dave Oney, a spokesman for the US Marshals Service told Coffee or Die Magazine in an email. "Additionally, the US Marshal for the District of Columbia customarily specially deputizes thousands of state and local law enforcement officers from around the country to augment security at the event."
Special police must be US citizens and not be subject to Lautenberg restrictions. The Lautenberg Amendment to the Gun Control Act of 1968 makes it a felony for anyone convicted of a misdemeanor crime of domestic violence, such as an assault or attempted assault on a family member, to ship, transport, possess, or receive firearms or ammunition.
Those soldiers sworn in as special police are instructed to "only use reasonable force which is necessary and proportionate to the threat." Those not sworn in as special police "have a modified duty to retreat when faced with force, if possible," the document states.
However, it goes on to say, "Individuals never lose the right to self-defense or defense of others. […] There is no duty to retreat if faced with imminent serious bodily harm or death."