The USO will air its first-ever virtual Fourth of July Concert Special at 12 AM and 12 PM EDT on Independence Day. The special will feature country music icon Clint Black and a variety of USO tour veterans and celebrities who will perform and share messages of thanks to the troops.
The event will include a variety of segments from comedian Iliza Shlesinger, "The Office" actor and musician Craig Robinson, and "America's Got Talent" world champion Shin Lim. It will also include a special nod to American surf music by Mike Love and The Beach Boys, featuring special guest John Stamos.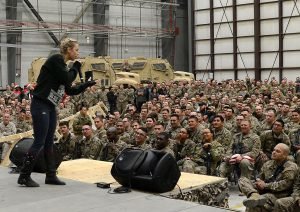 Anyone can tune into the three-hour special, which will be streamed on Facebook, YouTube, and Twitch. It will be the first of a three-part summer series that continues through August with artists such as Florida Georgia Line, The Chainsmokers, and more.
"Providing high-quality entertainment for our military and their families is in the USO's DNA," said Christopher Plamp, USO Senior Vice President of Operations, Programs and Entertainment, in a press release. "With the pandemic, we are still meeting our entertainment mission, reaching thousands of people around the world virtually."
The summer series is a continuation of the USO's Military Virtual Programming, or MVP series, which provides virtual delivery of entertainment activities during the COVID-19 crisis and beyond. Since April 1, the USO's Entertainment division has hosted 30 virtual engagements across 24 countries and 37 states and territories.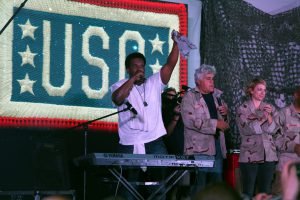 "This concert series is one example of the programming that positions the USO as the premier military entertainment provider," Plamp said. "The concerts will also give the American public an opportunity to express our gratitude as a nation and gain an understanding of the critical ways the USO strengthens the service members and their families."
The concert series coincides with the USO's 10th Annual T-shirt Campaign. The fundraising campaign runs through July.
"At the USO, we focus on being the Force Behind the Forces. This campaign is a way for Americans to join in and be part of the effort to support our military," said Dr. J.D. Crouch II, USO CEO and president, in a press release. "When each of us takes action, the collective impact is tremendous. Donations raised will help the USO continue to provide care, comfort and connection to keep our military and their families strong."