Did you get it this year? Probably not, huh?
If not, then it's now been 35 years that the greatest Christmas gift of all time — the mythical, gargantuan, mega-sized GI Joe aircraft carrier, the USS Flagg — wasn't waiting under the tree for you on Christmas morning.
But on a magical morning in the mid-1980s, it was waiting for Jason Lopez.
Lopez grew up on the northern edge of America in Valdez, Alaska, but at the dead center of Reagan-era Americana. And he remembers vividly the 1985 Christmas morning when the Flagg was under his tree.
"I remember seeing it on the shelves at our local drug store," Lopez remembered. "My grandparents bought it for $149.99. Santa delivered it that Christmas."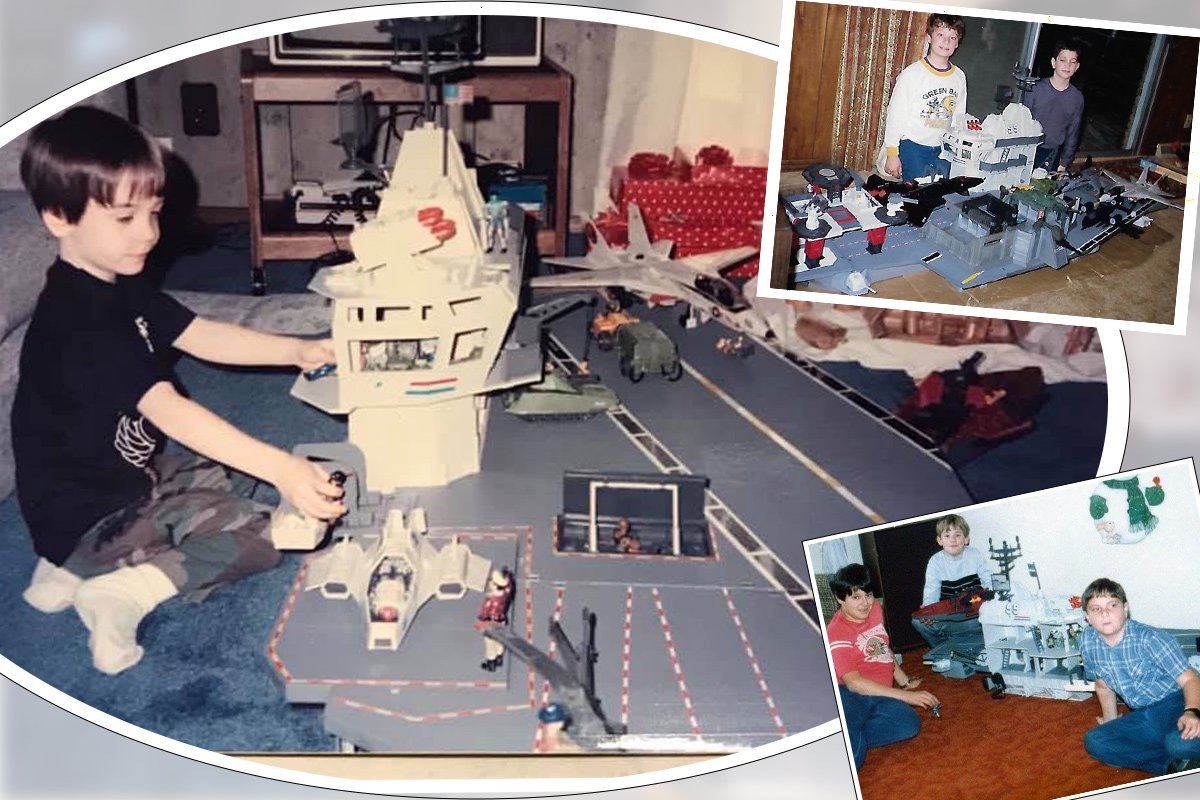 The USS Flagg was sold for only two years in the 1980s, so if you didn't get it in 1985 or 1986, you missed out.
And for many men of a certain age, it still stings a little.
"When I post pictures of it in groups, I get offers, and there are always people that say it is the greatest gift they never got and wish they owned one," Lopez, now an engineer who lives in Anchorage, told Coffee or Die Magazine. "I consider myself very lucky because I know people that have owned it when they were younger and no longer have it."
Lopez's Flagg took several relatives to put it together.
"I remember the build took a long time, and I had my two uncles and dad putting it together," Lopez said in an email. "They placed it on a piece of plywood so they could move it easily. The instructions were a little hard to read, and it came with more stickers than you know where to put. The ship stayed at my grandma's house because they had the space for it."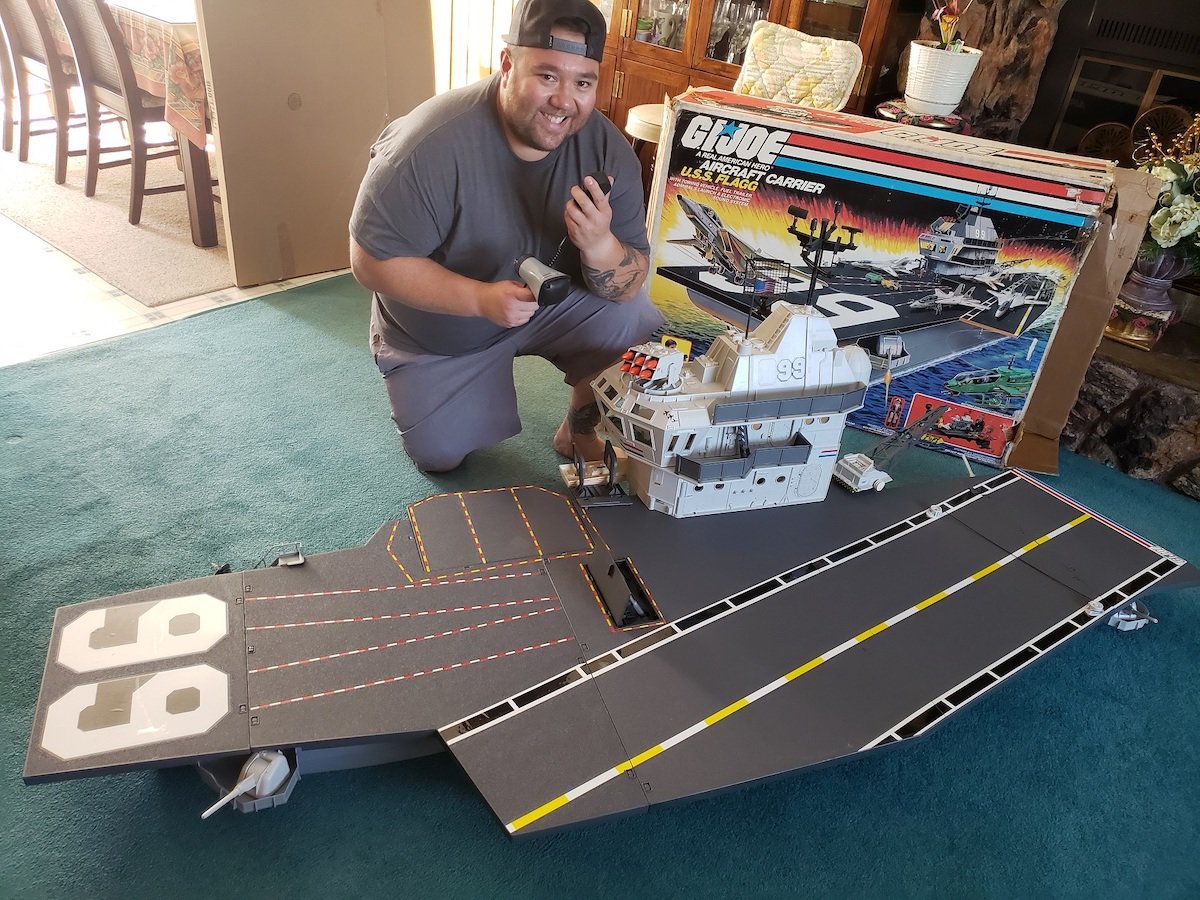 Among the lucky few who did get a Flagg for Christmas, the stories usually cover the same ground: Whether in the box or already assembled, it was bigger than all the other presents that year put together. It might have been bigger than the tree. It was certainly bigger than any kid.
But for those who didn't get one, the Flagg cut a deep wake of disappointment across the 1980s. And each year when Christmas comes around, echoes of the trauma pop up online. There are Reddit threads, like Searching For The U.S.S. Flagg: The Toy I Never Got For Christmas. There are mournful memes on social media. There's an almost bottomless hunger on toy collector groups. On GI Joe collector site Yo Joe!, the member-voted list of "25 Most Wanted" list is mostly rare action figures like Cobra Commander and the original Snake Eyes, but No. 1 on the list is the Flagg (the Flagg's commander, Keel Haul, is No. 4).
There are poignant personal essays about not getting the Flagg (and then breathlessly seeing one in person as an adult) and about how getting one became a permanent monument for a down-on-his-luck father's love for his son.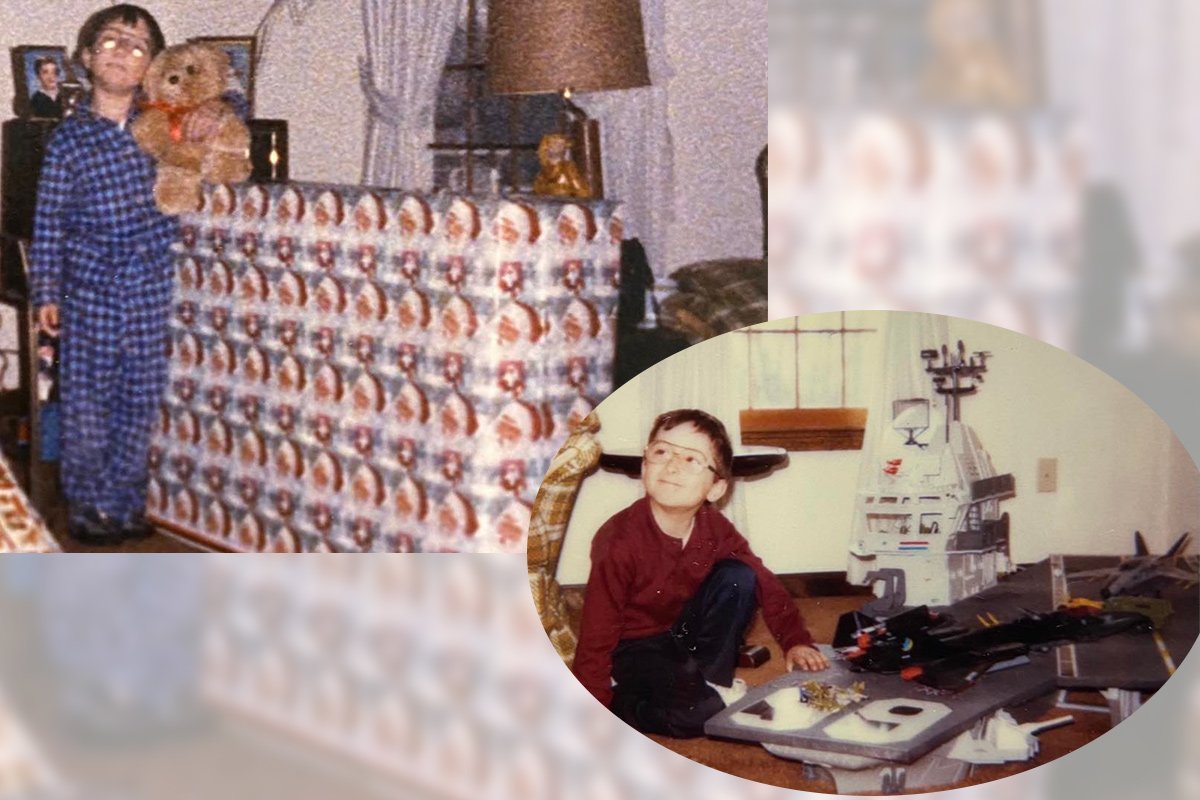 A private Facebook group dedicated to the Flagg, dubbed "The Admiral's Club," has more than 730 members. At a collector's store in Texas, Dallas Vintage Toys, a recent buyer left a typically gushing note:
"Thank you, Scott for selling THE HOLY GRAIL OF MY CHILDHOOD. My friend had this growing up. I never in my wildest dreams thought I'd ever own one. Thank you for making my dream come true."
For those who remember GI Joe as a central part of childhood — along with those who today dabble in the increasingly lucrative toy-memorabilia world — there's never been another toy like it before or since. Produced by Hasbro, the Flagg was the flagship of the GI Joe action figure series, a wildly overengineered shell of plastic that, even today, seems too big and decadent to have actually ever existed.
Measuring 7 feet, 6 inches long, the Flagg was longer than these other 1985 icons:
The Flagg came with more than 120 pieces that required three pages of assembly instructions covering 31 steps. Once built, there were more than 200 stickers and decals to attach, which came on five more pages.
The Flagg does not roll, slide, or float.
It simply sits there in its own awesomeness, a gray and dark gray monolith to Reagan-and-Carl-Lewis-fueled '80s American hegemony and projection — but for kids.
No Christmases were riper for a Super Toy than those of the mid-1980s. Those were the last years of the era when huge, solid toys were king, at least among those aimed at boys. Modern Christmas is at least partially owned by media: online video games, streaming subscriptions, phones, tablets, VR goggles.
None of that was under American Christmas trees in the mid-1980s. Compact discs were first sold in 1982 and would not overrun the music business until 1988. VHS movies in the mid-'80s were expensive, usually rented rather than bought, and DVDs were years away. Early video games existed, but the era of ubiquitous Nintendos and Playstations was a decade away.
But action toys, and particularly action figures aimed at boys, were at a blazing peak. Hasbro had enjoyed success with a 12-inch GI Joe figure in the 1970s, conceived as a Barbie for boys. Then in the early 1980s, rival toy company Kenner stormed the toy market with 3.75-inch Star Wars action figures. Hasbro brought Joe back to life in miniature form to, well, fight the next war.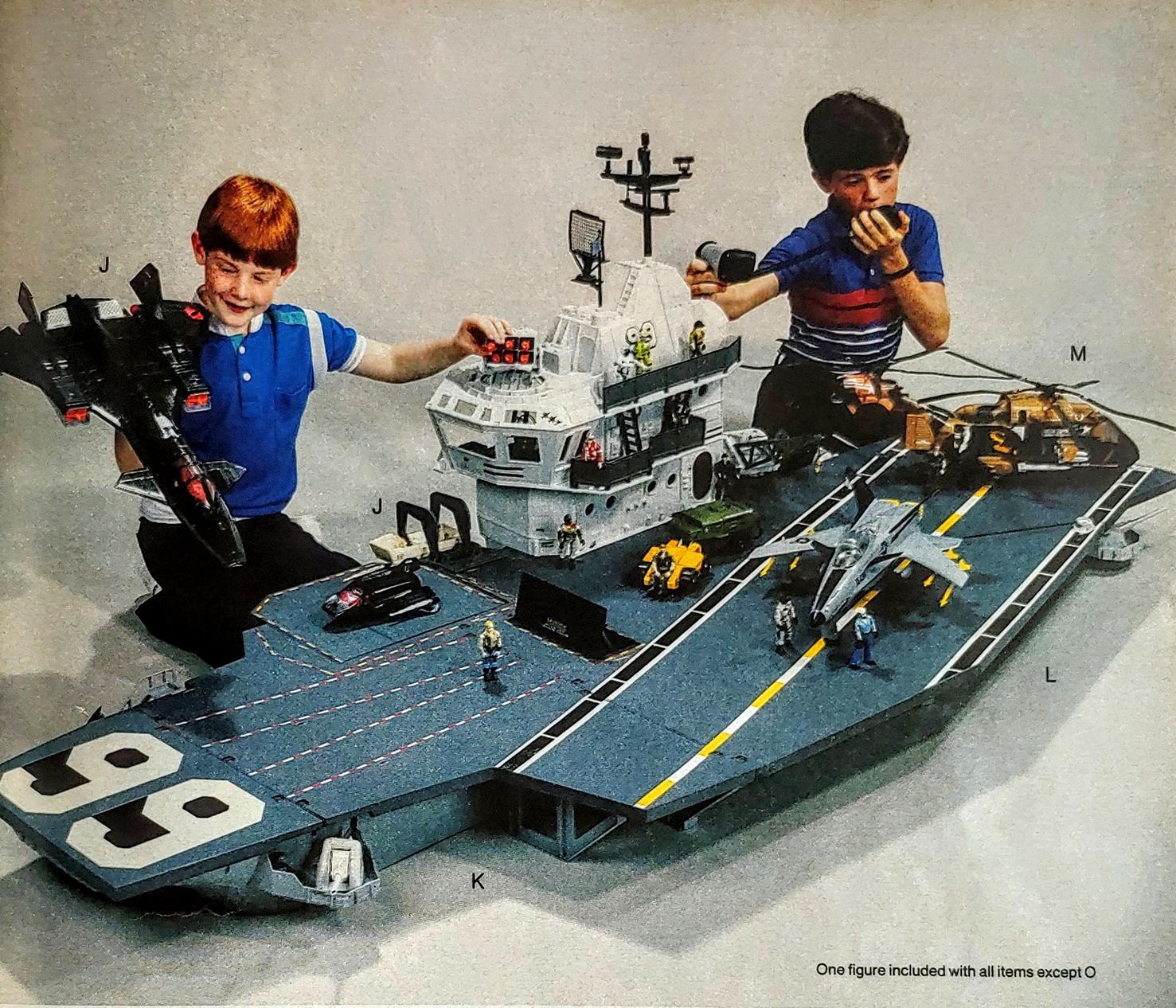 The war lasted the whole decade, as Joe and the Star Wars empire battled for dominance under Christmas trees. For every Han Solo, there was a Snake Eyes. For every X-Wing, a Skystriker. And to answer the massive Millennium Falcon, AT-AT, and Death Star play sets, there was the Terror Drome, the Defiant space shuttle, and — the backbone of the fleet — the USS Flagg.
According to the Netflix documentary series The Toys That Made Us, Hasbro's key insight was to make "GI Joe" not the name of the man as the '70s toy had been — named for a third-rate World War II movie — but the name of a team. GI Joe was a fighting force. And a fighting force needs vehicles.
And the vehicles, according to one of Hasbro's lead designers, were the real moneymakers.
"A lot of people didn't get the fact that the vehicle, that's the main profit margin," designer Larry Hama told the Netflix series. "The action figures themselves are almost like loss leaders."
And of all the vehicles, the USS Flagg was the biggest the GI Joe team ever dared to dream. It was out for just two years, and stories of Flaggs sold at clearance prices in the 1980s are common. Collectors are still unearthing them in sealed boxes. "That's the holy grail," said Michael Dickson, a golf pro in Frederick, Maryland, who makes extra cash in the off months buying and reselling GI Joe and other collectible toy lines.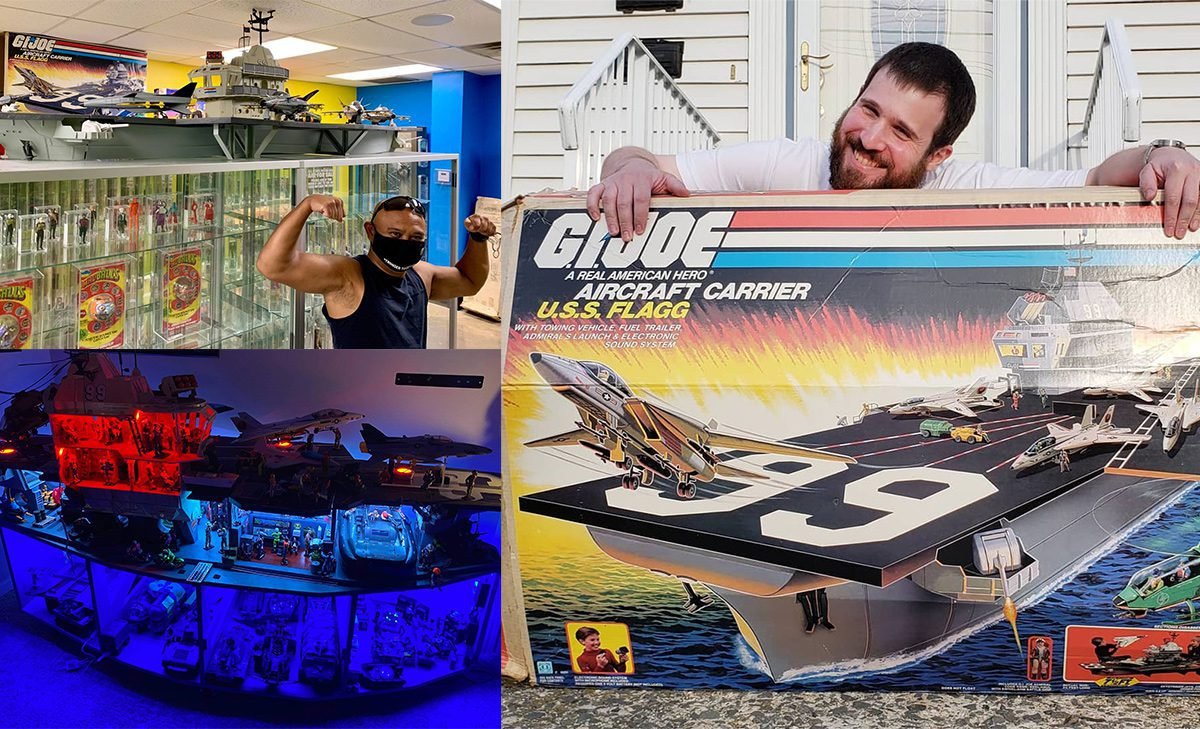 On Facebook trading groups, a Flagg in good shape can expect to get at least $1,500, more if the ship retains a few often-missing pieces, like Keel Haul's pistol, the 14 tiny clips that hold the deck in place, or a railing on the fantail so nondescript that many original owners mistook it for scrap. The market is so hot right now for Flaggs that Dickson said he knows a collector who sold an original box — nothing inside, just the box — for $500, even though it had a large rip across the front. He said he's seen pristine boxes fetch $1,000.
Many collectors attribute the surge in Flagg-stalgia in recent years to the isolation and indoor world of COVID, while others cite the jump in "disposable" income that a generation of '80s-kids now have after a decade of booms in the stock market and real estate.
But maybe it's easier to explain.
Dig into most Facebook groups or Reddit threads about the Flagg, and just below the wailing about not getting one in 1985, are dozens of pictures — bright, digital phone pics — of the giant aircraft carrier surrounded by babies and beaming little kids.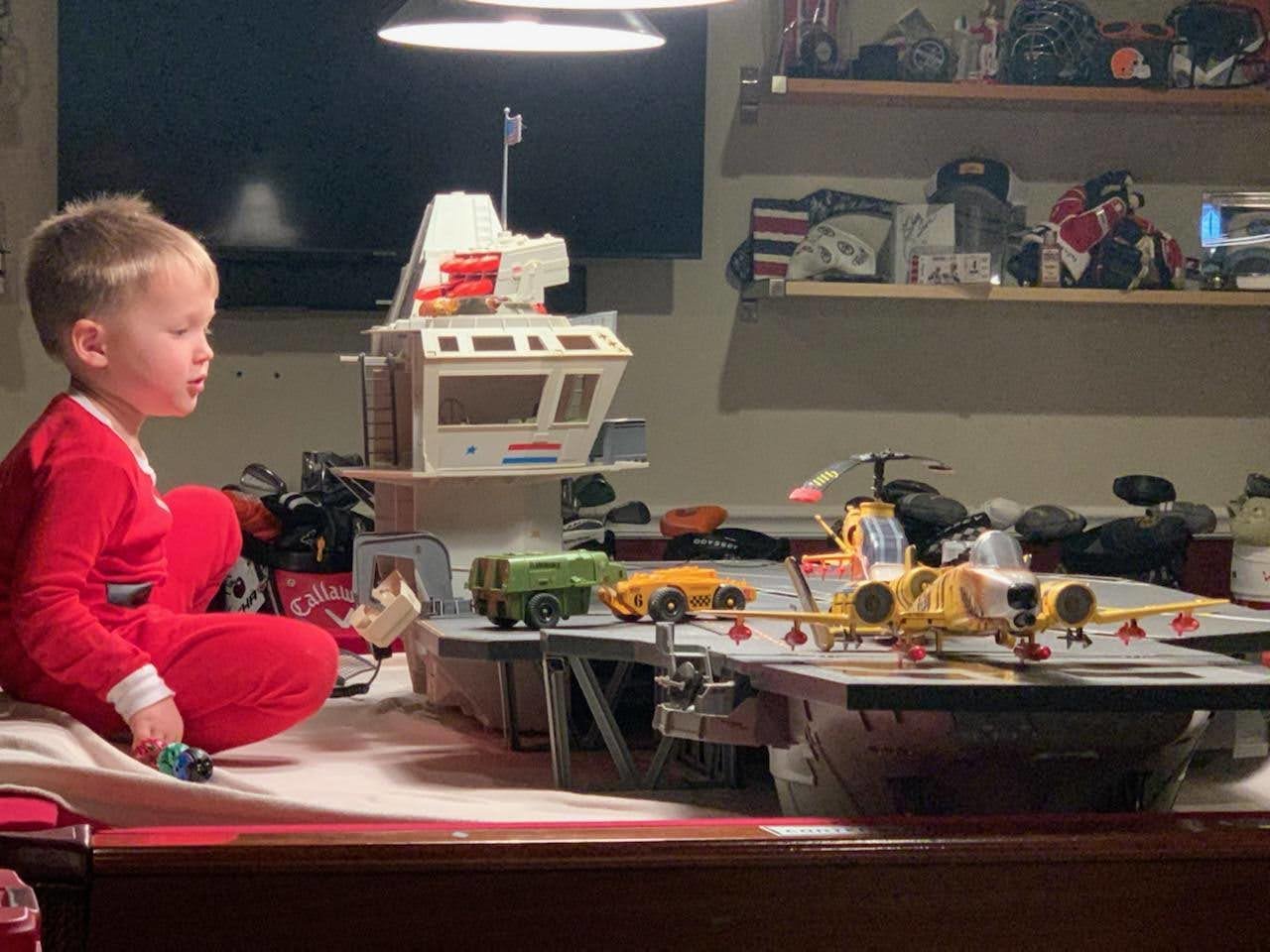 Dickson was one of the lucky kids who got a Christmas Flagg in 1986. Though he recently listed one on eBay for $4,500, his original Flagg now sits on his pool table and, he said, is not for sale.
"My 8- and 5-year-old are all about it," he said. The 1980s' greatest toy, it seems, is passing to a new generation. "I got a note from a man that said, 'I was wondering if you'd take pictures of the directions. I just bought one for my grandson and can't figure out how to put it together.'"
In Alaska, Lopez kept his Flagg out for about a year until his grandmother's desire for room in her house finally exceeded his interest in playing with it.
"My uncles disassembled it and put everything back in the box, and for the next 30 years it resided in the backyard shed," he said.
But then, in 2017, Lopez had a daughter, Diana. Now he found himself on the other side of those Christmas mornings.
"We found it in the shed and wanted to open it up and check it out. Lo and behold, after all these years, the set was 100% complete, and the box held up," Lopez said. He took pictures of Diana, then 1, sitting on the deck. His twin boys, Jack and Archer, will soon get their turn. "They will get this passed along to them when they are a little older."
Read Next: