WASHINGTON — Health and Human Services Secretary Alex M. Azar II said that key officials with Operation Warp Speed report that 20 million doses of the COVID-19 vaccine could be distributed this month.
Azar was joined for a media briefing by Army Gen. Gustave F. Perna, chief operating officer of OWS, and Dr. Moncef Slaoui, chief advisor to OWS.
"We are planning to be ready when [an emergency-use authorization by the Food and Drug Administration] is approved; and when the EUA decision comes [through], distribution to the American people becomes immediate within 24 hours. That's our goal. That's what we're striving for," Perna said.
According to published reports, the drug maker Moderna announced encouraging results from a study of its COVID-19 vaccine on Nov. 30, noting that complete data from the large-scale study showed its COVID-19 vaccine to be 94.1% effective. The drug manufacturer said it has applied to the FDA to authorize the vaccine for emergency use, while two other companies also have filed emergency-use authorization applications with the FDA.
"On top of that, more OWS-supported candidates are well on their way in that final phase of clinical trials," Azar said. "[The] FDA has scheduled a meeting of its vaccine advisory committee to review the Moderna vaccine on December 17 following their meeting on the Pfizer vaccine on December 10. We also learned this morning that the United Kingdom has granted authorization to the Pfizer vaccine," he added.
If all goes well, the secretary said, OWS can make its first shipments of the vaccine to states this month.
"Of course, we're all eager to have enough supply to vaccinate every American who wants it. And because of Operation Warp Speed, we expect to be at that point in the spring," Azar said.
Having substantial quantities of a safe and effective vaccine that's been authorized by FDA before the end of the year is a remarkable achievement, the secretary said, adding that the vaccine will start saving lives very soon. The Centers for Disease Control and Prevention's advisory committee on immunization practices has issued recommendations to OWS leadership on how vaccines can be effectively and equitably distributed.
These recommendations will now be used by states to develop the best prioritization system for their residents, Azar said.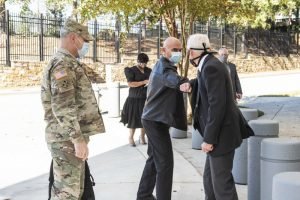 "As we approach the vaccine rollout, we're also continuing to expand access to treatments for COVID-19," he said, adding that, as of this week, OWS has distributed more than 157,000 patient courses of two authorized antibody products across the United States and allocated a total of 205,000 courses for delivery to states.
OWS wants to encourage all Americans to spread the word about the availability of COVID-19 treatments, Azar said. "Vaccines will only bring this pandemic to an end if enough Americans choose to take these vaccines. We now have highly promising efficacy data that I believe many Americans are encouraged by and excited about."
Azar also pleaded with those who have recovered from COVID-19 within the last three months to donate plasma.
"We need you to donate plasma," he said, noting that more than a quarter-million courses of convalescent plasma have been used on Americans to help prevent severe consequences from the deadly virus. He encouraged potential plasma donors to contact their local American Red Cross or blood bank or go to coronavirus.gov for more information.
Slaoui emphasized that it's important for all Americans who get the Moderna or the Pfizer vaccine to come back three or four weeks after their initial vaccine to get their second dose in order to complete the immunization schedule.
Fortunately, he added, the investments OWS has made in scaling up allows OWS to feel confident that it will be able to distribute 20 million vaccines in December, followed by 60 million doses in January, and 100 million doses by February.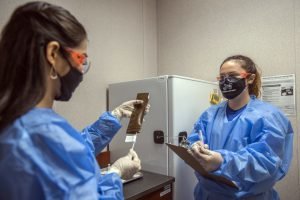 "So between mid-December and the end of February, we will have potentially immunized 100 million people, which is really more or less the size of the significant at-risk population," comprising the elderly, health care workers and firstline workers, Slaoui said.
Perna said OWS has provided 64 jurisdictions – which comprises 50 states, eight territories and six mega cities–plus five federal agencies — with their allocations of the vaccines that are going to be available this month.
Azar encouraged Americans to talk to their health care providers and visit the CDC website to learn more about the vaccines being developed and the processes they've gone through.
"These vaccine products will be assessed with the same rigor that Americans can expect when it comes to any other vaccine or drug that is reviewed by the FDA."
Perna also encouraged Americans to educate themselves about the vaccines and the approval process.
"Don't allow one headline to determine what you're going to do. There's so much available information. And I just encourage everybody, as individuals, as a community and a part of our great nation, to really inform themselves and then make the decision that is best for you and your family," he said.