This article was originally published May 5, 2020, on Free Range American.
Sitting in a mobile chair that bore more resemblance to a tank than a wheelchair, Paralympic athlete and Army veteran Lia Coryell drew back her compound bow. The meadow was briefly silent, save the occasional chirping of birds and rustling of live oaks. Narrowing her eyes and pinching her lips together, Coryell held impossibly still. Then she let the arrow fly. A moment later, a satisfying thwack sounded in the distance.
It hit the foam bear in the paw, well outside the target. Coryell, a member of the US Paralympic Team since 2015, laughed delightedly, tossing her gray curls back as she joked, "It's a para-bear."
Coryell's laugh was as ubiquitous as the birdsong and breeze during the second annual Veteran Adaptive Athlete Shoot, or VAAS. Lush trees gave plenty of cover for the 15 life-size foam animal targets set out over a roughly 1.5-mile course on Black Rifle Ranch, just outside of San Antonio.
"The intent of this is to inspire people to go out and do epic shit together," Black Rifle Coffee Company CEO Evan Hafer told the crowd of athletes and spectators as the event kicked off on the drizzly mid-April morning. The first veteran adaptive shoot, held the previous year in Utah, was inspired by the Total Archery Challenge, a multiday 3D archery experience that tours the United States each year. BRCC developed its own version specifically for wounded veterans.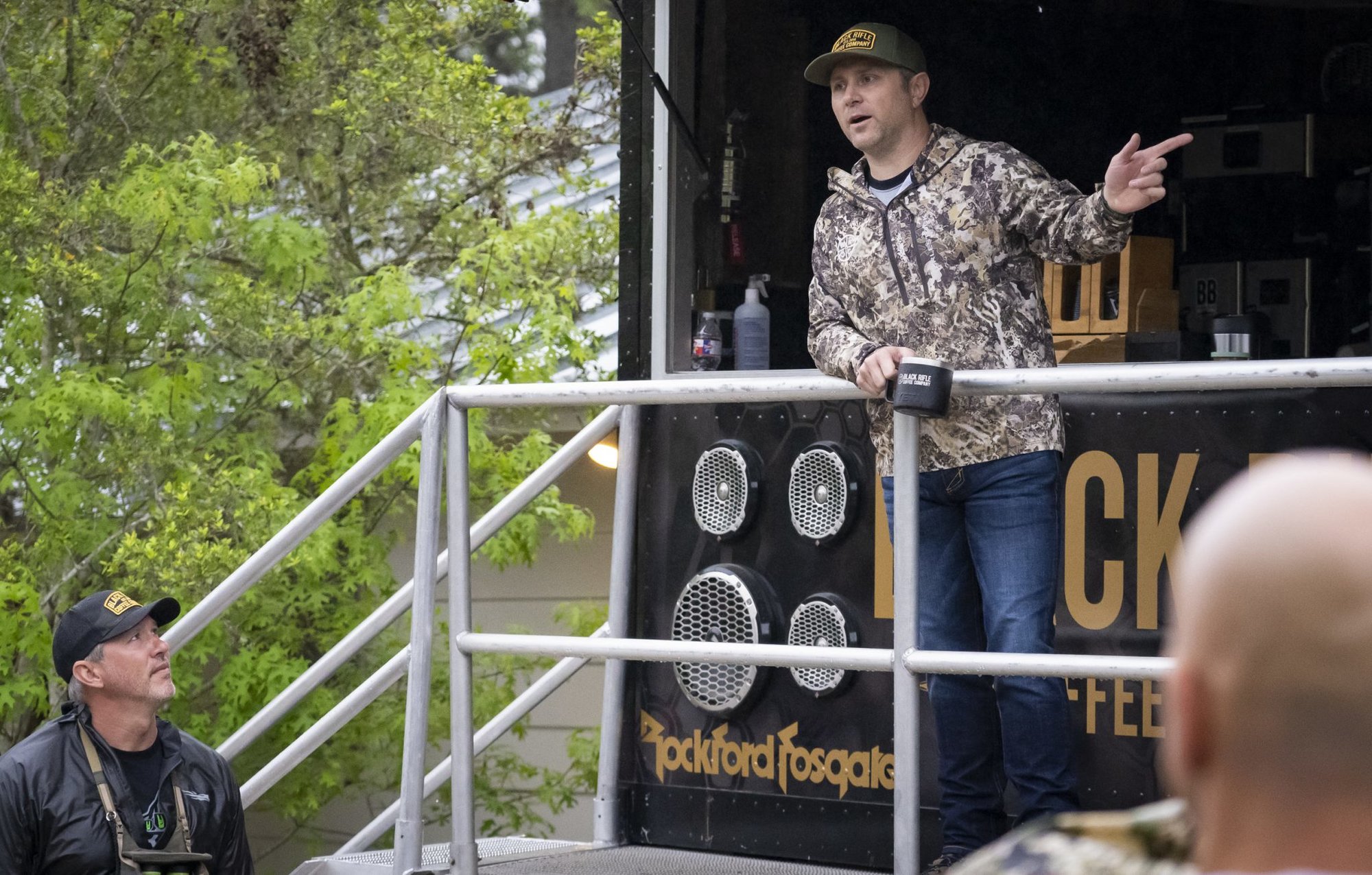 While the inaugural event was tailored to novices, VAAS 2021 brought out more experienced shooters, equipped with their own bows and techniques.
Army veteran Jonathan Lopez, who lost his arm when he was hit by a drunk driver while home from deployment, tucked his bow against his chest and right bicep, bit down on the mouth tab secured to the arrow's nock, straightened his right arm, and pulled back the drawstring. The one-armed style has made him internet-famous and inspired athletes of all ages.
Eric "Trainwreck" Burkett, a Marine Corps vet and one of Coryell's Paralympic teammates, walked across a patch of rugged terrain before lowering himself into his wheelchair for more stability. Brightly colored rubber bracelets encircled his right prosthetic leg — souvenirs gathered from his travels. The previous night, a stranger he met outside his hotel gifted him the newest addition: a beaded bracelet bearing an evil eye charm meant to ward off negative energy.
"The evil eye needs protection from me," Burkett growled.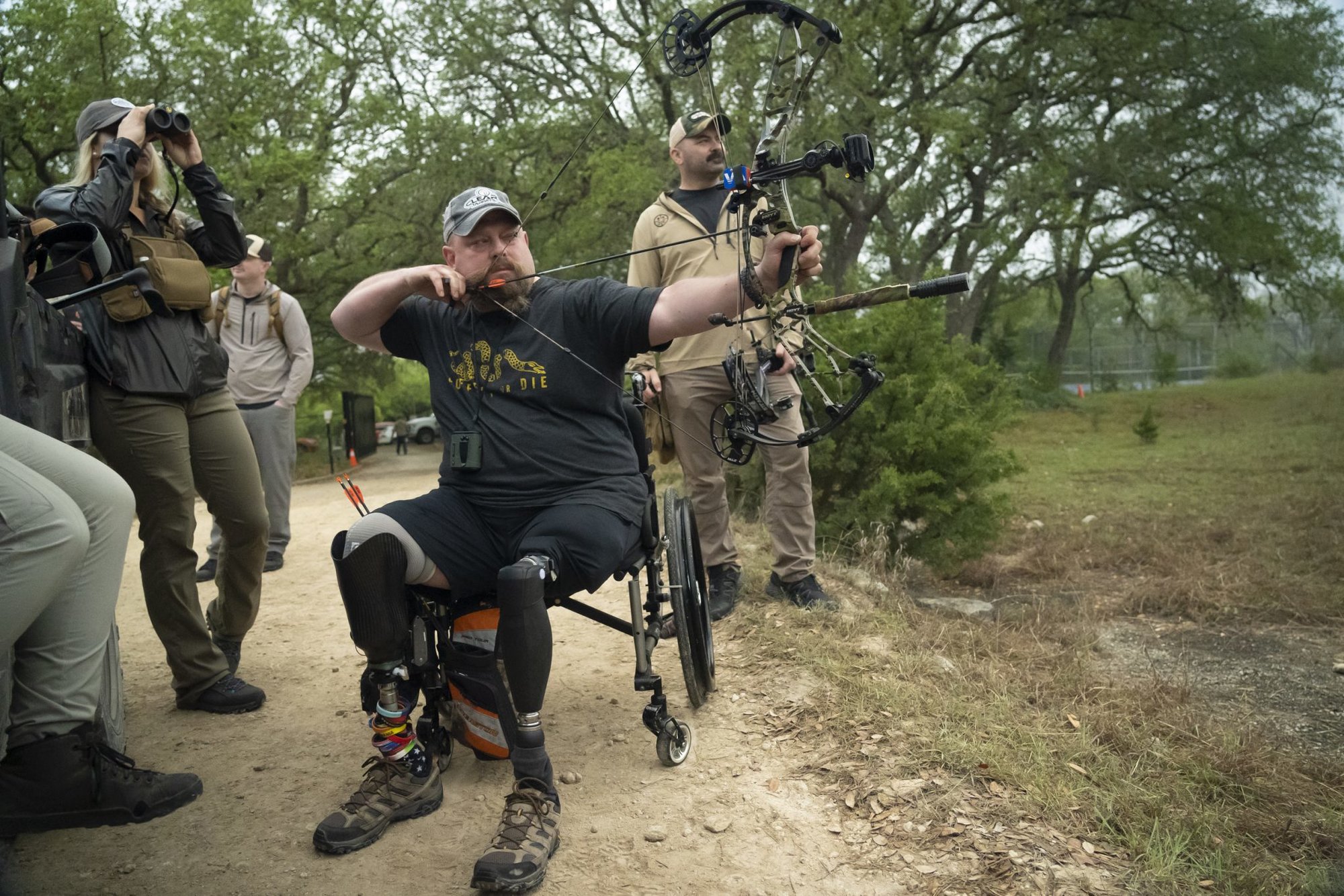 Brushing the fletching of his arrow against his ginger beard, Burkett stared down his target with a fierceness that comes from decades of experience, as well as catastrophic hardship. For so long, shooting his bow was one of the only ways to take his mind off losing his legs after a MV-22 Osprey crash in 2012. It also allowed him to reconnect with other people.
"When you go and train and practice or just goof off with archery at a public place, there's a common passion," he said. "Able-bodied people who aren't used to seeing busted-up dudes can get past the busted up because you have this common enjoyment in archery."
Now, flanked by able-bodied people, Burkett closed his left eye, steadied his shot, and released the arrow.
"Spine," said BRCC charitable giving manager Tyr Symank after a pause, peering through binoculars at the 60-yard foam animal.
"Tall?" Burkett said in disbelief.
"Yeah. Do it again," Symank said.
While the adaptive event is not a competition, onlookers wouldn't know that from the amount of smack talk volleyed between the five teams.
"You get more points if you hit the target," one person heckled UFC Hall of Famer Royce Gracie on the practice course.
"What if I choke the target out?" Gracie fired back.
The fighting legend, who is relatively new to archery, said he had a great time sharpening his skills and hanging out with veterans, even if the other participants picked on him relentlessly.
"They're bullies," he said with a laugh.
The razzing was a sign that everyone was getting along as they walked — and rolled — from target to target.
"I love it," Army veteran and US para-archer Jason Tabansky said. "We motivate each other to shoot good." And when someone shoots poorly? The other participants let them know, and keep letting them know.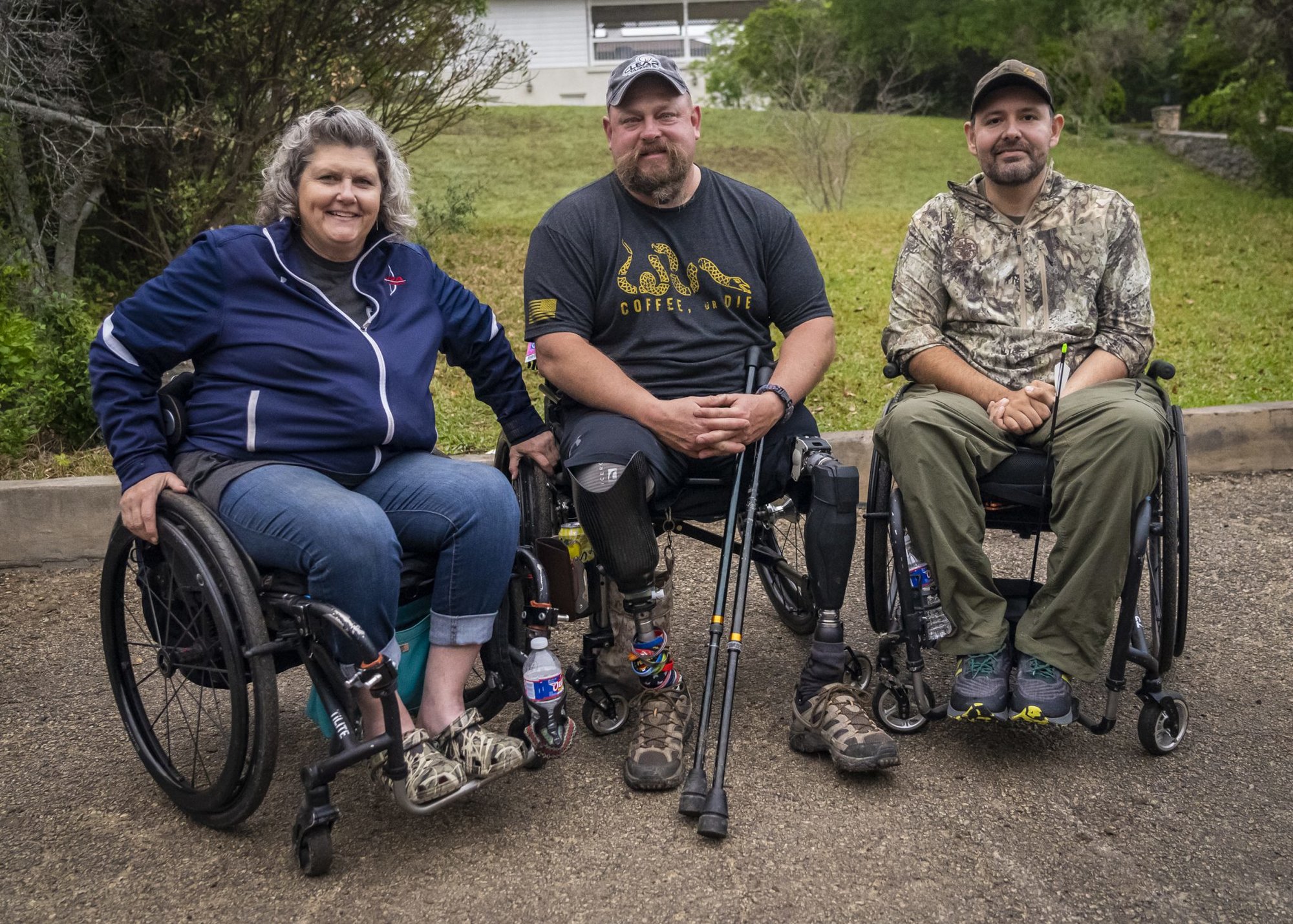 Tabansky was shooting the course for a second time, having previewed it weeks prior to help BRCC make sure it was wheelchair accessible. He's been paralyzed since 2015, after a freak accident in which he slipped and fell while climbing down from a Chinook helicopter, initially seemed fine, then woke up unable to move three days later. A bout with strep throat had left an infection lurking in his neck that, coupled with the fall, paralyzed him in a stroke of fate Tabansky described as "just really really random."
Drawing on limited bowhunting experience, he got back into archery the next year and has competed with the US Paralympic Team since 2018. It has allowed him to travel the world again and meet new people, like at VAAS, where he fit right in with the brash attitudes and off-color humor.
"This was the atmosphere I've grown up around in the military," he said. "So it just makes it feel like home."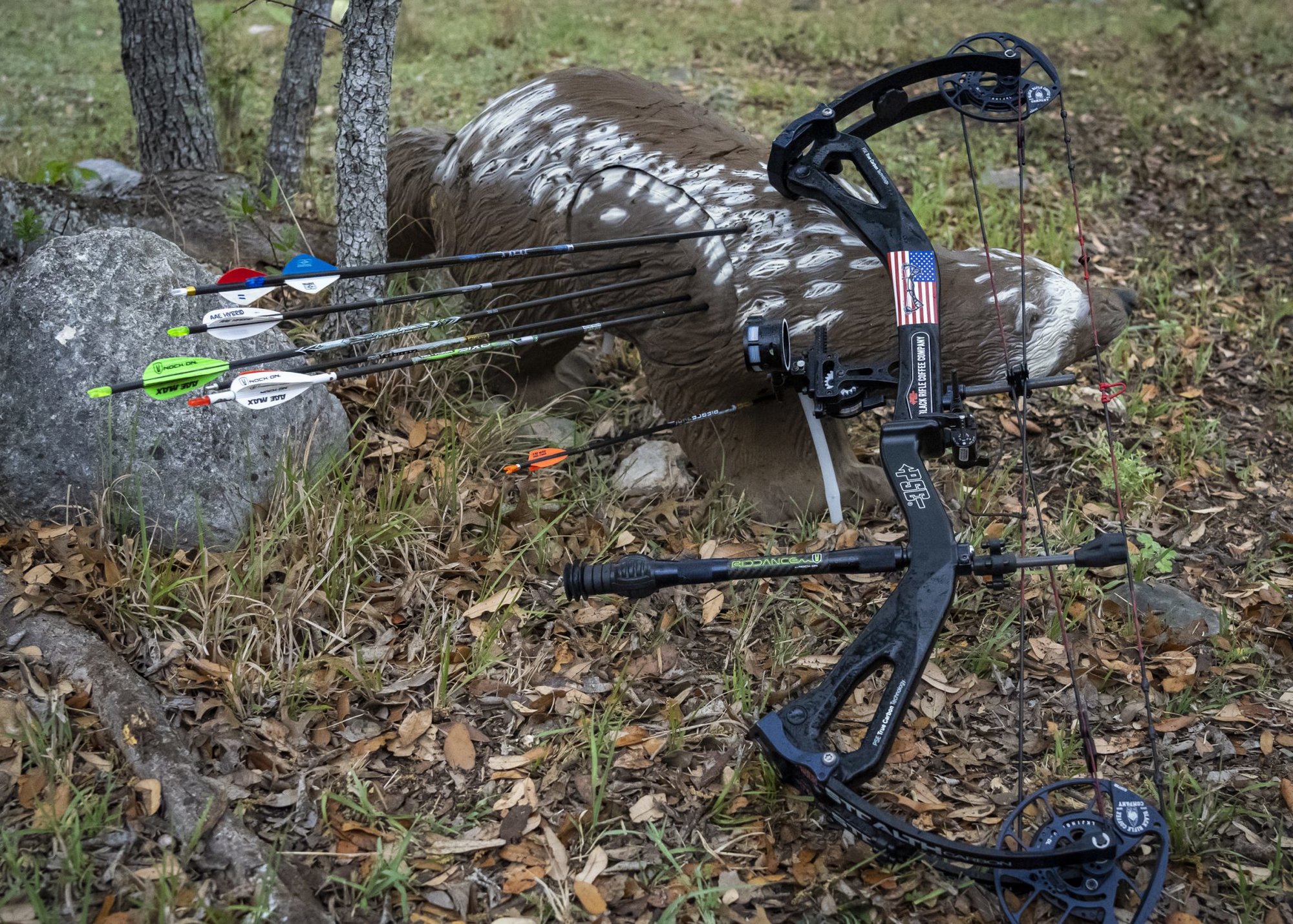 Coryell, whose progressive multiple sclerosis forced her into a wheelchair several years ago, said she appreciated how no one at the event treated her like she was broken.
"I have gone to other archery events that were not like this, and people assume that I don't know anything about archery," she said.
As she gears up for her second Paralympic games, shattering people's assumptions is Coryell's biggest flex.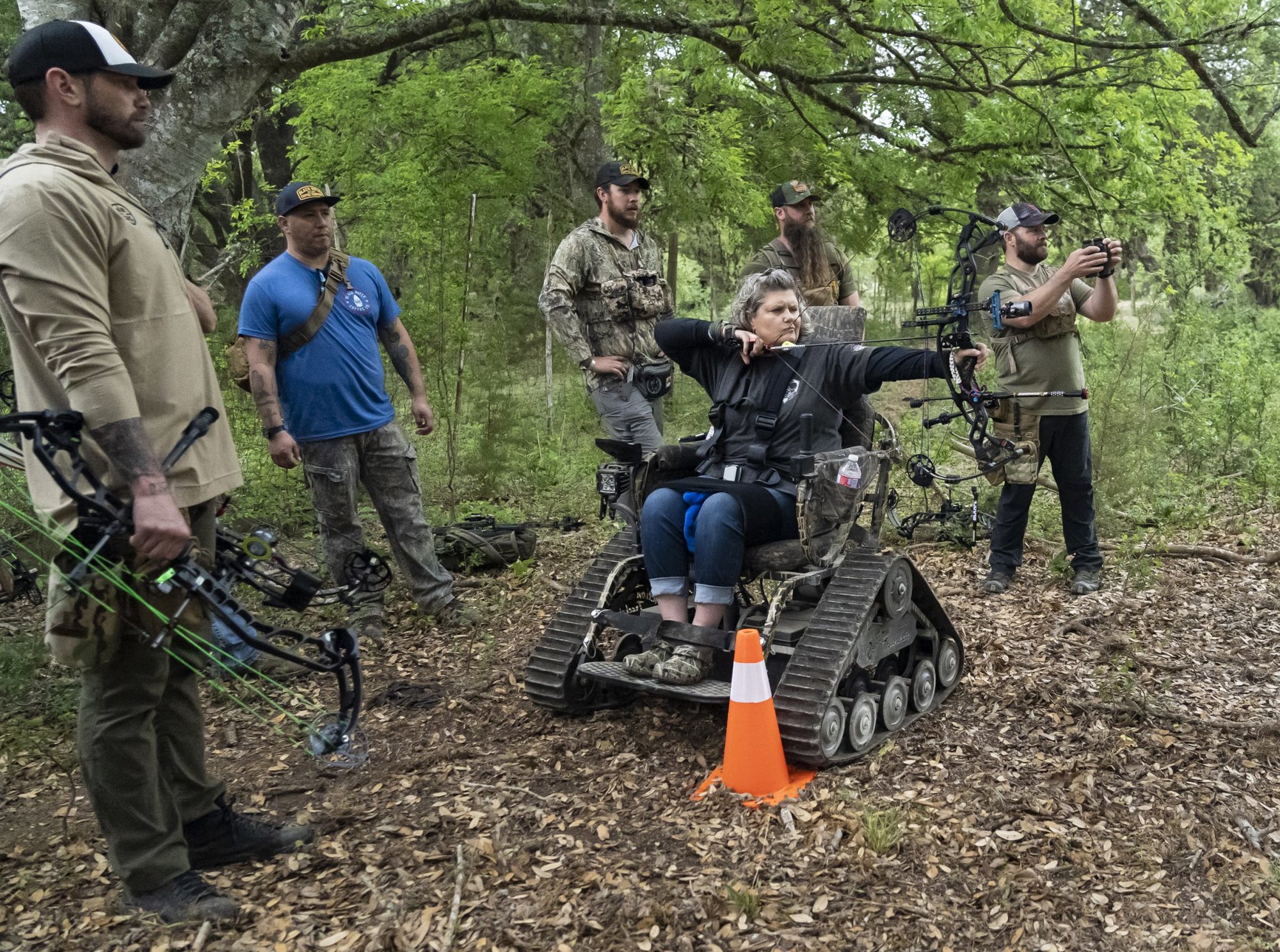 Her name hit a celebrity level throughout the day as fellow archers and onlookers asked one another if they'd seen Coryell shoot. She was a star.
"People see an older, chubby lady in a wheelchair, and I'm fucking brilliant," she said. "And they have no idea what just happened."
"I can confirm that," another participant chimed in.
At times the event resembled a peculiar reunion; whether through the military or archery, everybody knew somebody.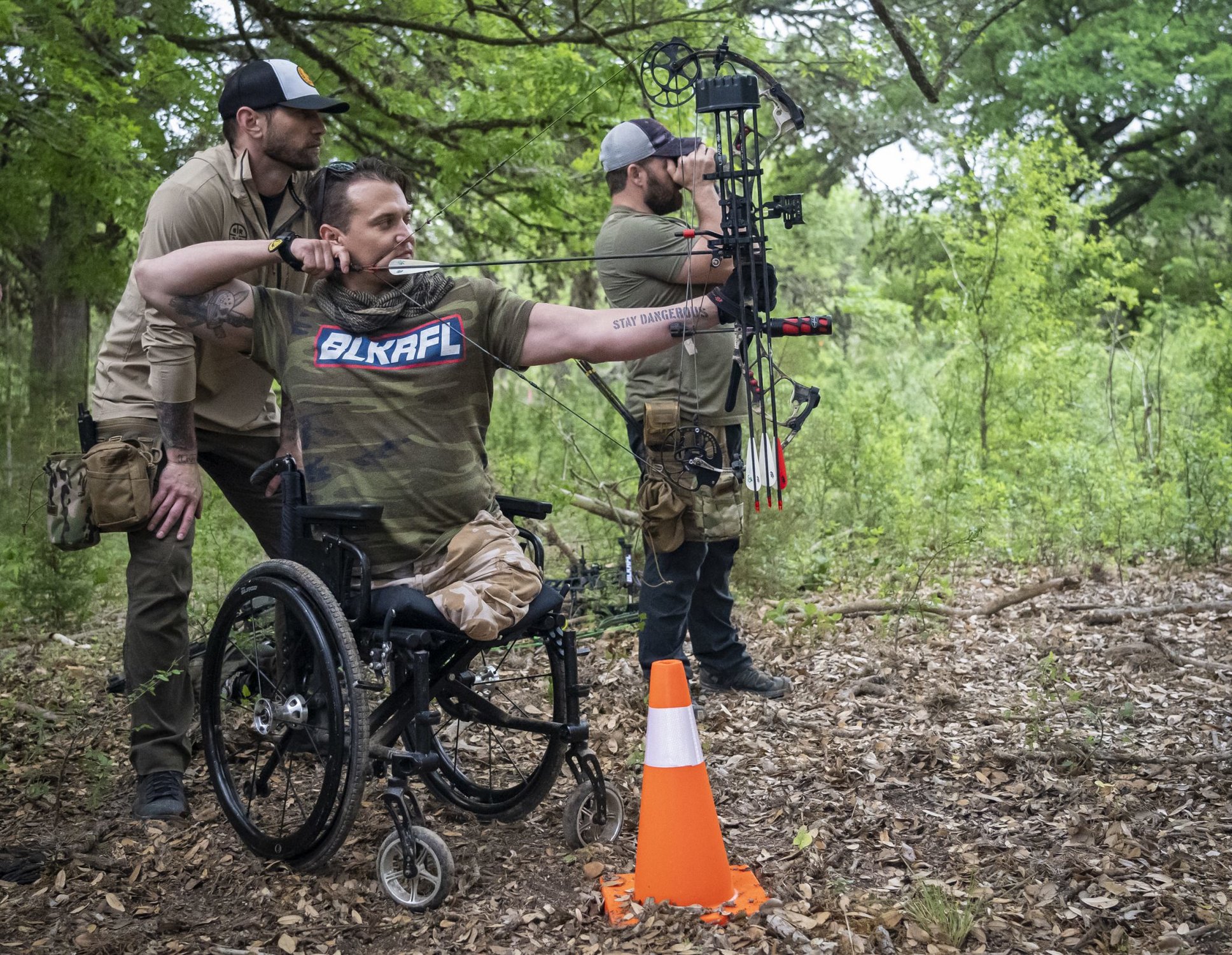 Plenty of new friendships were forged too. Gracie hit it off with Burkett, one of his biggest "bullies." Coryell wasted no time trying to recruit new talent for Team USA, with her eye caught on Marine veteran and double amputee Jonathan Blank, who alternated between a wheelchair and an all-terrain power chair and even swung himself into the back of a Can-Am Defender when he needed a higher position to take a shot.
As the shooting wound down and the after-party ramped up, Hafer smiled. Next year would be bigger, better, more epic.
For now, everyone was talking, laughing, and connecting. Mission accomplished.
Read Next: California's Vandenberg Becomes Third Space Force Base