Skills learned in the military can translate pretty well to the civilian business world. We see that now more than ever with the myriad veteran-owned businesses that populate both the online and brick-and-mortar marketplace. We wanted to shine a light on some of the current veteran-owned businesses who demonstrate success not only with their bottom line, but also by quietly giving back to their communities in various ways.
Much like the military service that preceded them, the following 10 businesses are helping make the world a better place — not only with their products, but also through philanthropy.
Combat Flip Flops sells casual footwear for men and women, as well as a variety of clothing and accessories. The company has established a solid reputation for quality and fashion. The flagship flip flops are the AK-47 style, featuring an authentic Afghan design, genuine leather uppers, and boot rubber soles. They are trimmed with cast 7.62x39mm bullet casings.
While the CFF product line is very cool, it's the company's bold mission that really stands out:
"To create peaceful, forward-thinking opportunities for self-determined entrepreneurs affected by conflict. Our willingness to take bold risks, community connection, and distinct designs communicate, 'business, not bullets' – flipping the view on how wars are won. Through persistence, respect, and creativity, we empower the mindful consumer to manufacture peace through trade."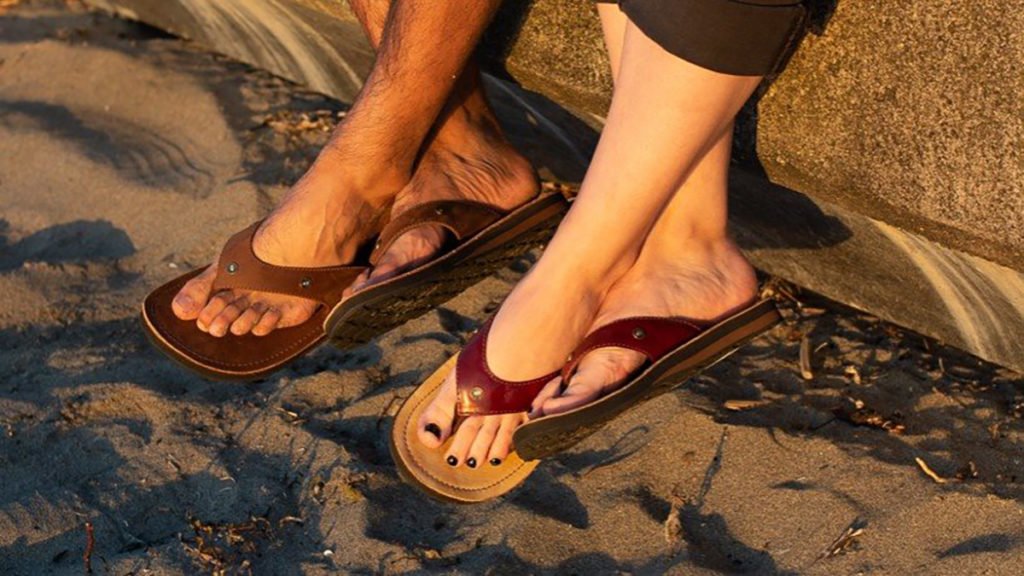 Combat Flip Flops was founded by former U.S. Army Ranger, Matt "Griff" Griffen. In a 2015 TEDx Talk, Grif shared a painful story from his time in Afghanistan hunting al Qaeda. Like many in the audience, he admitted to spending a lot of time wondering if the conflict had been worth all of the blood and hardship. However, with a series of graphs that depict the gross domestic product (GDP) of Afghanistan over various snapshots of time, Griff showed the precipitous decline of the Afghan economy in the two decades preceding the U.S. presence there and a six-fold increase per capita between 2001 and 2019.
This data gradually replaced Griff's despair with a feeling of hope, which eventually morphed into a plan. He and a like-minded group of special operations veterans would deploy back to countries of conflict and convert manufacturing capacity for tools of war to commercial products for peace. Today, Combat Flip Flops manufactures product in Columbia, sourcing all materials locally and energizing an economy devastated by a narco-financed insurgency.
CFF donates a portion of its proceeds to some worthy causes. The purchase of a pair of flip flops funds one day of secondary school for a girl in Afghanistan, where the literacy rate among women is only 15 percent. The company is also involved in the effort to unearth landmines in Vietnam and melt down the components to create utensils and jewelry. Griff refers to his peace-through-trade movement as the "Unarmed Forces."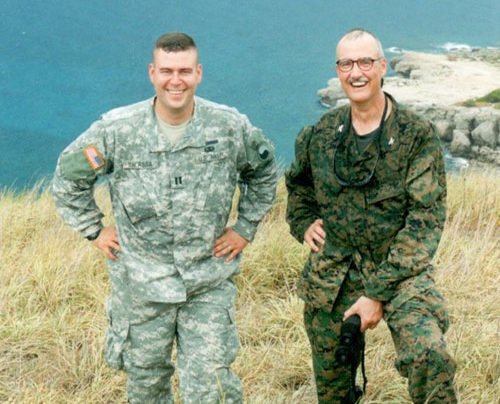 Glass Beach Mugs manufactures a single product: a precise replica of the heavy-duty porcelain coffee mugs produced for the United States Marine Corps during World War I.
If the mugs are precise porcelain replicas, why does the company call itself "Glass Beach Mugs"? To answer that question, we transport you south — way south — to Guantanamo Bay, Cuba, where the GBM founders met while serving in the military.
Turk McCleskey (colonel, U.S. Marine Corps Reserve) and Paul Balassa (then a captain in the U.S. Army Reserve) enjoyed combing the nearby beaches. At one point, McCleskey learned that one of his sergeants had made an unusual discovery — a shard of ceramic mug stamped with the initials "USMC." He invited Paul to join him on a hike to investigate the nearby area. They found similar fragments and decided to research the origin of these relics.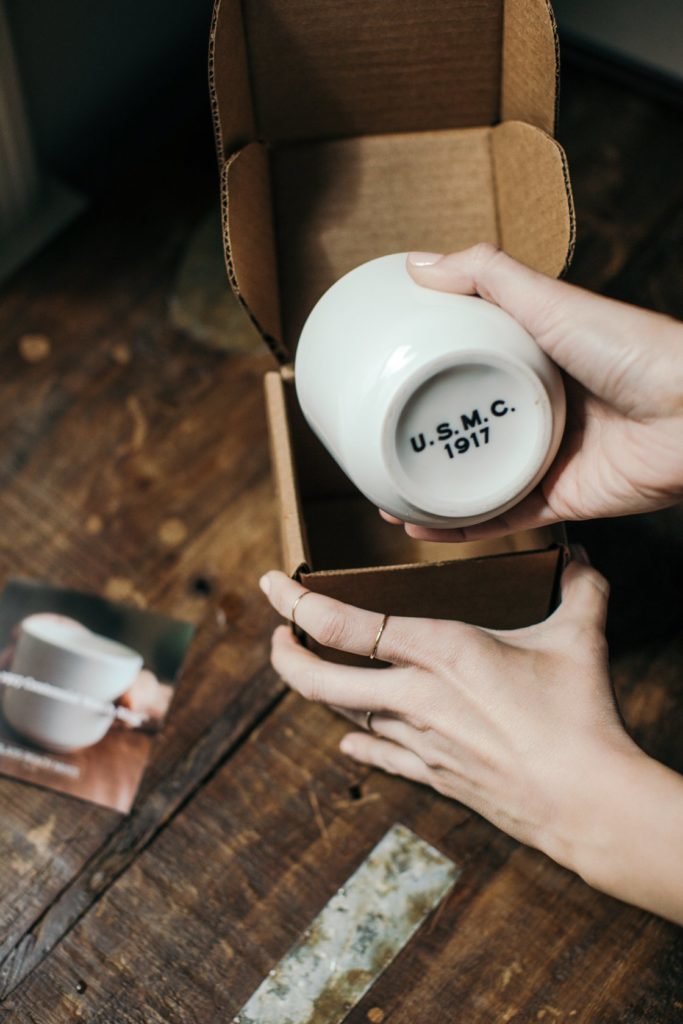 McCleskey and Balassa learned that Gitmo had once been home to the largest rifle range in the Western hemisphere. In the late 1920s, the mess hall that served the enlisted men burned and collapsed, destroying the kitchen and most of the dishes. Shortly thereafter, the rubble from the fire (broken dishes included) was pushed off a cliff and onto the beach below. That beach was the central dumping ground for the naval base, known as "Glass Beach."
Try as they might, our beachcombers never found any mugs that were fully intact so they decided to make them. McCleskey and Balassa partnered with American firm Homer Laughlin China Company to manufacture the 1917 Centennial Watch Mug, made to the exact specifications of the original, utilizing an identical manufacturing process called jiggering. These thick-walled mugs weigh in at a hefty 1.25 pounds each. True to form, they have no handle and sport the "USMC 1917" backstamp.
Corporate philanthropy and historic preservation are tightly woven into the Glass Beach Mug mission. "We recognize the contributions of our forebears and celebrate their legacy through the commemorative edition of this mug." GBM provides regular, ongoing financial support to the National Museum of the Marine Corps in Quantico, Virginia.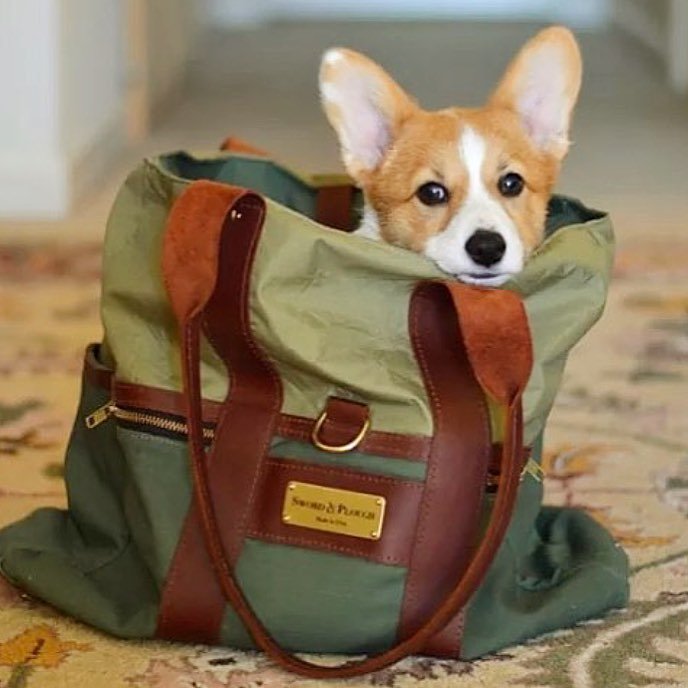 Emily and Betsy Nunez, sisters and co-founders of Sword & Plough, are no strangers to the armed forces. Their dad was a career Army soldier, and the girls remember sharing Thanksgiving dinners with soldiers in the mess halls at West Point. They also have an uncle who served in the Marines and became a NASA Astronaut and space shuttle pilot. Emily attended Middlebury College in Vermont and was the only ROTC cadet out of 2,450 students. She went on to serve as an officer in the Army.
However, before formally joining the military and still in her senior year at Middlebury, Emily had the opportunity to witness an inspiring speech by Jaqueline Novogratz, CEO of Acumen — a nonprofit global venture capital fund that applies entrepreneurial strategies to address international poverty. The talk by Novogratz challenged members of the audience to transform something, often discarded in life, into something beautiful. Emily eventually came up with the idea to repurpose military surplus materials into durable, fashionable bags for everyday use, and in 2012, Sword & Plough was born.
Today, S&P employs veterans to help bridge the gap between military and civilian life, giving back to the veteran community through (in the Nunez sisters' words) "sustainable fashion."
"From the beginning," said Emily, "Sword & Plough has been about more than just creating bags. We've always been excited to create high-quality products, but our hope was that these products could be used as a platform of change."
A platform of change indeed. The company not only talks the talk — it walks it, too. In addition to sourcing military surplus materials from around the United States, S&P uses veteran-owned or partially operated textile mills in California, Colorado, Florida, and Kentucky to manufacture its products. The finished goods are sent to another veteran-owned fulfillment center in Indiana, where it's packaged using recycled materials.
Products are sold worldwide through the company's website, its showroom in Denver, and through various brand managers (most of whom are veterans or military spouses). On top of all this, 10 percent of profits are donated to veteran support charities, including Got Your 6 and Team Red, White & Blue.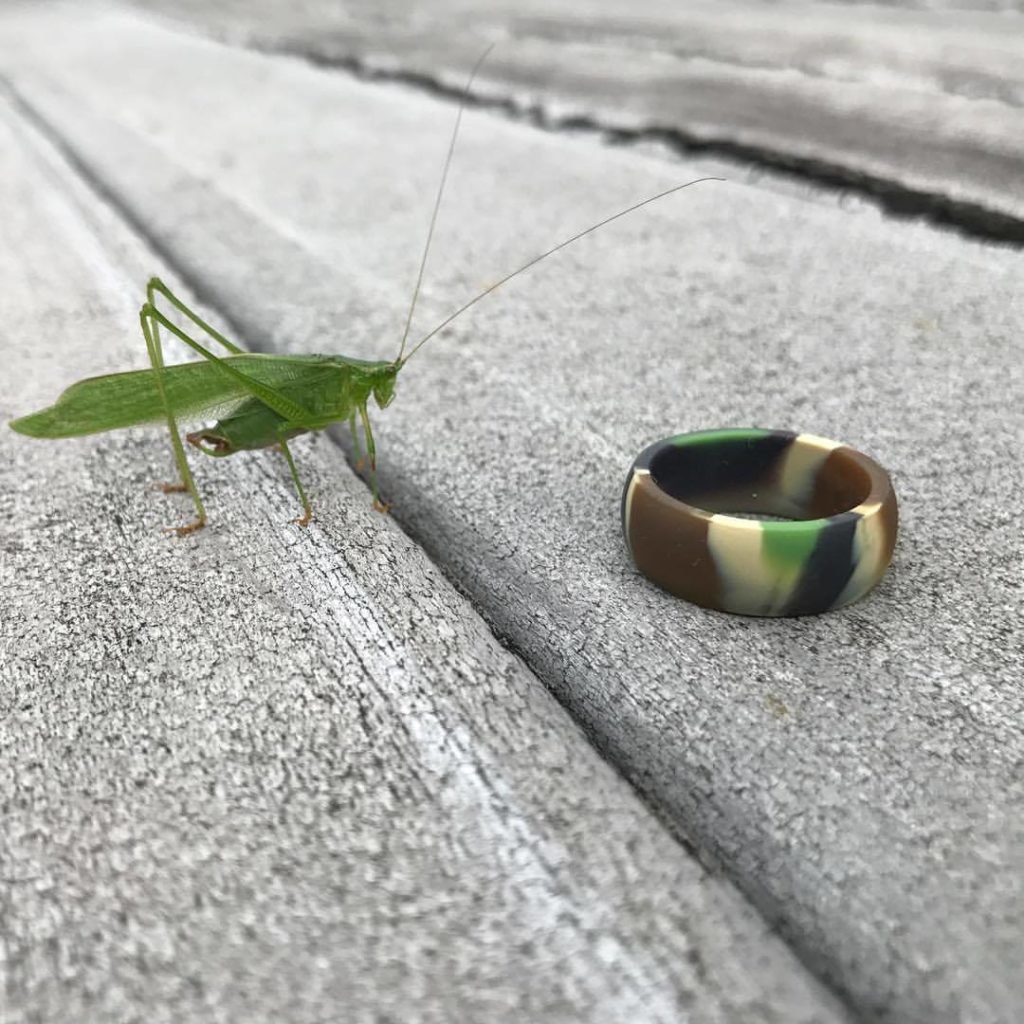 "Ring avulsion." Unless you work in an emergency room or physical rehabilitation clinic, this is probably not a familiar term. It describes an injury that occurs when your ring catches on another object and is quickly and forcefully pulled off the finger. The result is damage to tissue and blood vessels. In serious cases, ring avulsion can actually tear the finger off or lead to amputation.
Tom Tartaglia, co-founder of Recon Rings, was on patrol with his unit in Iraq when one of his teammates lost his footing while exiting a light assault vehicle. The soldier frantically grabbed for the door and, in the process, accidentally hooked his ring on the vehicle frame. The force of the fall caused a serious ring avulsion injury, amputating the finger.
Fast forward a few years, when Tartaglia and his future business partner, Steve Burke, became friends while working out at their local gym.
"So, I'm going to this gym," recalled Burke, "and a guy named Tom comes up to me and says 'I got a great idea — I want to make silicone weddings rings.' That is absolutely the worst idea I'd ever heard. He then asks, 'Do you want to do this with me?' To get him off my back, I told him I'd think about it."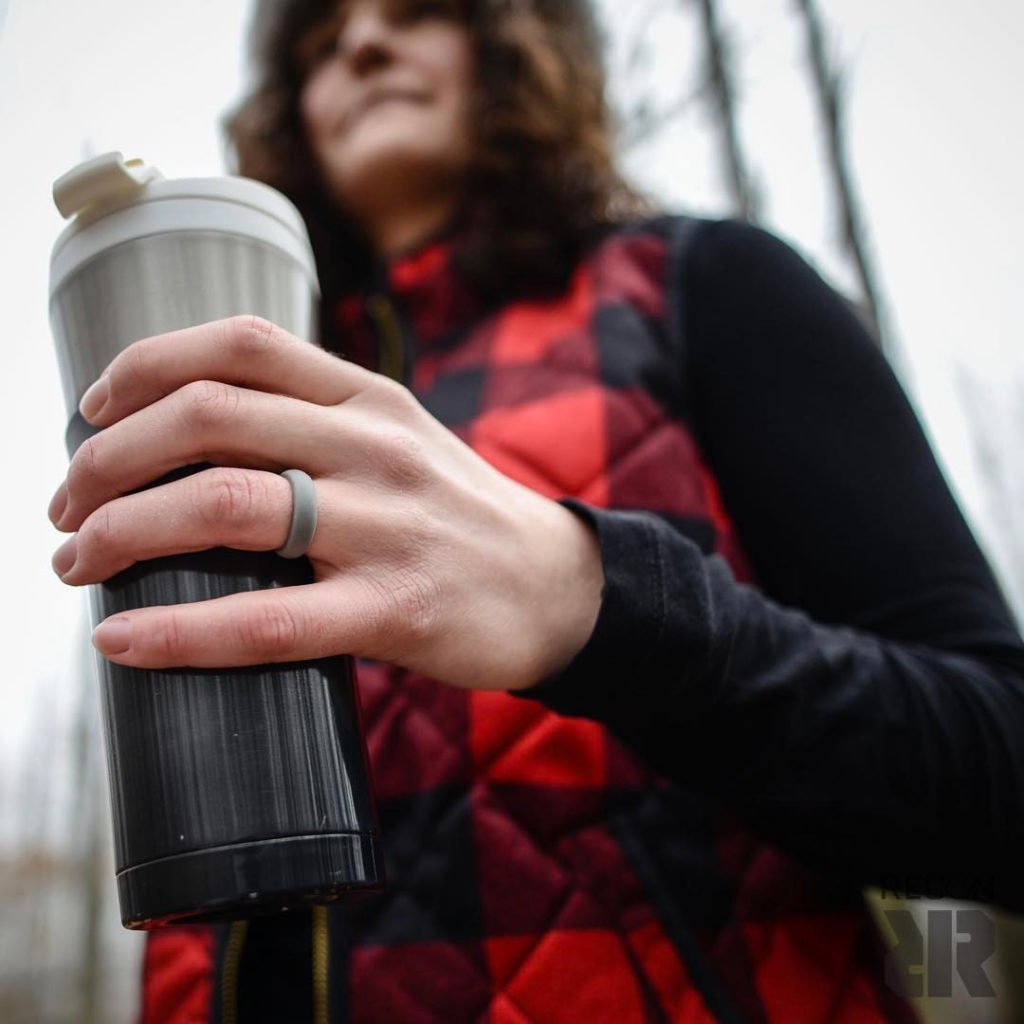 Recon Rings makes soft, pliable silicone wedding bands for active men and women. The advantage of silicone rings is that they stretch and break when snagged, preventing ring avulsion injury. They're perfect for sports, work in the trades, and potentially hazardous industrial environments.
Recon Rings are available in a variety of colors — there's even a camo pattern to appeal to the outdoorsmen among us. And who said wedding rings need to be made of expensive, precious metal? Recon Rings are less than $20 each when purchased individually, and the price is further reduced when purchased in collections of three or four. Not sure of your size? Their website provides several printable downloadable aids to figure that out.
Of course, this company wouldn't be listed here if it did not demonstrate a commitment to give back. A portion of each sale is donated to several military-affiliated, 501(c)3 organizations that serve veterans and law enforcement personnel. In addition, Recon Rings works with various charitable organizations to release special, limited-edition products to promote awareness and raise money for wounded veterans and their families.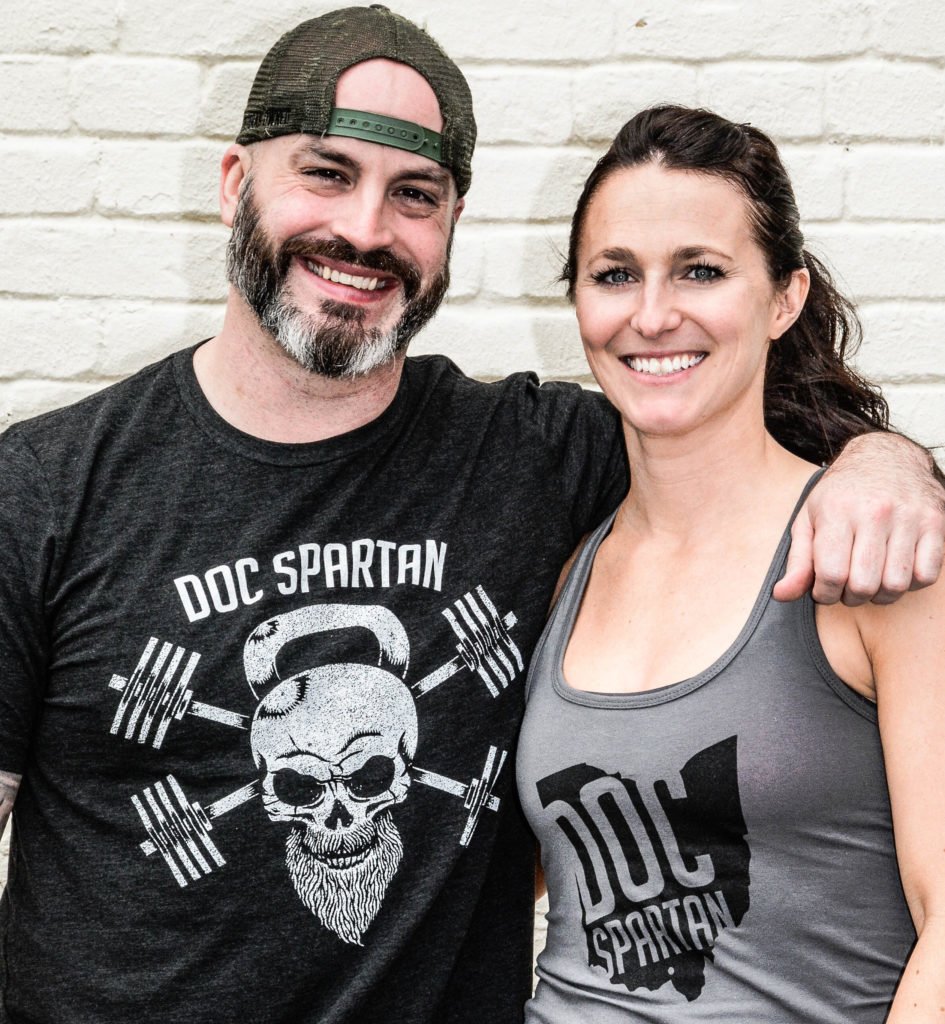 Doc Spartan is another success story from the popular reality TV show "Shark Tank." Dale King, veteran of Operations Enduring Freedom III and IV, owns PSKC CrossFit in Portsmouth, Ohio — the "mom and pop shop of gyms," according to the club's website.
King got to know one of his members, Renee Wallace, a mother of three who had been making all-natural lotions for other women at the gym. "I approached Renee about developing an all-natural first-aid ointment … for the fitness community … and something rugged my old military buddies could use for the everyday nicks, cuts, and scrapes encountered in the field and on the range."
After experimenting with the formula, a prototype emerged. Members at the gym loved the product, which eventually became the Doc Spartan flagship product.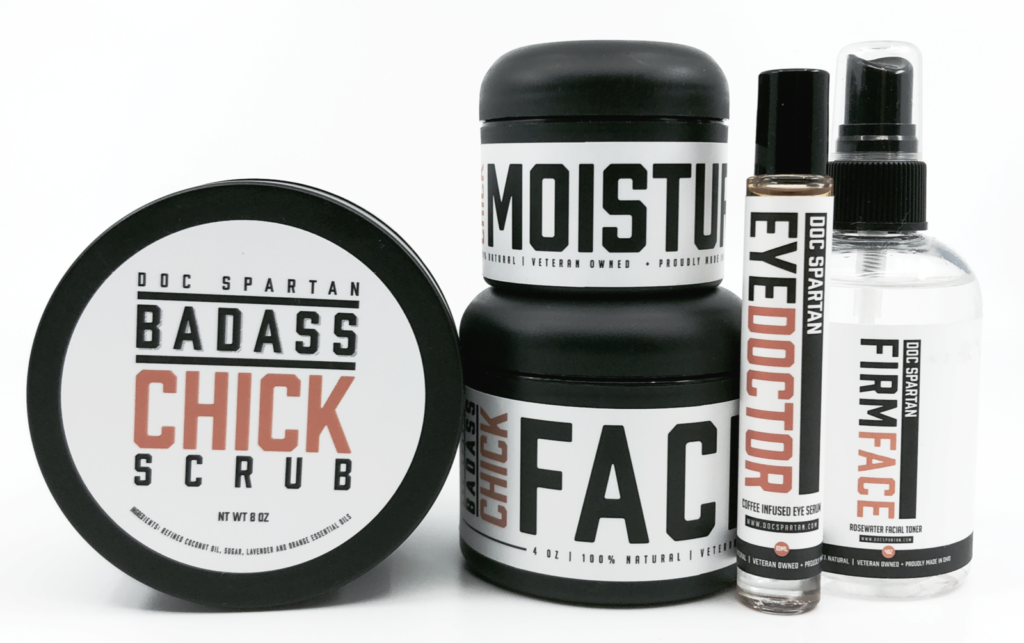 Together, King and Wallace set out to prove that a veteran-owned company from a small Midwest town could be successful. The product line has grown to include a variety of all-natural health and grooming items for men and women, including the Combat Ready series of ointments, aluminum-free Armpit Armor deodorant, Your Mom Loves My Beard grooming products, and the Badass Chick moisturizers and scrubs.
Doc Spartan is big on supporting other veterans, locally and beyond. King said his company aims to show his peers that they can use lessons from the military to successfully run small businesses when they separate from the service. "We [also] want to use any success from our company to support our nonprofit partner Team Some Assembly Required, a group of veteran and civilian adaptive athletes who actively compete in fitness-based competitions."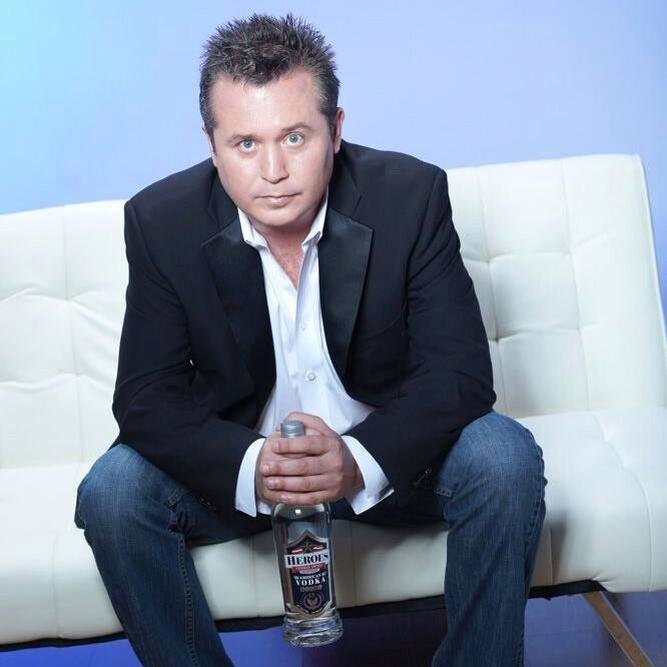 Heroes Vodka calls itself the "official spirit of a grateful nation." The company was founded by U.S. Marine Corps veteran Travis McVey, who chose to serve as a Presidential Honor Guard between 1989 and 1992. Two of his close friends weren't so fortunate. One of them, an Indiana State Trooper, was killed in the line of duty. The other was a police officer and Army reservist who was called to active duty and died in Afghanistan due to injuries sustained in combat.
To this day, McVey still struggles with the guilt and grief surrounding these losses.
After his eight-year stint with the Marines, he spent the next 15 years working at a Tennessee tire factory. McVey sporadically experimented with distilling his own vodka while dreaming of new ways to serve his country: to start his own business and partner with other organizations to help fellow veterans receive the care they deserve.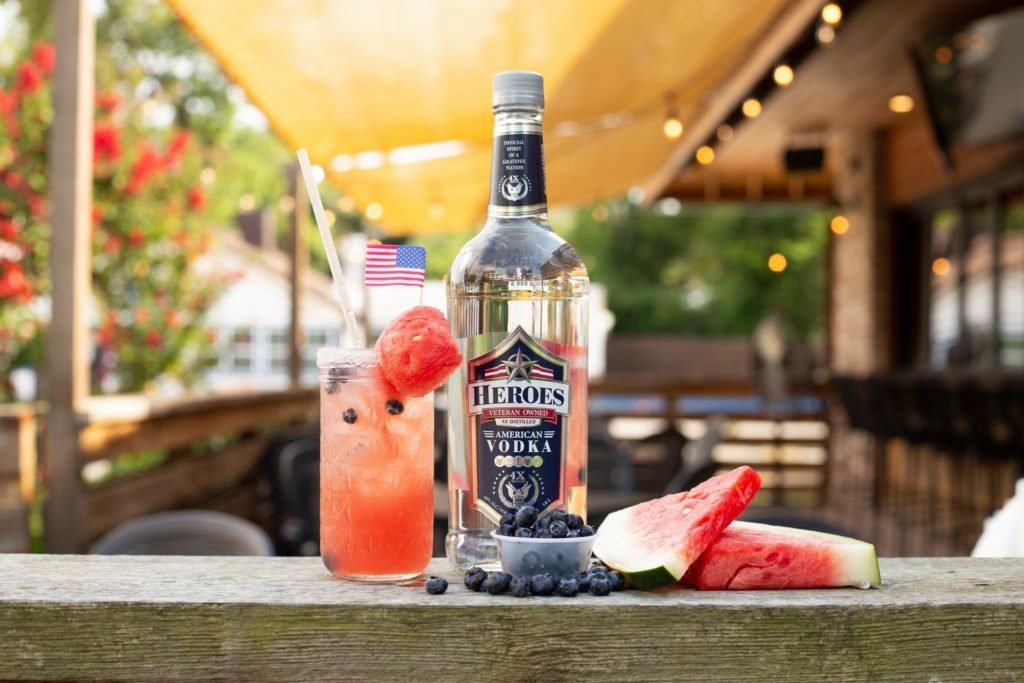 McVey decided to make a go at bottling and selling his liquor. After spending nearly $80,000 of his own money and a year tweaking the corn-based recipe, creating bottle and label designs, and developing a business plan, he ran into significant challenges with distribution. McVey turned to a local firm, RS Lipman Co., the same company that put Jack Daniels on the map in the 1930s. Robert Lipman, the CEO and president, was intrigued by McVey's 20-minute pitch — so much so that he decided to invest in Hero's Vodka. The product officially launched on Veterans Day 2011 (11/11/11). A few months later, it was available at 300 Nashville retailers and restaurants.
Today, it's available in at least 24 states.
Heroes Vodka honors American veterans via in-kind and monetary donations through various charities. Since its launch in 2011, the company has donated more than $100,000 to local and national veteran-friendly causes. In 2016, McVey was named Veterans Advocate of the Year by Vetrepreneur Magazine. In addition, he was recently appointed to the Advisory Board for American Freedom Fund, which empowers veterans through athletic, educational, and advocacy programs in Washington, D.C., and around the country.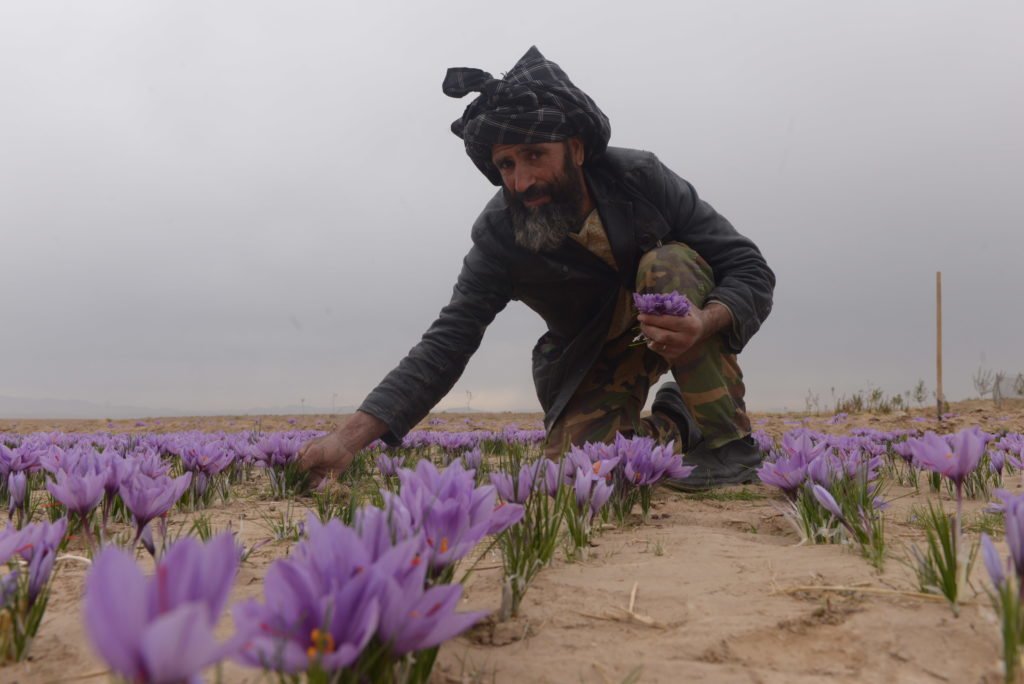 Rumi Spice takes its name from 13th-century poet and mystic Jalal al-Din Rumi, described by some scholars as the best-selling poet in the U.S. The company partners with Afghan farmers to bring quality and sustainably harvested saffron to customers around the world.
From the beginning, Rumi Spice's mission was to cultivate peace in Afghanistan by leveraging the rural, agricultural economy. The hot, dry winds over Afghanistan's semi-arid land make the country one of the most desirable regions for growing the amethyst-colored saffron crocus, the source of one of the most valued spices on the planet. Saffron comes from the pistils inside the flower. Due to the fragility of the crocus blossom, the harvesting process is incredibly tedious, much of it done by hand. It takes 450,000 stigmas or 150,000 blossoms to yield one kilogram of saffron.
Rumi Spice was founded by several U.S. Army veterans who served in Afghanistan. Their collective experience on the ground helped them to create the networks and organizational infrastructure required to operate in the region. According to the company's website, "our competitive advantage is our ability to navigate the Afghan business landscape, which is built on trusted relationships."
Rumi Spice's products include jars of saffron in various sizes, ranging from .5 grams to 28 grams (1 ounce). The company also sells multiple exotic spice blends, tea, and jam, as well as gift sets. All items can be purchased on the company's website, and .5-gram jars of saffron are now available in the U.S. at all Whole Foods Market locations. Restaurants and retailers can buy larger quantities direct from Rumi Spice at wholesale pricing.
According to CEO Kim Jung, "We believe the way to a sustainable future for Afghanistan is through economic empowerment of the Afghan people. Afghanistan is now rife with an opium problem. Saffron is the best way for Afghan farmers to avoid the problem of poppy and opium, and the influence that the Taliban has on these farmers."
Thanks to the efforts of the U.S. military and the work of companies like Rumi Spice, Afghan farmers have discovered that saffron can provide up to six times more income than growing poppy for opium. In Rumi Spice's first year, saffron production from its Afghan sources has more than doubled. The company is the largest private-sector employer of women in Afghanistan.
As a testament to the company's commitment to social and environmental ethics, Rumi Spice is certified as a B Corporation, a global community of 1,500 organizations with the goal of redefining business according to the highest socially responsible standards and transparency.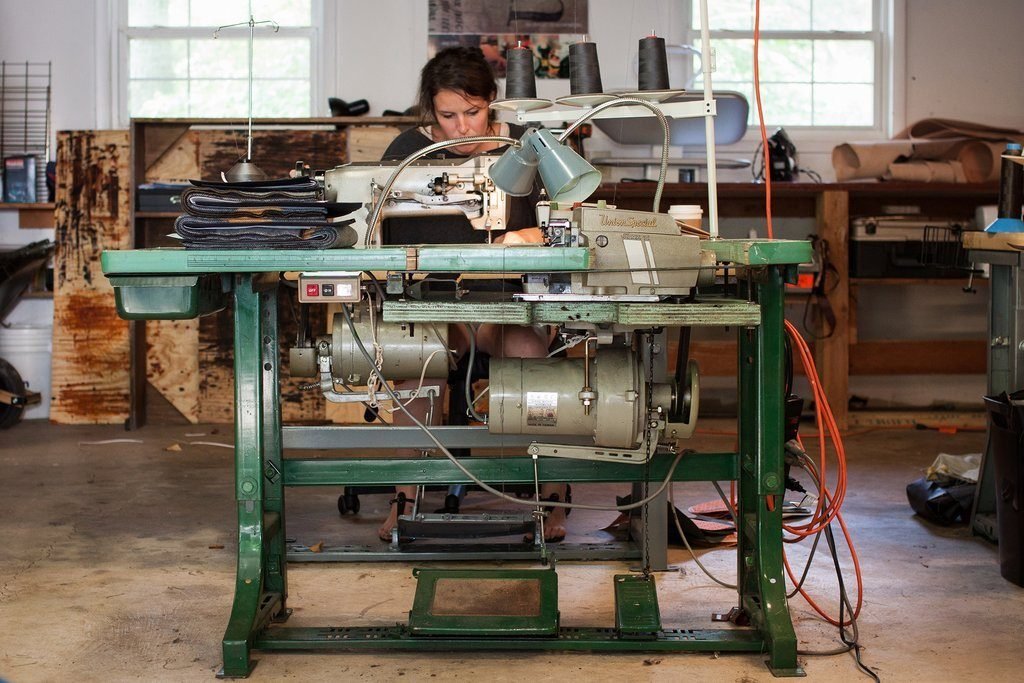 Rosie the Riveter was the character created for a U.S. government campaign aimed at recruiting female workers for the defense industry during World War II. History.com suggests that Rosie is "perhaps the most iconic image of working women" in history. She encouraged American women from all walks of life to enter the workforce in unprecedented numbers to fill the roles left open by men who enlisted to fight overseas.
Rosie's spirit is alive and well in R. Riveter, an American retailer offering a nice selection of quality handmade bags for women. The company founders, Lisa Bradley and Cameron Cruse, are military spouses. Prior to starting R. Riveter, both were having difficulty finding employment, despite being highly educated, creative, and determined.
According to Bradley, "The idea for R. Riveter came way before handbags. We knew we wanted to create opportunities for others in our same shoes."
"We're in a situation where we move every few years," added Cruse. "It's very difficult to transition, let alone unpack and repack our boxes. But to unpack and repack our professional lives is even more difficult. What's really special is why we're here. I mean, we're not here [only to] manufacture handbags. We're here to provide income and stability for these women … who otherwise have so much instability in their lives."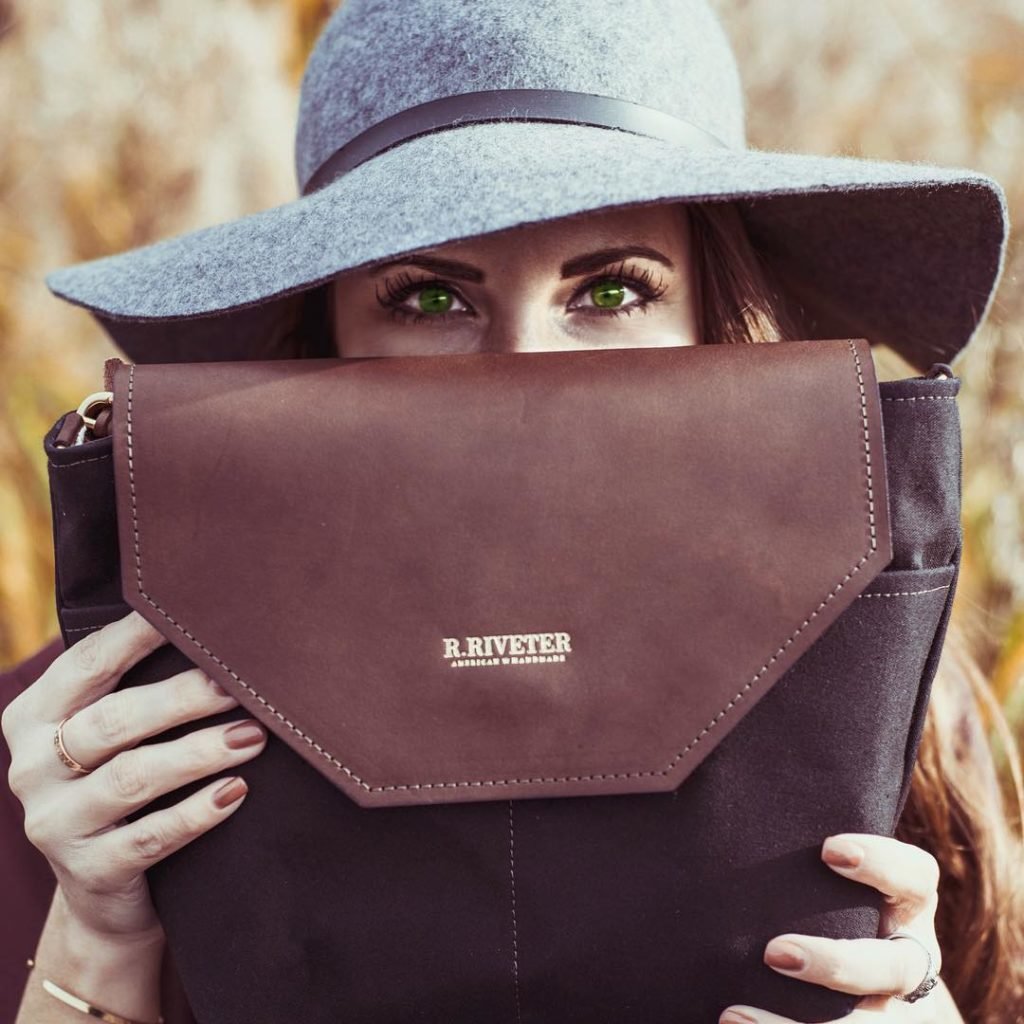 Bradley and Cruse started the company after charging $2,000 each on their credit cards to purchase a commercial sewing machine, along with some leather and canvas. In the beginning, it was just the two of them. As demand increased, however, the pair had to get creative about growing the team using a transient workforce. They built their own "supply chain" process, every bit as unique as the R. Riveter mission itself.
The individual panels and components that go into each bag are fabricated by more than 50 "remote riveters" located all over the country. Each woman is given her own "RR" number, which she stamps on her finished pieces before sending them back to the shop in Fort Bragg, North Carolina. There, the final assembly is completed by a group of more than 70 employees who add their own RR number. In this way, no single bag is the same, which adds to its appeal.
R. Riveter recently announced that it will be establishing the "Military Spouse Entrepreneurship Program," a $2,100 award that will go to two military spouse businesses. The application and competition details are forthcoming. The company also donates proceeds to a growing list of charities that support veterans and their families, including Holbrook Farms Retreat for Gold Star families, the USO, and the Green Beret Foundation.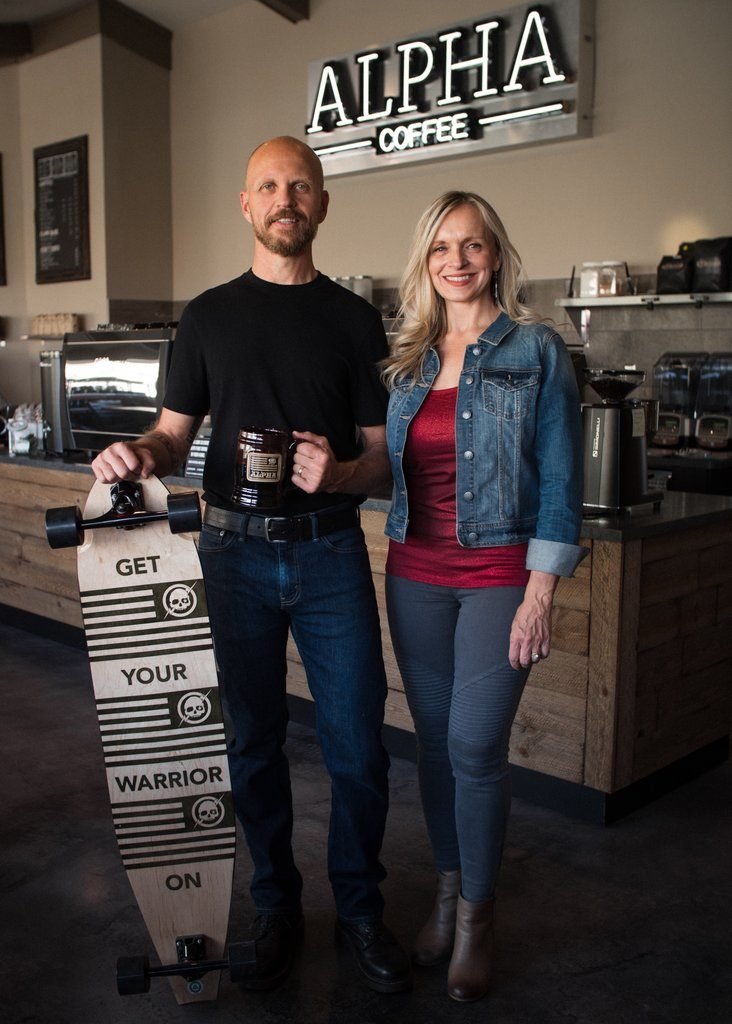 Alpha Coffee was founded on Sept. 11, 2010, by Carl and Lori Churchill. Carl, a combat veteran, served for 21 years as an enlisted soldier and officer. He met Lori in Tacoma, Washington, (her hometown) in mid-'80s after returning from a deployment in South America. They married in 1989. Like all military couples, the Churchills faced many challenges — multiple moves, painful separations, and a number of deployments.
Upon Carl's retirement from the Army, he and Lori sat down over a cup of coffee to discuss their future. They discussed their appreciation for good coffee and unwavering support for the military community. This passion, commitment, and drive to give back eventually gave birth to Alpha Coffee.
Originally an online-only retailer, Alpha now also sells its coffee through authorized retailers. In 2017, Alpha opened their first coffee shop in Cottonwood Heights, Utah. While Carl and Lori make no bones about the fact that Alpha is a for-profit business, they strongly believe in "compassionate capitalism," where people and profits can peacefully coexist.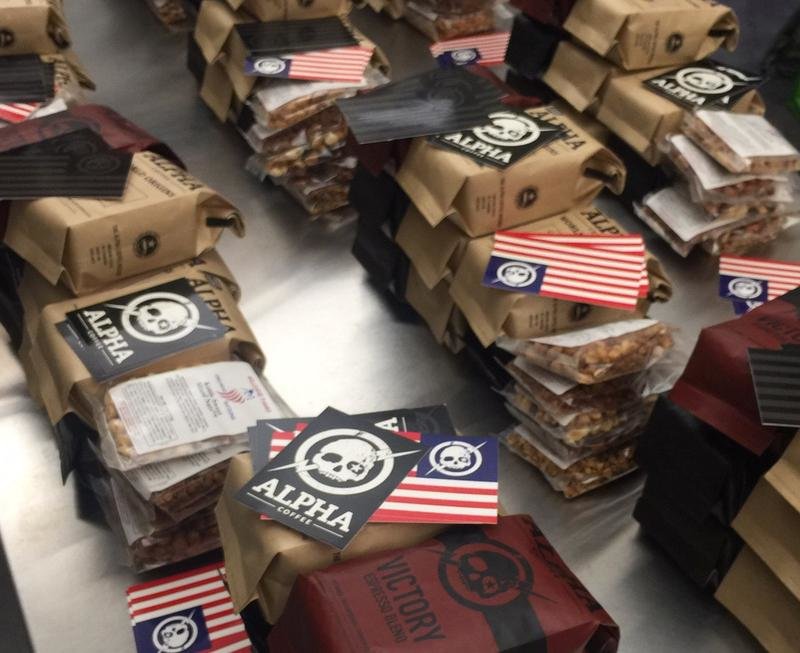 "We strongly believe the most effective solutions come from the grassroots rather than waiting on large organizations or the government for a plan," asserted the Churchills. "So we decided to be part of the solution. Right from the start of our founding in 2010, we have made giving back to the military and veteran community our cause."
The Churchills send a portion of every batch they roast to deployed troops — that knowledge inspires them every day. The company also supports a number of well-run military charities, including Continue Mission, HH #Notavacation, Veteran Expeditions, Veterans Empowered to Protect American Wildlife, and Labs for Liberty. As opportunities present themselves, Alpha also hires veterans and works with other veteran-owned businesses.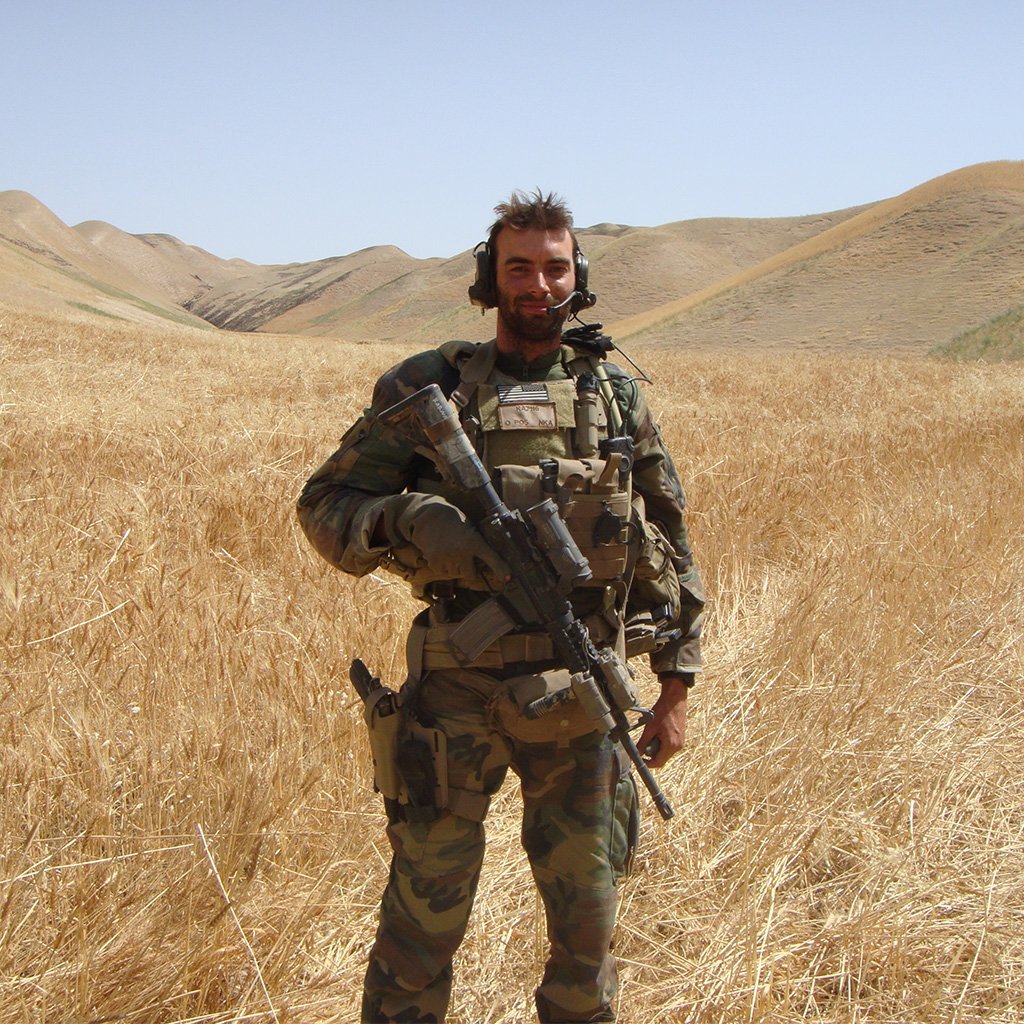 On a summer day in 2012, Nick Karnaze received a phone call from a fellow Marine and close friend. It was a call Karnaze will never forget. He learned that a mutual friend, Justin Hansen, had been killed while conducting combat operations in northwest Afghanistan.
"Justin and I served together in the same Marine Corps special operations unit," explained Karnaze. "We were bunkmates during Assessment & Selection and spent countless hours together during workups and deployment. Justin was an extraordinarily talented individual — the type of person who bettered everyone around him. I was no exception."
The news of Hansen's death devastated Karnaze. Navigating through the stages of grief after losing a loved one is a painful and lonely journey — the paths are different for everyone. For Karnaze, his beard became a sort of coping mechanism. Special Ops personnel are known to grow beards while deployed. Karnaze knew his friend had been working on a substantial beard in Afghanistan and decided to grow out his own beard for Hansen's funeral.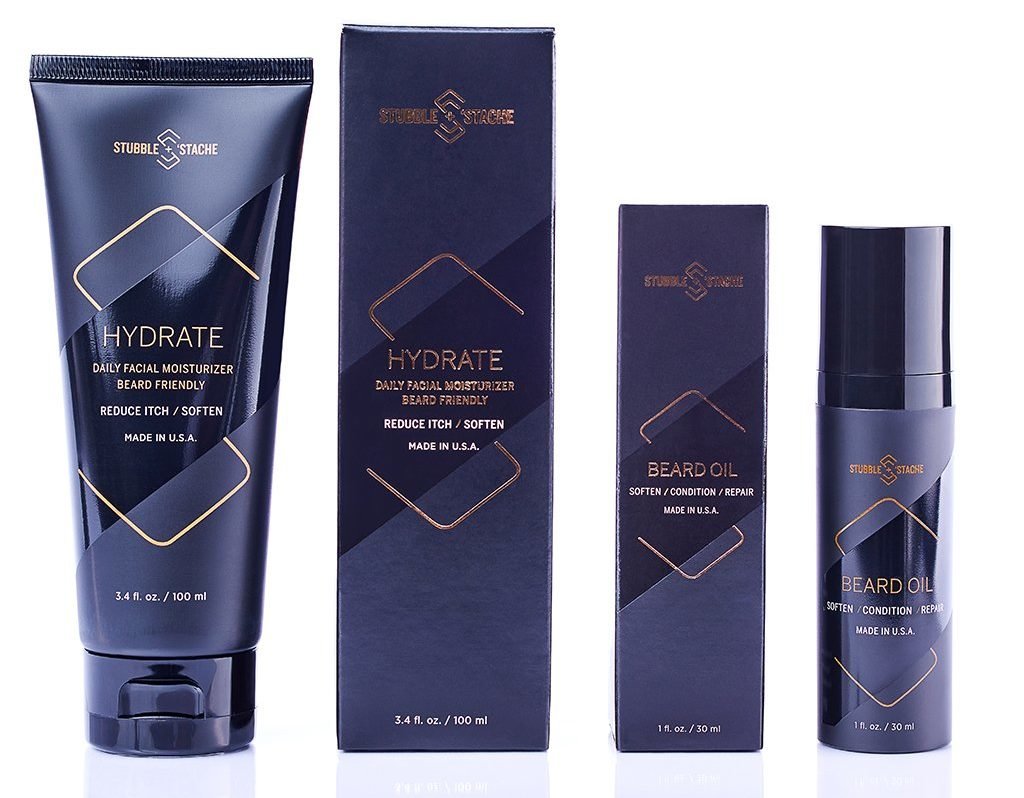 "As my beard grew," recalled Karnaze, "I was quickly reminded of how itchy and abrasive facial hair can become. I couldn't find any products I liked, so I decided to make my own. I have fond memories of standing in my kitchen watching AMC's 'Breaking Bad.' Walt was making meth, and I was making beard lotion."
Karnaze's education at the United States Naval Academy actually prepared him well for this task. His coursework included plenty of chemistry. Somehow, Karnaze's Navy SEAL buddies learned about the "Karnaze Concoction" and asked to try it. The lightbulb turned on, and another veteran-owned business was born. Stubble + 'Stache products include premium beard oil and a number of manly grooming products, such as moisturizers and beard wash.
Karnaze officially launched Stubble + 'Stache in 2012 with no formal business training. However, a few years later he attended the Ignite, Post-9/11 Veterans program at the Stanford Graduate School of Business. This served as a catalyst for making Stubble + 'Stache the socially minded organization it is today.
Karnaze has a passion for eliminating the stigma surrounding mental health. He has testified before the U.S. Senate Committee on Veterans' Affairs about improving mental health care access for his fellow veterans. S+S donates a portion of profits to charities that support wounded veterans and their families, including those that focus on combating post-traumatic stress, depression, and related mental wounds. These charities include the Marine Raider Foundation, which directly supports the U.S. Marine Corps Forces Special Operations Command (MARSOC), active duty, and medically retired MARSOC personnel and their families, as well as Gold Star Marine families.