Zachary Bell was nine months out of the Marine Corps the first time one of his veteran brothers took his own life in November 2011. Now, almost a decade later, the former infantry rifleman says he's lost more people after war than he did during two combat tours in Afghanistan.
After the first loss in 2011, the Memphis, Tennessee, native started down a familiar path, searching for a new mission in service of others. He poured his energy into his family, community, and education, working in the veteran nonprofit sector and earning a bachelor's degree in psychology and a master's in business administration. More than anything, he knew he wanted to help veterans and combat what he calls a toxic culture in the veteran community. It took him nearly a decade to find his voice and platform.
In March, Bell took a Sharpie to a piece of cardboard and flew a sign on Instagram. As COVID-19 lockdowns loomed, Bell channeled the sardonic humor military vets are known for and scored a hit with a simple military meme: Take Motrin, drink water, change your socks.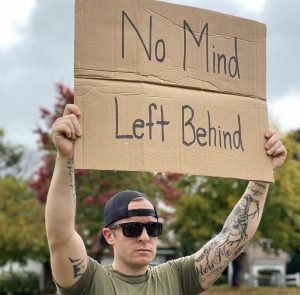 Since then, Bell's Veteran With A Sign Instagram page has grown to nearly 53,000 followers, and he's become an influential voice in the veteran community.
"I've done a lot of things in my life," Bell said. "I've published essays and got different levels of attention here and there, but nothing has been as successful as this. There's nothing that's connected people like this dumb Instagram page. So that's where I'm at now. The whole idea is to make people laugh more and hurt themselves less."
While the tone and messaging on VWAS varies from day to day, humor is Bell's linchpin. He's cultivated a space where inclusivity and positivity are foundational values. With its diverse offering of pithy wisecracks, truisms, and often poignant commentary on veterans issues, VWAS seeks to make even the most jaded veterans laugh, and maybe think a little more deeply.
"I try to use the common experience people have in the military to create a community where people can be part of a joke, have a larger conversation, and get a reprieve from the chaos," he said. "I'm tapping into multiple levels of nostalgia and good times to kind of trick veterans into being more decent while having some fun along the way."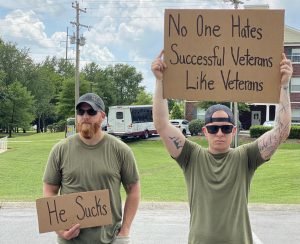 Bell said veterans come for the jokes:
Stop starting sentences with, "As a veteran." Social media comments are first draft thoughts. Low fades win wars. Ranger School does not make you a Ranger. Chili mac is the best MRE. Every Marine is not a rifleman. POGs need love too. Wearing Gatorz doesn't make you a SEAL, but writing a book does. Enlist … because officers need heroes too. Don't trust anyone who enlists to be an MP. I might be a reservist but at least I'm not a POG.
But he hopes they stay for the sense of community, positivity, and inclusivity.
"Everyone wants to be a part of something — to have a community and not feel alone and isolated," he said. "They just want to feel relevant and be attached to something that's got power and movement behind it. But the reality is, not everybody is their own hero, and that's fine. I want veterans to understand that you don't have to attack someone for the way they think or their political ideology or whatever name they want to call God."
To build the page's following, Bell enlisted the help of Jay Blancas, a Marine veteran Bell served alongside for four years in 1st Battalion, 6th Marine Regiment, and two combat deployments to Afghanistan's Helmand Province.
"When Zach told me he was starting VWAS, I just wanted to help him succeed," Blancas said. "So I helped by sharing posts and using hashtags to try and grow his page. It quickly became a situation where he needed a partner, and he asked me to join."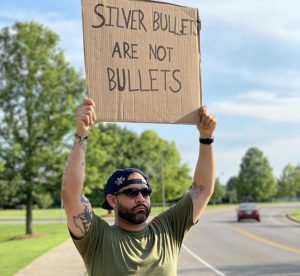 As chief engagement officer for VWAS, Blancas conducts the majority of day-to-day operations for VWAS's Instagram and Facebook pages, and he occasionally appears in VWAS posts, wearing what has become the team's unofficial uniform: Marine Corps-green skivvy shirt, backward hat, and sunglasses.
"We're wearing the same thing every time because who we are and what we're wearing aren't what's important," Bell said. "The page isn't about Zach or Jay; it's about the community. I think that by being funny and positive, we allow people to be in the conversation without being antagonistic. I feel like nobody's made it cool just to be authentic, and I like to think that's what we're doing."
Blancas said he and Bell want to drive conversation and be a place where other veterans can share their insights and stories and be a part of the movement to improve veterans' health and welfare.
"Most veterans don't feel comfortable talking about the things that bother them from their service. I'm one of them," Blancas said. "Holding that crap in is toxic and will ultimately permeate every aspect of your life. Find a way to get it out. Text your friends, call your buddies. Find an activity like Brazilian jiujitsu, muay thai, or yoga. Go to the rifle range. Use those outlets to manage the negative energy. It may save your life."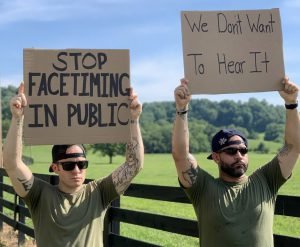 Bell said VWAS is also about reminding veterans to talk about their military service in a mature manner that can help inspire others to serve their country and communities in whatever way best suits them.
"You find the best version of yourself in the service of others," he said. "There's no greater calling."
Blancas said he and Bell want as many people as possible to be a part of what they're doing.
"Whether it's by following us on social media, sharing or commenting on our posts, submitting a sign idea, sending in a picture for us to share, or just buying a T-shirt or a sticker — that's how we keep this community thriving. We can't tell others' stories without their help," he said.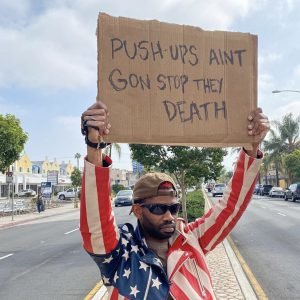 While VWAS has a multifaceted purpose, Bell and Blancas are passionately committed to its most important mission: suicide prevention.
"As veterans, we need each other, and we all need to remember to reach out to each other and connect more," Bell said. "Nobody stopped killing themselves because a friend did 22 pushups, but maybe if we talk to each other for 22 minutes, if we stay connected, we can rebuild or fortify the sense of community that a lot of us have kind of lost. That's what I want. I want people to reach out more."
Some of the more serious messages VWAS has promoted are: Text your buddies. Don't burn Marines that ask for help. Where is Vanessa Guillen?? Burn pits are the Agent Orange of GWOT.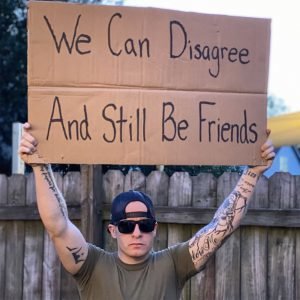 As Blancas put it, "We aren't the only ones tired of burying our friends. This is how we do our part to stop as much of it as we can."
For Bell, VWAS is the most useful way he's found to connect with other veterans, and he believes deeply in the value of the community he and Blancas are building.
"I'm going to keep running with it because I tried everything else," he said. "This is the type of influence I want to have. I want people to stop tearing each other apart and focus on becoming more connected. We really need to focus more on the shared human experience because that's what's most important."