Archery as a pastime has spread like wildfire among veterans. Quieting their minds and focusing on the simple task of aiming and shooting an arrow is therapeutic for some. Economically minded shooters can reuse arrows over and over until they break, unlike rifle ammunition (which, you may have heard, has been in limited supply lately). Arrows also don't explode with an earsplitting crack — a plus for veterans who'd rather not have another reminder of their time on the battlefield.
Whatever their motivation, veterans are carving out places for themselves in the archery world. Here are six who are getting after it and kicking ass with bows and arrows.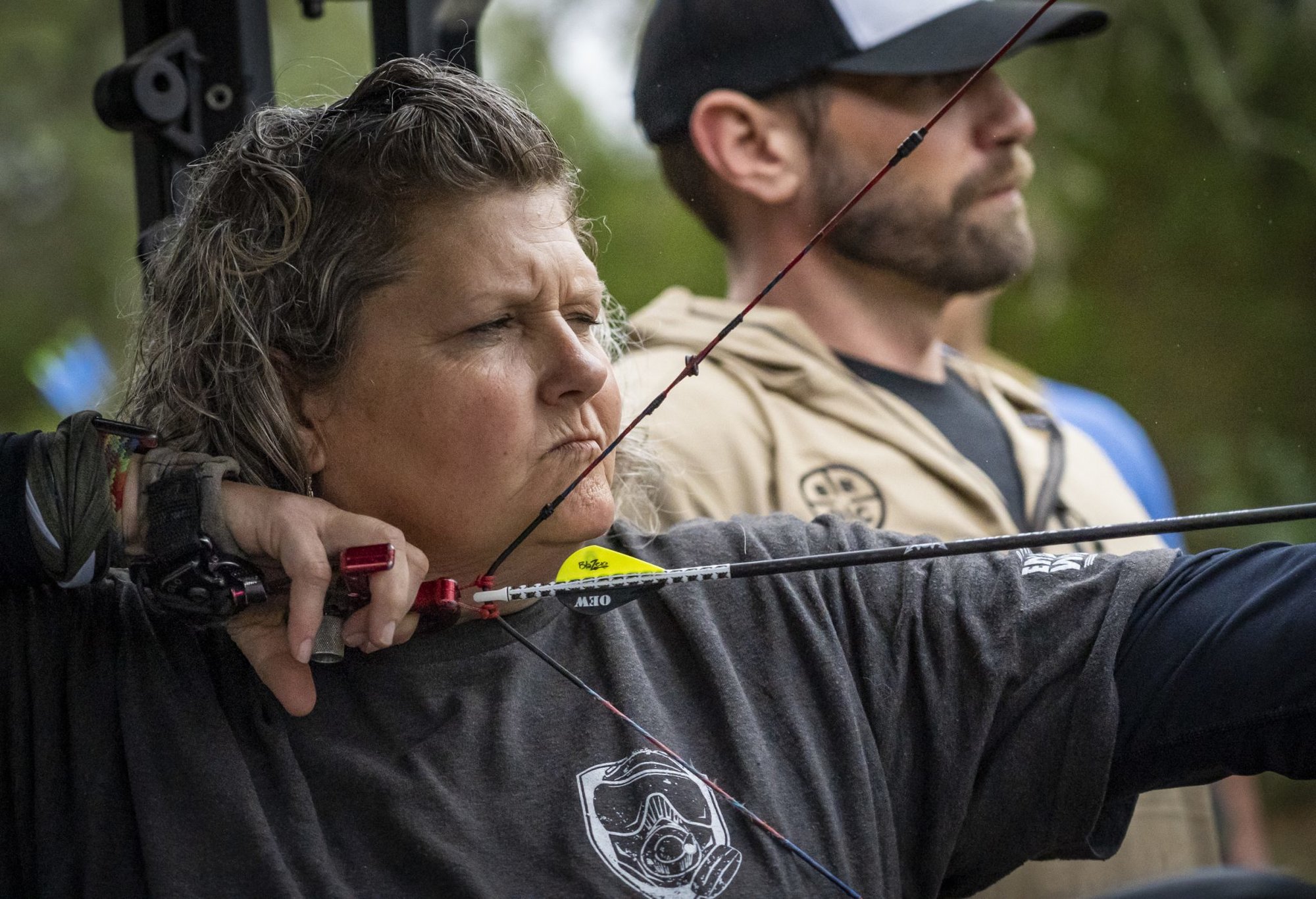 Lia Coryell
There's nothing Lia Coryell loves more than proving people wrong. Luckily, she gets to shatter expectations on the regular as the Western Hemisphere's only female W1 archer. The term W1 means Coryell has impairment in both her arms and legs — or, in her words, she's "the most fucked up."
Coryell served in the Army for less than two years before breaking her leg during a training exercise, but the leg never healed correctly. Two years later, doctors diagnosed her with multiple sclerosis. Over the decades her MS has become progressive, and she was already in a wheelchair by the time she learned to shoot a bow and arrow. But archery came naturally to her, and Coryell qualified for the US Paralympic Archery Team in 2015, competing in the Rio 2016, World Archery Para Championships, and the Parapan American Championships, just to name a few.
Now she inspires people all over the world to overcome whatever obstacles they think are in their way.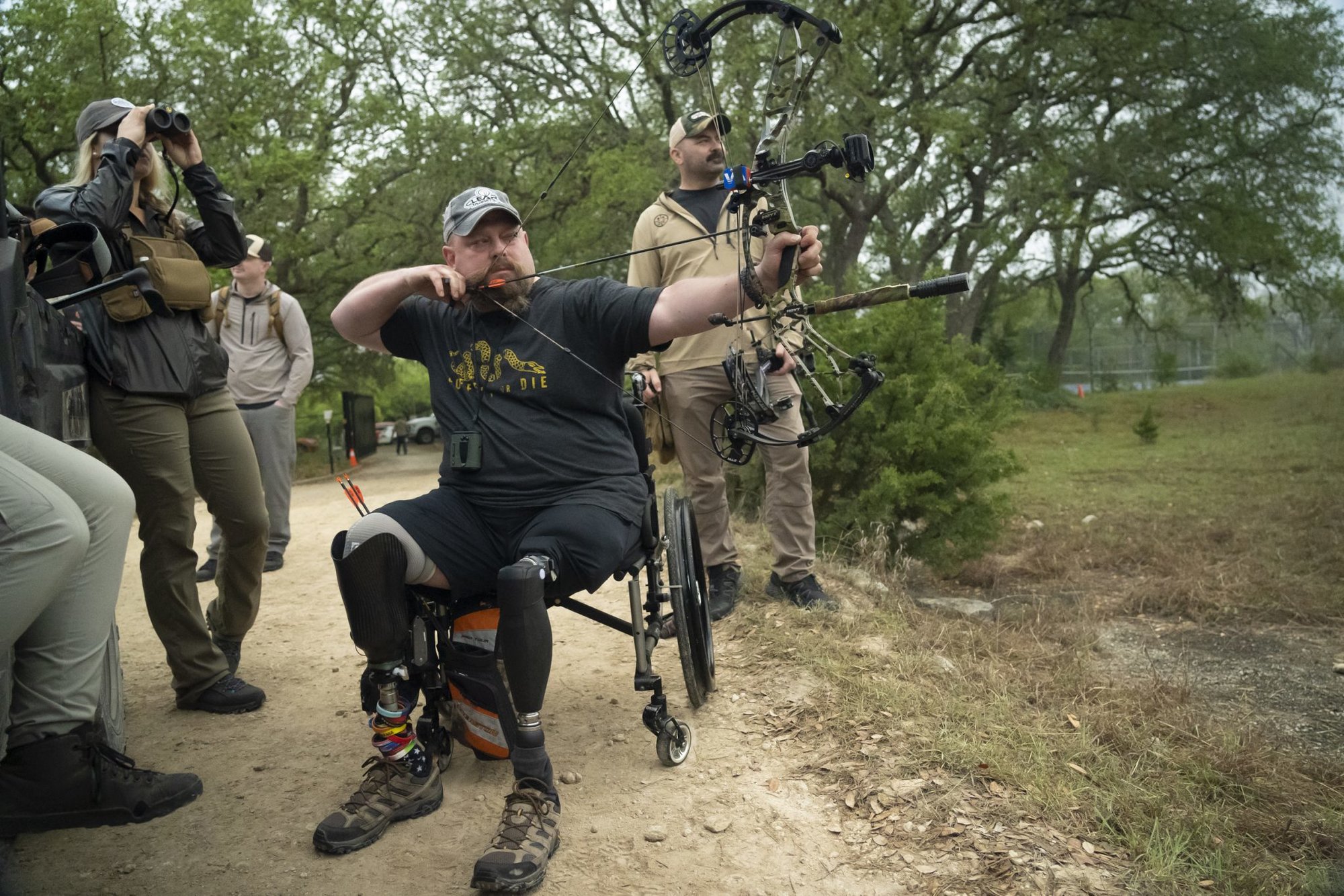 Eric "Trainwreck" Burkett
Marine Corps veteran Eric "Trainwreck" Burkett was 19 and kicking bowhunters off his family farm in Pennsylvania when he met the owner of a local archery shop who convinced him to come into the store and learn about the sport.
Burkett was back on the archery range mere weeks after his MV-22 Osprey crashed in Morocco, sitting in a wheelchair with a thick scar on his left knee and a right foot held together by a cast. When he first had a leg amputated below the knee in 2013, he snuck out of the hospital two days later to shoot again (don't tell his doctors).
Burkett went on to become a member of the United States Paralympic Archery Team, won gold at the 2014 Invictus Games, and currently coaches new archers of all ages.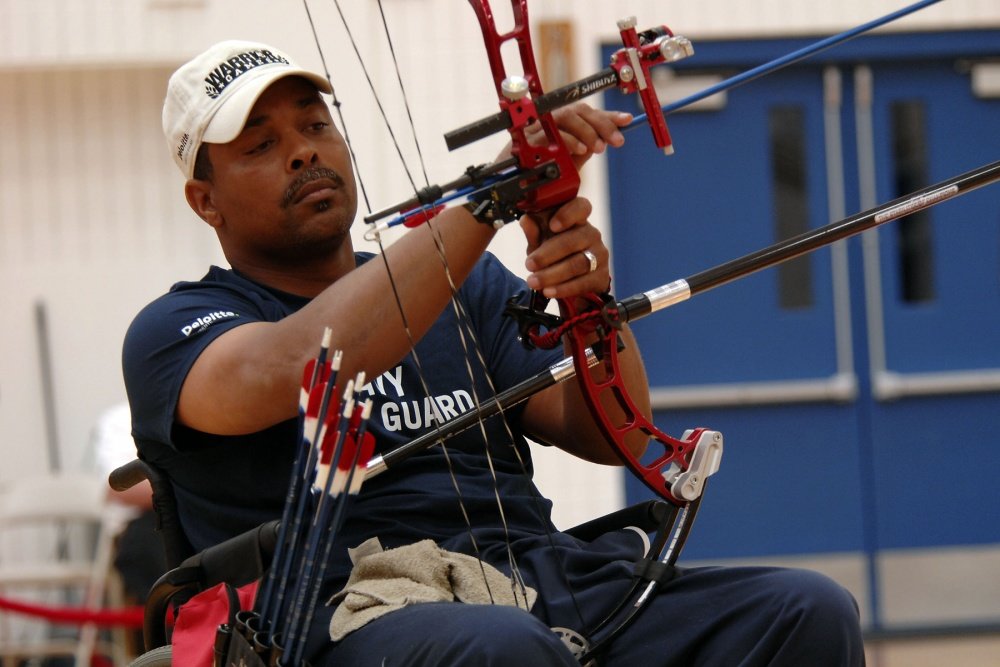 Andre Shelby
Andre Shelby played sports year-round as a kid growing up in Indiana, shining especially bright on the football field. But when a motorcycle accident paralyzed him from the chest down and ended his Navy career, it took a little coaxing to get him to try adaptive sports. According to Team USA, he'd never shot a bow and arrow in his life until seeing another para archer demonstrate the sport during one athletic clinic. Shelby was hooked.
"There was just something about, I'm able to do this, and just to have fun with it, and the technology of the bows, how they work. Once you think you've learned one thing, there's a thousand other things you need to learn about it," Shelby said in an article from Team USA.
Shelby became the first Black archer to compete for the US in the Paralympic Games in 2016. He was seeded 12th in the ranking rounds, but when the individual matches started, so did his winning streak. A 10 on the final shot turned Shelby into a gold medalist.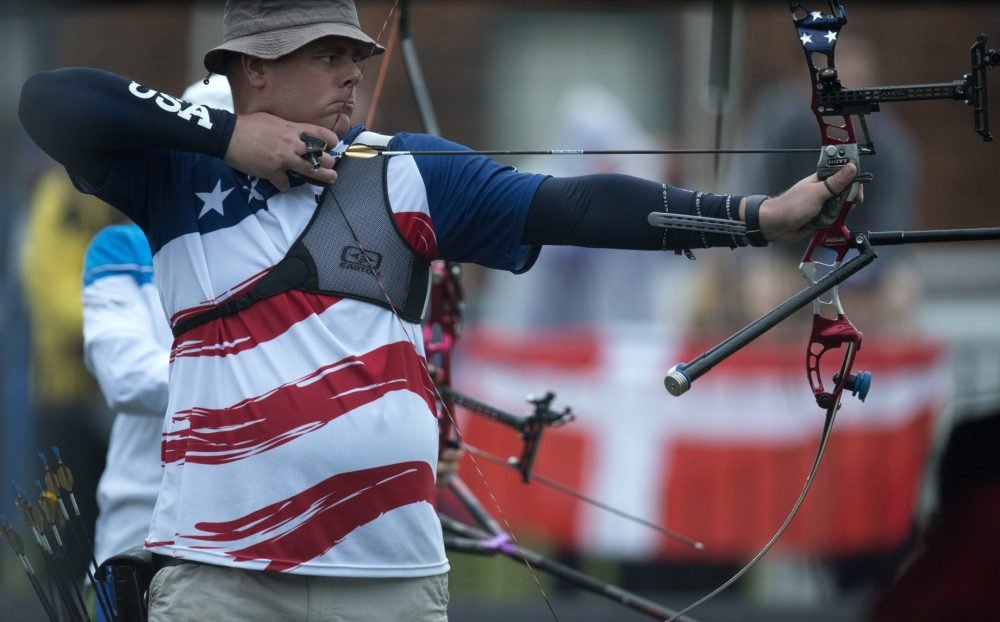 Michael Lukow
Like Shelby, Army vet Michael Lukow was a competitive athlete growing up, reaching the all-state level in both basketball and track. A roadside bomb took the bottom of his right leg and injured his left in 2008, according to World Archery. Lukow was just 21.
In rehab, Lukow said, a Vietnam veteran came by and introduced him to archery. Since then, he has won numerous national and international medals, including at the Pan Am Championships, world championships, and Invictus Games.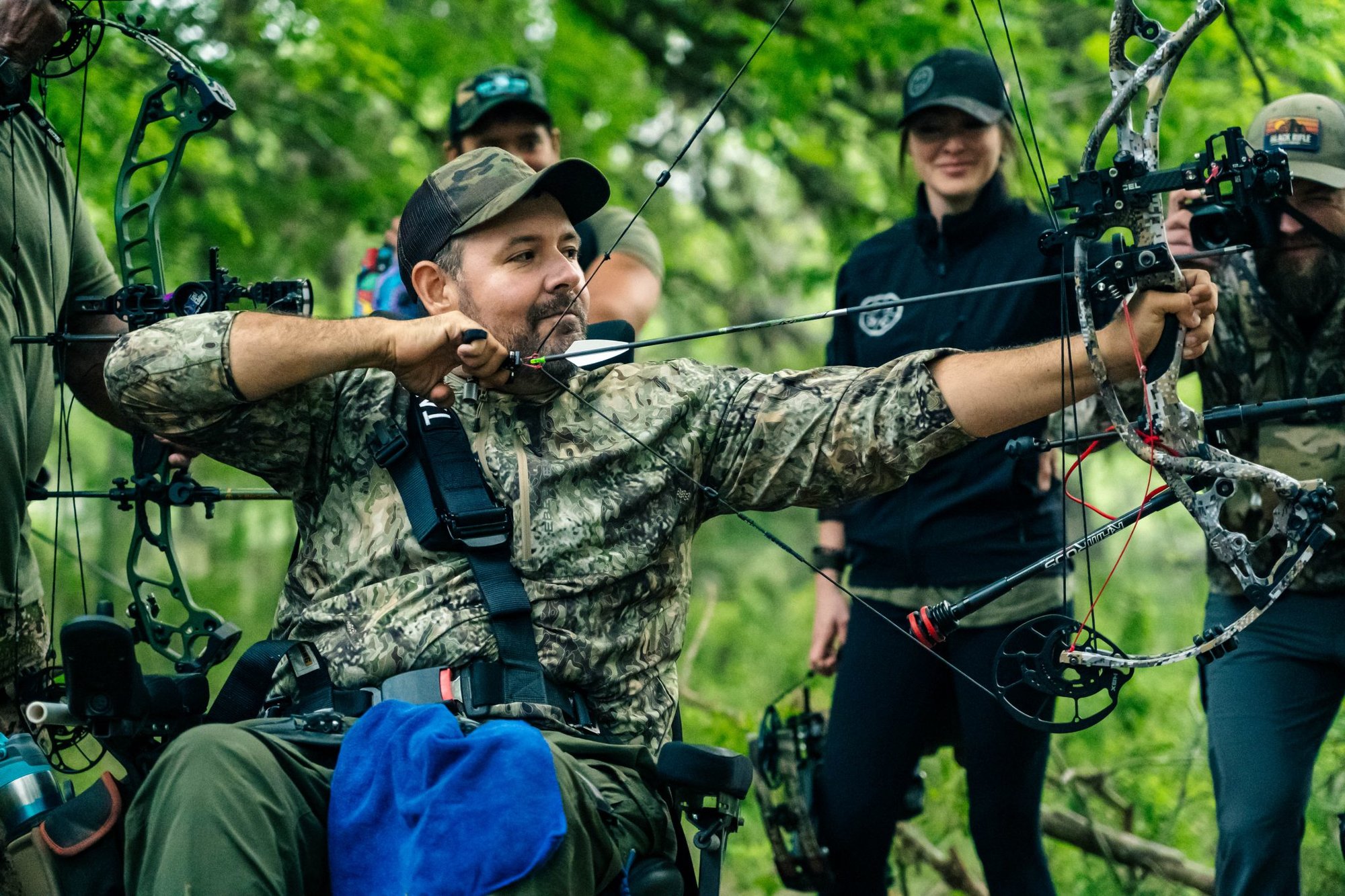 Jason Tabansky
At this point it seems like Team USA is nothing but vets. Army veteran Jason Tabansky has been paralyzed since 2015, after a freak accident. After slipping and falling while climbing down from a Chinook helicopter, he initially seemed fine but then woke up unable to move three days later. A bout with strep throat had left an infection lurking in his neck that, coupled with the fall, paralyzed him in a stroke of fate Tabansky describes as "just really really random."
Drawing on limited bowhunting experience, he got back into archery the next year and has competed with the US Paralympic Team since 2018.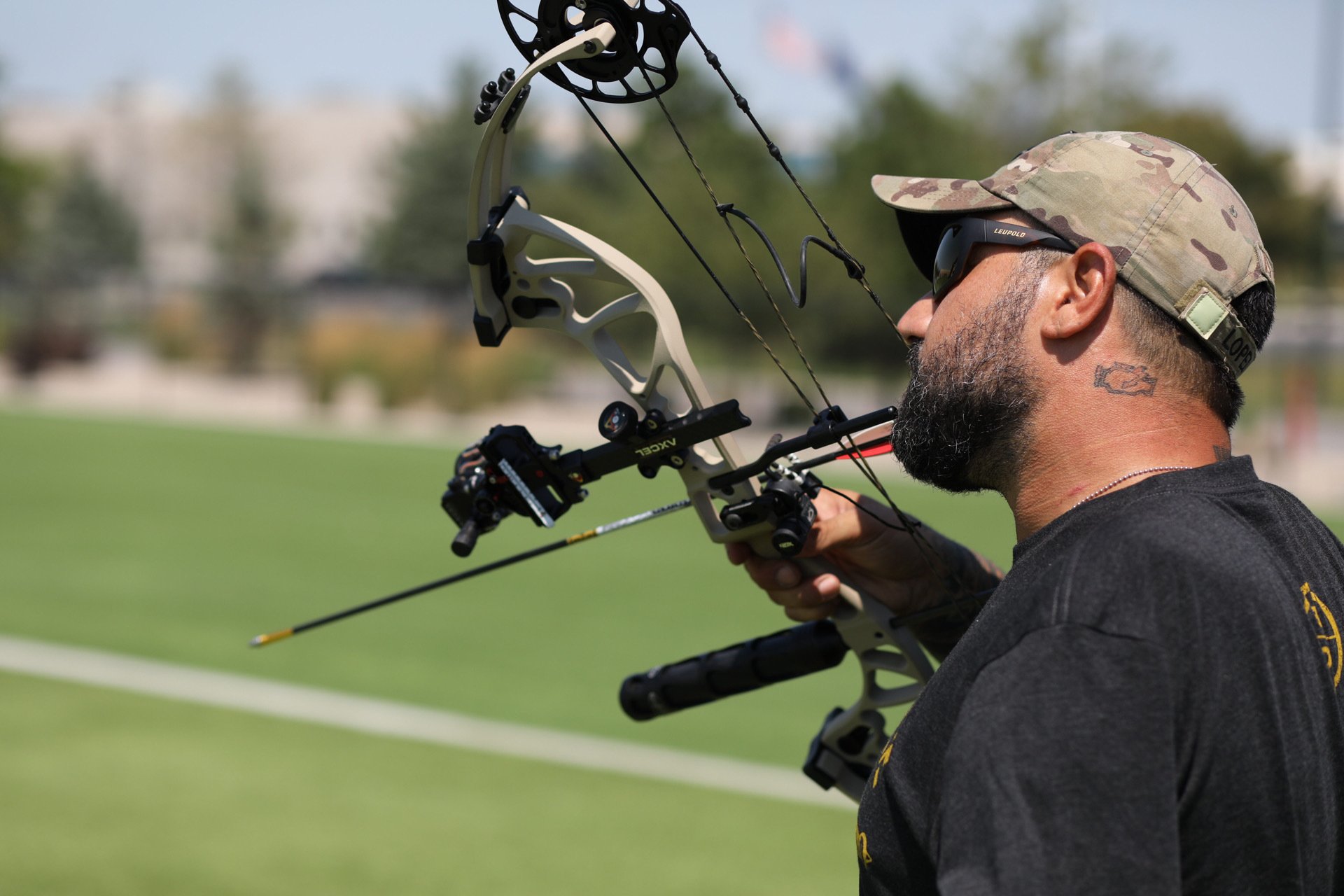 Jonathan Lopez
All eyes are on Jonathan Lopez when he demonstrates his trademark style of drawing his arrow back with his teeth. The 1st Infantry Division soldier lost his left arm after he was hit by a drunk driver while rotating home from deployment.
Lopez first figured out how to shoot one-handed using a bow and a piece of 550 paracord with a knot tied on it that he could bite. He's come a long way since then, motivating other vets to step up their own archery game through Operation Enduring Warrior, a nonprofit that helps military and law enforcement vets participate in athletic events or go on outdoor adventures.
His impact goes beyond the veteran community. Last summer, a video of Lopez teaching an 8-year-old girl to shoot using a mouth tab went viral.
So for anyone looking for an entry point to archery, these inspiring veterans make a strong case for getting after it — no excuses.
Read Next: Doing Epic Shit Together: BRCC's Veteran Adaptive Athlete Shoot