There is pain when it comes to riding a motorcycle. On a bike, exposed to the elements, the little things are painful. At 75 miles per hour, raindrops batter exposed skin. A piece of road gravel kicked up by a passing car feels like a pellet fired straight into your nipple. On a motorcycle, the world hurts — sore butt, aching back, fingers cramping from gripping the constantly vibrating clutch and throttle. From frigid conditions to scorching heat to random gusts of wind trying to knock you off of the bike, everything is trying to kill you.
Maybe that's why riding more than 1,000 miles on a motorcycle is good for the mental health of combat veterans. The possibility of death at any moment was our normal. Insurgent IEDs, mortar and rocket fire, the distinct sound of an AK-47. On a bike it's the gravel in the next bend of the highway that could make the rear tire slip. It's the heat of the day. It's the ice on the road. Isolated within the helmet, listening to the road noise and wind and living in the seconds as they slap your helmet like Texas grasshoppers is a strange catharsis.
That's motorcycle therapy.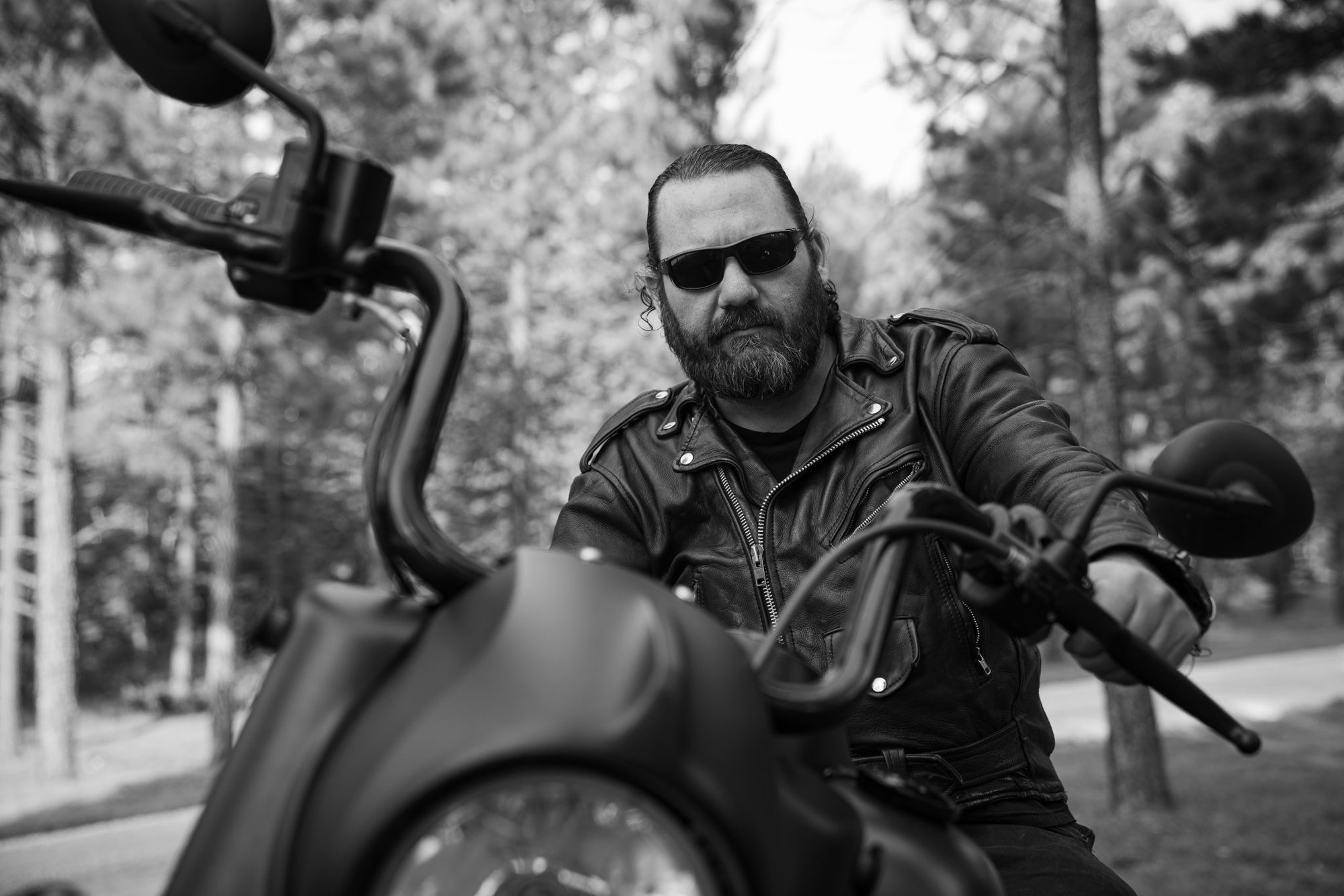 While many American veterans have surely practiced something along the lines of "motorcycle therapy" for decades, taking to the open road with a tribe in search of a better tomorrow is a practice whose treatment potential Army veteran Dave Frey and his wife, Sue, realized in 2014 on the road to South Dakota for the Sturgis Motorcycle Rally, the mecca of biker pilgrimages.
After meeting a fellow paratrooper in Wyoming in 2014, Dave learned the man was in need of lodging for the night. Dave called Sue, a logistics maven, who found the vet the last room available in a hotel full of Hells Angels in Cody, Wyoming. Crossing paths with the soldier was the genesis of the Veterans Charity Ride, the Moab, Utah-based nonprofit the Freys run.
Since 2015, the Veterans Charity Ride has provided motorcycle therapy to veterans living with physical and psychological wounds, such as traumatic brain injury, post-traumatic stress, and other combat-related injuries and illnesses. Every summer, Dave and Sue bring a small group of veterans to southern Utah for an all-expenses-paid two-week retreat that culminates with the ride to Sturgis.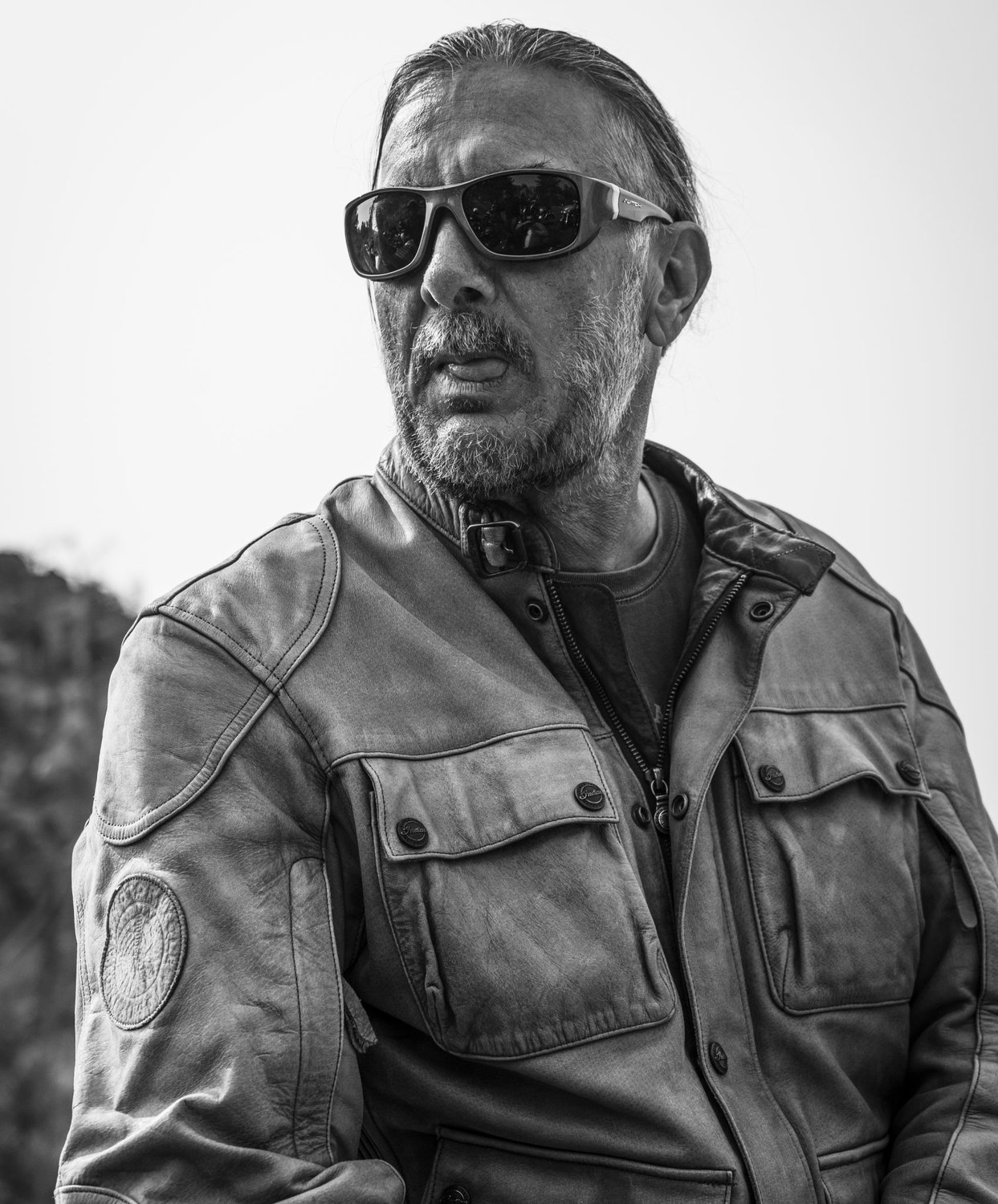 I've been riding motorcycles since I was 18, and Sturgis had been a dream of mine for years. When a friend connected me to Dave and Sue, I never thought they'd pick me to join the 2021 Veterans Charity Ride.
Over the phone, I shared some details of my combat experience — getting blown up in Ramadi, my time as a Marine interrogator and military intelligence analyst. I talked about drinking too much and some of the nights and days I've sat on the couch with a Glock in my mouth.
"We'd like you to come out to Utah," Dave said after listening intently and asking a few questions. Later, Sue would tell me she and Dave knew almost immediately that I needed motorcycle therapy.
I arrive in Moab July 28. Taking in the landscape, I realize photos and other media do no justice to the breathtaking scale and natural beauty of the surrounding cliffs and red rock formations carved over thousands of years by wind and water. The neatly sliced landscape would make a master chef proud — if God were a chef. Boulders the size of warehouses are casually strewn along the canyons. Some spill into rivers while others teeter on tomorrow's edge, waiting to be called down into a valley or the mighty Colorado.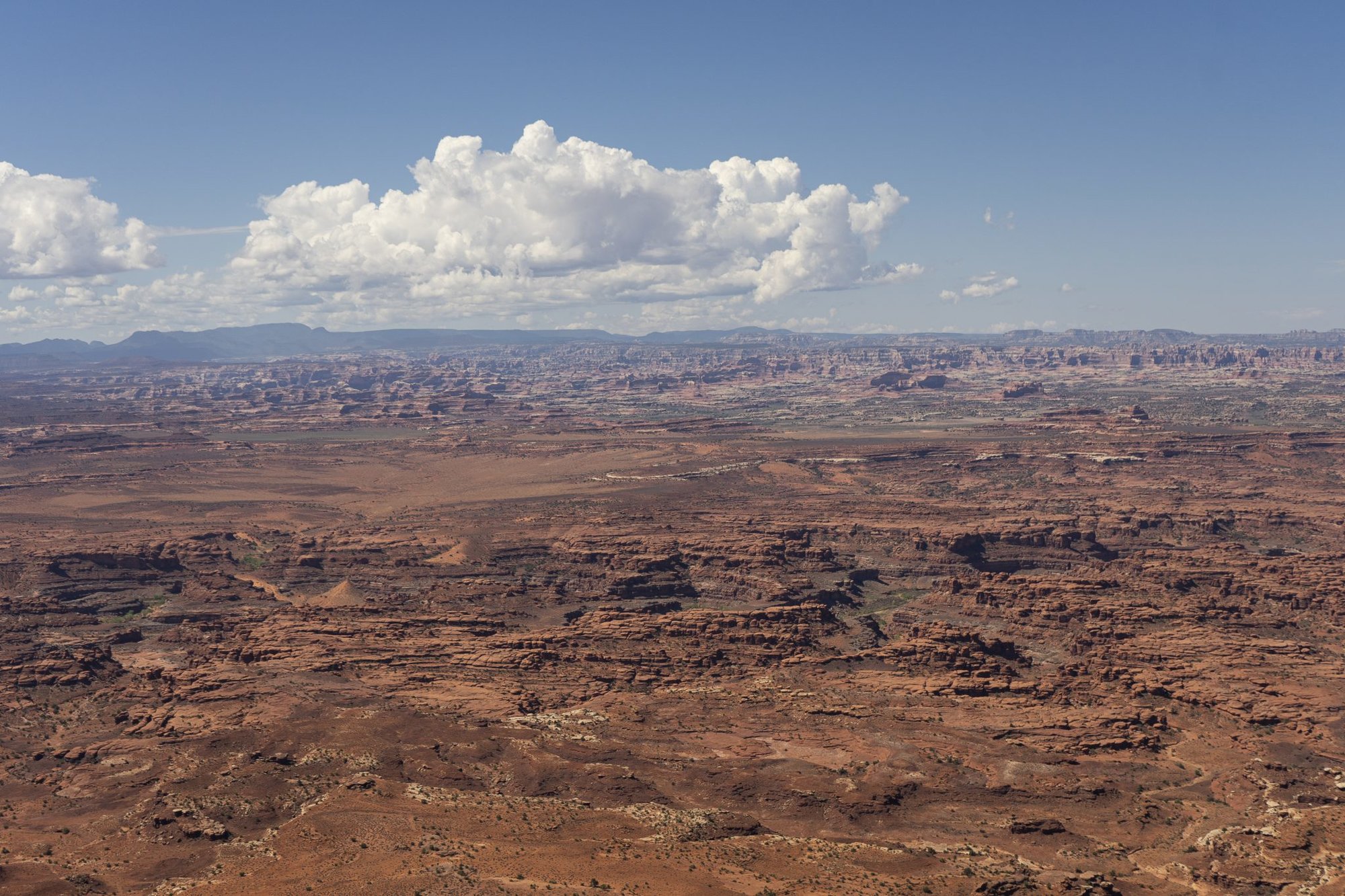 About 20 miles northwest of Moab, the Colorado River meanders past the aptly named Red Cliffs Lodge just outside Castle Valley, Utah. At the lodge, I meet Dave and Sue and the seven other veterans they've brought out for the 2021 Veterans Charity Ride.
Among the crop of first-time riders forming our proud band of merry misfits is a former Army medic with a penchant for sarcastic jokes and flamboyant flair, an Air Force veteran left paralyzed by what should have been a simple medical treatment, a Navy vet who proudly describes how she often FaceTimes with her cats, and a Marine vet who lost his left arm in a motorcycle wreck and now flaunts his preferred nickname: Lefty.
After some brief introductions and the traditional veteran butt-sniffing routine, a brown-eyed brunette greets me with a warm smile and keys to the bike I'll be riding. Chief Warrant Officer 3 Katie Harrington made her first ride from Utah to Sturgis with VCR in 2018. One of several VCR alums who return each summer as volunteer mentors for the new class of vets, the nurse and South Dakota National Guard soldier easily infects those around her with her persistent positive energy.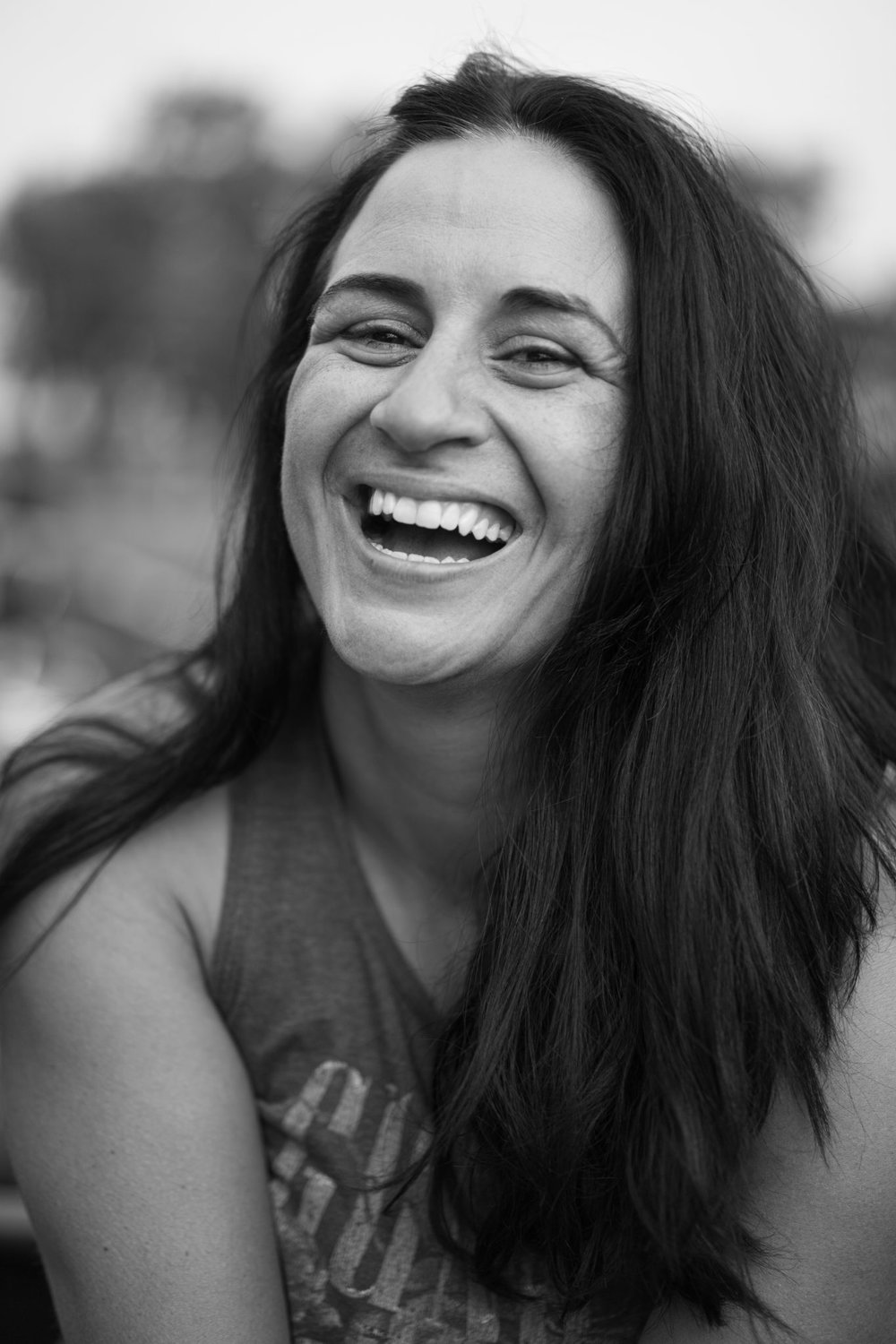 Outside I mount a low-slung, sagebrush green Springfield Dark Horse provided by Indian Motorcycles and wonder what I've done to deserve such a beautiful bike. The black-on-green matte finish practically begs for a pinup detail on the tank with the name Dolly or Mary-Sue. It's a war machine. The only things missing are a machine gun mounted on a swing arm and a shotgun in a leather scabbard.
Indian Motorcycles has sponsored the Veterans Charity Ride since the organization's first ride in 2015. Sue says Dave earned the nickname "The Tenacious Bastard" around Indian's corporate offices. No matter how many times Indian initially turned down Dave's pitch to help him put a bunch of wounded veterans on motorcycles and ride to Sturgis, he kept coming back, unironically begging the question, What could go wrong?
Turns out, nothing. So now, every summer, Indian enthusiastically provides brand-new loaner bikes for the veterans making the ride to Sturgis with VCR for the first time.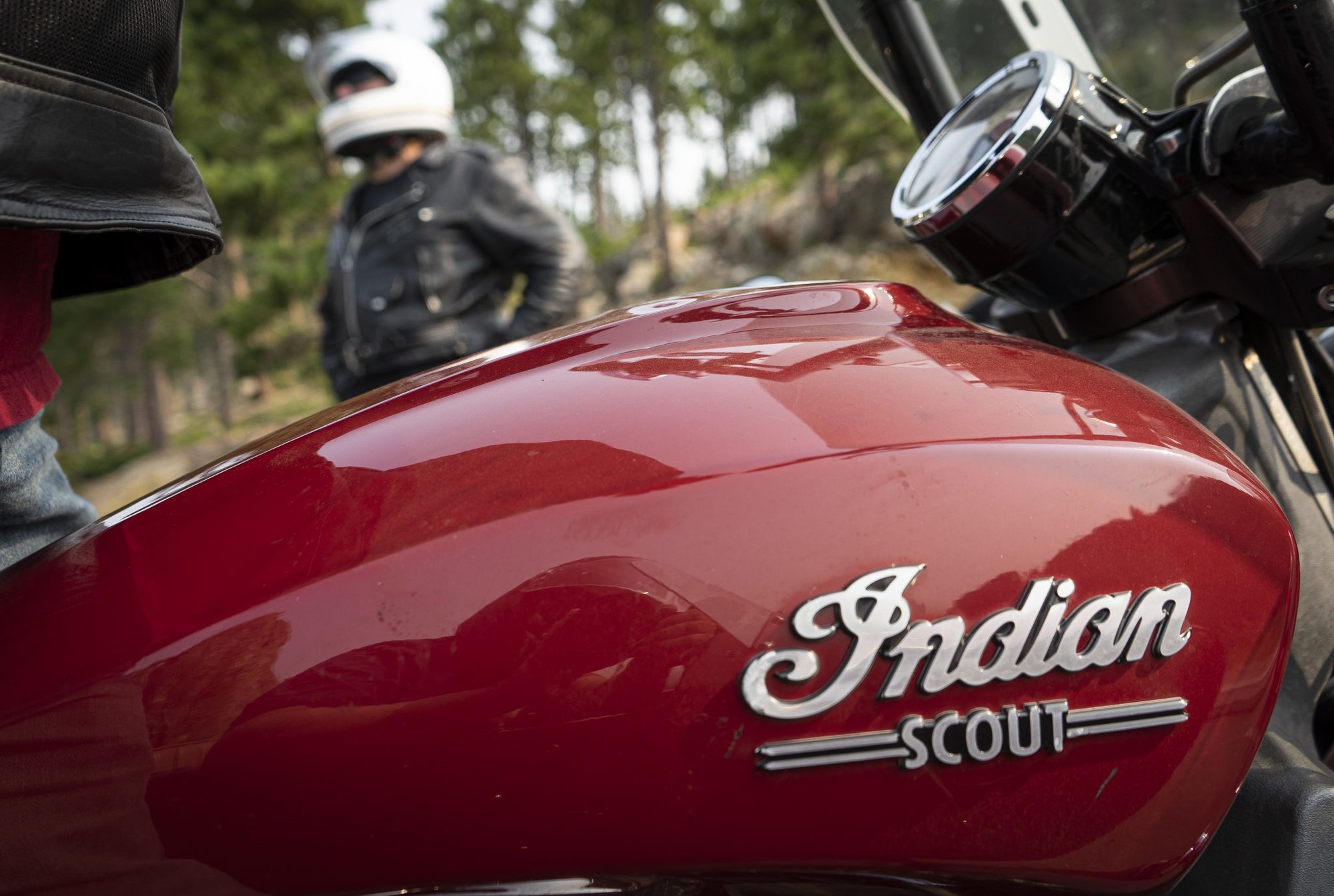 It's been a few years since I've been on two wheels, so I join the other vets for a quick ride to shake off the rust. The Springfield's weight and riding position are much different from those of the sport bikes I'm used to, but after leaning into a few curves on the open road, I settle into the bike like it's an old pair of jeans. The Springfield growls and shakes, eating up the asphalt until we roll back into the parking lot at the lodge and drop kickstands. Lightning cracks over the plateaus as a light drizzle falls, kicking up little eruptions of dust from the red dirt all around as the smell of wet sage and cottonwoods fills the air.
On our second night in Moab, we gather for dinner in the ballroom at the lodge and sit at a round dining table. My attention is immediately drawn to the gaudy Hawaiian shirt next to me and all the ways its wearer — a former Army medic named Cameron High — has invited a barrage of ribbing. It's like blood in the water for those of us programmed to establish dominance quickly in the veteran-humor hierarchy.
"Pretty cool shirt, bro," I say. "It would be better if it had dicks on it."
"Actually," he replies, "that's a great idea!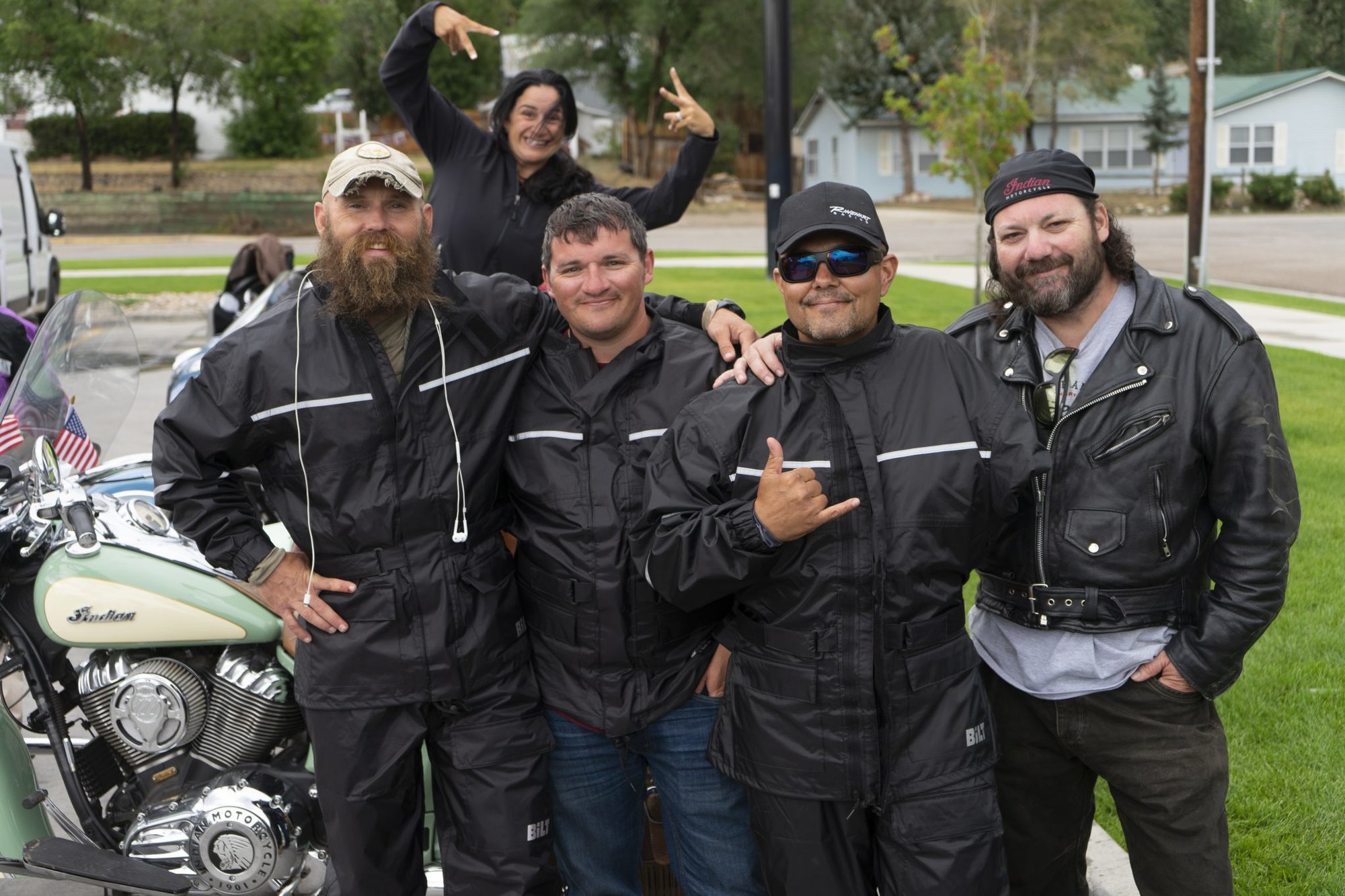 I wonder if anyone sells those?"
Several vets immediately whip out their cell phones and consult Google to discover that dick-patterned Hawaiian shirts are in fact readily available online. Cam orders one on the spot, and Ryan Lundbohm, a Marine Corps veteran and photographer, quickly discovers a website that will print hidden dicks on pretty much anything, including a wingsuit.
"Did we just become best friends?" I say, grinning. Because nothing brings vets together quite like dick jokes.
We immediately fall into the familiar pattern of trading playful insults and constantly trying to one-up each other for ever bigger laughs. It's like being back in the smoke pit, joking and telling stories, delivering sarcastic one-liners. As we earn our badge of honor as "the rowdy table," it soon becomes obvious that Navy vet Khara Adams has the foulest mouth and the dirtiest jokes of the bunch.
Laughing and happy in a way I haven't felt in a long time, I'm struck briefly by a thought: This feels like home. This is why we're here.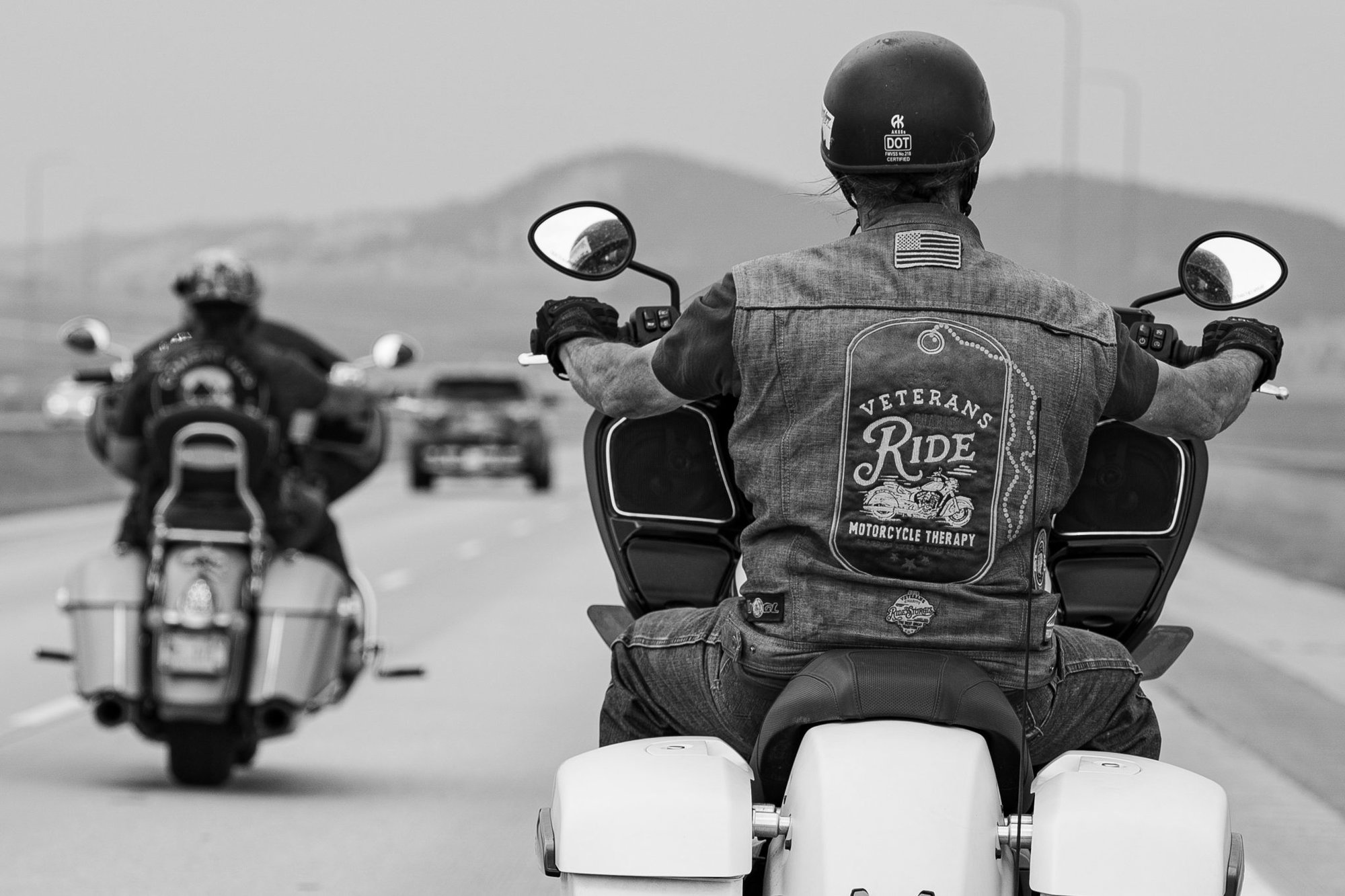 The Red Cliffs Lodge remains our base of operations for several days as Dave and Sue provide a world-class retreat. We ride horses on trails that snake around the lodge's vast property. We spend a day offroading around Hells Gate outside Moab. We swim and lounge endlessly around the pool. And we raft lazily down the Colorado River, spraying water at each other from rifle-sized squirt guns and rediscovering the joy and camaraderie we found in the service.
One morning, Khara, the endearingly foul-mouthed former sailor, climbs into a sidecar attached to Katie Harrington's baby-blue Indian. VCR sponsor Champion Sidecars provides the means to ride to Sturgis for amputees, paralyzed riders, and veterans who — like Khara — simply don't have a motorcycle license (not yet, anyway!).
We start our bikes, and the rumbling, torquing machines roar to life. We set out for Canyonlands National Park on Highway 191. As I ride, the brutal desert air and searing sun suck the life out of me. I quickly become heat-sick and nauseated. When riding a bike with skin exposed to the sun, hydration is key. Even the experienced riders from the area, already accustomed to the fiery climate, seem to struggle with the heat. But the vistas are worth it. From Needles Point Overlook, the expanse of the gash carved in the earth by the Colorado River spreads out for hundreds of miles, all visible from the outcropping of red rock.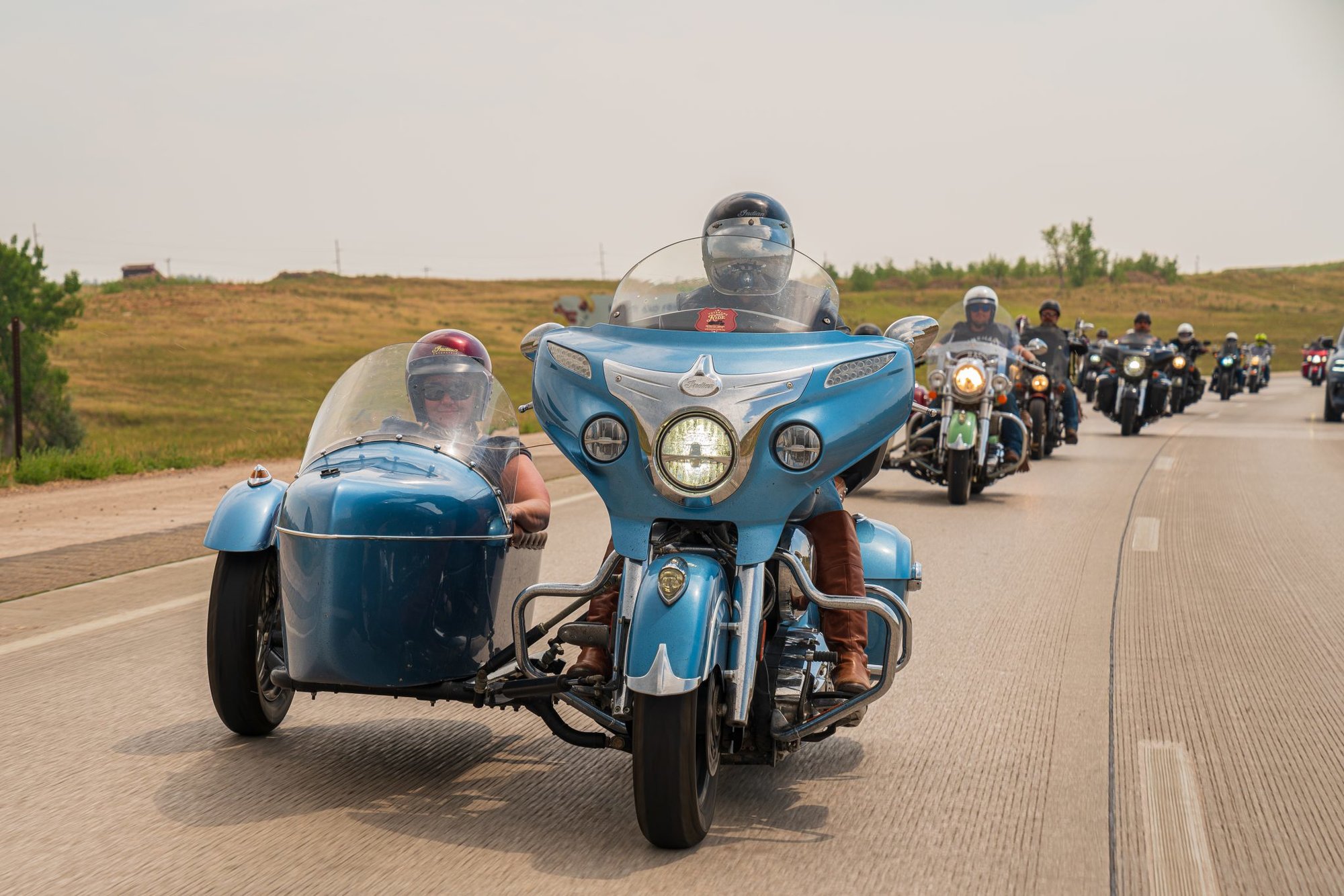 After taking in the view, we make our way back to the 191 and head south to Newspaper Rock, one of the most famous rock art sites in the western US. Native Americans have been engraving and drawing on the rock for more than 2,000 years.
"Just looks like graffiti," Cam quips irreverently.
"They're not even good at it," I reply, riffing along. "What deer has five legs?"
"That foot has four toes," Joe adds. "I guess they took Math for Marines."
We are philistines.
"Well, that's clearly an alien. Look at the head — and the eyes," says Ryan.
"How is this not on Ancient Aliens already?" I say.
As Lefty and I walk to a picnic area VCR's support team has set up for lunch, I learn the 48-year-old Michigander runs his own veterans charity called Ascend Empowerment, can ride a snowmobile one-handed, and is determined to figure out how to do the same on motorcycles.
At the picnic area, VCR volunteers Sharry Billings — a heavily tattooed professional chef — and Annette Dearth have prepared impressive sandwiches for us. Who knew tuna fish could be gourmet? Billings and Dearth are members of the Litas, an all-women motorcycle group.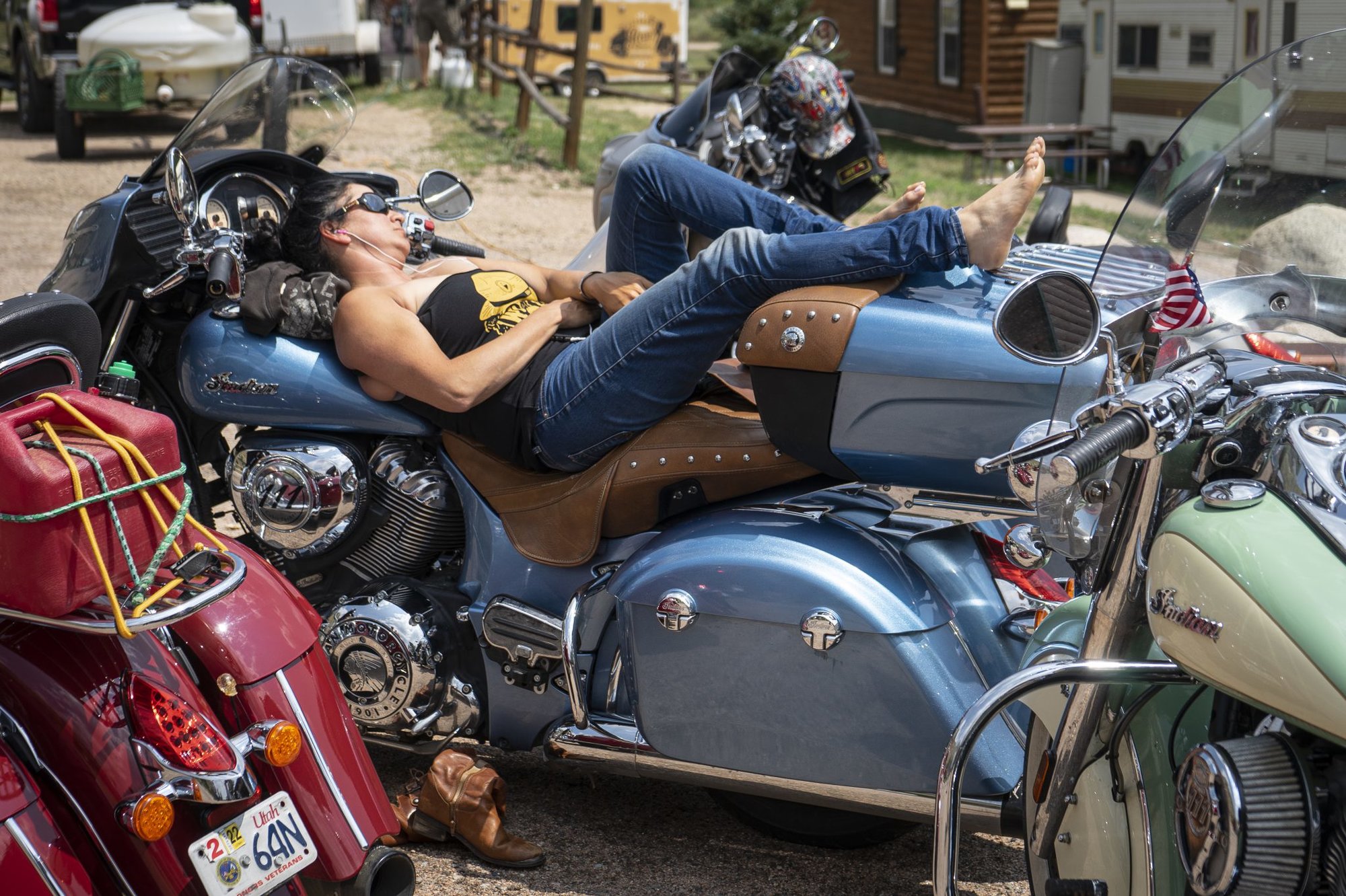 Lefty and I take our sandwiches and find a table to enjoy our lunch. As she saunters past, Katie flashes one of her brilliant grins and throws up her hand in what looks like a high-five but may be a wave.
"Uh, did you just try to give me a left-handed high-five?" Lefty asks playfully.
I snicker as a half-second look of embarrassment briefly disrupts Katie's signature smile, which Lefty and I can't help but reflect.
Back at the lodge, we all gather at the pool for drinks, cannonball competitions, and conversation. I learn that Jared Thomas — our beardy road captain whose cascading locks give him a Jason Momoa look — is a mechanic who's starting his own shop. Cam does cybersecurity. Ryan (who looks dead sexy in a Stetson and cutoffs) is living the van life and working as a ranch hand in Moab. Chris Wolff, a paraplegic who was told he'd never be able to walk again, moves around in the water and at least pretends he's walking.
As I sip my drink, surrounded by comrades who have all chewed some of the same sand at one time or another, life feels … normal again. I'm a fish in water, with people who can relate to my experiences — even the stuff I don't usually share with others. All of us talk openly about things we aren't usually comfortable saying out loud. This is our safe space, as the kids say these days. It feels good.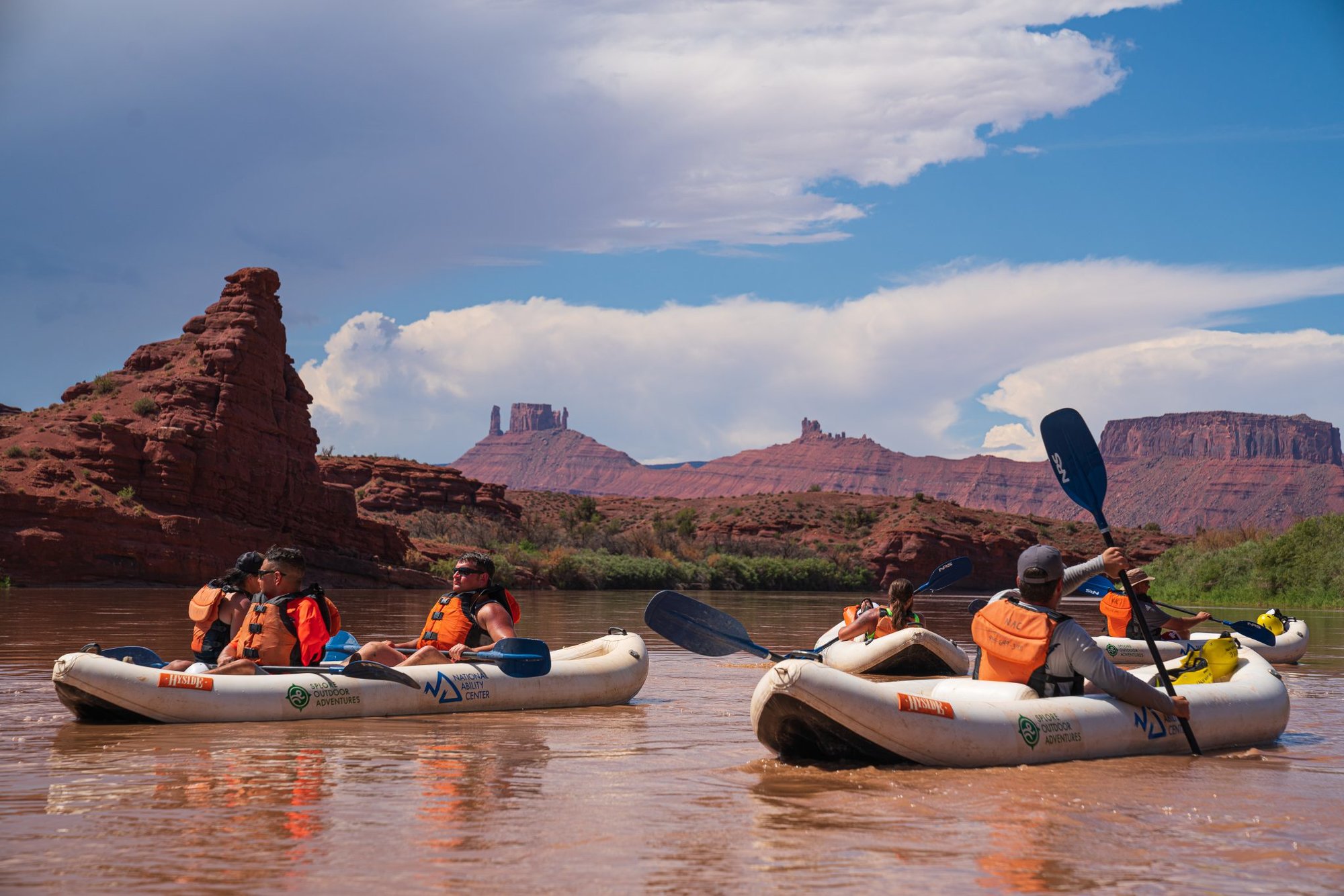 On Tuesday, we set out for Sturgis, pulling out of Red Cliffs Lodge in a staggered column. We follow the Colorado River out of Utah, eschewing the interstate and sticking to highways and byways as much as possible as we wind through the seemingly endless desert. On a broken road outside the ghost town of Cisco, a tiny mule deer in the road stares at us as our bikes roar past. We are a column of leather-clad cavalry on iron horses. Our engines sing a guttural harmony as riders change gears and twist throttles.
Group riding requires organization. We're all in our helmets, focused on the bike and the road — alone, together. Hand and arm signals become instinctive. We watch those ahead of us as they lean into turns or approach a stop — same as we would a point man on a patrol through Ramadi or Sangin. What one person does is relayed and communicated to all.
On the outskirts of Grand Junction, Colorado, a police escort and members of Patriot Guard Riders — the organization that provides funeral support and other services for veterans — join our column as we make our way to the Indian Motorcycles dealer­ship, where the owners and community members treat us like kings and queens for a couple of hours.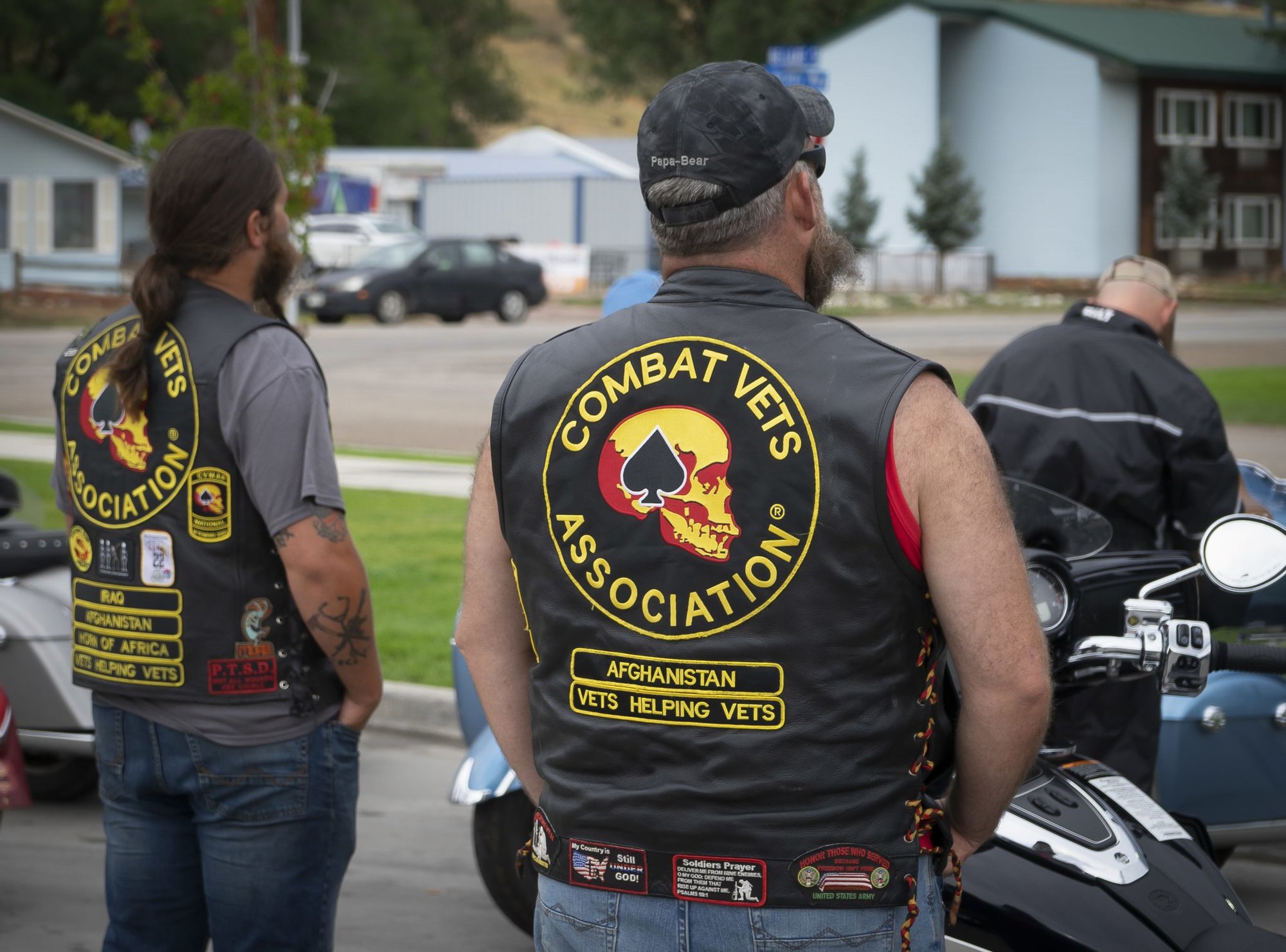 From Grand Junction we fight intermittent rain showers on our way to Steamboat Springs, where we bed down for the night at the Rabbit Ears Motel before rolling on the next morning through western Colorado toward the Rocky Mountains.
We take Cameron Pass over the Rockies and down the Eastern Slope, which is still scarred by the recent wildfires, landslides, and flash floods that savaged cabins and bridges on the Poudre River.
As I ride, it occurs to me I'm seeing the American landscape with a fresh perspective. It's dairy farms and sheep ranches. It's the sweet smell of wet grass in the morning and the windswept cornfields. It's the tiny towns and sacred war memorials that tell the story of those who paid the ultimate sacrifice so that others could live in peace.
From Fort Collins, Colorado, through Cheyenne, Wyoming, to La Grange, time doesn't seem to matter. The road, the miles, and the countryside slip by — tall grass bending away as our herd roars past.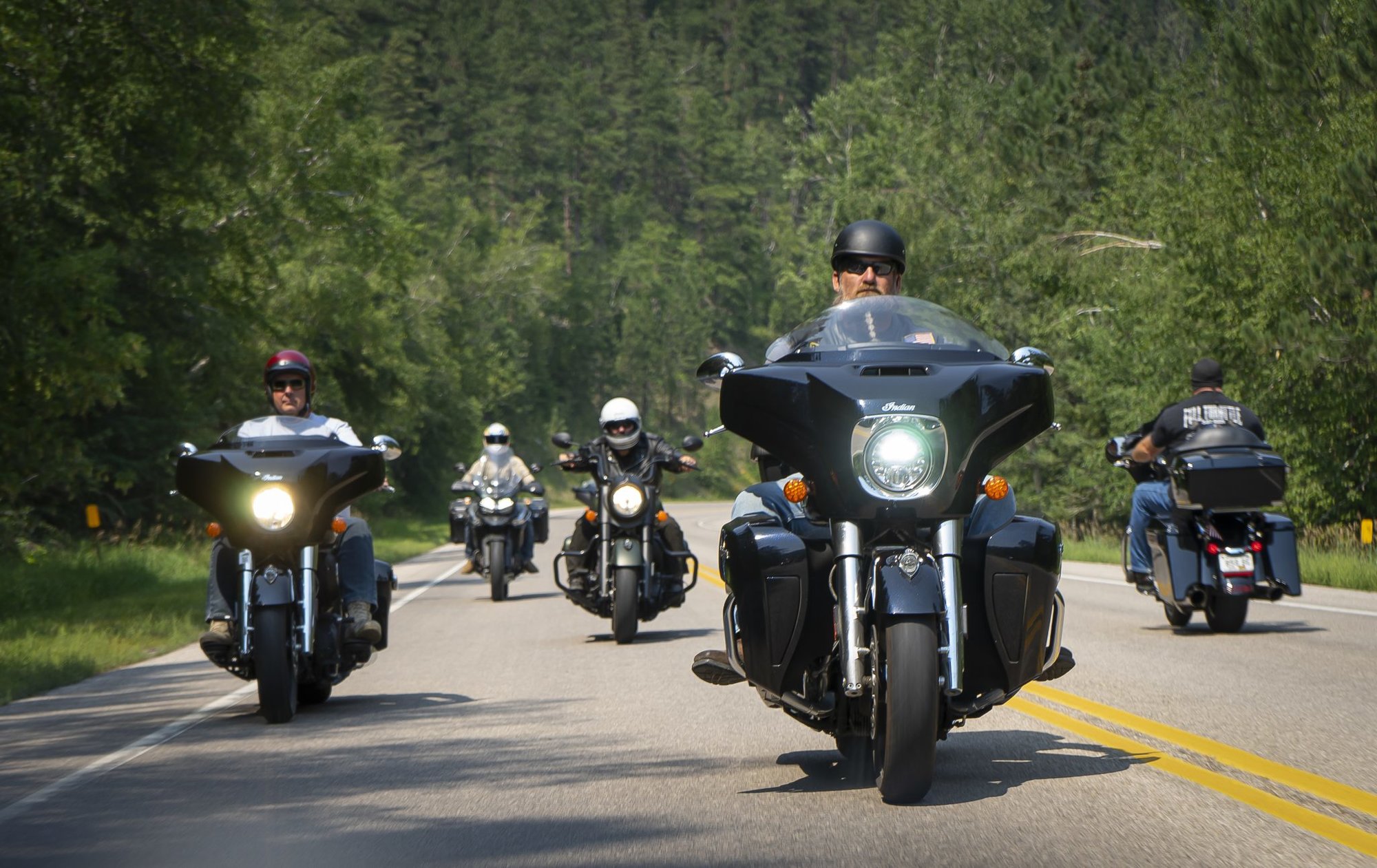 Traversing the Great Plains, I come to understand why the largest of the covered wagons that crossed these lands were called "prairie schooners." Through eastern Colorado, Wyoming, and Nebraska, and north into South Dakota, the terrain isn't perfectly flat. It rolls and roils — each long hill a solidified wave of earth and grass. The road ahead rises to a crest, falls into the trough behind, and crawls up the next crescendo only to fall again.
As we sail across the prairie waves, the wind picks up, and thick raindrops fall as we pull into a hotel parking lot in Fort Robinson, the old Army cavalry post where Crazy Horse died.
We're all a little stiff. Chris Wolff moans from his sidecar as his pilot, Pat, retrieves Chris' wheelchair from the back of the bike.
"Aarrgh! I can't feel my legs!" Chris cries sardonically.
We all chuckle as Pat yells playfully, "Shut up, monkey!"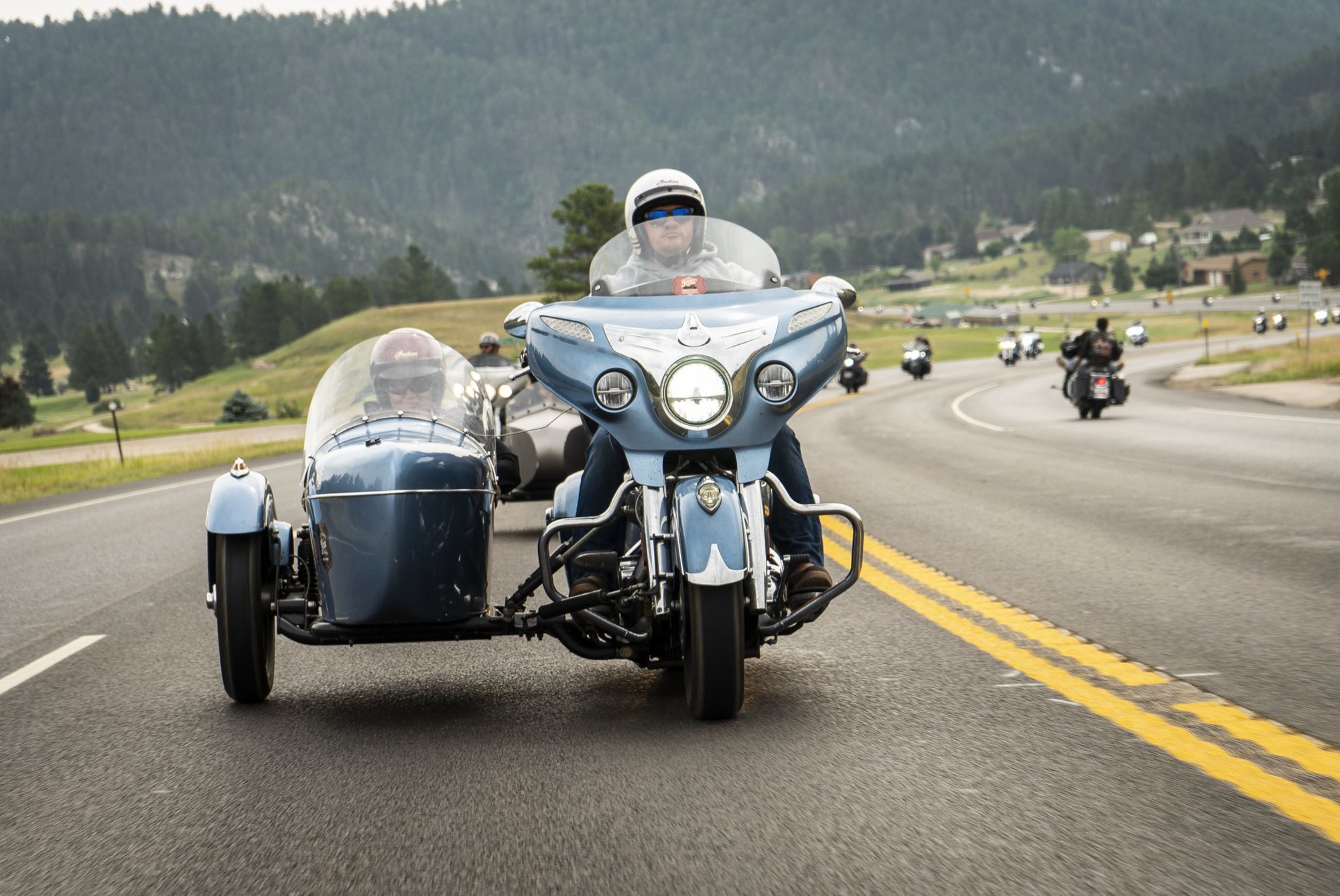 On Aug. 6, we finally arrive in Sturgis, the tiny town at the foot of the Black Hills that's home to about 6,000 South Dakotans. Over the next week, an estimated 700,000 people and more than 250,000 vehicles will converge on the town for the 81st Sturgis Motorcycle Rally. Most will stay at nearby campgrounds and small towns, such as Deadwood, Lead, and Spearfish.
The rally is a major logistical undertaking. Security is a nightmare, and the city has to pay to bring in extra cops from all over the country. Since the Sturgis Police Department doesn't have vehicles for the thousands of extra officers, they patrol on foot through the town and surrounding events.
The Hells Angels, Sons of Silence, Gypsy Joker, and other infamous motorcycle clubs are all present at Sturgis. Grandpas sporting club patches on their cuts (the vests club members wear to identify their affiliation) roll in with their grandkids on bikes. The rally is tamer than it was in the wild days of the 1970s and '80s, but it's still Sturgis. Violence among rival clubs as they compete for drug pipelines and territory remains an issue. Police will make 112 felony drug arrests before the 2021 rally concludes.
At the Mystic Hills campground about 40 minutes south of Sturgis, we check into the cabins we'll be staying at. We're closer to Mount Rushmore than Sturgis, and for good reason. While the journey to the rally is a big component of motorcycle therapy, group bonding is the real medicine. Our cabin retreat among the hills and towering ponderosa pines is the perfect final destination for a bunch of American veterans in search of our Zen. Over the next few days, we ride through the Black Hills and strengthen the new friendships we've made.
On Aug. 8, Cam buys a 24-pack of Natural Light Beer, and we make Chris carry it on his lap for the ride to the Sturgis Buffalo Chip campground where Kid Rock is performing live. We tear through some beers and get a nice buzz going before heading inside, where we push Chris in his wheelchair like an unstoppable tank through the crowd as we keep repeating, "Sorry, folks. Fuckin' lazy-ass veteran coming through."
After a raucous and unforgettable concert, we head back to our cabins for some late-night poker, drunken zip lining, and general debauchery.
Dipping his hand into a bowl of Sharry Billings' homemade whipped cream, Lefty calls out to get Cam's attention, and when the Army vet turns, the Marine smothers a handful of whip cream in Cam's face as the rest of us let out a collective "Oooooooh!" With cream dripping down his face, Cam casually takes another sip of his beer and shrugs.
I can't remember the last time I felt this happy.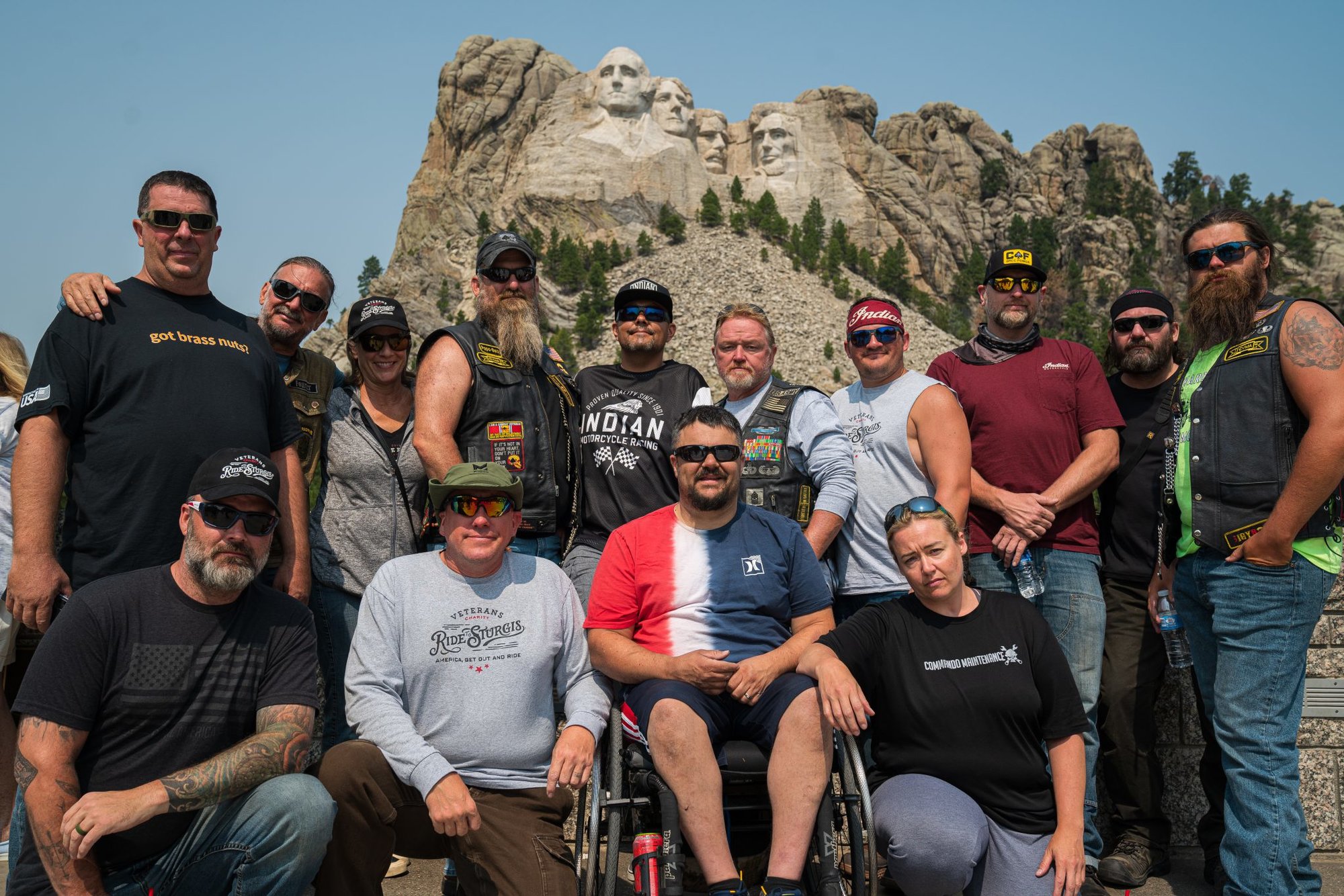 The next day, we leave the cabin for our last group ride. We set out for Mount Rushmore early enough to have the road mostly to ourselves. We ride through the hills to Needles Highway and on to Iron Mountain Road and finally to that colossal mountain sculpture.
Taking in the marvel of American achievement is bittersweet. Our time together is almost over. After the ride back to the cabins, we'll part ways.
Back at our bikes, kickstands go up, and we take to the road — alone, together, for one last ride. The familiar smell of pine trees mixes with motorcycle exhaust as we wring the sweetness out of every sweeping curve, hugging the turns like children clinging to our favorite toys and the hope that the comfort they bring will never leave us. Wild bison graze in grassy meadows, and gray granite boulders complement the vibrant, dancing leaves of elm, spruce, and birch trees. Time slows as the cool Black Hills air washes over us — flowing together on a river of asphalt.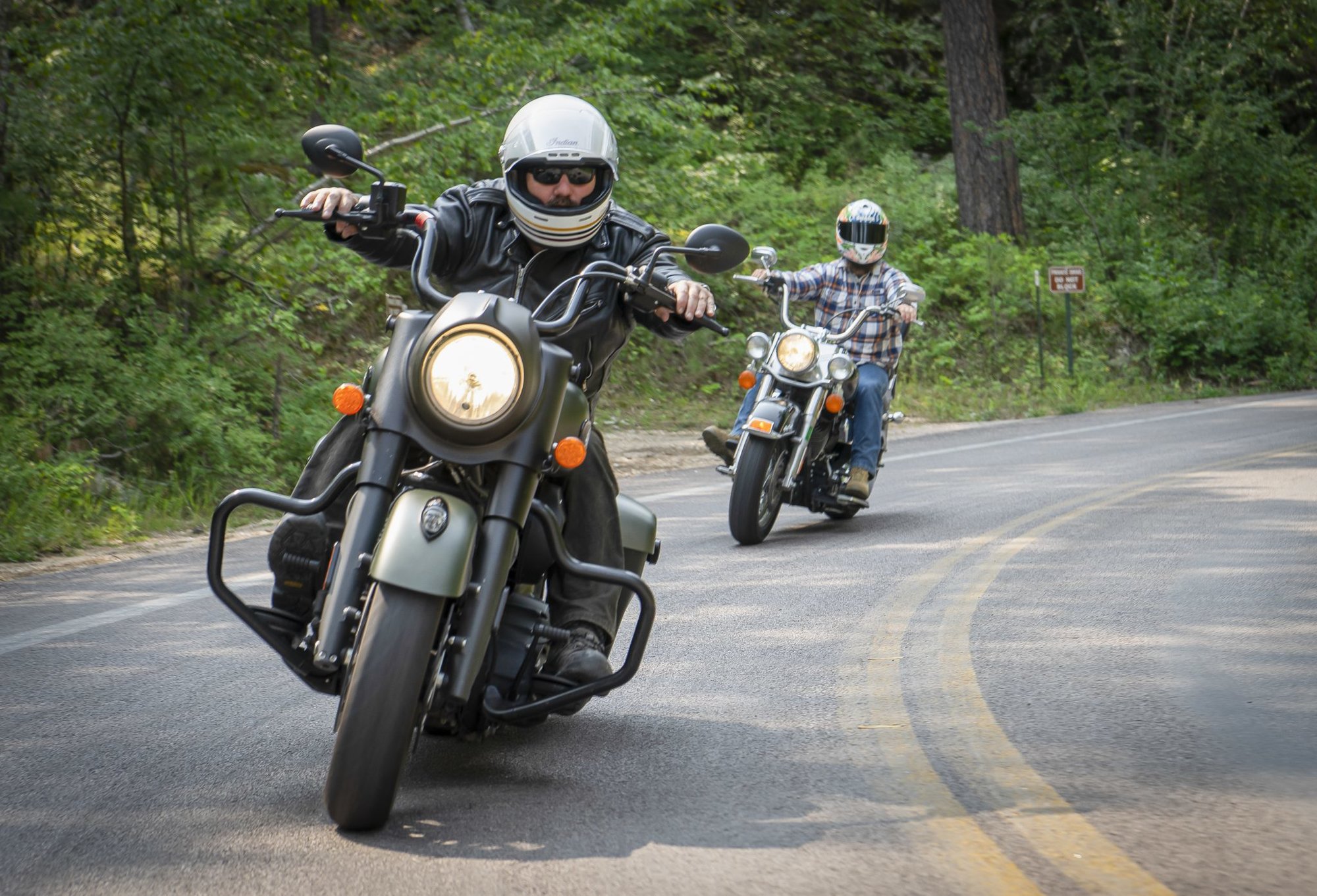 Turning in my Dark Horse hurts. After almost 1,500 miles, I feel like the bike is part of me. As I hand the keys to the Indian rep,
I struggle to suppress the tears forming in my eyes. Walking away, I try and fail to not look back at the bike. And from the matte-green metal of the machine, my mind wanders further back, to the sandbox and beyond — to the times and places when camaraderie and brotherhood were all around. Getting that feeling back is a gift I will cherish for all of my days.
Dave and Sue Frey's motorcycle therapy did more for my mental health in two weeks than any clinical treatment or pharmaceuticals ever could. It provided the opportunity to break out of old, self-destructive patterns and build healthy relationships with others who don't need an explanation for the whys and hows of a particular vet's history. Where before I only saw darkness, the road ahead looks bright and open now. Next year, I hope to return and pay forward what's been given and to bathe again in the brotherhood and brilliance of the Veterans Charity Ride.
---
This article first appeared in the Winter 2022 edition of Coffee or Die's print magazine as "Zen and the Art of Motorcycle Therapy: Finding Family on the Road to Sturgis With the Veterans Charity Ride."
Read Next: