At the beginning of her Army career, former Staff Sgt. Vanessa Brown got a tattoo of her dog tags on her ankle.
She joked with her friends that if she were to get captured and beheaded, at least people would know who the body belonged to.
"You say stuff like that, [civilians] look at you like, 'Jesus, are you serious?'" Brown said. "But if you say that to a veteran, they look at you and laugh and like, 'Yeah she did.'"
A year later, Brown joked, the tattoo almost came in handy. On a routine supply run from Mosul to Kirkuk, Iraq, in 2008, her convoy was ambushed, and Brown was shot in the side. The next thing she remembers is seeing Iraqis standing above her, pulling her off the road. Though they were pulling her to safety, at the time, she feared their intentions.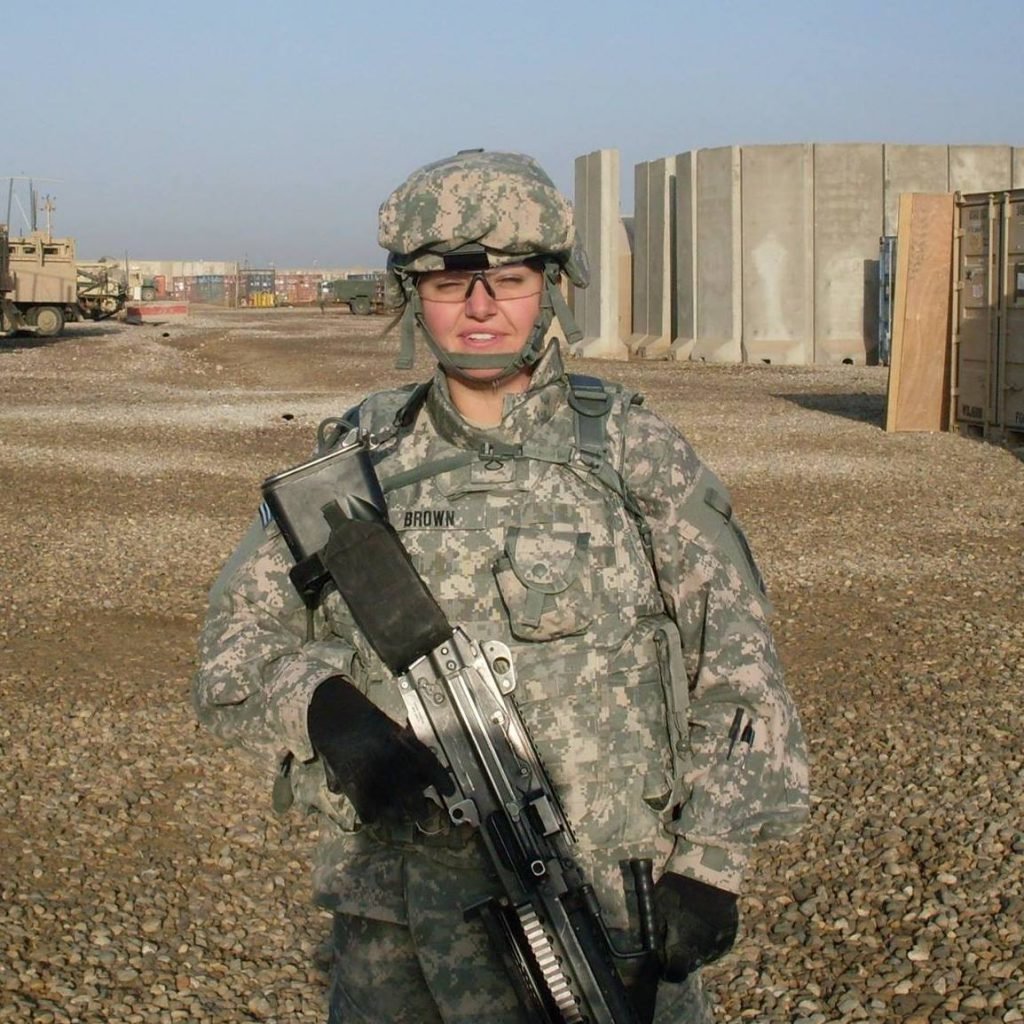 "I got dragged away, and I wasn't thinking straight, and at that point I was like, 'Oh my God, I'm going to be Jessica Lynched," she told Coffee or Die Magazine. "That's what I was thinking."
It was that kind of penchant for humor — however dark — that landed Brown, 34, a spot in the new VET Tv reality series, Veterans Laughing Together. The show is the first unscripted series from the veteran-led network known for its irreverent comedy about the military and veteran experience. It features eight combat veterans sitting on couches around a room, joking about the physically and emotionally painful experiences that changed their lives forever.
Other featured veterans include Paul Gardner, a Marine veteran who is paralyzed from the waist down from a bullet to his spine; Army veteran Joseph James, a double amputee; retired Army Special Forces soldier Nathan Smith, who left the military with a traumatic brain injury; Navy veteran Shane Edmaiston, who was hit by a grenade; Robert Waples, who was wounded by an improvised explosive device while on deployment as a National Guardsman; Marine veteran Anson "NubGunner" Roberts, who was badly burned and lost his fingers to an IED; and Marine veteran Sean Dillon, who suffered both physical and mental wounds in Vietnam.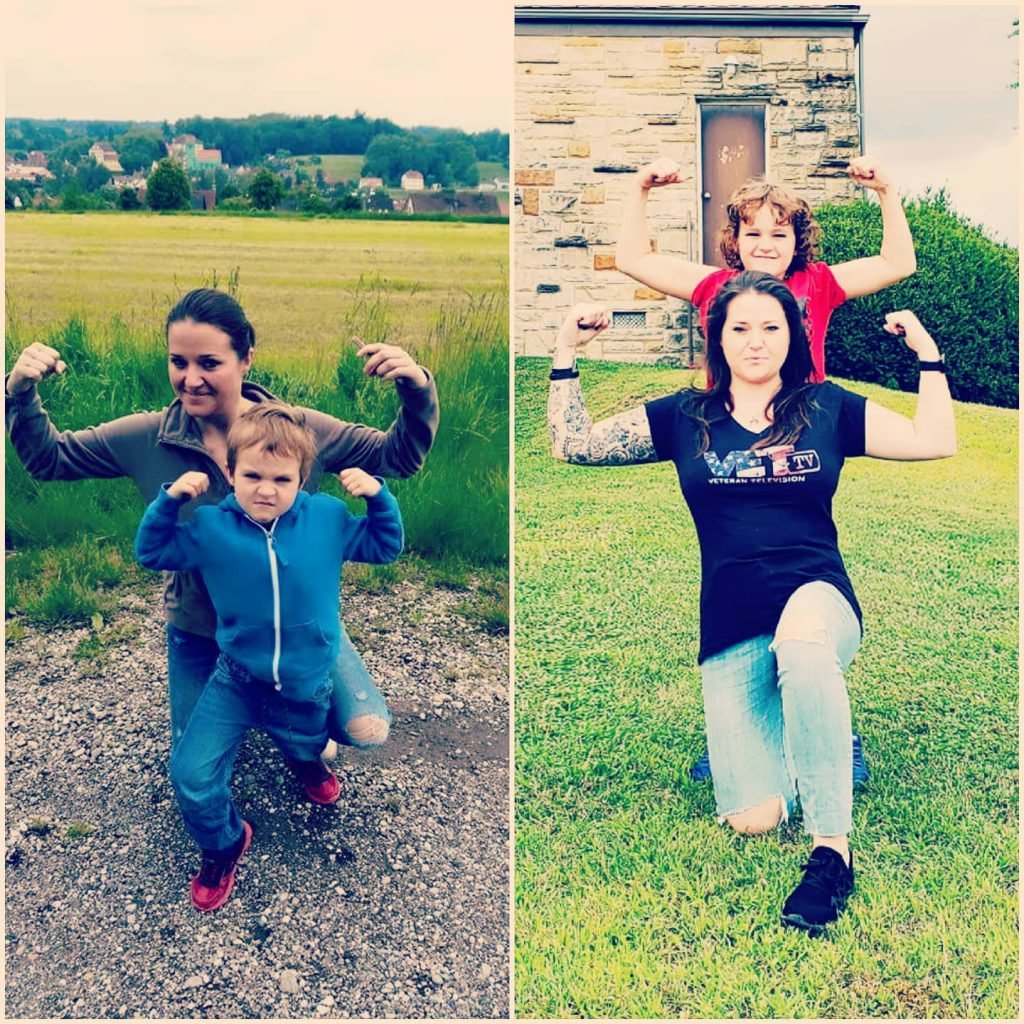 Brown's story is the focus of episode five. In it, she also recounts her later deployment to Afghanistan when her vehicle hit an IED in December 2016. Brown's 250-pound driver fell on top of her when the vehicle flipped, breaking Brown's back in several places.
"He was such a young guy, and he was just scared, confused, and he was just wiggling around, and by doing that he was hurting me," Brown said. "I was like, 'Look. This one time I tell you, you can lay on top of me, and I will not say anything."
The joke landed.
"He laughed about it, and we're still laughing about it when we talk now," she said. "So, it helped in that moment."
Brown's injuries in Afghanistan led to three major back surgeries, a handful of smaller ones, and a year of rehabilitation, as well as a medical retirement from her military career as a mechanic — a job she loved — in 2018. Brown also battled depression and suicidal thoughts when the pain and constant medicating made her feel as though her then-8-year-old son would be better off without her.
In 2019, Brown knew she needed a change. She left her abusive marriage and spent five months in an in-patient program for veterans with post-traumatic stress, where comedy and humor were incorporated as part of the therapy.
"I think [humor] is just something that helps us, especially in the military, kind of cope with the things that we see," Brown said.
She's not wrong. Studies have shown humor can help people process painful experiences.
"Humor in any humor experience, it trivializes its topic. It makes its topic less — less grand, less important, less valuable," said Tom Ford, a psychology professor at Western Carolina University who specializes in humor and coping with stress.
"When you learn to and practice looking at or thinking about the life events that cause you stress and challenge and difficulties — when you're able to see them in a way that makes them less threatening, less big, less weighty, then I think you're in a better position to work through [them] rather than being bowled over by them, being overwhelmed by them," Ford said. "It just makes it easier to talk about it."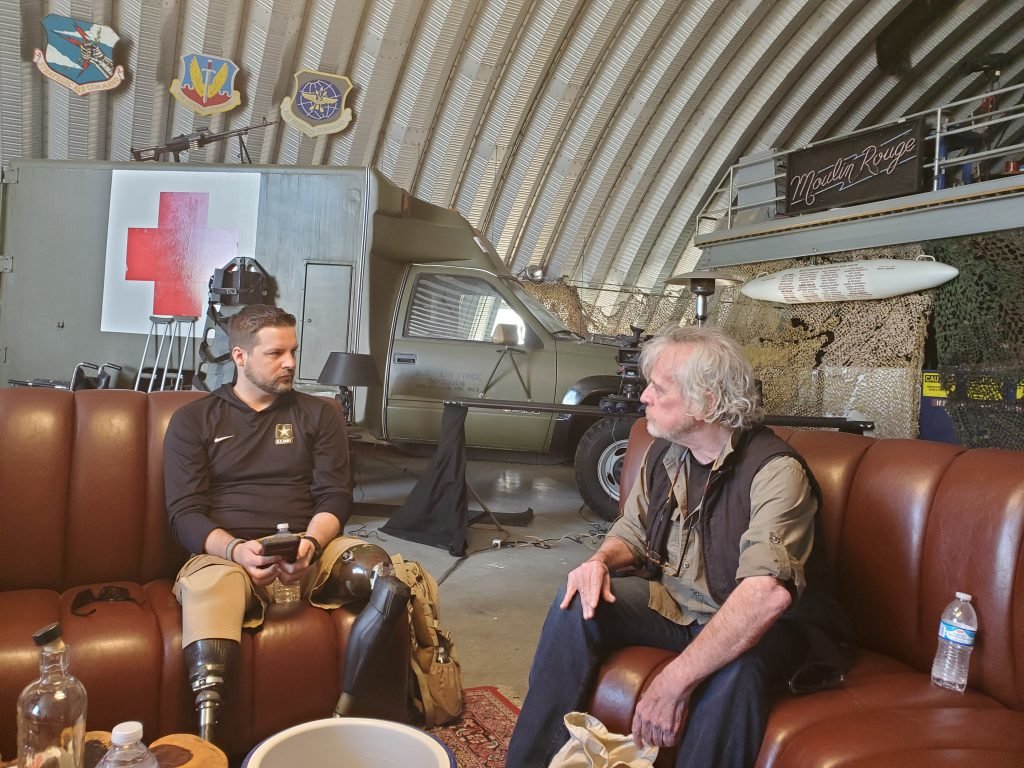 The science seems to have caught on in recent years, as more veterans turn to comedy as a second career, and programs such as the Armed Services Arts Partnership's flagship Comedy Bootcamp have helped pave the way to get them there.
Since 2015, the Armed Services Arts Partnership (ASAP) has been training veterans and military family members in writing and performing stand-up comedy, among other programs. And while not all participants choose to focus their sets on their military experiences and the lasting impacts of combat, many do.
An ASAP report released this summer, for which Ford was a researcher, showed veterans who had gone through the organization's programs had higher self-esteem and lower levels of stress compared with a control group of veterans who were wait-listed and had not yet participated. And of the four humor styles — self-enhancing, affiliative, self-defeating, and aggressive — participants often left with a boost in the two positive ones.
Gulf War-era Navy veteran and comedian PJ Walsh, who also co-hosts the In Stitches podcast exploring humanity in humor with ASAP's founder, said storytelling and humor are part of the military experience.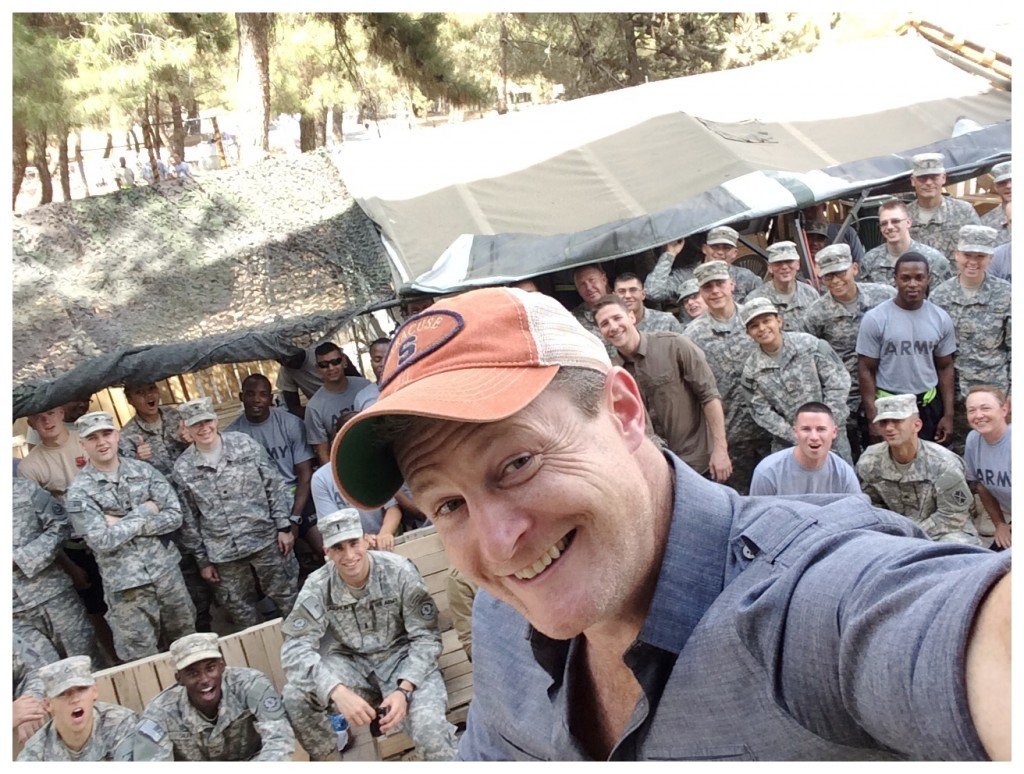 "Even in the worst scenarios, even at your darkest times, there has to be a release," said Walsh, who has performed for troops all over the world since launching his stand-up career in 2002.
He recounted an experience entertaining troops in Afghanistan who were used to sleeping on rocks and urinating in tubes and got fired on so frequently that they were taking videos of the experiences and watching them later. As they joked about what they were seeing, the tension of the harrowing experience would subside.
"I just feel like the best grasp of breath is a laugh. I just feel like in the darkest times, that's kind of like the light," he said. "To me it always starts with laughter. I say this all the time: 'Laughter is the surprise recognition that we're not alone.' When you start laughing, you lean in. It just brings you together."
That's exactly what viewers witness in Veterans Laughing Together, a passion project for VET Tv founder and show host Donny O'Malley that he said has been a long time coming, even though it was a departure from the network's typical scripted programming.
Since its inception, VET Tv, along with a nonprofit O'Malley started, Irreverent Warriors, best known for its Silkies Hike, has always been about connecting veterans through laughter as part of a broader effort to combat veteran suicide.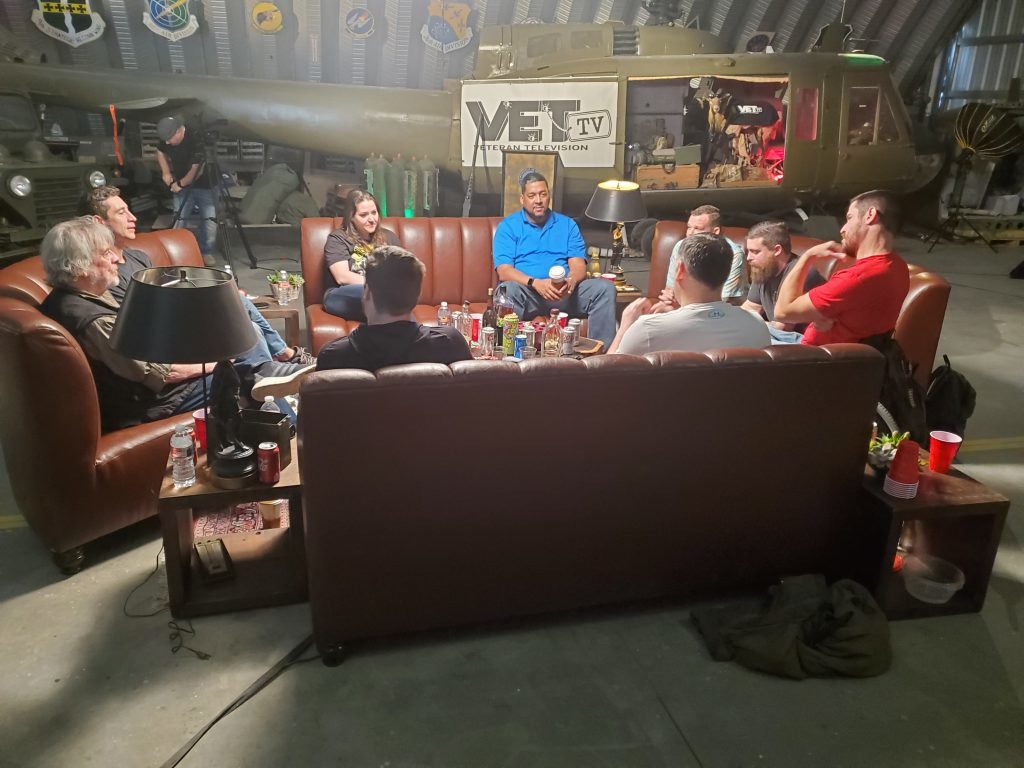 "It combines the simple premise that if we can laugh together at the same thing, that means we are connected in some way," O'Malley said. "So if we can explore that connection, we can create friendships that become a support network for us that will keep us alive."
"Veterans Laughing Together found people who all have a specific military experience — they were hit by enemy fire — and there's a host of emotions and pains and mindsets that are associated with that experience, combined with all of the experiences in rehabilitation and the emotions there, and we found these people who not only had these experiences but also were able to speak about their experiences in a humorous way, which is a special thing," he continued.
So far, the feedback about the show's impact has surpassed that of any other on the network, with some viewers writing paragraphs in the comments section of the network's website about how it has helped them. It has made O'Malley want to do more.
He's already making plans for a second season, as well as the release of a podcast along the same vein, Mental Hell and Wellness. The latter, among other things, will feature conversations with experts about the positive effects of comedy on mental health.
As for Brown, who has seen her share of dark times that she jokingly chalks up to "shit luck," there's no doubt humor has played an important role in her recovery.
"The more I can laugh about it, the better I can heal," she said. "It's better than sitting there and wallowing in self-pity."