"The War Garden of 1918 must become the Victory Garden of 1919," reads a pamphlet filled with cartoon illustrations that was published by the National War Garden Commission. While the men exchanged their farm tools for a rifle, a civilian organization modeled after Great Britain's Land Lassies formed the Women's Land Army of America to sustain farms during World War I.
The "Farmerettes," as they were affectionately called, temporarily left behind their lives in towns and cities to plow fields, drive tractors, and harvest plants and vegetables on rural farms. More than 20,000 women were given a fair wage equal to that of their male counterparts, worked eight-hour shifts, and were issued their own uniforms.
Americans who didn't go off to fight in war or weren't working on farmlands were asked by Herbert Hoover, then director of the US Food Administration, to become more self-sufficient to reduce wartime food rationing. Americans families grew fruits, vegetables, herbs, and spices in gardens in their backyards, in city parks, on rooftops, or on playgrounds.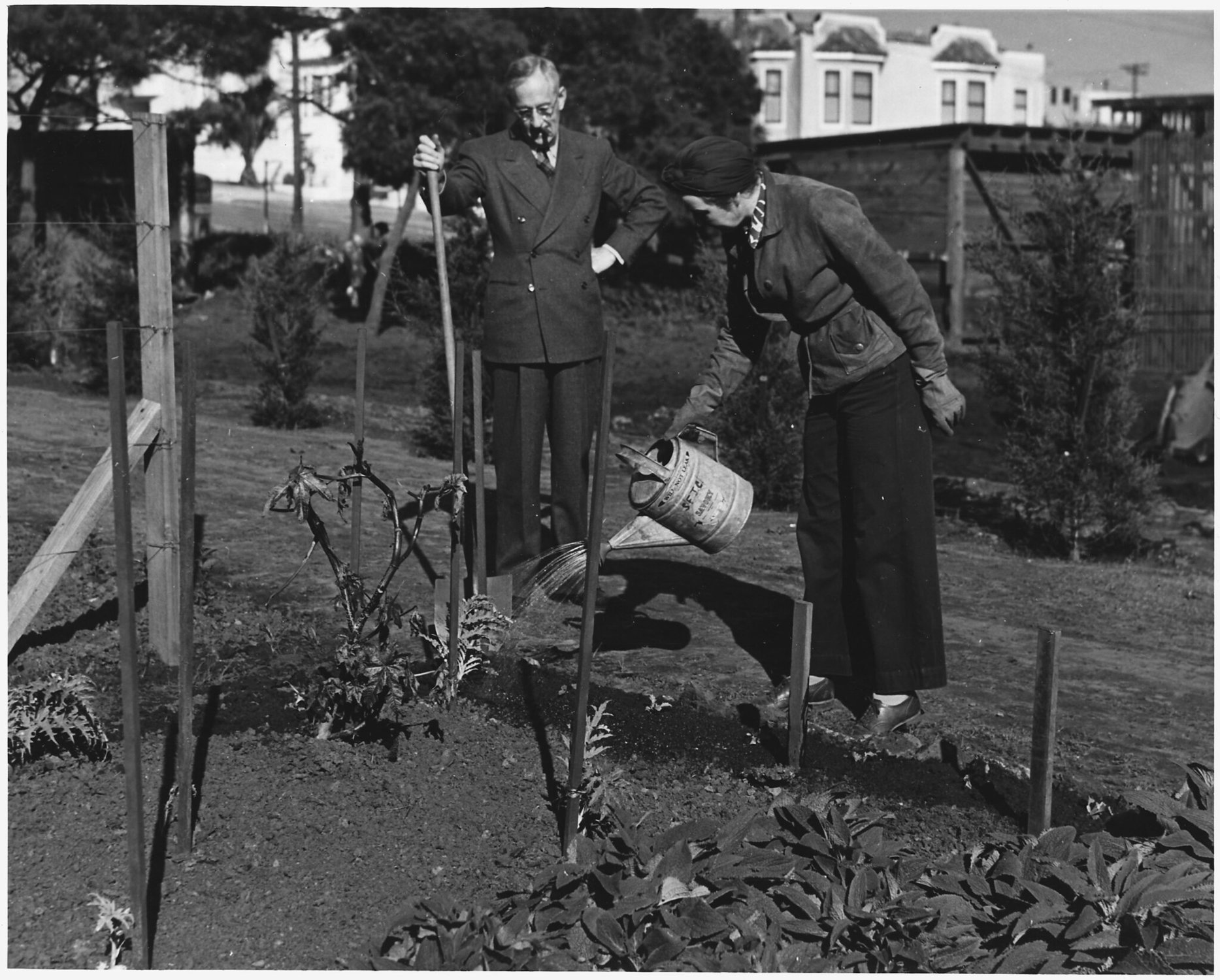 Schoolchildren or "soil soldiers" also took part in gardening by joining the United States School Garden Army. "Every boy and girl who really sees what the home garden may mean, will, I am sure, enter into the purposes with high spirits, because I am sure they would all like to feel that they are in fact fighting in France by joining the home garden army," wrote President Woodrow Wilson. "[This effort] is just as real and patriotic an effort as the building of ships or the firing of cannon."
During World War II, the United States initiated a Food Rationing Program that limited canned fruits and vegetables sold at grocery stores. The US Department of Agriculture reestablished Victory Garden programs and encouraged Americans with informational books and pamphlets.
"In community gardens: People living in metropolitan areas seldom have enough suitable ground at home for a garden, but supervised community projects with space allotted to each garden have proven successful," wrote Victor Rickman Boswell in the Department of Agriculture's book Victory Garden Leader's Handbook. "Preferably they should be within walking distance or a short bus or street car ride. In some towns and cities, groups have arranged with a nearby farmer for the use of an acre or so of good land to use as a community garden, paying in either crops or cash. As part of the bargain, the farmer plows and drags the soil."
Victory Gardens soared in popularity across the United States. There were as many as 20 million Victory Gardens that supplied 40% of all the fruits and vegetables consumed in the nation. The effort unified the homefront in support of the men and women serving overseas.