Vietnam was a terrible war. But — as is so often the case in war — beautiful art and literature emerged from the hellfire, death, and wreckage. So goes the old Catch-22 of the human experience: No pleasure without pain. No yin without yang. Great suffering begets great art.
Is there a more iconic duo than the UH-1 Huey and Creedence Clearwater Revival's "Fortunate Son"? The memes in my Facebook feed certainly don't think so. As the author and conflict journalist Sebastian Junger put it, "War is life multiplied by some number that no one has ever heard of." If you check Junger's math, you find the Vietnam War dropped a gnarly napalm strike on America's collective consciousness, and our literary canon is all the better for it.
If you're like me and love nothing more than diving into great Vietnam War literature, then here are the first two books that will tug on the tripwires of your pleasure receptors. I guarantee your mind will be blown in the best way possible.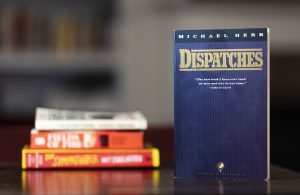 "Dispatches
"
by Michael Herr
Michael Herr's "Dispatches" is a nonfiction masterpiece from the American New Journalism movement. Herr served as Esquire magazine's correspondent in Vietnam from 1967 to 1969, perpetually embedding himself with American soldiers and Marines in some of the hairiest battles and most volatile periods of the war.
Like so many of the soldiers he shared foxholes, foot patrols, and helo rides with, when Herr finally came home, he didn't really. Eighteen months after returning to the states, he suffered a breakdown. While several sections of "Dispatches" originally appeared in the pages of Esquire and other magazines, a decade would pass between Herr's original deployment in 1967 and the book's publication in 1977. It was worth the wait.
Robert Stone of the Chicago Tribune said of the book, "I believe it may be the best personal journal about war, any war, that any writer has ever accomplished."
The Washington Post called it "the premiere war correspondence of Vietnam."
But the legendary "Doctor" of Gonzo journalism, Hunter S. Thompson, put the icing on the cake for the old man: "We have all spent ten years trying to explain what happened to our heads and our lives in the decade we finally survived — but Michael Herr's 'Dispatches' puts all the rest of us in the shade."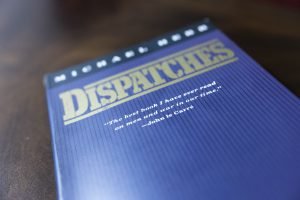 Herr went on to coauthor the screenplays for "Apocalypse Now" and "Full Metal Jacket," and many scenes from "Dispatches" were fictionalized in those films. Remember Martin Sheen losing his shit in a Saigon hotel room in the beginning of "Apocalypse Now"? That was Herr translating his experience from "Dispatches." The psycho door gunner from "Full Metal Jacket"? "Dispatches."
Among the themes Herr explores in "Dispatches" is the juxtaposition of war's abject terror and its inescapable allure in the hearts of men. In one of the book's many poignant passages, a British photographer friend of Herr's dresses down a particularly naive new American correspondent who tells a group of salty reporters he hopes to produce work that will "take the glamour out of war."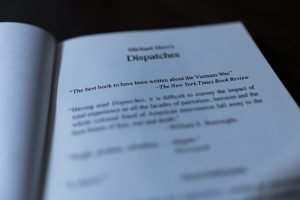 "Take the glamour out of war! I mean, how the bloody hell can you do _that_? Go and take the glamour out of a Huey, go take the glamour out of a Sheridan … Can _you_ take the glamour out of a Cobra, or getting stoned at China Beach? It's like taking the glamour out of an M-79 … It's like trying to take the glamour out of sex, trying to take the glamour out of the Rolling Stones." He was really speechless, working his hands up and down to emphasize the sheer insanity of it.
"I mean, you _know_ that it just _can't be done!_" We both shrugged and laughed, and Page looked very thoughtful for a moment. "The very _idea!_" he said. "Ohhh, what a laugh! Take the bloody _glamour_ out of bloody _war!"
Michael Herr died at 76 at a hospital near his home in Delaware County, New York, June 23, 2016, and war-lit fans the world over mourned the loss of a literary legend.
Read "Khesanh" — the largest of "Dispatches" six parts — online here. Then go buy the book, you degenerate warmonger.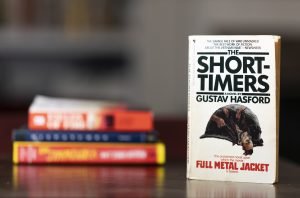 "The Short-Timers
"
by Gustav Hasford
When it was published in 1979, "The Short-Timers" was hailed by Newsweek's Walter Clemons as "the best work of fiction about the Vietnam War." Stanley Kubrick seemed to agree with Clemons because he optioned the book and adapted it for the screen. You may have heard of the film. It's called "Full Metal Jacket." Both the book and Kubrick's film were written by legendary Marine combat correspondent Gustav 'Gus' Hasford, aka the real Joker.
Hasford drew from his experience as a combat correspondent with the 1st Marine Division to develop the novel. He shared a screenwriter credit with Kubrick and Michael Herr, but Hasford wrote the vast majority of the film, which should be obvious to anyone who has read Hasford's novel and Herr's memoir. Despite that, Kubrick tried to screw Hasford out of his screenwriter credit. He wanted Hasford to accept an "additional dialogue" credit, but Hasford held firm.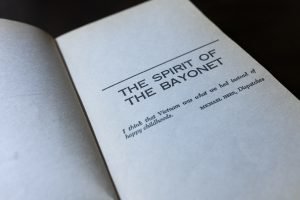 "The Short-Timers" is structured in three parts. Part one is "The Spirit of the Bayonet," and it covers boot camp at Parris Island. Part two is "Body Count," which follows Joker and the Lusthog Squad (Rafter Man, Cowboy, Animal Mother, et al.) through the Tet Offensive. "Grunts" is the third and final part, detailing a mission through the jungle outside of Khe Sanh.
The brutally macabre third and final section of the novel never made it into "Full Metal Jacket." Kubrick — beholden to Warner Bros. execs — had to cater to mainstream sensibilities. And you'll understand when you read the novel's ending, because it is dark.
It is the combination of Hasford's relentlessly savage rendering of his subject and his virtuosic voice that makes "The Short-Timers" one of my all-time favorite war novels. Hasford's keen ear for punchy rhythm and syntax is evident from the novel's first page: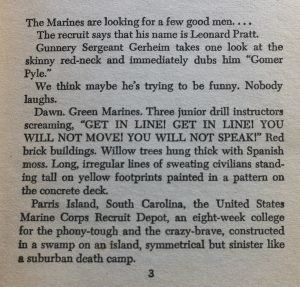 Hasford wrote a sequel to "The Short-Timers" called "The Phantom Blooper." In "The Phantom Blooper," Joker spends a year as a prisoner of war in a Vietcong village and eventually comes to sympathize with his Vietnamese captors. After he is rescued, he turns against the war and his government. "Blooper" was supposed to be book two of a trilogy, but Hasford died a few years after its publication.
Originally from Alabama, Hasford was a hardcore bibliophile, so much so that in 1988 he was sentenced to six months in jail for stealing hundreds of books from libraries all over the U.S.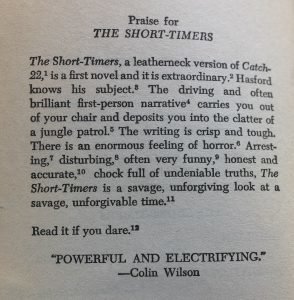 You can read all of Gustav Hasford's books online here. Hasford's books have been out of print for years, but if you can find a reasonably priced copy of any of them (definitely don't steal one from a library *wink*), I encourage you to pick one up. My raggedy paperback copy of "The Short-Timers" — gifted to me by a friend — is one of my most prized possessions.