"Cảm ơn."
The words tumble flatly out of my mouth, lacking the lilt and tonal cadence that the Vietnamese apply so deftly to every word. The waitress of the cafe in Hanoi smiles at my attempt to thank her and places two glasses before me. The first is small and squat with a finger of condensed milk on the bottom; the second is tall, tapered, and filled with ice. Resting atop the small glass is a burnished steel cylinder that looks like a miniature watering can issuing steam. Through the glass, dark, thick coffee drips through this filter and accumulates slowly on the white viscous liquid lining the bottom.
I sit back and get comfortable. Drinking coffee in Vietnam is not a rushed affair; it's an extended process, one that demands patience and promises gratification. Unlike the grab-and-run experience of a typical corporate chain store, coffee in Hanoi or Ho Chi Minh City is rarely a last-minute consideration. The brew in front of me — the quintessential early morning drink for most Vietnamese — demonstrates that perfectly.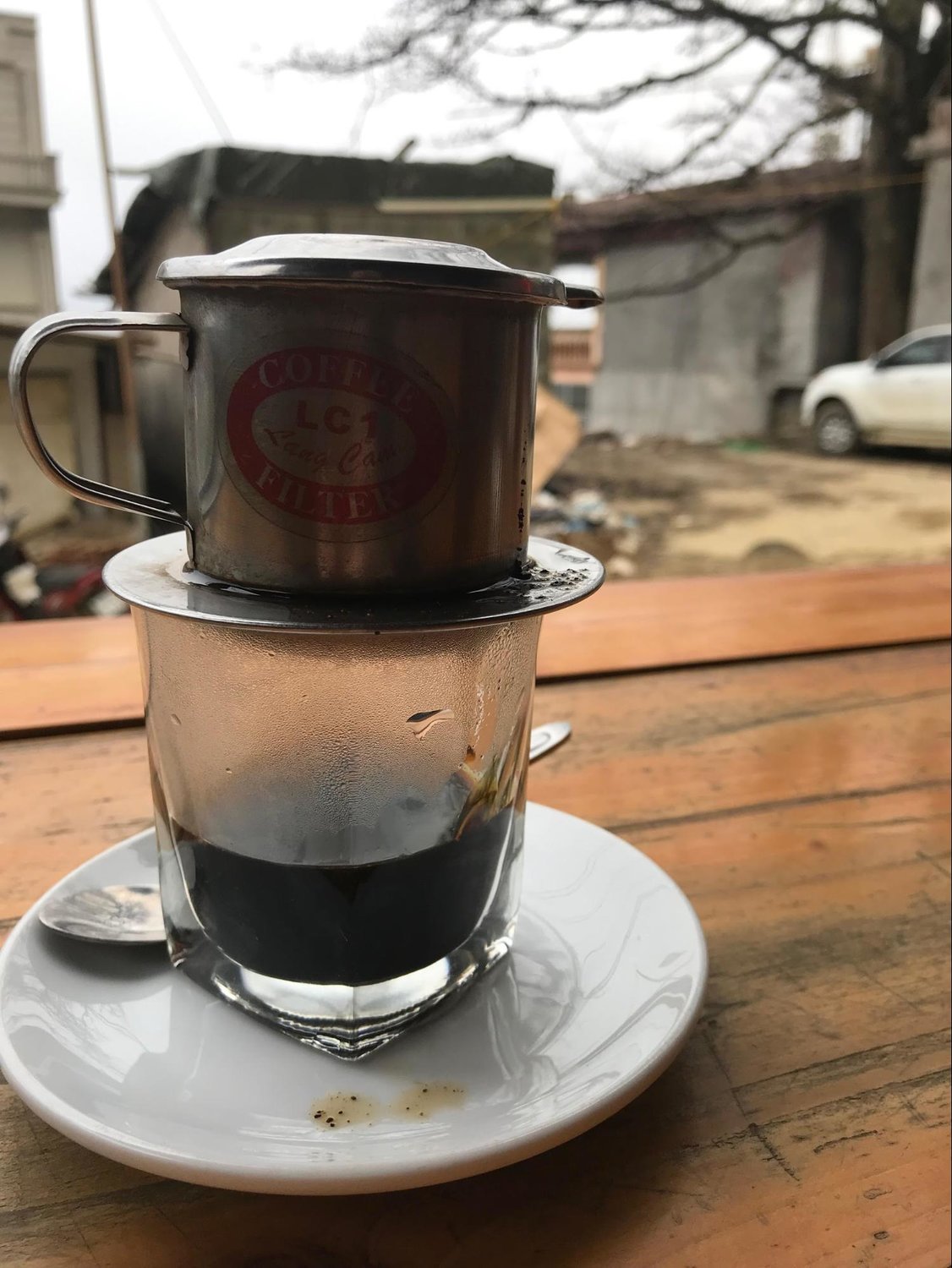 An introduced crop that has led to a booming industry for this small country, coffee production in Vietnam has had its ups and downs through the years. While there may be uncertainty surrounding sustainability in the future, the country has become a beacon of the coffee industry.
Around me, on low blue plastic chairs, old men smoke cigarettes and trade stories, families huddle around squat tables and watch the hordes of bikes drone by, and servers ambulate from group to group depositing drinks or collecting glasses as they go. In spite of all the chaos of the Vietnamese capital's streets, cafes are a surprisingly tranquil refuge from the unrelenting hustle. Time, like the coffee dripping into condensed milk, seems to crawl.
For visitors and locals alike, it's clear that coffee is an incredibly important and integral part of modern Vietnamese culture. The plant was introduced by the French in 1857, and, when it was discovered that the central highlands of Vietnam provided excellent growing conditions, production ramped up exponentially. Small-scale production shifted to plantations at the beginning of the 20th century, but the industry stalled after a century of growth just prior to and during the Vietnam War.
In the two decades following the war, the coffee industry experienced an incredible rebound, becoming Vietnam's chief export as well as the second biggest coffee exporter in the world (Brazil is No. 1). It's also the main global supplier of Robusta coffee, the bean used widely in instant coffee and espressos. Economically, the coffee sector accounts for around 3 percent of the national gross domestic product (GDP) and provides jobs for almost 3 million people.
The Sweeter Side of Coffee
While the majority of the beans produced in Vietnam are exported to the U.S. and Europe — only about 5 to 7 percent are consumed domestically — the plant has become a staple drink throughout the country. But not in way you would think. Although you can find a cappuccino or latte in many cafes and coffee houses — usually at premium prices and catered almost solely to tourists — locals enjoy coffee prepared in a number of different ways that foreigners would find, well, foreign.
The most common, as described above, is called cà phê đá (cafe da), and is a medium- to coarse-ground dark roast that is prepared in a Vietnamese drip filter. The condensed milk has to do with the fact that although the coffee industry experienced a boom in the early 20th century, the dairy industry didn't. The scarcity of fresh milk meant that the French and Vietnamese alike turned to sweetened condensed milk to balance out the strong bitterness of the filtered coffee, and this is now a prominent addition to many coffee drinks. And unlike your usual morning cup of Joe, which is served at a temperature hot enough to burn your gullet, cà phê đá is almost always transferred to a glass of ice before drinking. Considering that the average temperature almost never drops below 68 degrees Fahrenheit in the north and 81 degrees Fahrenheit in the south, this isn't exactly surprising.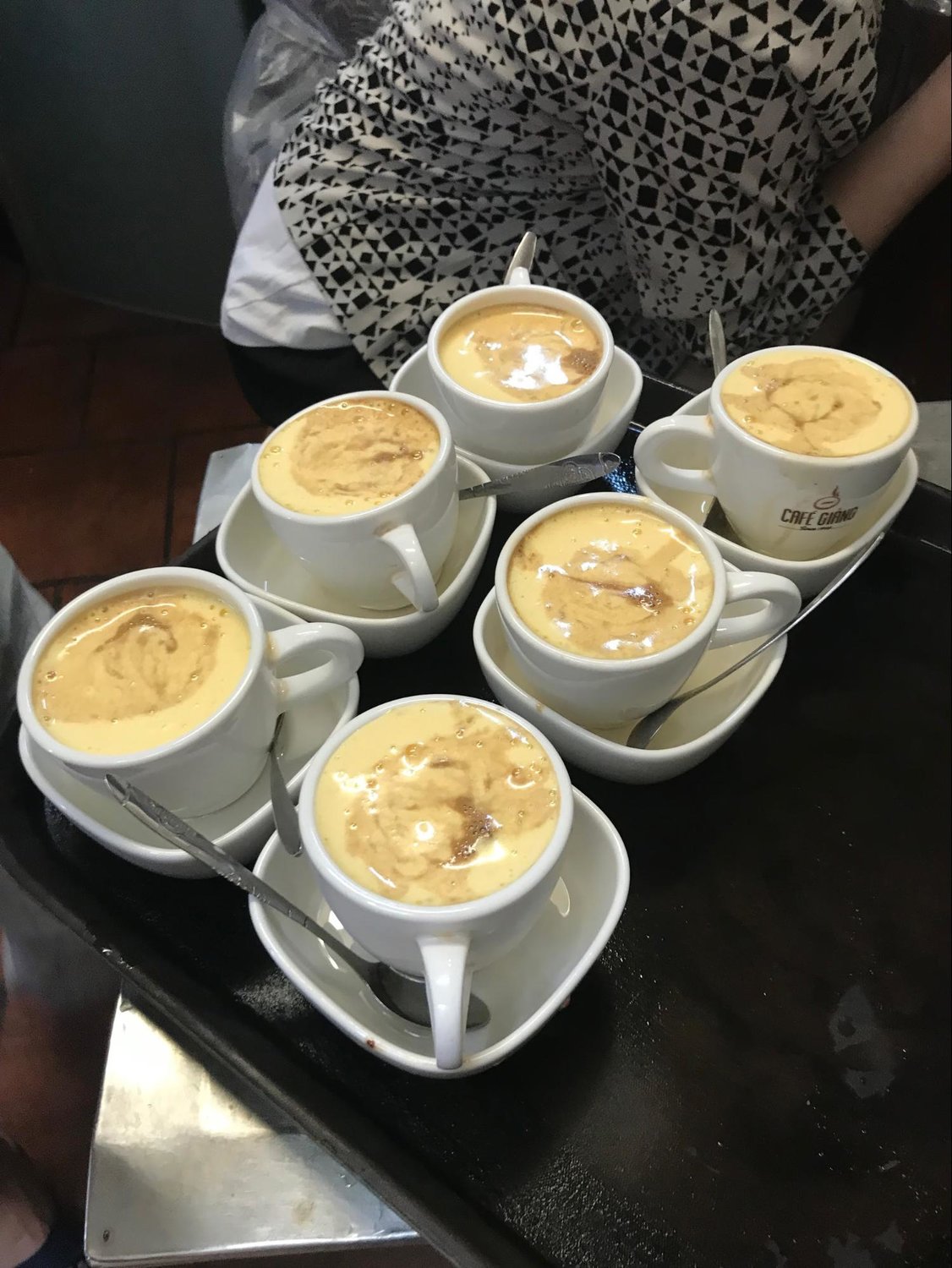 Another variation that has almost come to define the Vietnamese coffee scene is called cà phê trúng, or egg coffee. It's not quite what it sounds like.
"It's a combination of egg yolks, condensed milk, sugar, and maybe even a little butter," said Trang Nguyen, a barista who works at Cong Cafe, a Viet Cong-inspired coffee chain. "Then the ingredients are beaten pretty intensely for a couple of minutes."
The result is a thick and creamy foam that is layered on top of a shot of black coffee.
"Each region has different variations," Nguyen said. "So the taste is never quite the same."
The origin of the drink is generally attributed to a bartender working at a hotel in Hanoi in the mid-1940s who used egg yolks instead of milk when diary was in short supply. It's served throughout cafes in Hanoi and Ho Chi Minh City, but those looking for the most authentic egg coffee experience generally head to the Giang Café in Hanoi, owned by Nguyen Van Dao, whose father is said to have invented it.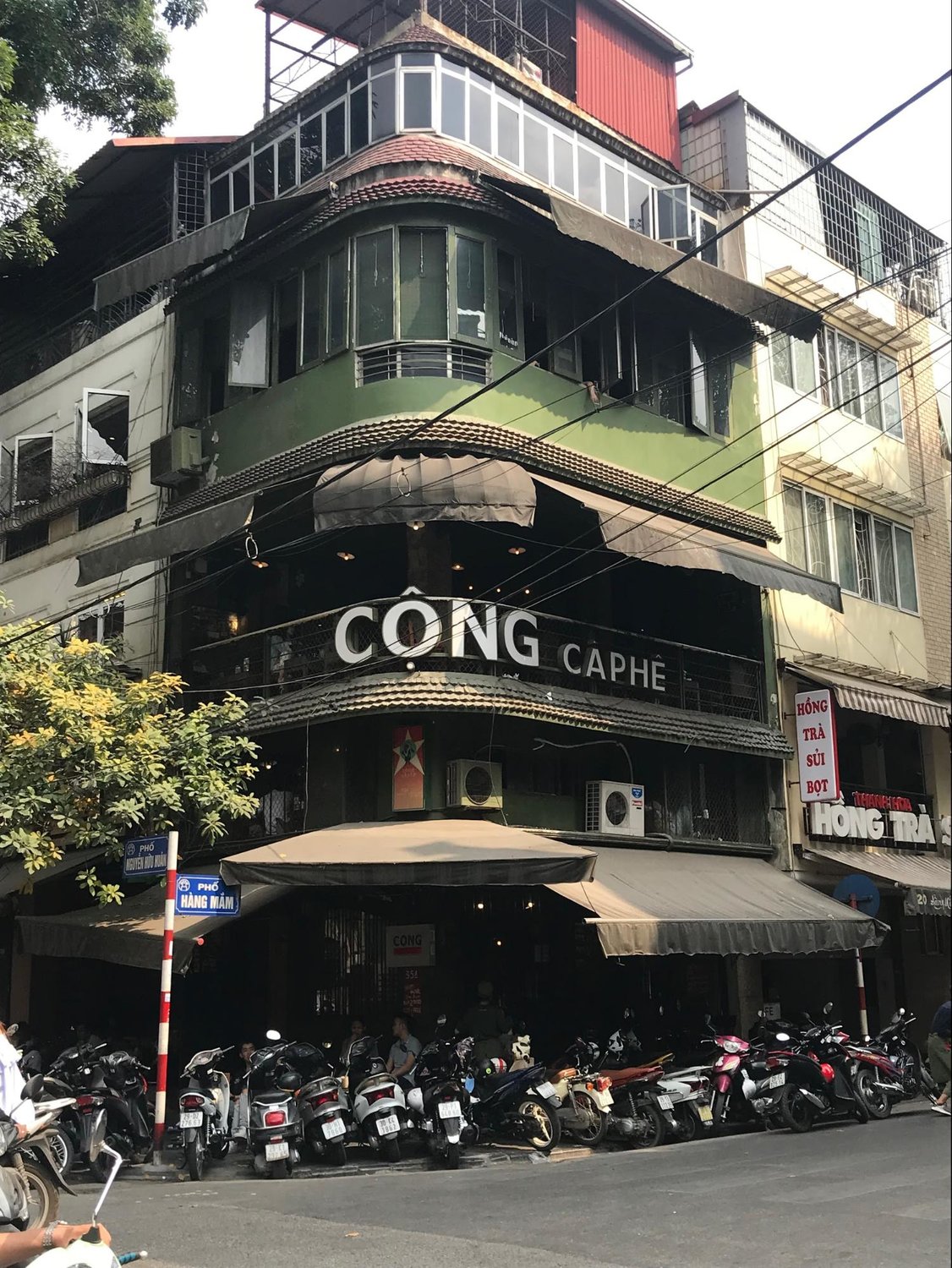 Dark Roasts and an Uncertain Future
Like the French colonial architecture slowly fading into disrepair, or the perfectly preserved Chinese buildings in the port city of Hoi An, it's clear that coffee's legacy will have a long-lasting impact on the landscape of Vietnamese culture — although not without cost.
In the '90s, entire forests were cleared to create more arable land for coffee production. This resulted in greater acreage for bean production; however, the development of infrastructure and necessary training to farm adequately and sustainably fell behind. Coffee plantations in Vietnam tend to be smaller-scale, family-owned operations, and expedient farming practices as well as rife environmental mismanagement has resulted in widespread pollution, soil and water degradation, and habitat loss. This last point is particularly alarming because Vietnam is one of the most biodiverse regions in Southeast Asia.
Facing environmental issues such as climate change, noncompliance to sustainable farming standards, increased demand from neighboring Asian countries such as China and India, and a young population that is increasingly moving away from farms and into urban areas, the Vietnamese coffee industry sits at a precarious crossroads. Government, farmers, traders, conservation groups such as the 4C Association, and even global corporations are now working together to develop more sustainable production practices to keep the industry alive and thriving.
It's not without hope, however. With currently only about 10 percent of Vietnamese coffee farms adhering to sustainable standards, there is a plan in place to ensure that 80 percent of all plantations are farming sustainably by 2020. It will require incredible initiative and across-the-board policy reform, but in a country that went from being embroiled in two crippling conflicts to supplying the world their morning espressos in a few short decades, anything is possible.