Update, Dec. 17, 2021: Alwyn Cashe and two other soldiers were awarded the Medal of Honor on Dec. 16, 2021.
Alejandro Villanueva, a former officer in the 1st Battalion, 75th Ranger Regiment, now an offensive left tackle for the Pittsburgh Steelers, was seen bearing Alwyn Cashe's name on his helmet during Monday night's game between the Steelers and the Giants. Sgt. 1st Class Alwyn Cashe died in Iraq after saving multiple soldiers from a burning Bradley Fighting Vehicle and is now being considered for the Medal of Honor.
Villanueva's decision to highlight Cashe came as a result of the NFL allowing players to memorialize victims of systemic racism on their helmets this season. Prior to Monday night's game, the Steelers had announced that the whole team would be wearing the name of Antwon Rose Jr., a Black man who was shot and killed by East Pittsburgh police after attempting to flee from officers during their response to a drive-by shooting.
The Steelers said in a release before the game Monday, "This year the NFL is allowing players to wear helmet decals to honor victims of systemic racism. Players could select the name of an individual to wear on their helmet and the Steelers players and coaches united as one to wear a single name on the back of their helmets and hats for the entire 2020 season – Antwon Rose Jr."
Despite the Steelers' announcement, Villanueva had Sergeant First Class Alwyn Cashe's name written on the back of his helmet. Cashe was posthumously awarded the Silver Star for his actions to save his men. Cashe was assigned to Alpha Company, 1st Battalion, 15th Infantry Regiment, 3rd Infantry Division, while conducting route clearance in the city of Daliaya, Iraq, the night of Oct. 17, 2005. He was the gunner in the lead Bradley Fighting Vehicle (BFV).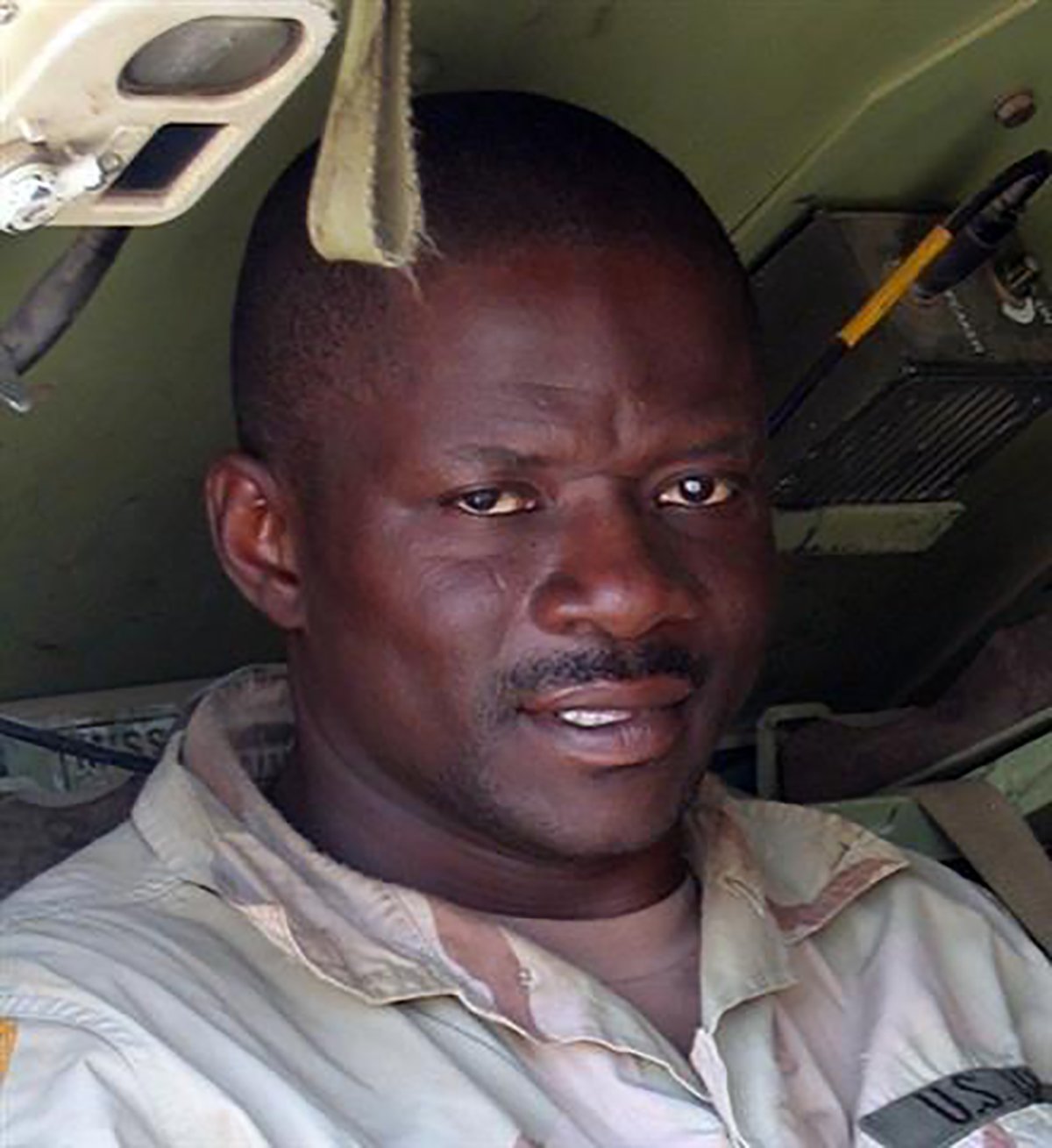 Cashe's BFV struck a "victim detonated pressure-switch IED," according to his Silver Star citation. The IED set the vehicle on fire. Cashe managed to escape, albeit drenched in fuel from the damaged BFV. Despite his condition, he proceeded to pull six of his fellow soldiers from the burning vehicle and subsequently suffered life-threatening burns.
He died from his wounds on Nov. 8, 2005, at the Brooke Army Medical Center in San Antonio, Texas. Defense Secretary Mark Esper recently announced his support to upgrade Cashe's Silver Star to the Medal of Honor. Lawmakers are working to change timeline laws due to the expiration of the award upgrade window.
This isn't the first time Villanueva has chosen to stand out from his team to send a message. On Sept. 24, 2017, Villanueva stood at the edge of the Soldier Field tunnel during the national anthem. The Steelers had planned to refrain from standing visibly for the national anthem in protest against comments from President Donald Trump.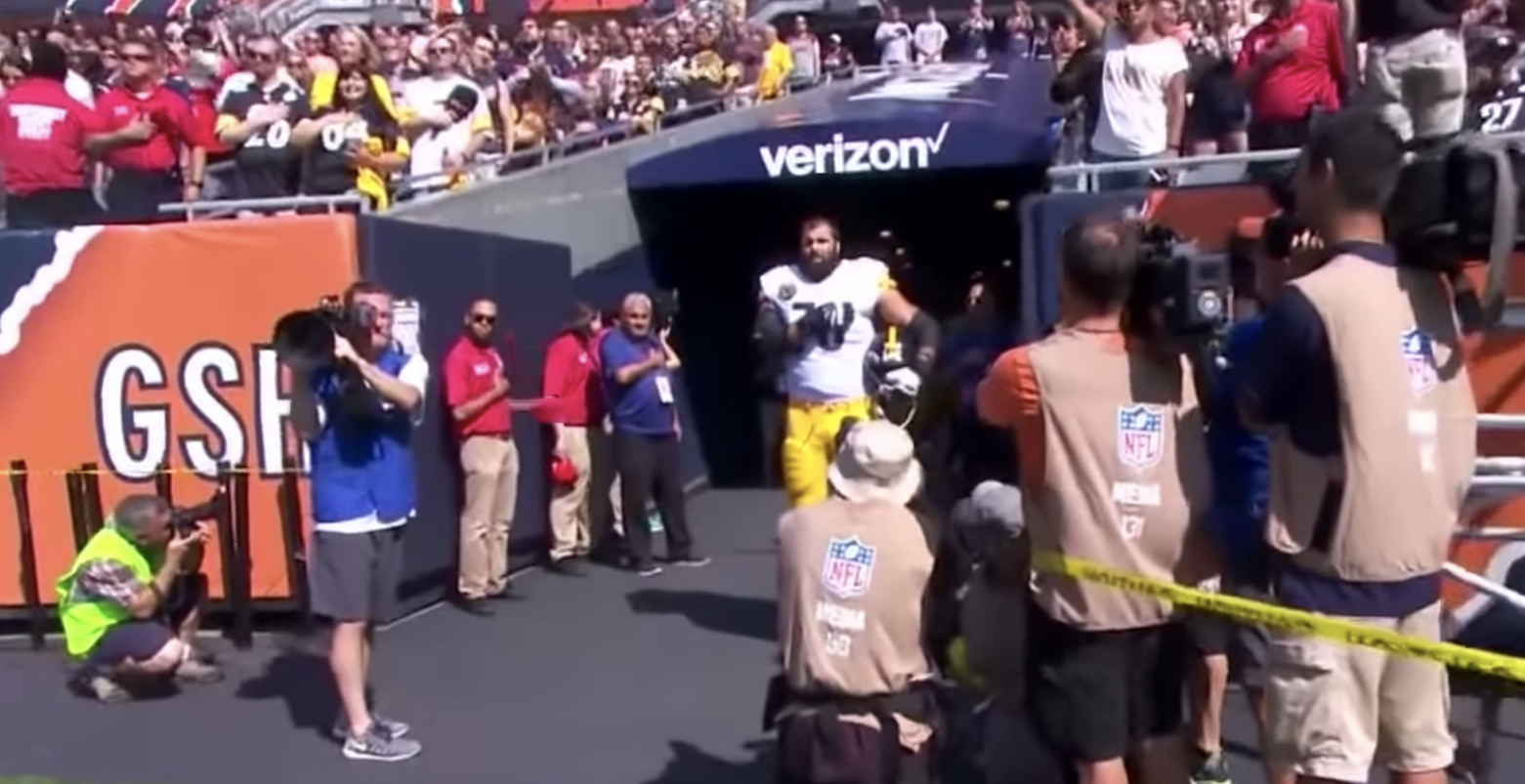 ESPN said in an article that Villanueva didn't intend to stand by himself, saying, "Feeling the need to see the flag during the anthem, Villanueva, a former Army Ranger who toured several times in Afghanistan, asked quarterback Ben Roethlisberger if he could stand in front of the tunnel to get a vantage point. Roethlisberger agreed, and Villanueva ventured out while trying to gauge where the flag was. He contemplated turning back, but the anthem had already started at that point. Only the team captains — Roethlisberger and defensive end Cam Heyward — knew about this last-second arrangement."
His actions sent a shockwave through the Steelers, and some of his teammates were angry. Villanueva was quoted in the ESPN article saying, "When everybody sees the image of me by myself, everybody thinks the team, the Steelers, are not behind me, and that's absolutely wrong. I made Coach [Mike] Tomlin look bad, and that is my fault and my fault only. I made my teammates look bad, and that is my fault and my fault only."
"People die for the flag. There's no way else to put it," Villanueva later said. "I wish I could stay at home. I wish we could all play 'Call of Duty' and not have to go to war. But some men, some women sign up for this tough challenge and they have to do it for the flag. When I see a flag on the mission on the shoulder of a soldier, that reminds me that the guy's with me. […] That's what the flag means to me, that's what the flag means to a lot of veterans. I think my teammates respected this thoroughly; it was just not communicated and the plan did not allow them the chance to go out and support me."
---
Read Next: More coverage of the Dec. 16 Medal of Honor awards from Coffee or Die Magazine
Alwyn Cashe
'I Met a Hero': Doctor Who Treated Alwyn Cashe Says He's Never Forgotten Him
Christopher Celiz
Earl Plumlee