Ever since the Byzantine Empire first employed incendiary weapons like Greek fire during the seventh century, modern armies have attempted to transform the ancient technology into an infantry weapon. The most prominent examples emerged between World War I and the Vietnam War in the form of flamethrowers.
When trench warfare created a stalemate along World War I's Western Front, German inventor and scientist Richard Fiedler introduced a new incendiary prototype called the Flammenwerfer. Fiedler's idea went through many revisions, and the stationary version eventually could throw fire up to 120 feet. The untested weapon remained a secret until specially trained German Flammenwerfer troops arrived at the Battle of Verdun, which lasted from February 1916 to December 1916.
One unnamed French officer, who witnessed German flamethrowers in action, described the fiery weapon's devastating effects.
It was "something too terrible for words," he told a Scotland-based newspaper in July 1916. "A nightmare — perfect hell, yet though many fell, no one failed."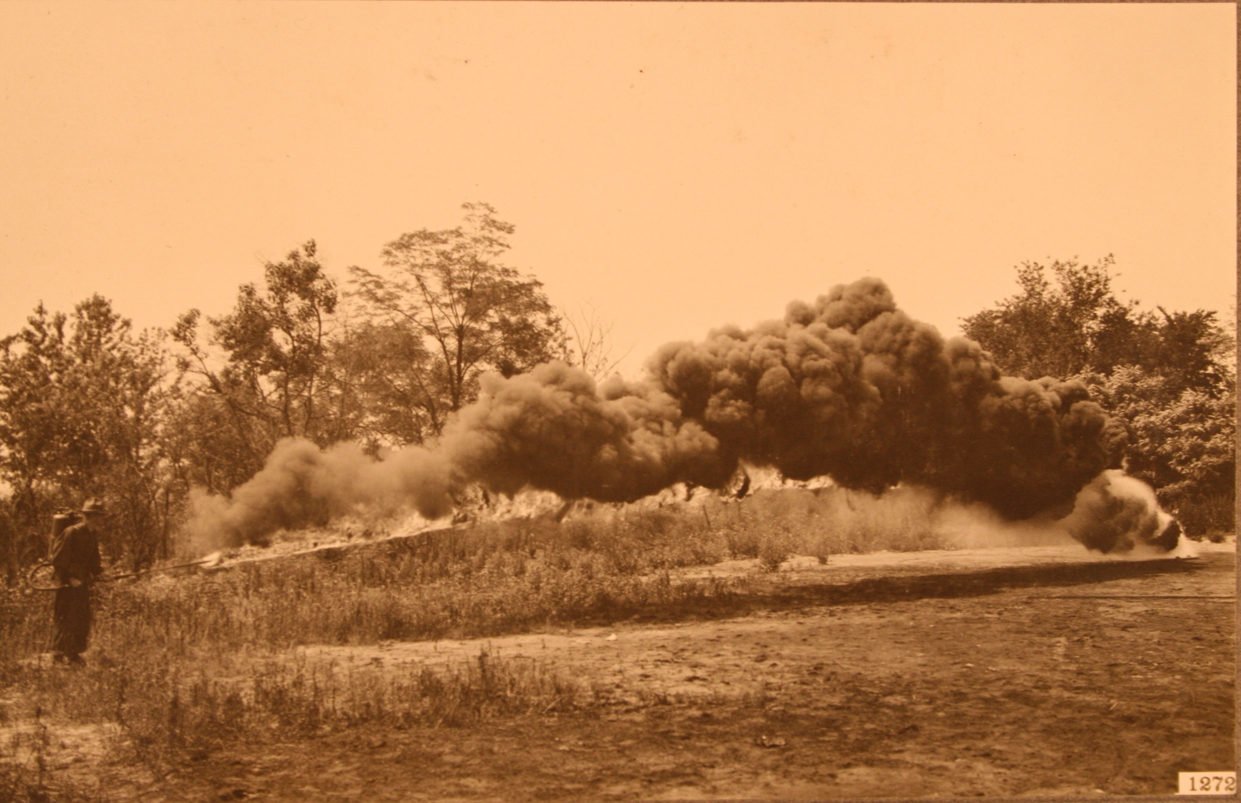 The flamethrower only temporarily paralyzed Allied soldiers, who eventually recovered from the weapon's psychological impact and defeated the Germans in World War I. The critical shortcoming to Fiedler's Flammenwerfer was that its fuel had no thickening agent capable of sticking to a target — an issue solved by the brutal wartime invention of napalm in World War II.
Napalm — the combination of naphthenic and palmitic acids — was created by Harvard chemistry professor Louis Fieser on Valentine's Day, 1942. Napalm gave incendiary weapons of World War II a deadly edge across the battlefields in the Pacific.
During the island-hopping campaigns, sophisticated cave complexes, pillbox formations, and entrenched Japanese bunkers quickly proved too tough for conventional weaponry. The Marines found a solution in the M1 and M1A1 portable flamethrowers. Specially trained Marines would carry 60- to 70-pound tanks on their backs and shoot flaming napalm at Japanese defenses. However, these new weapons came with a deadly trade-off: They were clunky and made the operators easy targets for enemy snipers.
Marine flamethrower operator Cpl. Hershel "Woody" Williams received the Medal of Honor for his actions on the island of Iwo Jima on Feb. 23, 1945. After tanks became bogged down in an attempt to open a lane for infantry to break through a network of reinforced concrete pillboxes and buried mines, Williams volunteered to assault these positions alone while four riflemen covered his advances. Despite being under direct enemy small-arms fire for four hours, Williams repeatedly returned to friendly lines to prepare demolition charges and obtain new flamethrowers to wipe out Japanese positions.
"On one occasion he daringly mounted a pillbox to insert the nozzle of his flame thrower through the air vent, kill the occupants and silence the gun; on another he grimly charged enemy riflemen who attempted to stop him with bayonets and destroyed them with a burst of flame from his weapon," his citation reads.
Some tanks were also specially equipped with flamethrowers. These M3 light tanks were converted into flamethrower tanks — M3A1s, nicknamed "Satans" — to help uproot entrenched Japanese soldiers. Among the most successful deployments of the Satans occurred during the Battle of Okinawa, when more than 200,000 gallons of napalm-thickened fuel was used against defensive positions among cliffs, hills, and caves.
In Europe, Germans feared a flamethrower tank called Churchill's Crocodile, which was one of Hobart's Funnies. The Churchill Crocodile towed a large storage chamber filled with about 475 gallons of petroleum jelly. The crew of five used the main turret against concrete bunkers or hardened structures, then spit liquid fire from the tank's projector to burn the enemy occupants inside. The effective range was more than 100 yards, and the napalmlike fuel stuck to everything it touched. The flamethrower wasn't always necessary, though; the mere presence of a Churchill Crocodile often forced German infantry troops to surrender.
"Napalm was born a hero but lives a pariah," Robert M. Neer, author of Napalm: An American Biography, told Time magazine in 2013. "Most of the flamethrowers used in World War II shot napalm: it tripled the range and increased the amount of burning material delivered to the target by almost 10 times, compared to earlier gelled fuels."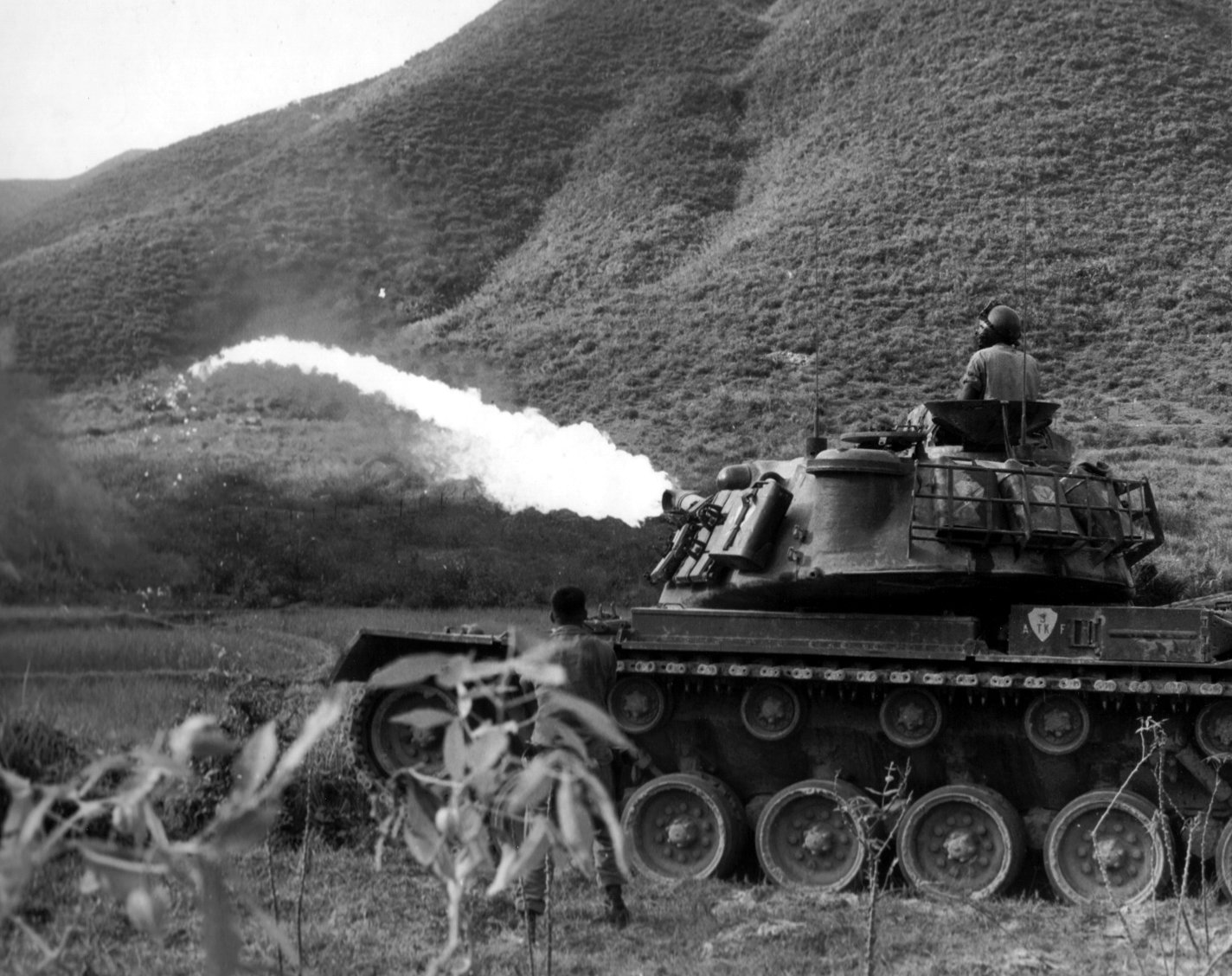 First developed toward the end of WWII, M2 flamethrowers were later used against Communist-occupied pillboxes during the Korean War. M2 flamethrowers were so effective they were used again in the Vietnam War, but the Americans weren't the only ones with flamethrowers.
The North Vietnamese Army first used flamethrowers against US Marines at Con Thien on May 8, 1967. The attack included assaults against American-held bunkers by sappers and flamethrowers from the 4th and 6th Battalions of the 812 NVA Regiment. When the fighting ceased, the Marines had reportedly suffered 44 killed in action and many more wounded, while nearly 200 NVA soldiers had been killed in action.
During the Vietnam War, the Brown Water Navy also used incendiary weapons to rout enemy combatants during their patrols of muddy swamps, narrow rivers, and shallow canals.
"The River Patrol Force used not only fire arrows but also flamethrowers and water cannon to destroy enemy positions on Mekong Delta riverbanks," wrote Edward J. Marolda and R. Blake Dunnavent in Combat at Close Quarters: Warfare on the Rivers and Canals of Vietnam.
The devastating effects of the liquid hellfire used between World War I and the Vietnam War ultimately resulted in flamethrowers being deemed inhumane. Though no international law explicitly bans flamethrowers, they were officially retired from the US military arsenal by the Department of Defense in 1978.
Read Next: A Life of Achievement and Regret: The Scientist & History Behind Napalm