It's an exciting time to be alive for space nerds. The rise of the commercial spaceflight industry has sparked rapid-fire advancements in both technology and affordability when it comes to launching satellites and manned spacecraft. Companies like Elon Musk's SpaceX and Richard Branson's space tourism venture Virgin Galactic are quickly turning science fiction into reality.
The latest leap forward was particularly impressive. Launched from the wing pylon of a modified 747-400 jumbo jet nicknamed "Cosmic Girl," Virgin Orbit's LauncherOne rocket shot into space on Jan. 17, marking the first time a liquid-fueled, air-launched rocket had ever reached orbit.
"Virgin Orbit has achieved something many thought impossible," Virgin Group founder Branson said in a release. "This magnificent flight is the culmination of many years of hard work and will also unleash a whole new generation of innovators on the path to orbit."
Pilots Kelly Latimer and Todd Ericson — both US Air Force veterans — were in the cockpit when Cosmic Girl took off from the Mojave Air and Space Port at 10:50 a.m. on Jan. 17 and flew to a launch area in the Pacific Ocean some 50 miles south of the Channel Islands. From there, the two Air Force Academy graduates piloted the modified jumbo jet into a climb to assist the smooth release of the LauncherOne rocket.
The two-stage rocket fired successfully and completed a "picture-perfect" launch, carrying into Earth orbit a payload of 10 satellites for NASA's Launch Services Program. The mission was "a major step forward for Virgin Orbit in its quest to bust down the barriers preventing affordable and responsive access to space," the company reported on its website.
A retired Air Force lieutenant colonel, Latimer is a 1987 US Air Force Academy graduate. Prior to joining Virgin Orbit, she flew a wide variety of aircraft, including C-17s, C-141s, and NASA's 747 Shuttle Carrier. She was the first woman research pilot hired by NASA's Armstrong Flight Research Center. Latimer also pilots the WhiteKnightTwo air launch aircraft for Virgin Galactic.
A 1991 Air Force Academy graduate who went on to fly F-16 fighters, Ericson was named Virgin Galactic's vice president of safety and test in 2017. He has logged more than 8,500 flight hours in over 90 different types of aircraft.
"It's not every day you get to launch a rocket into orbit off an airplane. So it was pretty awesome," Ericson said in a video produced by Virgin Orbit, documenting the historic Jan. 17 mission. "We came out knowing that this was going to be a successful flight."
During what is known as an air launch, the 70-foot-long LauncherOne rocket is attached to a pylon on the wing of the modified 747-400 jumbo jet. The aircraft carries the rocket to an altitude of about 35,000 feet and releases it for launch. It is the same method by which NASA's X-15 rocket plane was launched from modified B-52 bombers during the 1960s.
"You feel the thud as the rocket separates from the airplane," Ericson said, describing the Jan. 17 launch. "The airplane starts a little bit of a roll to the right and then about three or four seconds later you hear the rumble of the rocket engine igniting. So you're close enough to hear the rocket light and then can catch a quick peek off to the side, and you see the condensation from the contrail of it going, and you kind of watch it go off into space. It's pretty awesome."
Virgin Galactic, the Virgin Group's space tourism company, also uses the air launch concept for its reusable SpaceShipTwo. The passenger-carrying spacecraft is carried aloft by its mother aircraft, WhiteKnightTwo, and then released for a suborbital space flight.
The air launch method is generally less expensive than using a launch pad on the ground. By effectively negating the need to propel a rocket from a static standstill on the ground, the LauncherOne rocket can put payloads into space with less fuel. Also, the air launch concept is much more flexible than ground-launched rockets — the whole system can be made ready for launch on short notice and is able to steer clear of inclement weather.
The LauncherOne system can fly "on short notice and from a wide variety of locations to access any orbit," according to the Virgin Orbit website. In addition to California's Mojave Air and Space Port, Virgin Orbit is also set to conduct space launch operations from the United Kingdom, Japan, and Guam.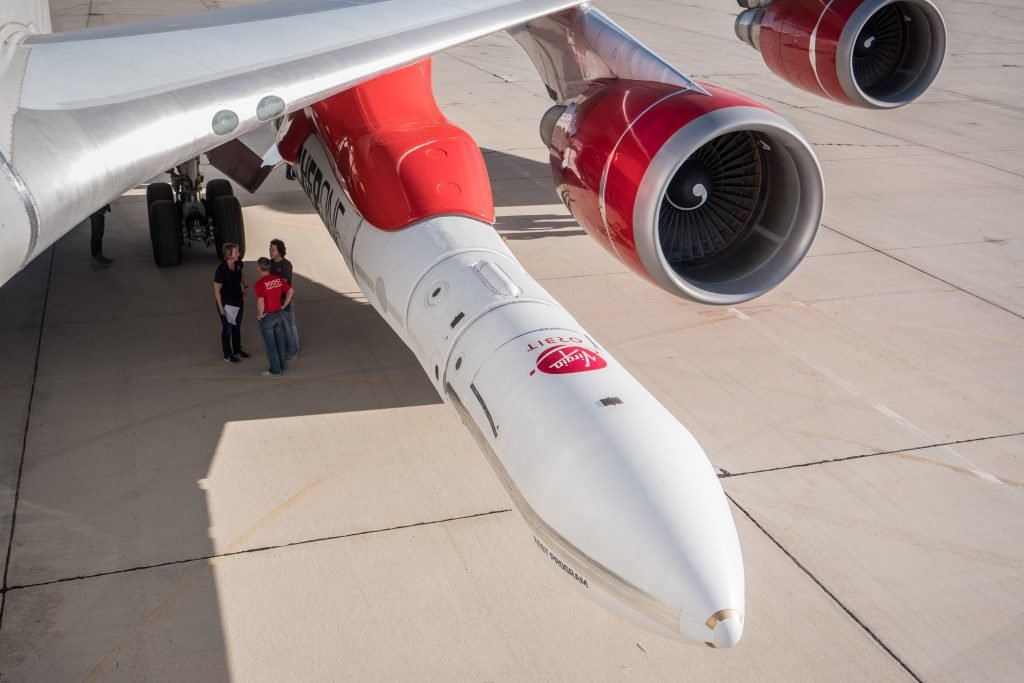 The LauncherOne rocket can put payloads of up to about 1,100 pounds into orbit, according to a company factsheet. That's a far cry from the 141,000-pound payloads that SpaceX's Falcon Heavy rocket is capable of powering into orbit. However, many industry experts say that the future of commercial satellite launch ventures will increasingly cater to smaller, so-called "micro-satellites," which can used for in-orbit constellations that serve a wide variety of functions.
The 10 satellites propelled into orbit by the LauncherOne rocket on Jan. 17 were part of NASA's CubeSat Launch Initiative. Almost all the satellites were designed and built by US universities. For its next mission, Virgin Orbit will launch a commercial payload into orbit.
Virgin Orbit designs and manufactures its LauncherOne rockets in Long Beach, California. The company has plans to build some 24 rockets a year. Among its commercial clients, Virgin Orbit already has contracts to launch payloads into orbit for the US Space Force and the United Kingdom's Royal Air Force.
"A new gateway to space has just sprung open! That LauncherOne was able to successfully reach orbit today is a testament to this team's talent, precision, drive, and ingenuity," Virgin Orbit CEO Dan Hart said in a release. "Even in the face of a global pandemic, we've maintained a laser focus on fully demonstrating every element of this revolutionary launch system. That effort paid off today with a beautifully executed mission, and we couldn't be happier."
SpaceX's Crew Dragon spacecraft successfully launched two American astronauts to the ISS in June, marking the resumption of NASA manned spaceflight missions following a nine-year hiatus after the last space shuttle mission in 2011. SpaceX was also recently selected by the Space Force to carry out national security space launch missions over the next five years. Boeing's CST-100 Starliner is scheduled to routinely transport astronauts to the ISS by the end of 2021.