There is a crisis in the state of Virginia, and it is coming to a head on Monday, January 20 with a planned protest in the state capital of Richmond. After flipping Virginia completely blue in 2019, progressive lawmakers in the state legislature have proposed, and in some cases enacted, a series of highly controversial gun laws. These actions have many Virginia residents literally up in arms.
The new laws include a provision that allow localities within Virginia to prohibit gun owners from bringing their firearms to public events, restricting residents to the purchase of one firearm a month, creating a system to track gun ownership and gun owners, and requirements for background checks for the private transfer of firearms. Another bill that rankled Second Amendment supporters was legislation that restricts the operation of shooting ranges at offices that employ more than 50 individuals — this was perceived to specifically target the National Rifle Association, whose headquarters in northern Virginia feature an indoor range on its premises.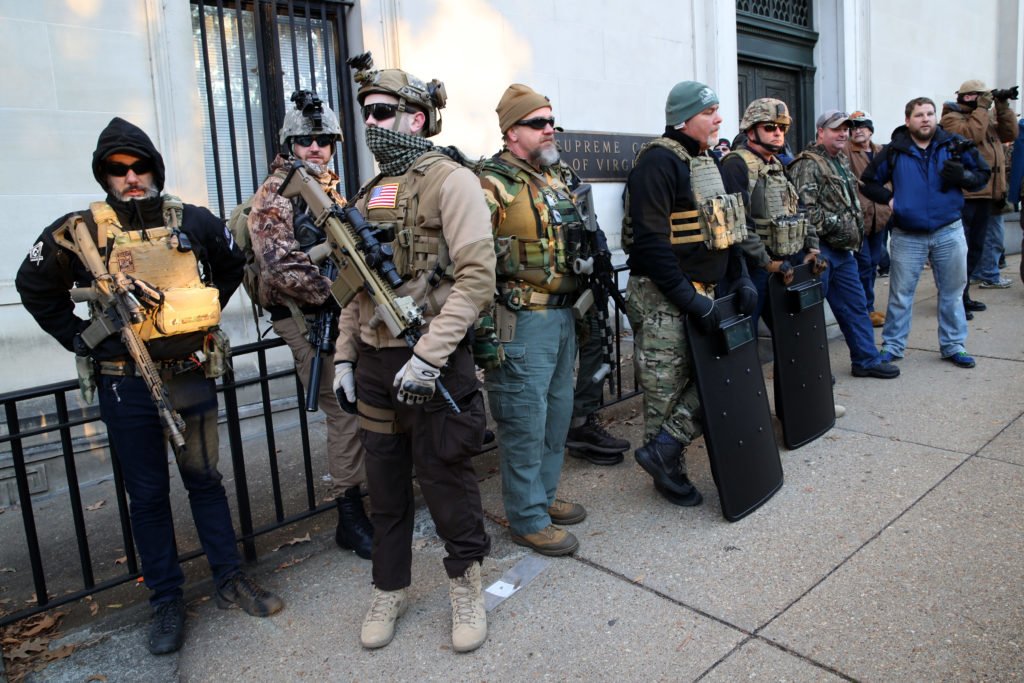 A bill that restricted "assault weapons" and firearm accessories such as bump stocks, suppressors, and "high-capacity" magazines was later stricken from the record. But additional proposals include new restrictions related to protective orders, enacting what is commonly referred to as "Red Flag Laws," which allow government confiscation of firearms from private citizens.
In reaction to these new proposals, Second Amendment activists from across the political spectrum and across the nation are descending on the grounds of the Virginia Capitol today, January 20, as part of a mass protest that is expected to involve tens of thousands of people. The event is expected to also attract large crowds of counter-protesters, anarchists, and extremists who may be looking to spark violence. The large, emotional crowds — and the potential for violence — have Virginia, and much of America, on edge.
The individual at the center of this controversy, Virginia's Gov. Ralph Northam, was under fire at the beginning of the year when a highly controversial photo from his 1984 medical school yearbook appeared to show Northam dressed in "blackface" and standing beside someone dressed in Ku Klux Klan (KKK) garb. After first apologizing for being one of the two individuals in the photo, the governor later claimed he had never seen the yearbook photo before, and was in fact not one of the individuals pictured.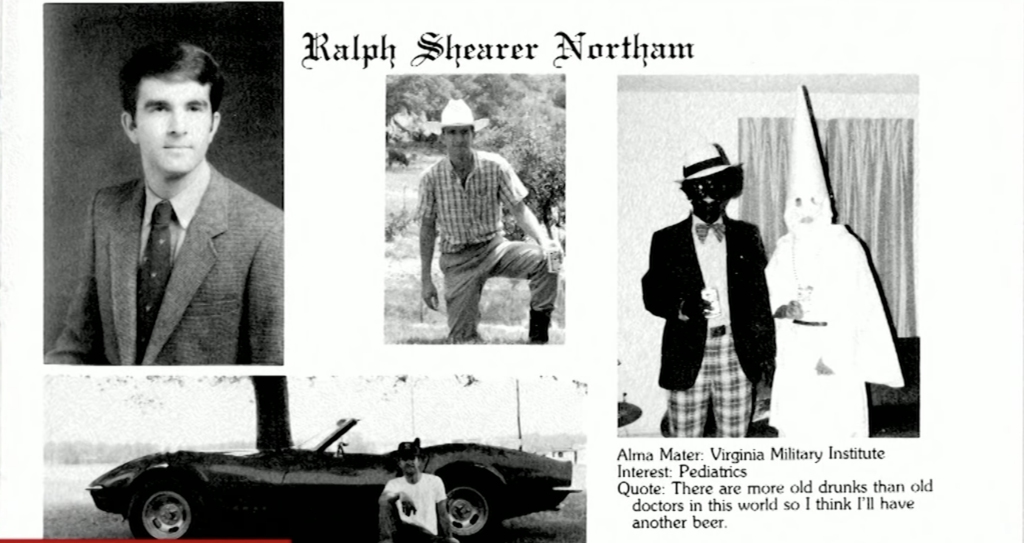 Many believe Northam is engaging in this weapons-ban controversy to draw attention away from the photo controversy and to bolster his credentials within the far-left wing of his party.
On the pro-gun side, the NRA and the Virginia Citizens Defense League are two of the main organizers and drivers of Monday's protests. Protesters are being encouraged by a wide range of activists and celebrities across the country, including U.S. President Donald Trump. The rally is also attracting numerous groups who support gun control and other counterprotesters.
While many citizens of Virginia support the proposed restrictions on guns, it appears they may be outnumbered by those who do not. There are over 130 counties and county-like independent cities in the state of Virginia. After the proposed Second Amendment restrictions became public, more than 100 of those administrative locales declared themselves "Second Amendment Sanctuaries." One Virginia sheriff went so far as to declare that he would "deputize thousands" of individuals in his county, thereby giving them law enforcement exemptions to the weapons bans. On the other side of the political divide, progressive anti-gun group Moms Demand Action claimed that the Second Amendment sanctuaries are the products of "extremists" who "threaten the safety of communities nationwide."
Other states are watching the situation in Virginia closely, and some are already adopting lessons learned. For example, a sheriff in Florida went public with the announcement that he will not enforce a proposed "assault weapons" ban in his state if it becomes law. Politicians and activists across the country are also offering their perspective on the situation. President Trump summarized his feelings on the topic in a tweet, "Your 2nd Amendment is under very serious attack in the Great Commonwealth of Virginia. That's what happens when you vote for Democrats, they will take your guns away. Republicans will win Virginia in 2020. Thank you Dems!"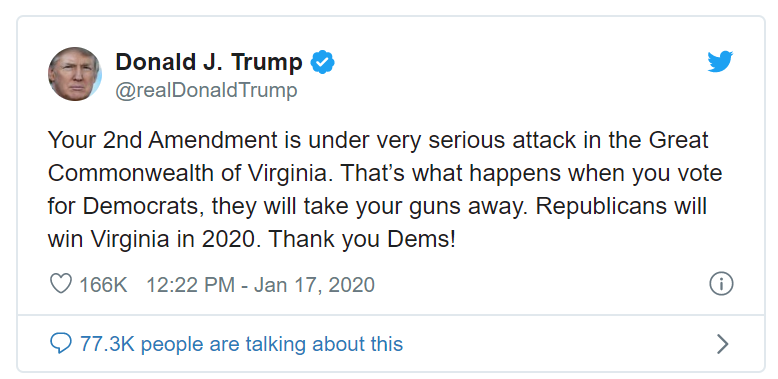 Many other individuals and groups tweeted out their own concerns. David Hogg, a survivor of the Parkland, Florida, school shooting and an outspoken gun-control activist, tweeted that he believes "VA is in a state of emergency because white supremacists and nazi's are using their 2nd amendment rights to shutdown the 1st amendment right of students, veterans, and clergy."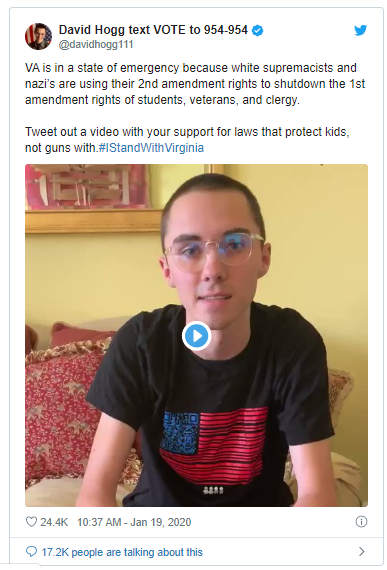 Senate candidate and retired U.S. Army officer Daniel Gade, a two-time Purple Heart recipient who lost a leg in combat in Iraq, has attended several pro-Second Amendment rallies across the state of Virginia. With regard to Monday's event, he said on "Fox and Friends" that the upcoming protest is about "peaceful Virginians standing up for their civil rights." In an exclusive phone interview with Coffee or Die, Gade, who has been outspoken in support of gun rights, went on to explain that Monday's events are all about the preservation of civil liberties.
"This isn't about militias or white power or any of that. It's not even just about the Second Amendment," he said. "This is about prevention of government overreach and keeping ourselves in a place where we can maintain our rights, our security, and our liberty."
The tension, the size of the crowds, and the emotions involved inevitably draw comparisons to the events that transpired two and a half years ago in Charlottesville, Virginia, during the "Unite the Right" rally. That event turned violent, and a young woman was killed when an accused white supremacist rammed his car into a group of counter-protesters.
"People have to understand that there is a vast difference between what happened in Charlottesville in 2017 and what is going on in Richmond on Monday," said James A. Gagliano, a retired FBI Supervisory Special Agent and current CNN Law Enforcement Analyst. "For one thing, Charlottesville was explicitly a 'Unite the Right' hate-group convergent function, which sought to mainstream white supremacy extremism. The Richmond rally, on the other hand, is organized by pro-gun supporters and is anticipated to attract a wide range of people in support of the Second Amendment."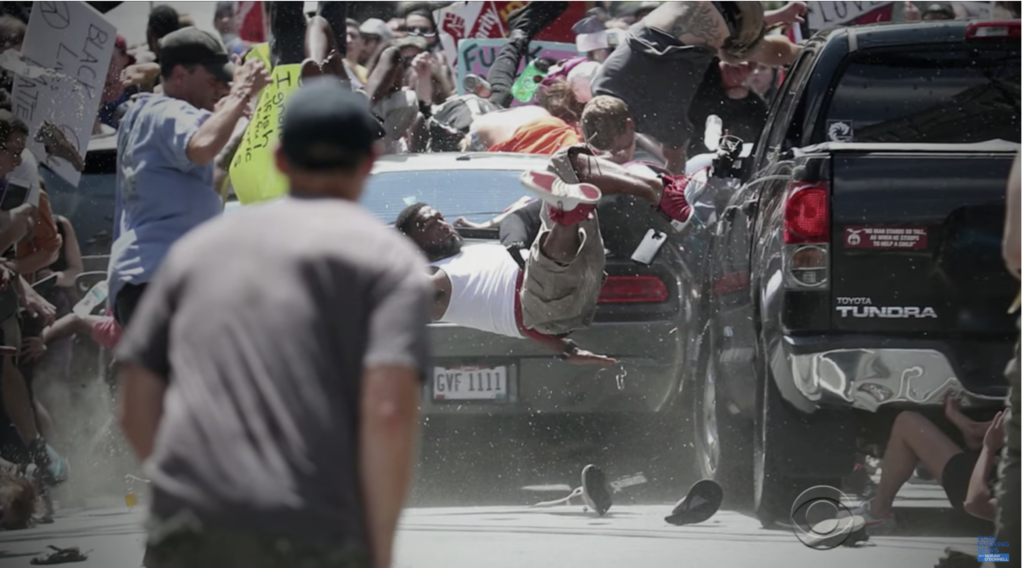 Interestingly, the "wide range" of supporters expected at the Second Amendment rally includes at least one Antifa faction, who indicated that they intend to march arm-in-arm with conservatives in support of the Second Amendment. There is far from a unifying consensus on gun rights, however, and the FBI has already foiled at least one potential plot by arresting three alleged far-right extremists who law enforcement claims were planning violent attacks at Monday's protest. The plotters' intent, it appears, was to provoke a large-scale, drawn-out violent conflict with law enforcement, a situation known colloquially as the "boogaloo."
In this context, the "boogaloo" refers to armed conflict between citizens and the government. Some individuals see Monday's protest to be the location of the potential opening shots of widespread "boogaloo," which may lead to a "Second American Revolution" or even a "Second American Civil War" according to the Anti-Defamation League. The government of Virginia is taking unprecedented precautions to ensure that Monday's rally remains peaceful, including caging off the protest area, banning firearms on the Capitol grounds, and declaring a state of emergency.
Citing "credible intelligence" of people planning "violence, rioting, and insurrection" at Monday's protest, Northam issued an executive order declaring a state of emergency. As part of that executive order, the governor banned the possession of any weapon, or weapon-like object, other than a folding knife with a blade of less than 3 inches. Interestingly, the ban also extends to aerial drones, which the governor fears may be "weaponized."
Additionally, the governor directed the erection of a large chain-link fence around the Capitol building. Individuals who wish to protest inside the designated "free-speech area" must pass through a control point and subject themselves to a search by law enforcement.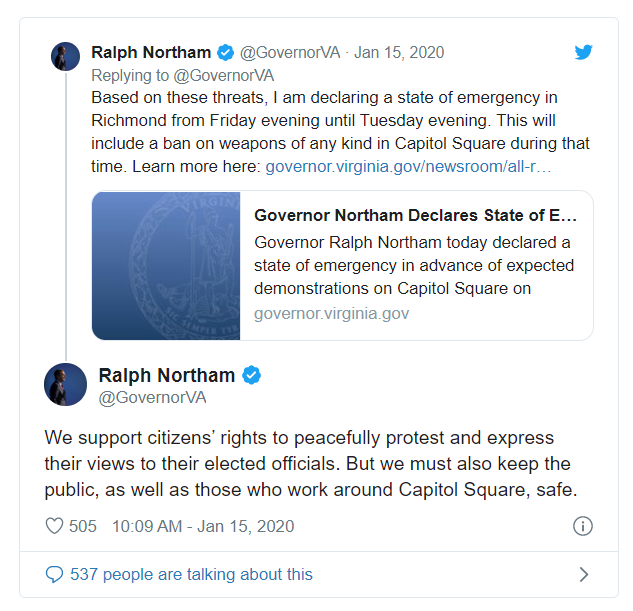 These security measures are also controversial, as Virginia is an "open carry" state where citizens can usually carry weapons in most public spaces. The cage around the Capitol also appears to only have one way in, and every private citizen will be unarmed, which has the potential to create feelings of vulnerability and fear of an active-shooter situation similar to what transpired in Las Vegas in 2017.



Even with the additional security precautions, the potential for violence remains high. While activists on the political left are warning about the potential for far-right violence at Monday's protest, some individuals on the right are warning of "false flag" attacks staged by the left. Virginia State Senator Amanda Chase, a conservative, posted a lengthy missive on Facebook warning that "we are being set up" by Northam, who is "coming after us full speed" and wants to "brand you as a domestic terrorist."
Despite the risks and the rhetoric, tens of thousands of people are expected at the rally, and law enforcement believes that they are ready.
"Law enforcement learned a great deal about managing large, potentially provocative or incendiary gatherings from what unfolded in Charlottesville," Gagliano said. "As a result, we can expect all levels of law enforcement, from local, state, and federal, to be there on Monday, in order to help keep the peace and allow attendees to peaceably exercise their rights. However, any time you have large groups of emotional people in a central location, with resultant counterprotesters commingling in the same space, sparked violence can occur."