A Virginia police officer was fired and Virginia Gov. Ralph Northam ordered a special investigation after video emerged of two officers in the town of Windsor pepper-spraying and threatening an active-duty Army lieutenant in a traffic stop in December 2020.
Lawyers for Lt. Caron Nazario, who is Black and Latino, released the footage after filing suit against two Windsor police officers, both of whom are white, alleging violation of his First and Fourth Amendment rights.
Sgt. Maj. of the Army Michael Grinston tweeted Tuesday his support for Nazario, saying he was "very proud" of Nazario's "professional response."
Officer Joe Gutierrez was fired from the Windsor Police Department Monday after the videos surfaced over the weekend. In videos from a contentious December traffic stop, Gutierrez could be heard making several threats and unprofessional comments to Nazario and, prior to releasing him, appeared to threaten the Army officer to not pursue a complaint against him.
Officer Daniel Crocker, the less aggressive of the two officers in the video, wrote in his report on the December arrest that he and Gutierrez considered the traffic stop to be "high risk" for several factors, including Nazario's driving nearly a mile after police activated lights and sirens behind him. Audio of the stop from police body cameras captured the officers making several comments that Nazario took as threats. When the stop concluded, Gutierrez also used threats of legal impact on Nazario's career to persuade the Army officer to let the matter drop.
According to Crocker's report, he and Gutierrez spotted Nazario's black 2020 Chevrolet Tahoe being driven without a license plate at just past 6:30 p.m. last Dec. 5.
Nazario had just purchased the vehicle and had a temporary tag inside a window, according to his lawsuit. In Crocker's body-cam video, a temporary tag is visible inside the rear window in the light of the gas station.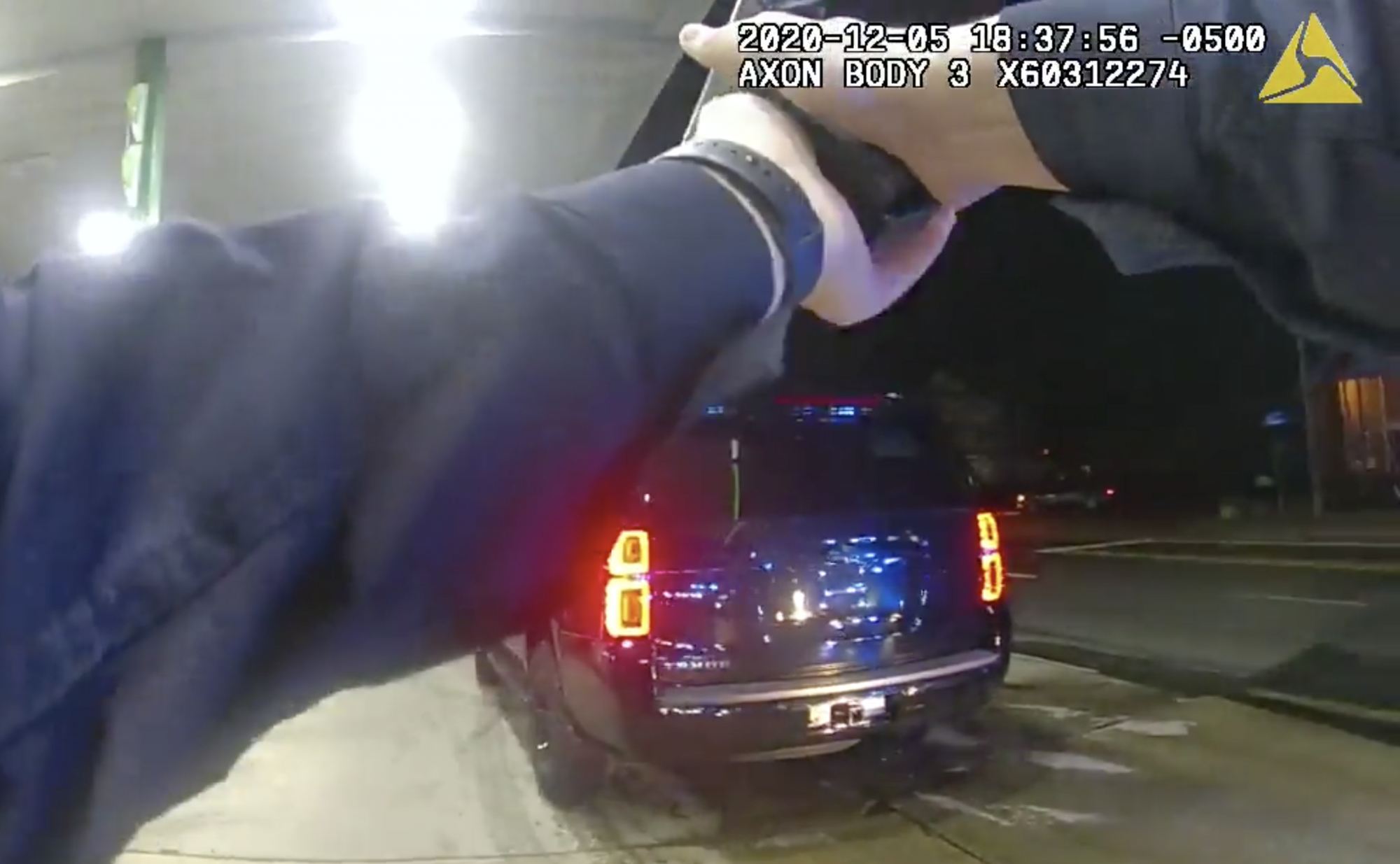 Nazario drove just under a mile to a gas station to pull over. Gutierrez's body cam caught the officer saying that this decision by Nazario made him "almost certain" that Nazario was not white.
Executing what Crocker termed a "high risk stop," the officers approached Nazario with guns drawn, ordering Nazario out of the car.
In the video, when Nazario asked, "What's going on?" Gutierrez responded: "What's going on is you're fixing to ride the lightning, son."
In court documents, Nazario called the phrase a "colloquial expression for an execution, originating from a glib reference to execution by electric chair." The phrase is also used in the 2009 movie The Hangover to refer to use of a taser.
Gutierrez also taunted Nazario when Nazario said he was afraid to leave his vehicle. "Yeah, you should be," the officer yelled.
Eventually Gutierrez pepper-sprayed Nazario as he sat in his car, and the two officers eventually handcuffed him.
At the end of the stop, Gutierrez gave an extended lecture on legal jeopardy that he could create for Nazario if Nazario chose to "push it" by reporting the incident.
Read Next: