On July 1, Amazon founder and billionaire Jeff Bezos revealed that he'd invited Wally Funk, a white-haired and spunky 82-year-old aviation pioneer, to join him on a flight into space. Bezos' space tourism enterprise, Blue Origin, planned the launch of its first human spaceflight for Tuesday, July 20, to coincide with the 52nd anniversary of the first moon landing.
Right on schedule, Funk took her seat inside the roomy capsule of Blue Origin's New Shepard rocket — aptly named in honor of Alan Shepard, the first American in space and the oldest NASA astronaut to walk on the moon. For the 11-minute, suborbital space flight, Funk flew alongside Bezos, his volunteer firefighter brother Mark, and an 18-year-old physics student from the Netherlands named Oliver Daeman.
The Blue Origin foray marked the latest giant leap for commercial spaceflight. For Funk, the flight fulfilled a lifelong dream, some 60 years in the making. A member of the so-called Mercury 13, Funk was part of a hand-picked group of elite female pilots who tested to become astronauts during the 1960s but were never assigned space flights.
After her successful suborbital flight, Funk is now the oldest person to go to space, surpassing the previous record set by astronaut John Glenn in 1998 when he flew aboard the space shuttle Discovery at the age of 77.
Tuesday's spaceflight capped Funk's lifelong fascination for exploration. Born in 1939, Mary Wallace "Wally" Funk noticed her first airplane when she was roughly 1 year old. Her parents took her to an airport in New Mexico, where she viewed a Douglas DC-3 airliner. After that, she was hooked. As a 7-year-old, Funk crafted model airplanes out of balsa wood. At 9, she took her first flying lessons. Her childhood wasn't exactly dull — she enjoyed horseback riding, hunting, and fishing. But aviation became perhaps her greatest love.
In her teens, Funk blazed a trail that was so impressive the National Rifle Association sent her shooting results to President Dwight Eisenhower. "I did everything that people didn't expect a girl to do," Funk said, according to The Guardian. "There was nothing I couldn't do."
Funk never perceived her gender as a limitation. She enrolled at Stephens College in Missouri, earned her pilot's license, and later became a team member of Oklahoma State University's "Flying Aggies" aviation team.
"As a Flying Aggie, I could do all the [maneuvers] as well as the boys, if not better," she said, according to The Guardian. When she graduated in 1960, Funk became the US military's first female civilian flight instructor at Fort Sill in Oklahoma.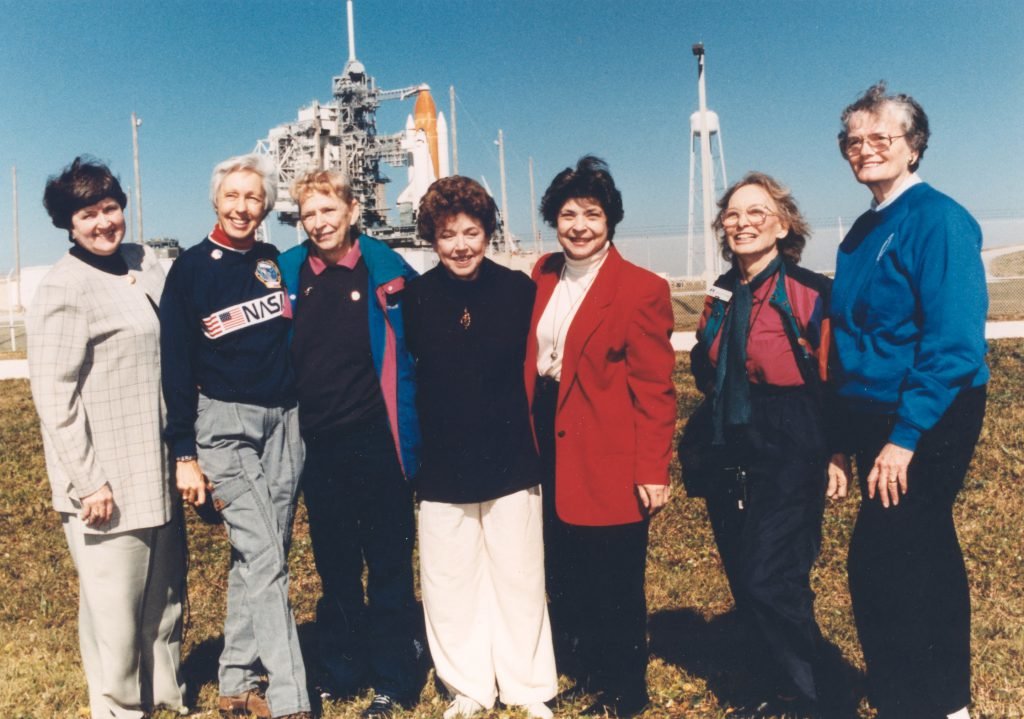 A year later, Funk applied for the unofficial Woman in Space program — the First Lady Astronaut Trainees. The project was run by William Randolph Lovelace, a physician who created a private aerospace medicine foundation at a clinic in Albuquerque, New Mexico. Project Mercury, NASA's mission to put a man in orbit, oversaw the privately funded program to determine the capacity of women for spaceflight.
Despite being younger than the required age range of 25 to 40, Funk applied and was invited to participate. Along with 12 other potential women astronauts, Funk underwent an exhaustive battery of physiological and psychological tests — including a sensory deprivation tank, where Funk proved her mettle.
When the administrators invited Funk out of the sensory deprivation tank's pool of water, she turned to face a clock in order to check her time. However, the clock face was concealed. "Wally, you stayed in 10 hours and 35 minutes," the officials told her. "You beat everybody who has ever taken that test."
Regardless of performance, Lovelace's efforts faced political scrutiny in Washington. From July 17 to 18, 1962, a special subcommittee of the House Committee on Science and Astronautics held a public hearing to investigate sex discrimination within the space program. Several important players testified. Jackie Cochran, the first woman to break the sound barrier, surprisingly did not support women's inclusion on space missions, questioning whether special training for women could damage the space program. NASA astronauts John Glenn and Scott Carpenter each testified that women couldn't qualify as astronaut candidates.
"NASA required all astronauts to be graduates of military jet test piloting programs and have engineering degrees," NASA says on its website. "In 1962, no women could meet these requirements. Although the Subcommittee was sympathetic to the women's arguments, no action resulted."
For his part, Glenn, whose engineering degree was awarded by Muskingum College in 1962, after he'd orbited Earth, technically met just one of the requirements, having left school in 1942 to join the Marines.
Funk ultimately rolled with the punches, not dwelling on her exclusion from the space program. She went on to become the first female Federal Aviation Administration inspector and first female National Transportation Safety Board air safety investigator. "I have 19,600 flying hours," she explained, describing her aviation career in an Instagram post. "I have taught over 3,000 people to fly: private, commercial, instrument, flight engineer, airline transport, gliding, everything that the FAA has I've got the license for."
In 2010, Funk paid a $200,000 deposit for a ticket to space with billionaire Richard Branson's Virgin Galactic spaceflight company. According to news reports, the newly minted octogenarian astronaut still plans on making the flight.
Read Next: