The next time you are browsing the aisles at Walmart, just think to yourself that the son of Sam Walton, the founder of the retail giant, was involved in special operations during the Vietnam War. Military Assistance Command Vietnam-Studies and Observation Group — or MACV-SOG — is a name so bland that it shielded the true nature of their top-secret work into deniable areas like Laos, Cambodia, and North Vietnam. How did the 11th richest man in the world intertwine his legacy into one of the most notorious special operations units in U.S. military history?
John Thomas Walton was born in Newport, Arkansas, the second of three sons, and excelled at athletics. He was a standout football star on their public high school football team and was more of a student of life than academics. His father, Sam, opened Walton's 5&10 in Bentonville, a small business in a small town known for its variety of hunting seasons. Walton had a modest upbringing and after only two years of college he dropped out to enlist in the U.S. Army. "When I was at Wooster [The College of Wooster in Ohio], there were a lot of people talking about the war in the dorm rooms, but I didn't think they understood it," Walton said.
Walton enlisted in the Army and became a Green Beret (Army Special Forces). "I figured if you're going to do something, you should do it the best you can," he said during an interview with Andy Serwer for Fortune magazine. Assigned to MACV-SOG after the Tet Offensive in 1968, Walton was stationed at FOB 1 in Phu Bai where members of Strike Team Louisiana conducted deep penetration reconnaissance missions. John Stryker Meyer, a teammate and friend of Walton's, wrote, "In August of '68, on one such mission, Walton's six-man recon team was surrounded and overrun by enemy soldiers." The firefight became so intense that the team leader, William "Pete" Boggs, called an airstrike (napalm) directly on their own position to break contact.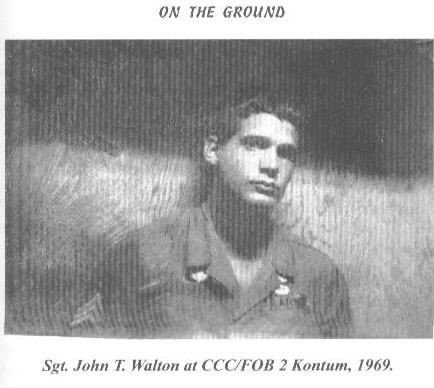 "That strike killed one team member, wounded the team leader and severed the right leg of the Green Beret radio operator Tom Cunningham Jr., of Durham, N.H. Another team member was wounded four times by AK-47 gunfire by an enemy soldier whom Walton killed," Meyer wrote. As the team's medic, Walton was responsible in setting up a triage point to tend to the casualties. He applied a tourniquet to Cunningham's leg that had begun to hemorrhage. The tourniquet ultimately saved his life, but he later lost his leg. Facing hundreds of North Vietnamese soldiers (NVA) and completely surrounded, Walton called in two extraction helicopters.
The first helicopter, piloted by South Vietnamese Captain Thinh Dinh, touched down and picked up members of the team, some of whom Walton personally carried. The enemy soldiers were now sprinting to prevent their escape. Bullets clanged off the chopper and whizzed by their bodies. A second helicopter was needed to get them all out, but realizing how dire the situation had turned, the first helicopter sat back down and picked up the entire team. Their weight was too much, and they barely managed to climb over the treetops. Walton's determination to get his teammates out of harm's way earned him the Silver Star, the nation's third highest award for valor.
"I figured if you're going to do something, you should do it the best you can."
During a poker game on the night they returned to base, one of his teammates noticed that the skin on Walton's wrist was burnt. It was evidence of just how accurate the NVA gunfire was. Walton, Meyer, and his teammates enjoyed poker, Scrabble, and other games that require thought. They spoke about their goals and the dreams they hoped to accomplish when they returned home. Walton's was a life of adventure.
Meyer shares how Walton had inspirations to travel domestically on a motorcycle and to Mexico, Central, and South America by plane. He earned his pilot's license and started his own business crop-dusting cotton fields in Texas and Arizona. Crop-dusting provided Walton a new challenge that helped his transition after Vietnam. His aerial theatrics featured ingenuity, too — Walton co-founded the company Satloc in 1999, which pioneered the use of GPS applications in agricultural crop-dusting. He also served as a company pilot for his family business.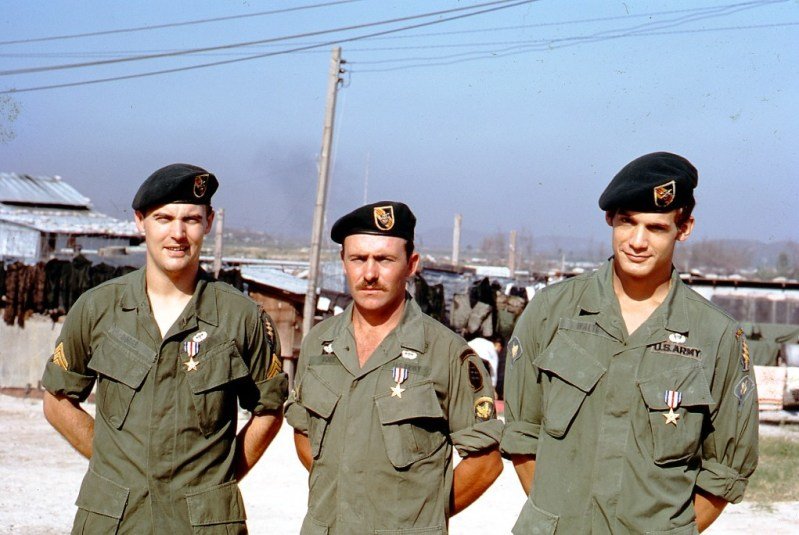 It seemed Walton was always searching for his next greatest thrill. He briefly owned a sailing company called Marine Corsair in San Diego, and he regularly traveled to Durango, Colorado, for outdoor activities such as mountain biking, skiing, and skydiving. As Walmart's success climbed, so too did Walton's wealth. At one point, he was the 11th richest man in the world, with an estimated $18.2 billion net worth. However, despite the amount of money he made, he always stayed true to his modest roots. Meyer recalled a breakfast the pair had in Oceanside, California, and Walton arrived in a small Toyota hybrid.
Walton was also a strong proponent of education and school vouchers, helping establish the Children's Scholarship Fund with the goal of sending low-income children to private schools. The Walton family as a whole has donated an estimated $700 million, largely due to John's advocacy. The William E. Simon Prize for Philanthropic Leadership recognized his contributions in 2001.
John T. Walton died on June 27, 2005, when his custom-built CGS Aviation Hawk Arrow plane crashed in Grand Teton National Park in Wyoming. He was 58 years old. An investigation determined that loose flight control components were the cause of the fatal accident. Walton left behind a wife, Christy, and son, Lukas.
Though Walton's name will always be immediately recognized as the heir to the Walmart empire, his legacy is also inextricably tied to MACV-SOG. Two years before his untimely death, Walton chartered his private jet to pick up the family of Thinh Dinh, the South Vietnamese pilot with whom he served decades prior. They reunited in Las Vegas, never forgetting the lasting bonds forged in war.