In the town of Bucha, Ukraine, approximately 150 corpses lie in a mass grave near the Church of St. Andrew and Pyervozvannoho All Saints.
"There were too many dead people, and there was no way to properly bury them because getting to the cemetery was simply unrealistic because of the shelling," the church's abbot, Andriy Galavin, told CNN.
As more gruesome images reach the public eye in the wake of Russia's retreat from Bucha and other towns surrounding Kyiv, cries for stronger sanctions and even war crimes prosecution grow in volume.
Additional civilian bodies are discovered every day — upwards of 200 at this point — not just in the mass grave, but also lining the streets, shot in the head with hands tied behind their back. More corpses have been found shot and burned in secluded, wooded areas. Getting an accurate count of the carnage is slow going, as investigators attempt to steer clear of the hundreds of mines Russian forces have left behind.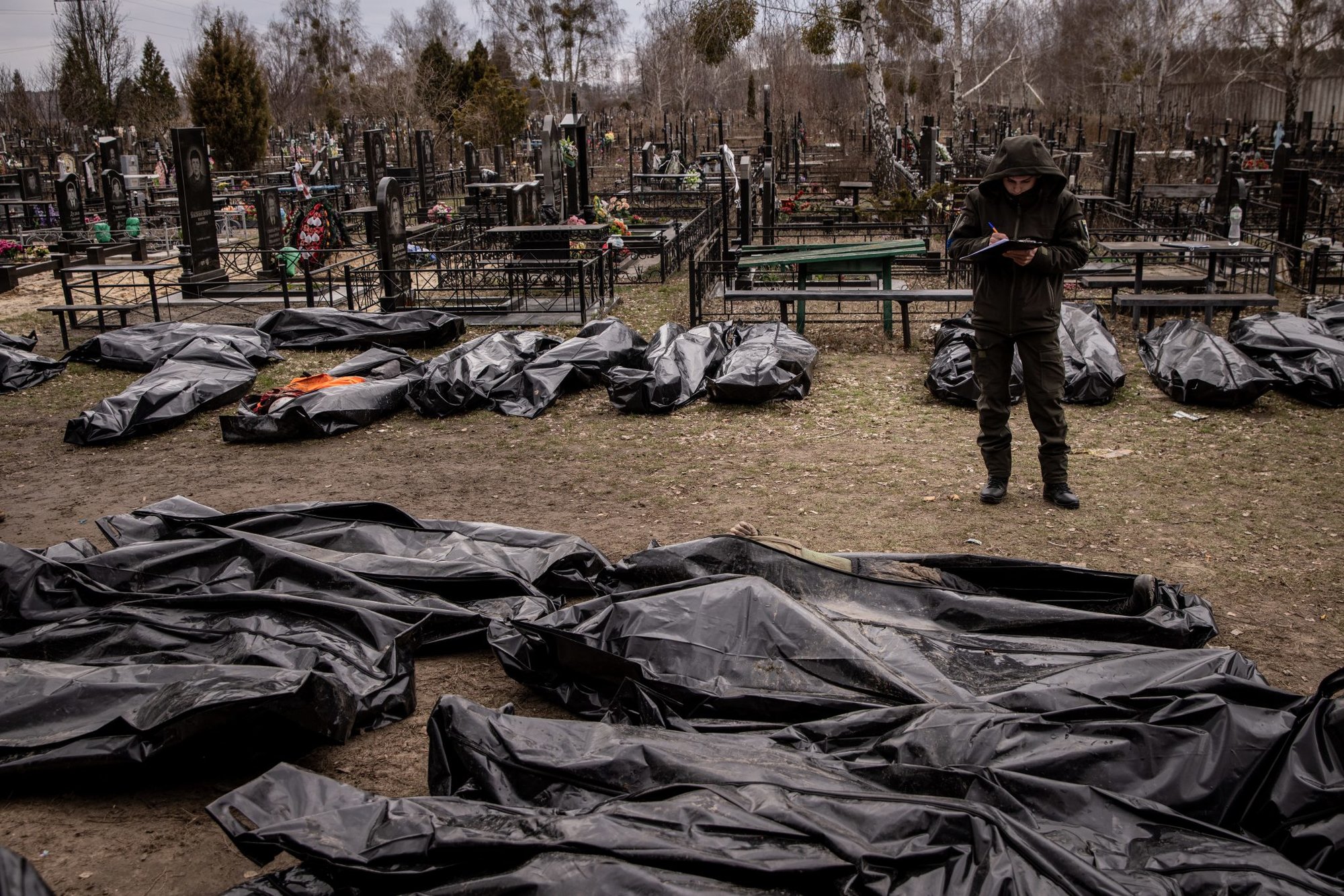 Russia has tried to discredit photographs and eyewitness accounts of the horrifying scenes as a "provocation" fabricated by Ukraine. According to the Russian Defense Ministry, Bucha's mayor, Anatoliy Fedoruk, claimed all was well when Ukrainian forces regained control of the town on March 31, and that pictures of atrocities did not begin to hit the press until two days later.
"All the bodies of the people whose images have been published by the Kiev regime are not stiffened after at least four days, have no typical cadaver stains, and the wounds contain unconsumed blood," the Defense Ministry's statement on Telegram reads.
"It is simply a well-directed — but tragic — show," Kremlin spokesman Dmitry Peskov said Tuesday, April 5. "It is a forgery aimed at denigrating the Russian army, and it will not work."
But satellite imagery from early March, provided to the press by Maxar Technologies, shows the same bodies lining the streets, according to analysis by The New York Times.
And the residents of Bucha are beginning to tell their stories. NPR spoke to Volodymyr Avramov, a 72-year-old man who watched alongside his daughter as her husband, Oleh, was dragged into the street by Russian soldiers and shot in the head while kneeling on the ground.
"Oleh was laying on the street for a month. I could not come close or bury him, nothing," Avramov told NPR. "There were piles of dead corpses lying here, without arms, without legs, without skulls. You wouldn't see it in a nightmare. It's horror."
"It is absolutely clear that these people weren't just dressed in civilian clothes," Andriy Zagorodnyuk, Ukraine's former minister of defense, said to NPR in response to Russia's attempts to claim the images were staged. "They were civilians, because most of them have already been identified. We know their addresses. They are locals. They're local residents who lived in those houses. It just shows how sickening the Moscow government is."
Human Rights Watch is compiling a list of alleged violations of the laws of war throughout Ukraine. The list grows longer every day.
US President Joe Biden explicitly called Russian President Vladimir Putin a "war criminal," telling reporters Monday, "We have to gather the information. We have to continue to provide Ukraine with the weapons they need to continue the fight. And we have to gather all the details, so this can be an actual — have a war crime trial. This guy is brutal. And what's happening in Bucha is outrageous. And everyone's seen it."
On Wednesday, Pope Francis gave a public speech condemning the war in general and the events in Bucha specifically, saying, "In the war in Ukraine, we are witnessing the impotency of the United Nations."
At a meeting of the UN Security Council Tuesday, Ukrainian President Volodymyr Zelenskyy railed against what he considers inaction on the part of the international community in the face of Russia's veto power.
"We are dealing with a state that turns the right of veto in the UN Security Council into a right to kill," Zelenskyy said. "Russia wants to turn Ukrainians into silent slaves."
In response to the alleged massacre, the United States placed further economic sanctions on Russia Wednesday morning, targeting Russia's Sberbank and Alfa Bank and prohibiting investment in Russian institutions by Americans. But energy transactions were exempted from the prohibition.
The adult daughters of Vladimir Putin were also hit with American sanctions, as were family members of other senior Russian officials, including those of Russian Foreign Minister Sergey Lavrov.
"I made clear that Russia would pay a severe and immediate price for its atrocities in Bucha," Biden tweeted after announcing the sanctions.
Based on Zelenskyy's speech at the UN, it is unlikely he will find these actions a sufficient response to the brutality citizens of Bucha have described.
"Remove Russia as an aggressor and a source of war from blocking decisions about its own aggression, its own war," he said. "If your current format is unalterable and there is simply no way out, then the only option would be to dissolve yourself altogether."
Read Next: More Troops Could Head to Eastern Europe as Top Defense Officials Expect Ukraine Conflict To Last 'Years'