In Mariupol, doctors and patients were taken hostage by Russian soldiers, Ukrainian officials said. In the town of Rubizhne, Russian shelling destroyed three schools, a hospital, and an institution for visually impaired children. Around Kharkiv and its suburbs, artillery crashed into three high-rise buildings, two private houses, yards, markets, parks, a hospital, and a kindergarten.
And that's just this week.
"Russian armed forces continue to launch missile strikes on civilians, cynically disregarding international humanitarian law," Ukraine officials claimed in their Thursday, March 17, "war bulletin" provided to Coffee or Die Magazine. "Bombing and shelling by Russian forces damaged more than 411 educational institutions, 63 of which were completely destroyed."
Russian strikes and raids that might be classified as war crimes are now so numerous that the Ukraine Ministry of Culture and Information Policy has created a database to collect "proper documentation of war crimes against humanity and cultural heritage sites," Ukrainian officials said.
"The materials can be used as evidence to prosecute those involved in crimes under Ukrainian law at the International Criminal Court in The Hague and a special tribunal," according to Ukraine's "war bulletin" from Tuesday.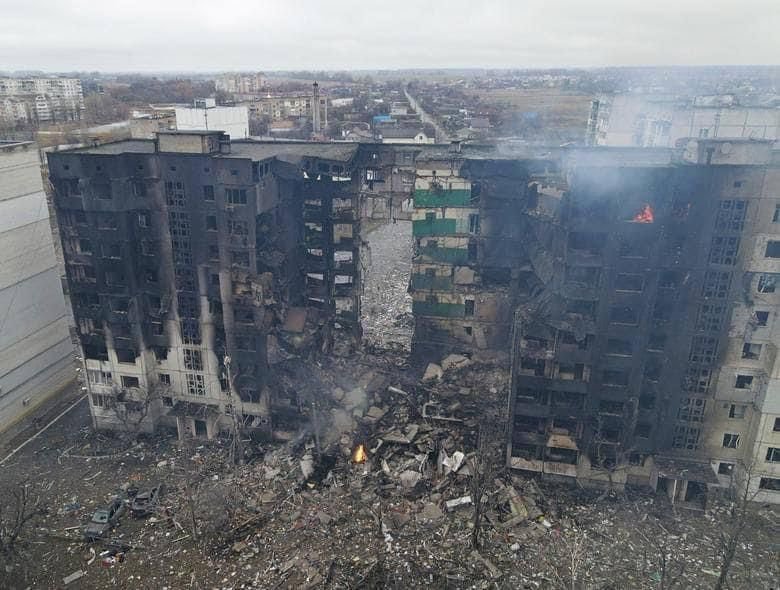 The ministry listed four specific examples of war crimes it wants to document.


Damage to ancient buildings (architectural monuments), historical cemeteries, memorials, religious buildings, works of art, nature monuments, buildings of cultural institutions — theaters, museums, libraries, etc.


Destruction of archeological objects — mounds, shafts of ancient earthen fortifications, excavation sites, etc.


Facts of injury/death of civilians as a result of the use of force and weapons by the occupier in an attempt to damage cultural objects.


Seizure of property, looting by the occupying forces of museums, libraries, and other cultural institutions.


The International Criminal Court defines war crimes as "grave breaches of the Geneva conventions in the context of armed conflict and include, for instance, the use of child soldiers; the killing or torture of persons such as civilians or prisoners of war; intentionally directing attacks against hospitals, historic monuments, or buildings dedicated to religion, education, art, science or charitable purposes."
Ukrainian officials are not alone in seeking to document evidence of possible war crimes in Ukraine.
In its most recent report, the Office of the UN High Commissioner for Human Rights (OHCHR) recorded 1,900 civilian casualties in Ukraine: 726 killed and 1,174 injured. Those figures include more than 50 children killed and more than 60 injured.
In its Thursday war bulletin, Ukraine counted 108 children killed and more than 120 wounded.
President Joe Biden and Secretary of State Antony Blinken have both accused Putin of war crimes.
"I think he is a war criminal," Biden said on Wednesday of Putin, using the term for the first time since Russia's unprovoked war on Ukraine began, according to ABC News.
Thursday, Blinken said he believes war crimes have been committed in Ukraine.
"Yesterday, President Biden said that in his opinion, war crimes have been committed in Ukraine. Personally, I agree," Blinken said, according to ABC. "Intentionally targeting civilians is a war crime. After all the destruction of the past few weeks, I find it difficult to conclude that the Russians are doing otherwise."
Blinken, according to ABC, said State Department experts from the Office of Global Criminal Justice are collecting and reviewing evidence for a formal determination and will share findings with those charged with accountability.
The OHCHR said it was working to verify higher reported numbers but that most of the casualties it had verified so far "were caused by the use of explosive weapons with a wide impact area, including shelling from heavy artillery and multiple-launch rocket systems, and missile and air strikes."
However, the organization "believes that the actual figures are considerably higher, especially in government-controlled territory and especially in recent days."
The open-source investigation organization Bellingcat also announced plans Thursday to develop its own database of civilian damage in Ukraine.
Ukrainian officials cautioned that anyone attempting to document possible war crimes should first ensure that he and the scene are safe. He should take photos and videos that "capture the general appearance of the damaged object and the condition around the object." Pictures can then be uploaded to the Ukraine Ministry of Culture and Information Policy's war crime database website.
Update: This story has been updated with remarks by President Joe Biden and Secretary of State Antony Blinken.
Read Next: 'Servant of the People,' Starring Ukrainian President Volodymyr Zelenskyy, Returns to Netflix