Drums and voices reverberated in the school auditorium as the men began their warrior dance. Many had earned the title "warrior" twice over — as veterans of Vietnam, World War II, and Korea, but also as warriors of their tribes. The men had turned the ceremonial dance into a celebration of both worlds, proudly wearing their military regalia and holding shields painted with unit insignias.
A 3-year-old boy named Jeremiah Wilber watched in awe, sitting next to his parents. When the dance ended, a warrior approached Wilber and handed the little boy an eagle feather.
"One day, you'll grow up to be a great warrior," he told Wilber.
That prophecy became Wilber's calling in life, eventually leading him to numerous deployments to Iraq and Afghanistan as a Green Beret. Now, the former soldier has found a new warrior calling within the Native American community that set him on his path. Since retiring from the Army last year, Wilber founded War Party Movement, a company whose mission is to help vulnerable women and children, particularly those in Native communities. In the US and Canada, Native women face rates of violent crime up to 10 times as high as that of the general population, dangers so acute that it inspired a national movement — Missing and Murdered Indigenous Women (MMIW).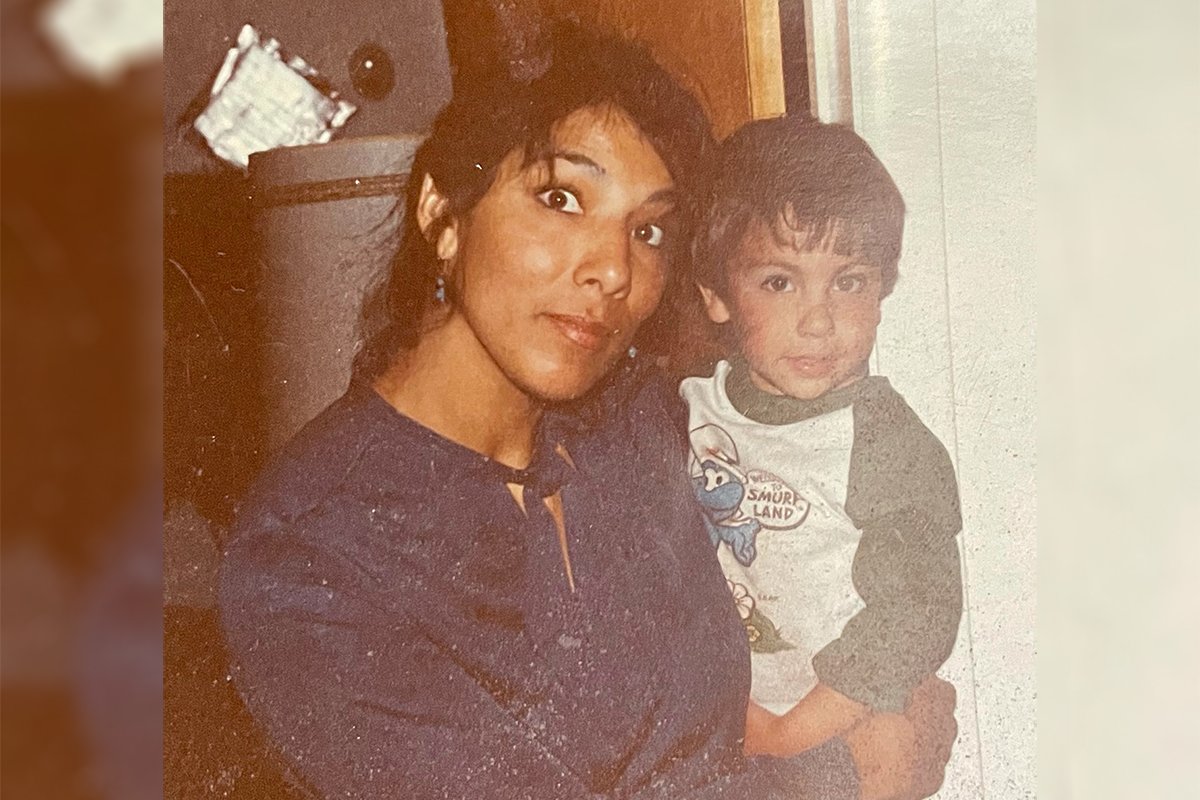 For Wilber, the plight of these women dominates his earliest memories in Montana. His mother, Louise, was Mescalero Apache by birth and was raised in the Assiniboine tribe. She also grew up a devout Christian and as an adult worked tirelessly to help women on the Fort Belknap reservation in northern Montana escape abusive relationships. Wilber remembers his mother grabbing him at a moment's notice to hop in their Honda Civic and drive to pick women up from their homes. Armed with a baseball bat, Louise would pack up their belongings and drive the women to a local shelter, church, or back to the Wilbers' house.
During Wilber's elementary school years, Louise became worried that several foster children in his school were being abused and neglected. She sent Wilber to school with extra lunches for them and, on her own time, investigated the children's home lives. She reported what she found to police, and testified on the children's behalf in court.
"It didn't seem like a big deal at the time," Wilber told Coffee or Die Magazine. His parents always welcomed people who needed a helping hand into their family and stressed the importance of taking care of their "cousins."
Beginning to develop his own warrior ethos, Wilber enlisted in the National Guard while still in high school. He spent much of the next 20 years in Iraq and Afghanistan, first as a military police squad leader and then, for the last nine years of his career, as a Green Beret. He finished his military career in counter-Russian aggression, riding snowmobiles above the Arctic Circle and teaching special operations Arctic warfare.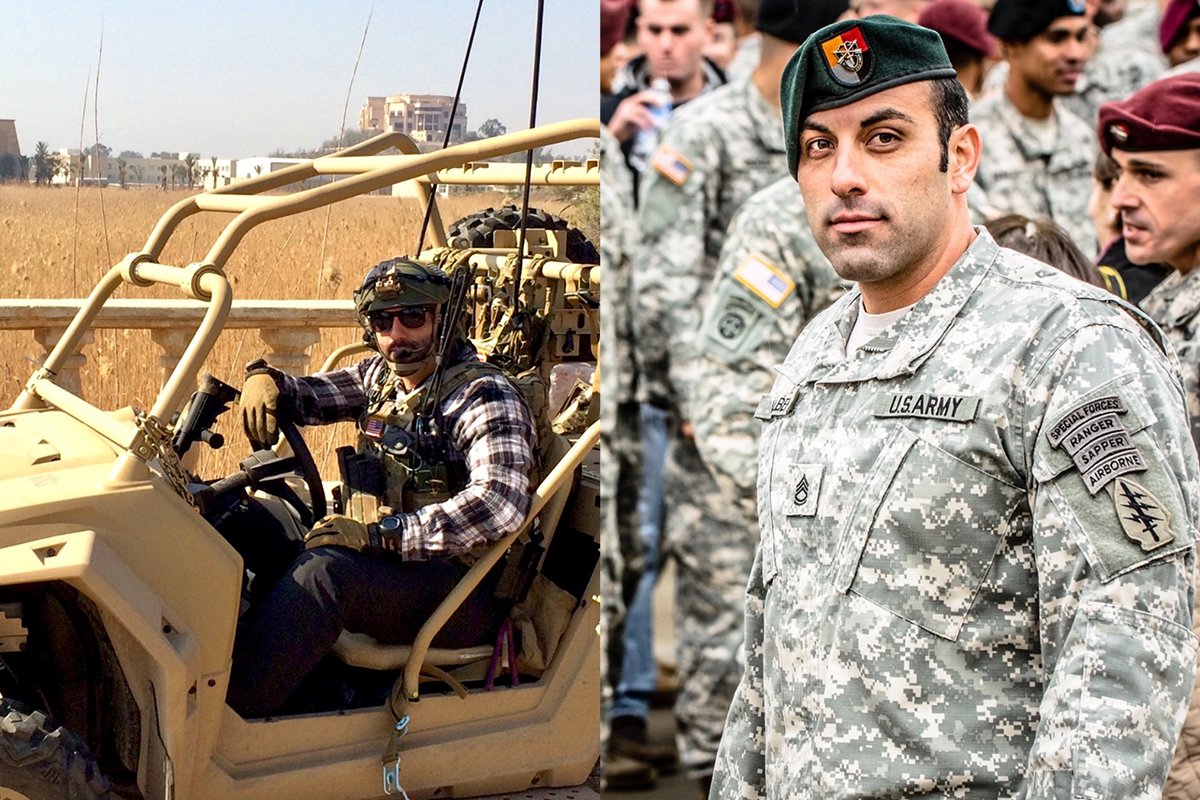 But as he neared retirement, Wilber thought back more to his mother's work with missing and murdered Indigenous women. As a kid, he hadn't paid attention. As an adult, he started to research the problem and was horrified.
War Party Movement was born from this awakening.
Comprehensive data on the number of missing and murdered Indigenous women in the United States is difficult to find. Many tribal governments do not follow the same crime-reporting standards as traditional law enforcement agencies. In some cases, Native women may not be reported missing because of distrust of law enforcement or other cultural factors.
But even with those caveats, the FBI recorded 5,295 cases of missing American Indian girls and women in 2020. At the end of the year, 578 of those cases were still listed as active.
On some reservations, women face murder rates more than 10 times higher than the national average, and a 2016 study funded by the National Institute of Justice found that 84% of Native women reported having been subjected to some form of violence in their life and found that the rate of violence from an intimate partner was 21% higher among Native women than among white women.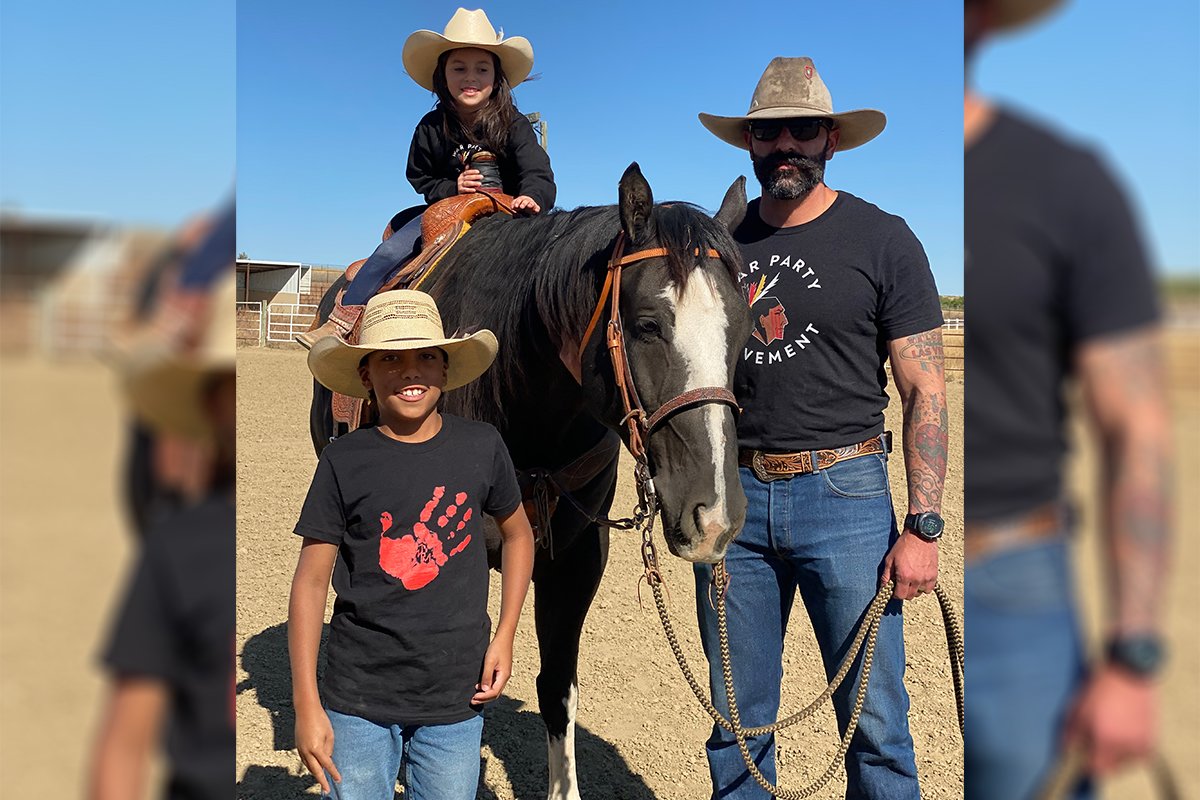 "I really started to dive down, and I was like, wow, this is such a crazy epidemic. What can I do to at least start spreading awareness?" Wilber said. "I wanted to show people that somebody gives a shit about you."
He launched War Party Movement on social media and set up a merchandise store in July 2021. Sales of shirts emblazoned with a blood-red handprint — widely used to symbolize the MMIW movement — and the War Party Movement logo serve the dual purpose of raising awareness and funds. Almost immediately, Wilber performed his first of two (so far) "rescues," operations in which he essentially provided security for women leaving domestic violence situations.
The first woman he helped rescue, Kay Smythe, was neither Native nor American. A writer and podcaster from Wales, Smythe was living in Los Angeles when a mutual friend introduced her to Wilber. She had Wilber on her show twice and the two remained friendly. Then, when Smythe ended an abusive relationship and wanted to leave LA, she feared for her safety.
"I was so depressed. I'd lost a lot of my friends through my relationship, both because I had friends through that guy and because I'd been cut off from all my other friends," she said. "I was just so lonely."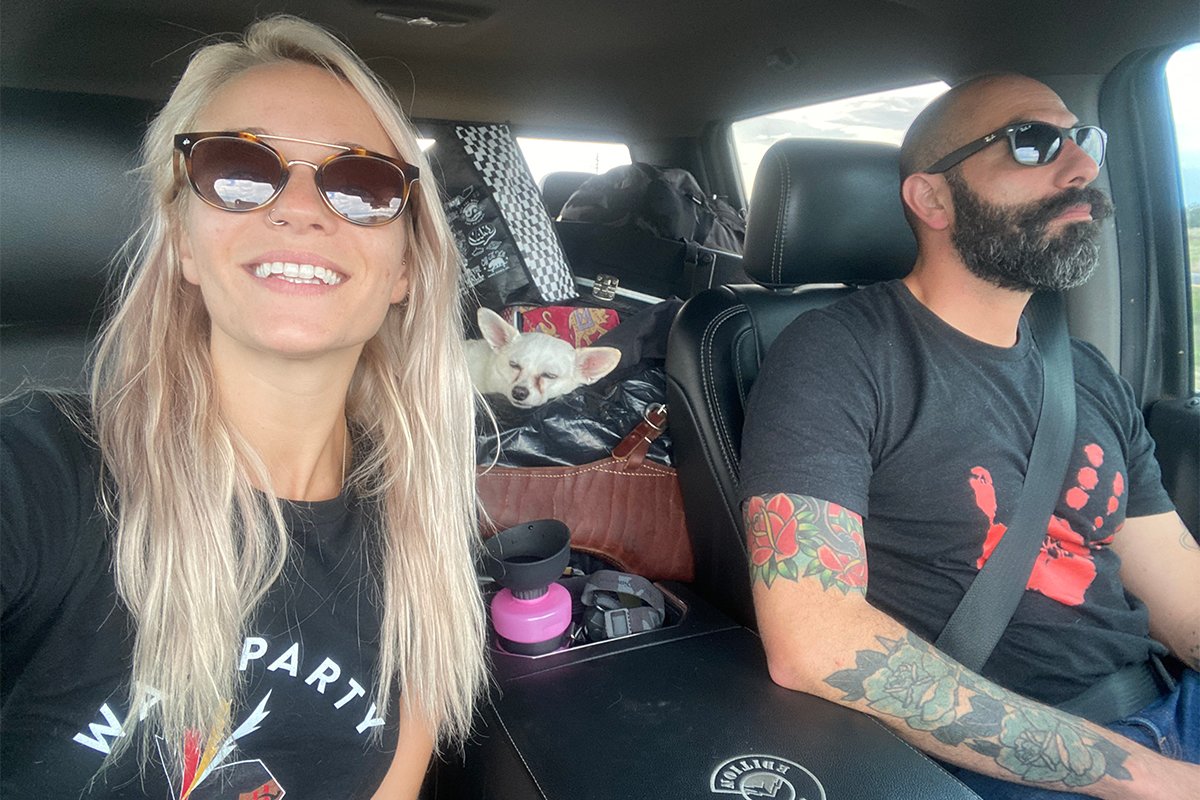 Almost as a joke, she posted on social media, asking if someone would help her get from LA to North Carolina where her co-host lived. Within three minutes, Wilber replied that he would. He drove from Colorado to LA, helped pack up her things, and took Smythe across the country.
"One of the things that I really valued, that kind of came through us knowing each other, was that he really started to redefine for me what being a man is and how to show up in the lives of women," Smythe said.
For Wilber, the mission reinforced the idea that seemingly small acts can have a huge impact on individuals, whether it's sending a couple hundred dollars to help families pay for food and lodging while they search for a loved one, or donating to Native Search Solutions, a nonprofit founded by a former Arizona police sergeant that applies investigative tools such as facial recognition software and law enforcement databases to searching for missing Indigenous people.
And Wilber has amassed a stable of about 10 volunteers, mostly veterans, whom he can deploy to assist with search parties.
"A lot of these [veterans], they just need a task and purpose," he said. "They need a mission. They need to do something that's rewarding, and I know that working with people that are kind of vulnerable means a lot to them."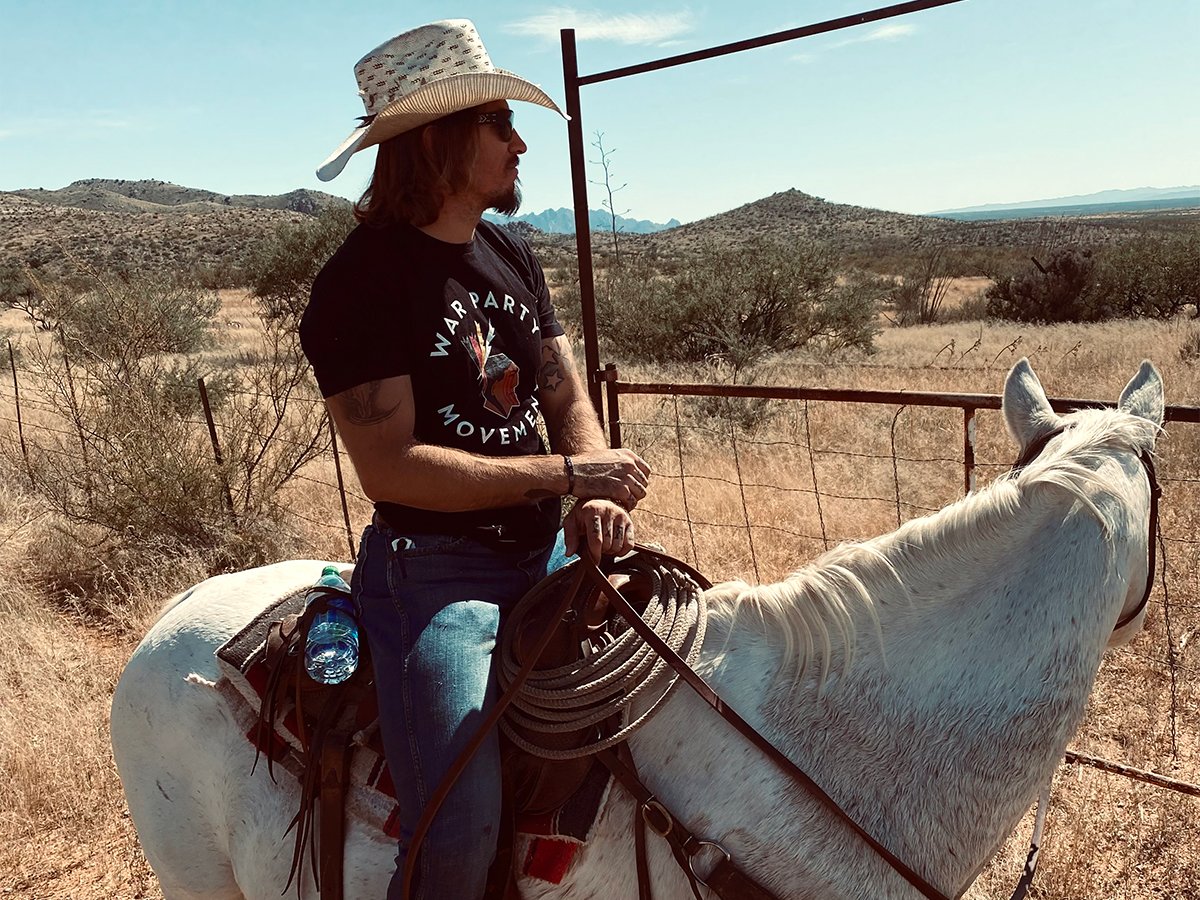 Dylan Bernal, a Navy veteran, spoke with Coffee or Die while sitting in his pickup after work at an equestrian facility for troubled boys in southeastern Arizona. Bernal was getting ready to drive eight hours to assist with a search in northern Arizona the next morning — his second search in less than a month of volunteering on behalf of War Party Movement.
"I've just always believed that you should use whatever you love doing or your set of skills to help and serve others," Bernal said.
On Nov. 6, he got a text from Wilber. There was a search the next morning for an 89-year-old Navajo man who had been missing for several days. Could he help?
Bernal took off at 3 a.m. the next morning, driving six hours north and joining about a dozen people combing a rural area where the man was last seen. They spent all day searching, but it wasn't until the following day that police found the man, dehydrated but otherwise safe. Even though Bernal didn't find the elderly man himself, he said he saw how much the family appreciated everyone's help, and he's now "hellbent" on helping with more searches.
"I think people don't understand until it happens at their front door, or it's their family, that this is real. People go missing. Kids go missing. Older people go missing, but nobody cares if it's not their own family," Bernal said. "I want people to know that there are other people there that actually care.



View this post on Instagram








War Party Movement has struck a chord in a short amount of time — which, Wilber, says, has brought on a new kind of stress.
"I get a little emotional," he said. "When I was in the Army, I turned everything off. I turned off when my friends died, my brain just didn't work. Nothing bothered me. Nothing. And I don't want that to happen with these people."
And he knows his mother, who died in 2018, is proud of him.
"Once you're a warrior, your whole life is as a warrior," Wilber said. "So I feel like this is just my next chapter of trying to live that and be a warrior for my community."
Read Next: