Last year, one of my best friends from the Marine Corps killed himself. No mental health warnings, no hitting bottom, no dramatic scene. He just went into work one day and ended it all in his office with a personal firearm. The day that was supposed to be his retirement ceremony ended up being the day of his memorial service.
I don't know if mental health care would have stopped him, but it certainly couldn't have hurt. He probably thought that as a leader, he was supposed to be the one who helped other people, not the one who desperately needed help. While he was a senior officer, that same mentality exists from generals to privates. In spite of being one of the groups most in need of mental health care, veterans and active-duty military are the least likely to receive it.
Warrior by Dr. Shauna Springer begins with a description of the stoic ideal that many veterans accept, knowingly or not. A young Spartan boy once hid a fox under his cloak and went to school. As the fox gnawed into his midsection trying to escape, the boy didn't even grimace. No one even knew there was a problem until the boy dropped dead. This story exemplified the Spartan ideal of 2,400 years ago. In many ways it still does.
In spite of literally billions of dollars being thrown at the problem, far too many active-duty service members and veterans either don't access care, or try it and abandon it. Dr. Springer wrote Warrior as a guide to health care providers on how to get through to veterans suffering from what is often termed "moral injury." Even though it was written for a clinical audience, I recognized many of the issues from my own experiences in military and VA health care.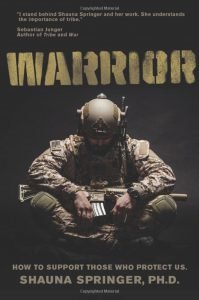 A former counselor at the VA, Springer correctly identifies lack of trust as a major barrier for veterans. Too many times, a vet finally, reluctantly, goes to the "wizard." When he gets there, he sees a person straight out of school with a wall full of degrees that in his view have no applicability to his problem.
Springer discusses ways that a doctor can become a trusted "doc." This includes such things as not immediately going through a checklist of questions that include "Do you have a firearm?" which immediately raises the fear of it being taken away.
Springer describes how the military fosters an attachment to one's comrades that is often even stronger than family ties and the ways this affects one's mental health and relationships. This high level of attachment means that when a "battle buddy" commits suicide, for example, it creates a higher level of distress than would be experienced by a civilian.
There's a unique feeling of betrayal, a feeling of shame that one wasn't called to help, and a feeling of helplessness — if HE wasn't tough enough, what chance do I have? These sorts of thoughts are the reason suicide spreads like a contagion among vets more than others.
Springer rightly sees that many of the tools for reaching veterans are already in the toolboxes of the vets she treats. For example, for vets having difficulty controlling their emotions, she recommends a "tactical withdrawal," meaning one disengages from a fight until he is ready to engage the problem in a calm and thoughtful manner. Similarly, for a Marine trying to solve marital issues, she encourages him to use the military's SMEAC five-paragraph order format — Situation, Mission, Execution, Administration/Logistics, Command/Signal — to organize his thoughts.
Warrior isn't a self-help book. If you're having mental health issues, it might give some insights, but it isn't designed for you. It is primarily for mental health care providers serving vets.
Knowing what passes for mental health care on active duty and in the VA, though, there are a lot of providers who need copies of the book immediately.
Warrior: How To Support Those Who Protect Us by Shauna Springer, Ph.D., Armin Lear Press, 312 pages, $15.95