From the dense jungles of the Mekong Delta to the hot and dusty cities of Iraq, from deep below the ocean's surface to mountain ridges in Afghanistan, the US Navy SEALs — "frogmen" — have been a fixture in special operations since they were formally activated in 1962.
But no SEAL takes their place in The Teams for granted; they know they must earn their Trident every day. It can mean the difference between mission success and failure, or even life and death. But what it means to be a SEAL day in, day out is different for everyone who serves in this elite maritime unit.
That's why we reached out to a few Navy SEAL veterans to get their take on what it means to be a frogman. Here's what they said:
Erasmo "Doc" Riojas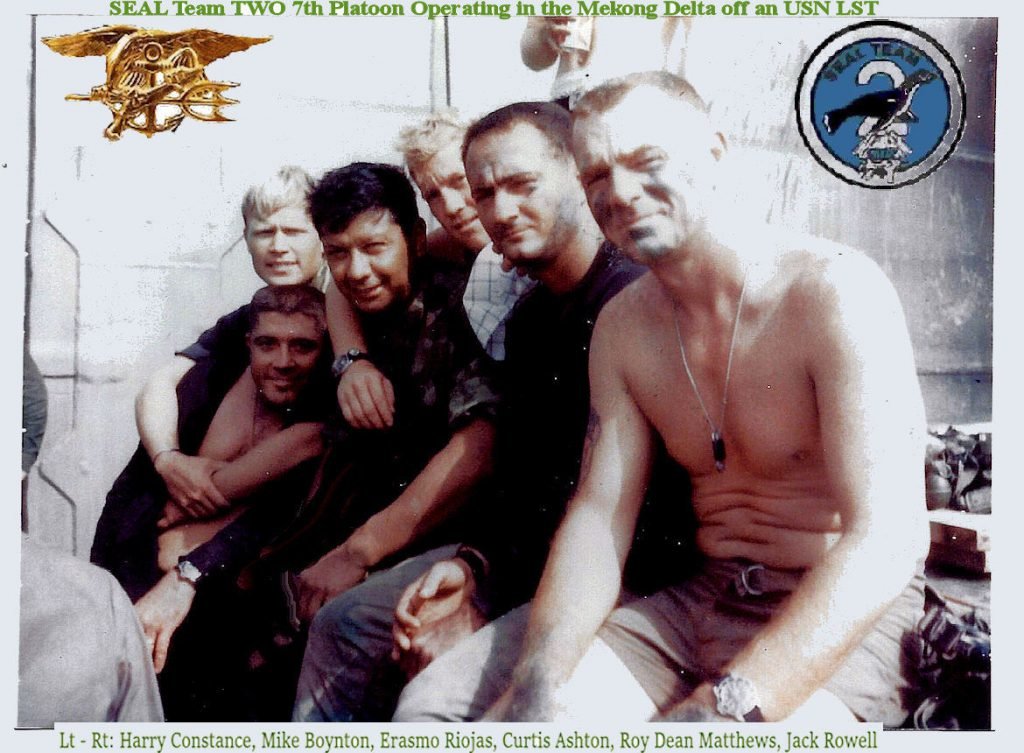 Erasmo "Doc" Riojas served as a medic with SEAL Team 2 in the Mekong Delta during the Vietnam War. He received the Purple Heart medal a staggering five times. After Vietnam, he continued to practice medicine and now operates www.sealtwo.org — which is the largest library of Navy SEAL pictures on the internet.
His take on what it means to be a SEAL was simple:
"Having men that can totally conquer the emotion 'fear' and be willing to become a lead magnet for the team. That makes a good Team Guy!"
Jack Carr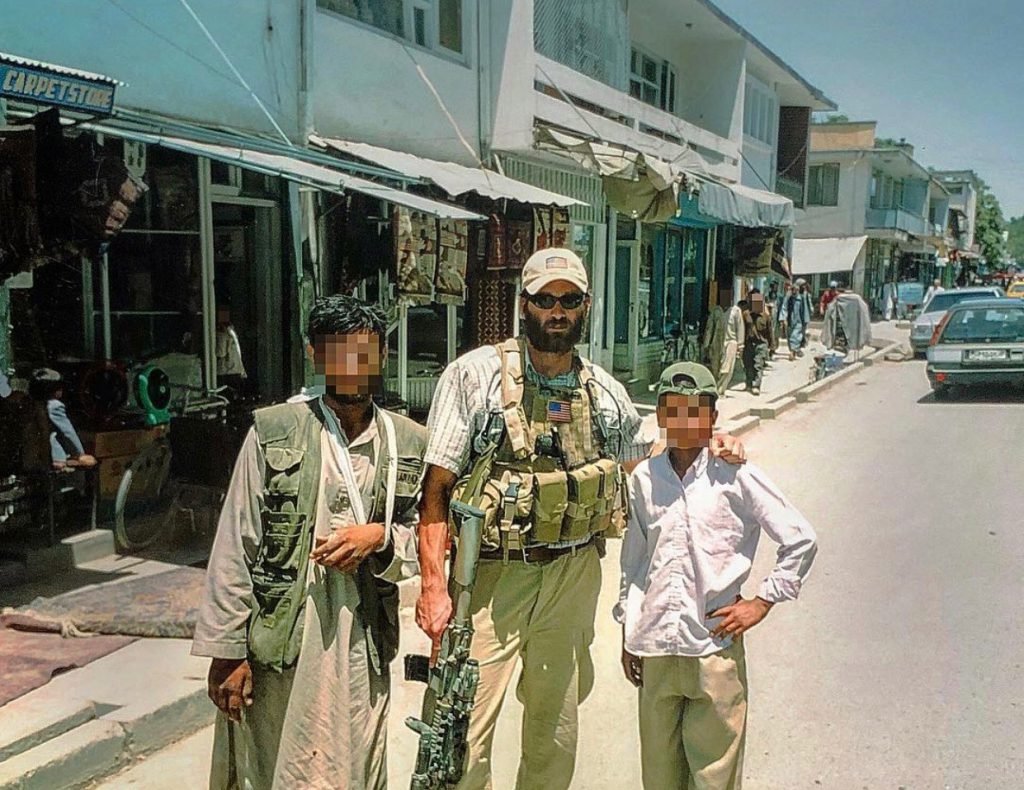 Jack Carr served in multiple positions as a SEAL over the course of his 20-year career, from enlisted SEAL sniper, to a junior officer leading assault and sniper teams in Iraq and Afghanistan, to a platoon commander practicing counterinsurgency in the Philippines, to commanding a Special Operations Task Unit in southern Iraq. He is the New York Times bestselling author of The Terminal List, True Believer, Savage Son, and The Devil's Hand.
"Serving my country in uniform was a calling. My grandfather was killed in World War II off of Okinawa in 1945. I grew up with a box of his medals, the silk maps they used to issue aviators, his USMC aviator wings, and black-and-white photos of him with his squadron. To me, he embodied the ideals of service and sacrifice. He was my hero.
"I found out about SEALs early on in my journey. I was 7 years old when my mom took me to the local library to research the profession of arms. Back in the early 1980s there was not much written about SEALs or even special operations in general. What was available confirmed that I was on the right path though.
"I read about BUD/S and Hell Week, and about the men with green faces in the jungles of Vietnam. BUD/S was the toughest training ever devised by a modern military and, whether or not that was true, to a young kid looking for the toughest challenge he could find, that was it. I was in. From then on, I had no doubt that I would one day test myself in the crucible that is SEAL training and join their ranks as a fellow frogman.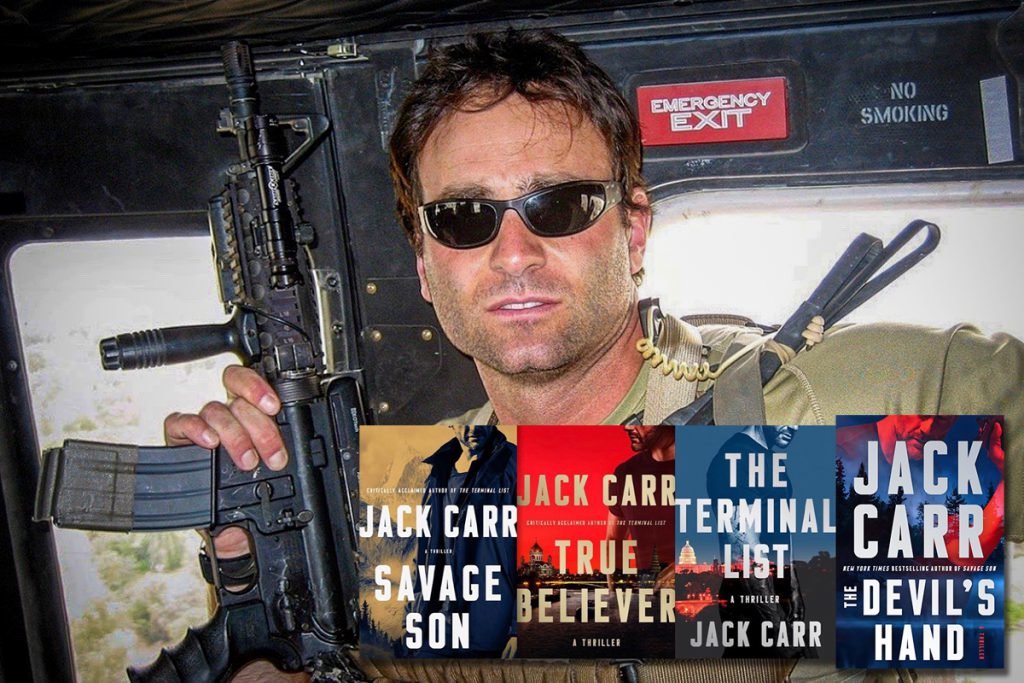 "Enlisting in the Navy was a way to do my part, to contribute. I thought about what has been sacrificed since the inception of this country, up through today, that allows us to have the freedoms, options, and opportunities we enjoy. I believe we have a responsibility to pass those same freedoms on to the next generation so that they too may pursue their hopes and dreams, whatever they may be.
"Being a SEAL is about earning that Trident every day. Service and brotherhood — that's a big part of what it means to be a Team Guy.
"It was the greatest honor of my life to stand shoulder to shoulder with my brothers in Iraq and Afghanistan. Those experiences are a huge part of who I am as I move forward and pursue my passion for writing. I've passed the torch, but there is not a day that goes by that I do not think about those who continue to hold the line. As the sun sets each night here in the mountains of Utah, the place I call home, I know it is coming up in other parts of the world where operators are just returning from a mission — dirty, sweaty, and bloodied. They are going to drop off detainees, refuel vehicles, replace the batteries in their NODs, flashlights, IR lasers, and radios, and get ready to do it all over again. I never forget they are out there, running to the sound of the guns."
Kevin Lacz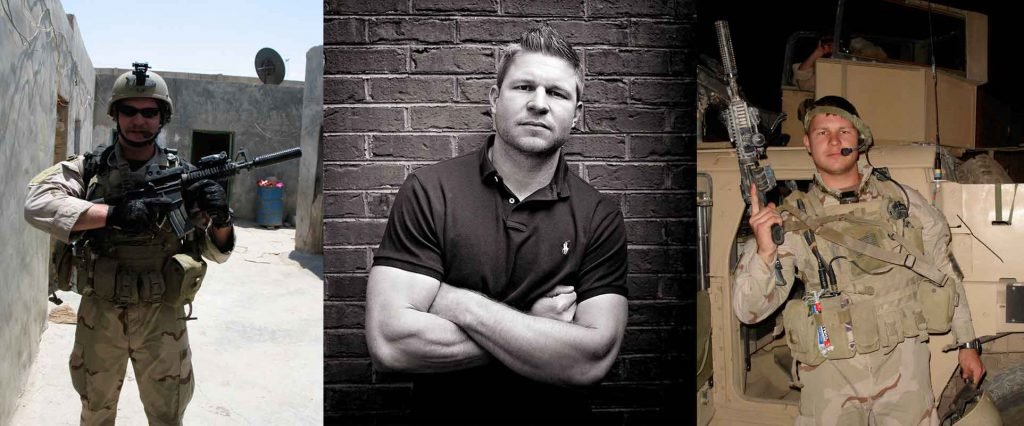 Kevin "Dauber" Lacz is a former Navy SEAL who served in multiple roles, including sniper, breacher, and combat medic. Since separating from the Navy, he has become a certified physician assistant, professional speaker, and author of The Last Punisher. Lacz also worked as a technical advisor and played himself in the Oscar-nominated film American Sniper.
"Being a Team Guy was one of the most challenging and rewarding periods of my life. The training, perfection, and execution that I endured during my time in the Teams has allowed me to attack every obstacle I encounter in life. My time in the SEAL Teams does not define me though; it best illustrates the type of human I am.
"There is no algorithm that determines who will make it or not. The training is pushups and flutter kicks as infinite as the Coronado Beach sand and as constant as the cold and wet that gets blasted by the waves and hoses that seeps into your bones and drenches your spirit in discomfort and misery. It's sleep deprivation and log PT and sadistic instructors determined to weed out those who don't belong. It's beach runs and calves on fire and instructors who keep running you faster to try and make you quit. It's 2-mile ocean swims and time limits and unforgiving currents and that-was-a-fucking-shark moments. It's timed obstacle courses and artillery simulators and looking out for your brothers and your brothers looking out for you. It's carrying a 110-pound rubber raft over your head with five other guys until your arms burn and quiver and buckle but still digging deeper and hoisting it up again. It's throwing your boat in the ocean and cherishing the fleeting moment of relief before jumping inside and paddling past the breakers and back with an impossible time limit looming. It's the instructors always reminding you, 'It pays to be a winner.'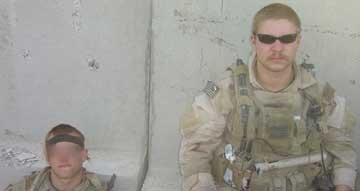 "Being a Team Guy is as much mental as it is physical. My time in the Navy helped me understand, embody, and project these five principles:
"Team Guys are masters of living outside their comfort zone. BUD/S is an obvious example as well as combat, but day-to-day interactions present uncomfortable situations. As a Team Guy I have grown comfortable where others hesitate, stop, or quit. Being a SEAL reminds you that life begins at the end of your comfort zone.
"Team Guys are expected to lead at any point. SEALs are not lemmings and are expected to take charge in the absence of leadership. Wherever I found myself in the Team, action was implied. Within the department, squad, or platoon, accountability is mandatory. Leadership at every level strengthens the fighting unit.
"Team Guys wear the Trident as a physical representation of their profession. It is expected that each day you wake up, you need to live up to the expectations of that Trident. Brave men — heroes — have fought and died wearing the Trident. Earning your Trident every day is a foundation that all SEALs strive for.
"Team Guys, like anyone else, are susceptible to complacency. Unlike other professions, complacency can get you dead — especially in combat. The high-risk nature of the job requires vigilance. The swim buddy to your right and left reminds you what can be lost if you drop your guard. Complacency is the battle plan for failure. SEALs understand complacency kills and work tirelessly to fight it.
"Team Guys don't want to be a product of their environment; their environment should be a product of their work and action. Whether it is clearing a room or briefing a team, SEALs own their space. They understand the success and failure of each action and mission while willing to accept ownership of everything in between. Team Guys are successful because they are confident. Owning the outcome of your actions is an essential tool for being a good teammate. SEALs own their space and manipulate the environment around them to ensure mission success."
Alex West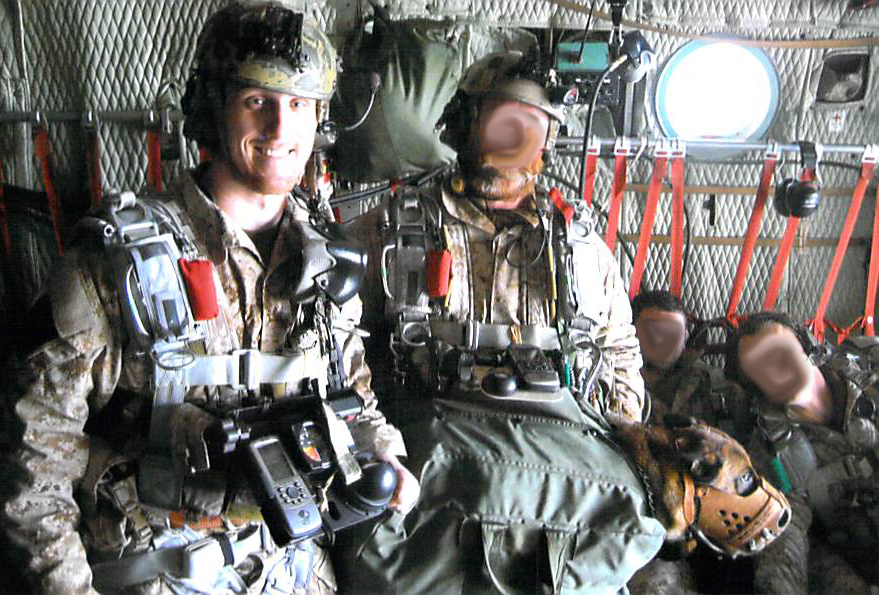 Alex West was a US Navy SEAL for 20 years before retiring in 2018 as a senior chief. He served with SEAL Team 3 during the invasions of Afghanistan and Iraq, and as an assaulter and team leader with the Naval Special Warfare Development Group from 2003 to 2014. He has since become the founder of One More Wave, which provides wounded and disabled veterans with custom surfing equipment and community.
"The most significant part of being a SEAL is always putting the team first. It is never about the individual. The highest compliment one SEAL can give another is 'he's a good Team Guy,' meaning, he holds the team above himself. The foundation of this is taught in BUD/S, where the smallest team is you and your swim buddy. You can't do anything without him, whether that's hitting the surf, ocean swims, studying for a dive physics exam. You are always together, always helping each other and looking out for one another. You may have different military ranks, but ranks is traded for the loyalty of each other and accomplishing the mission.
"Second, your personal gear is always second to the greater teams, be it your larger SEAL Team, platoon/troop, fire team, or even your swim buddy — referred to as a shooting buddy later in your career. An example of this would be, after doing small boat training on the ocean, the first thing you do when you get done is take care of the SEAL Team's gear, which would be the boats and motors. The next phase is taking care of the platoon gear, which may be the radios, night vision, and weapons. When that is done, you can start cleaning your personal equipment and, finally, take a shower and clean yourself. You are last on the list, the team and all of its components are taken care of first, with no questions.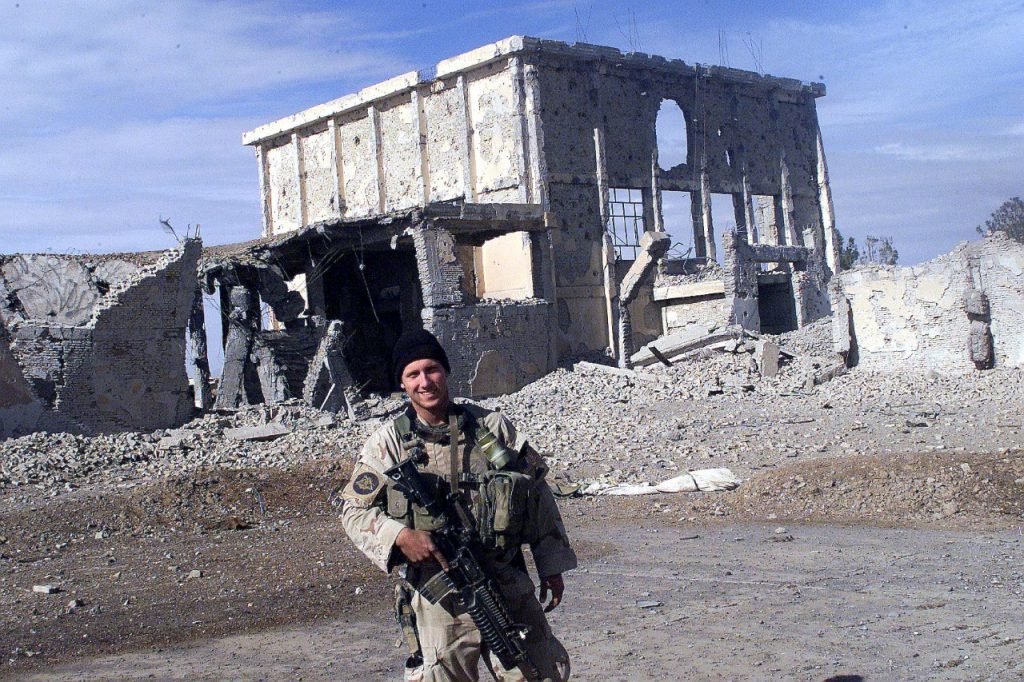 "Being forward-thinking is also a trait that holds value in the SEAL Teams. Guys are always looking to evolve or improve their lethality in technology, targeting, and tactics. When your enemy changes, you have to stay one step ahead of him, learning, watching, and shifting the way you do business. What worked in 2005 may not be working in 2008, let alone in 2020. I was fortunate to have a front-row seat to watch this evolution during our wars from 2001 to 2013, having been deployed concurrently to Iraq or Afghanistan each of those years. I can attribute this mindset to a common phrase used when I went through BUD/s, 'If you're not cheating, you're not trying.' If you read that phrase and think they are just trying to build criminals or cheaters, you have missed the point. I take it as you must be more creative than your enemy and outplay him at his own game to win.
"To give a mainstream example, think of an NFL team's defense getting ready to play the offense of an opposing team with a record-breaking season. To win, the defense and coaches are going to watch game film of their opponent, looking for any weak points to exploit in the offense (technology/targeting). When they find the weak points, they will drill techniques and plays to exploit the offense (tactics); they may even question players on their team who were on that opposing team the previous year for any type of intelligence they can get (more targeting)."
Trevor Thompson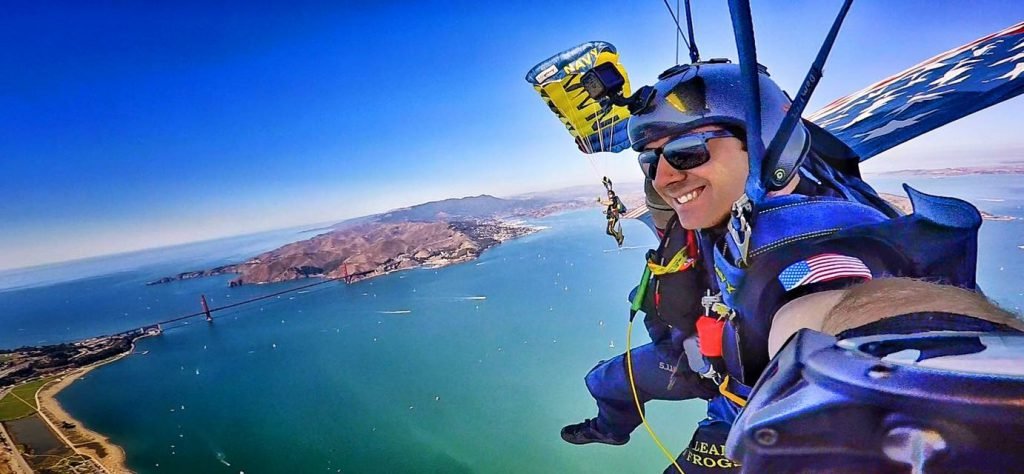 Trevor Thompson was a US Navy SEAL for eight years and served three tours overseas. He developed a love for demonstration parachuting as a member of the US Navy Parachute Team, known as the "Leap Frogs." Since separating from the Navy, Thompson has performed as a BASE jumping and skydiving cameraman and stunt performer. These days, he's a Black Rifle Coffee Company field photographer, and co-host of the Free Range American podcast.
"'Earn your Trident every day' is a saying closely associated with being in The Teams. Your Bird, the Budweiser, or simply the Trident are all ways we refer to the gold emblem that emblazons the chest of every man that has ever earned the title of Navy SEAL. But it's only a small sign of what it takes and what it really means to be a SEAL. The SEAL Ethos closely details what it means to every frogman:
"'My Trident is a symbol of honor and heritage. Bestowed upon me by the heroes that have gone before, it embodies the trust of those I have sworn to protect. By wearing the Trident I accept the responsibility of my chosen profession and way of life. It is a privilege that I must earn every day.'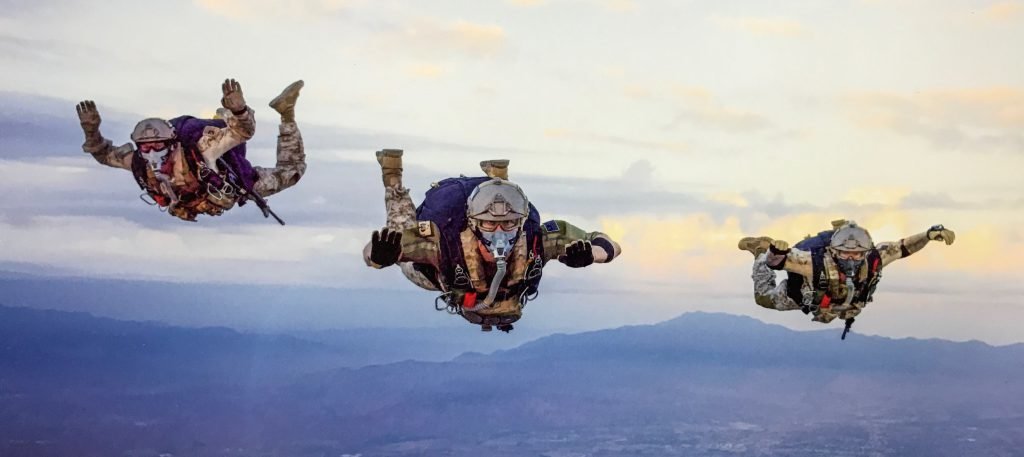 "By accepting the challenge and going through the crucible of BUD/s and then SQT, then continuing to earn your place as the newest of new guys, you've crossed over a threshold into companionship, trust, brotherhood and unity that's unique within special operations. Ours is and always will be the amphibious life; frogmen who strike from the sea but still feel at home on land. Whether on or below the sea, and even beneath a parachute, the trust in your brothers and the acute need to be proficient in every skill held, have a team-first attitude, and be humble in approach is paramount.
"By choosing to become a Navy SEAL you're choosing a life of deep respect for the past, possible danger and adventure, but more importantly, committing to serve our nation, your team, and your brothers."