What would you rather have if you were wounded in combat and bleeding: a bag of water filled with electrolytes or blood? This may appear to be a stupid question, but it has become incredibly challenging to put the one proven resuscitation fluid into the hands of enlisted medical personnel.
In 2015, a more simplified approach to providing blood at the point of injury came to fruition. Updated from programs developed in World War II and the Korean War, the use of low titer group O whole blood (LTOWB) has become the standard for resuscitation in combat zones.
What makes the concept of LTOWB unique? Blood is a complex mixture of water, cells, proteins, and chemicals. However, the portion we care about the most is red blood cells (RBCs) and plasma. RBCs are identified with antigens as A and B, resulting in one of four types: A, B, AB, or O (no antigens). There are other identifying antigens like D (Rh factor), Kell, and others, but in combat, you are far more likely to die of hemorrhagic shock versus the possibility of a rare reaction.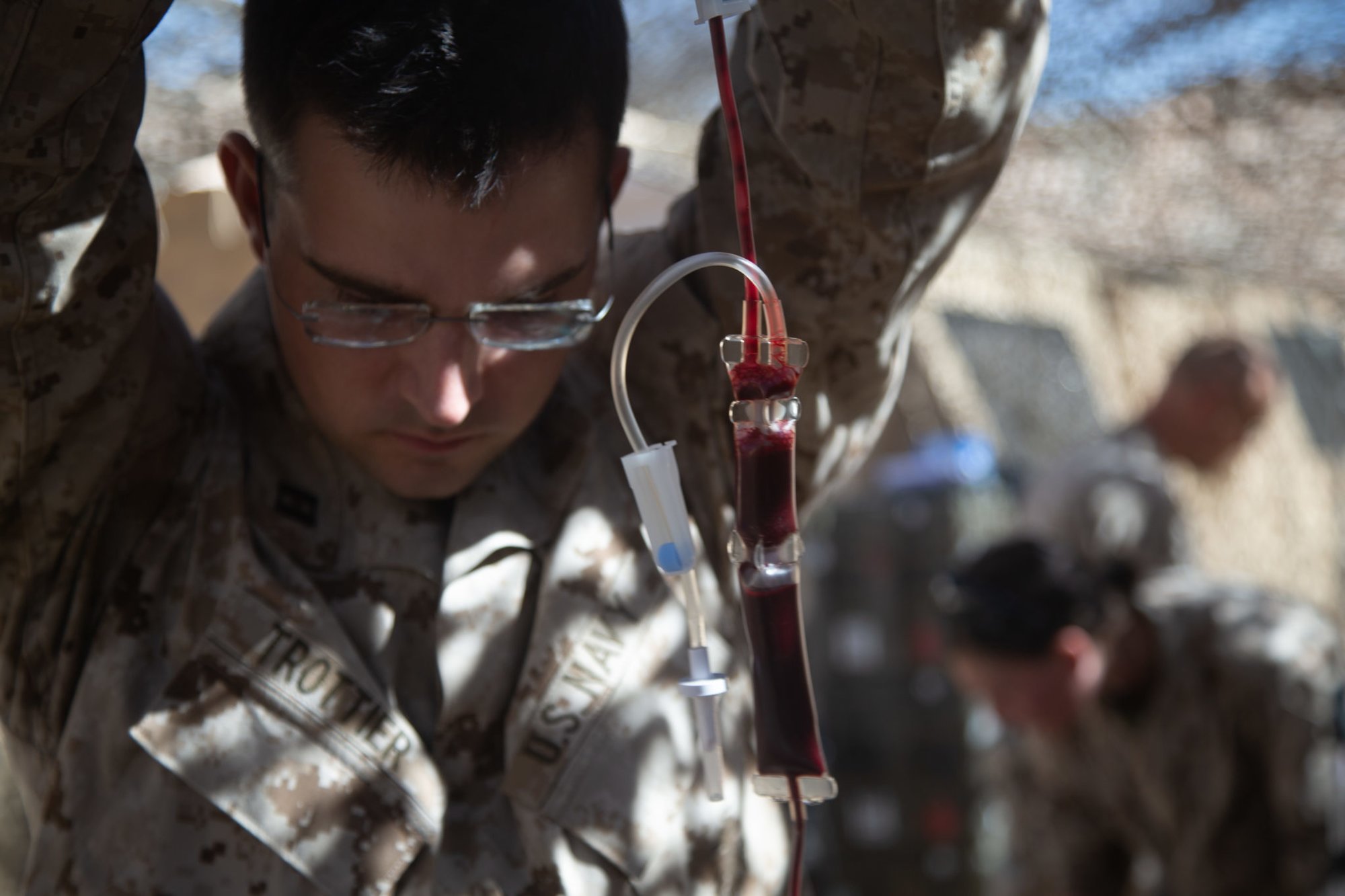 Plasma carries the "opposite" of red blood cells' antigens in the form of antibodies. For instance, people who have Type A blood will have B antibodies in their plasma. People who have Type O blood, with no antigens, will have both A and B antibodies in their plasma.
Group O RBCs are often given because, as stated, they lack any antigen that may cause a significant mismatch reaction. If we measure the level of A and B antibodies in a potential donor and they are low enough, we know that it will not cause a reaction in the patient if he or she is an A or B blood type. This makes group O donors very special on the battlefield and even here at home.
Fortunately, almost 50% of the US population have group O blood, and it is estimated that 50% to 75% of those are what the Department of Defense considers low titer, which is less than 1:256. The definition of "low titer" is not universal, and outside the DOD in the US, it can be defined from less than 1:50 up to 1:256.
LTOWB has the potential to drastically change the way we provide lifesaving care at the point of injury. We can draw it from a donor and transfuse it as fresh whole blood, or the medic can carry a unit in a cooler and transfuse it as cold-stored whole blood. If you have group O blood and would like to know if you are a universal donor, go to your local Armed Services Blood Program donation center to find out.
---
This article first appeared in the Summer 2021 edition of Coffee or Die's print magazine.
Read Next: